Clubblad Amsterdamse Sportvereniging VRA
---
How's That verschijnt tijdens het cricketseizoen wekelijks
---
Nederland vs Papua New Guinea @ VRA
After loosing the 4-days iCup match against PNG at VRA last week, another two 50-over matches in the WCL Championship were played, from which the last one at VRA again. VRA and Netherlands captain Peter Borren scored and important maiden List A century. Cricket Europe's Bertus de Jong wrote the report.
Borren ton sets up second win over PNG
The Netherlands cruised to an 85 run win over Papua New Guinea in their second WCL Championship match, Peter Borren leading from the front with an unbeaten hundred.The Dutch captain's maiden List A century, an unbeaten 105 from 111 balls, saw his side to a total of 297, with Mudassar Bukhari smashing 51 from 32 to provide the impetus for a late surge. PNG were bowled out for 212 in reply, Kila Pala top scoring with a belligerent 56 from number 6, but the visitors lower order could not match their hosts for late acceleration.
When Borren came to the crease ten overs into the first innings the Netherlands were looking shaky, Micahel Swart bowled by Norman Vanua for 2 early in the innings and Ben Cooper having fallen vicitim too a smart stumping off a ball from Chad Soper tossed well down leg. Borren's partnership with Stephan Myburgh lasted just four balls before the latter was caught at midicket for a rapid 34 from 28 balls.
The scoring slowed thereafter, the Baramundis miserly with the ball and electric in the field as Borren built careful partnerships with Wesley Barresi, Pieter Seelaar and Micahel Rippon to take the hosts past 200, bringing up his fifty in 64 balls. The PNG bowling proved tough to get away though, Vanua and Willie Gavera seeing off the batting powerplay at the cost of just 20 runs.
But Michael Rippon's dismissal in the 43rd over - caught in the deep off Vanua trying to force the pace - signalled the charge for the Dutch. Mudassar Bukhari joined his captain in the middle with the score on 211-6, and together the pair plundered 76 runs off the last 7 overs, including 23 off a single over from the hapless JB Reva.
The Barramundi's early discipline in the field rapidly disintegrated, and Borren's century would eventually come courtesy of a misfield at extra cover from Mahuru Dai. The luckless JB Reva came in for further punishment immediately after, putting down a skied Borren slog-sweep at deep midwicket and then spurning an even simpler chance next ball when Borren was kind enough to offer him a do-over. Mudassar Bukhari pressed on in the next over, bringing up his own fifty with a lofted four over mid-on, and even on a good deck 297 looked a winning score.
Kila PalaSo it would also prove, though the Papuan chase started well enough, Timm van der Gugten's first over going for 15 runs. But Bukhari bowled with venom and accuracy at the other end as he would throughout the innings, probably the pick of the Dutch bowlers despite going wicketless. Van der Gugten would find the eraly breakthrough though, finding Lega Siaka's outside edge with a shorter swinging ball. The opening powerplay went for just 39 runs, and
with Borren electing to take the pace off the ball after the powerplay the visitors struggled to up the scoring. As the asking rate climbed the wickets followed, a smart stumping off Michael Rippon did for Tony Ura and Vala was run out chancing a single to Seelaar at cover. Kila Pala looke to reverse the momentum, taking on the spinners and racing to 50 off 40 balls, finding support from Sese Bau and Jack Vare to take the Barramundis to 155-5 after 30 overs - ahead of where the Dutch were at the same stage.
But Bau would fall to Pieter Seelaar's first delivery fo 41, and Pala couln't replicate Borren's heroics. Paul van Meekeren's extra bounce and pace found the shoulder of his bat, the young Dutch quick grabbing a looping return catch at his feet. John Reva's horrid day then continued when he gifted Seelaar a leading edge off a rank full toss that should have gone over the rope and at 167-7 looked out of it.
Vare and Soper added a defiant 43 at a run a ball, but the asking rate continued to climb and Vare would perish chancing a risky single too many, run out by van der Gugten in his follow through for 25. Vanua went for a golden duck next ball, and one over later it was done, Soper lobbing a lofted drive off Malik to van der Gugten at long off.
Bertus de Jong
© CricketEurope
Programma deze week
Hieronder het complete programma van deze week. Raadpleeg voor de meest actuele agenda altijd de VRA-website. Aanvangstijden zijn onder voorbehoud. Op de speeldag zelf staat de veldindeling aangegeven op het bord bij de kleedkamers. Paul Polak is als groundsman te allen tijde verantwoordelijk voor definitieve toewijzing van de velden.
DO 25/06 VRA U12 - Leicester Grammar School (UK) U13, 16.30 (VRA)
DO 25/06 VRA U15 - Leicester Grammar School (UK) U14, 16.30 (VRA)
DO 25/06 Philips - TCS, 18.00 (VRA)
ZA 27/06 Rood & Wit U16 - VRA, U16 13.00 (away)
ZA 27/06 ACC U9 - VRA U9, 9.00 (away)
ZA 27/06 Kampong 2 U12 - VRA, U12 9.00 (away)
ZA 27/06 Rood & Wit T20 - VRA Dames T20, 12.00 (away)
ZA 27/06 VRA ZAMI 1 - Ajax, 1 13.00 (VRA)
ZA 27/06 VRA ZAMI 2 - HCC, 13.00 (VRA)
ZO 28/06 Dosti CC - VRA 1, 11.00 (away)
ZO 28/06 Qui Vive 2 - VRA 2, 12.00 (away)
ZO 28/06 Den Helder 1 - VRA 4, 13.00 (away)
ZO 28/06 VRA 3 - Kikkers CC 13.00 (VRA)
DI 30/06 T20: Nederland - Nepal, 17.00 (VRA)
WO 01/07 T20: Nederland - Nepal, 17.00 (VRA)
Programma volgende week
Hieronder het complete programma van de volgende week. Raadpleeg voor de meest actuele agenda altijd de VRA-website. Aanvangstijden onder voorbehoud.
DO 02/07 TCS - Philips, 18.00 (away)
ZA 04/07 Rood & Wit U9 - VRA U9, 9.00 (away)
ZA 04/07 Ajax U12 - VRA U12, 9.00 (away)
ZA 04/07 VRA U16 - ACC U16, 9.00 (VRA)
ZA 04/07 VRA 1 - HBS 1, 11.00 (VRA)
ZA 04/07 VRA Dames T20 - Quick 1888 T20, 12.00 (VRA)
ZA 04/07 Bloemendaal - VRA ZAMI 1, 13.00 (away)
ZA 04/07 VRA ZAMI 2 - Punjab, 13.00 (VRA)
ZO 05/07 VRA 2 - ACC 2, 12.00 (VRA)
ZO 05/07 Kikkers 1 - VRA 3, 13.00 (away)
ZO 05/07 VRA 4 - Rood & Wit 3, 13.00 (VRA)
Match Ball Sponsoring - update
Geregeld wordt in How's That! opgeroepen om een Match Ball te sponsoren. Het helpt de club deze noodzakelijke kostenpost te drukken en het is een leuke manier om je favoriete team aan te moedigen. Onze laatste oproep heeft tot veel reacties geleid, waarvoor dank. Vanzelfsprekend verdienen deze sponsors het om zelf ook in het zonnetje te worden gezet vanwege hun gewaardeerde bijdragen.
Match ball sponsors up to now:

JPh Korthals Altes
09/05 > VRA Dames – R&W
Wim de Groot
23/05 > VRA1 – Dosti
WVVW Wielerspel
30/05 > VRA1 – ACC
Claudine Hennis
06/06 > Dames -HilKamp
Jeroen SOS Mulder
07/06 > VRA2 - Groen Wit
Michiel Soeters
13/06 > VRA1 - QuickH
Birgit Viguurs
14/06 > VRA U9 - R&W
Nick Vietnieks
16/06 > VRA ZAMI2 - Punjab
Birgit Viguurs
20/06 > VRA U12 - Bl'daal
Titia Csanky
20/06 > VRA U9 - Bl'daal
Jente van der Heide
21/06 > VRA1 – Hermes
JPh Korthals Altes
27/06 > VRA ZAMI2 - HCC
Nick Vietnieks
27/06 > VRA ZAMI1 - Ajax
Nick Vietnieks
27/06 > VRA Dames - R&W
JPh Korthals Altes
04/07 > VRA1 – HBS
Nick Vietnieks
04/07 > VRA Dames - QuickN
Titia Csanky
04/07 > VRA ZAMI1 - Bl'daal
Albert Spijker
05/07 > VRA2 – ACC2
Job van de Koppel
02/08 > ACC - VRA1
Job van de Koppel
09/08 > VRA1
Noor Corpeleijn-Maessen
29/08 > ZAMI1
Mary Kappelle
29/08 > ZAMI2 - ZAMI1
Het begint ergens op te lijken, maar natuurlijk verwachten we dat dit lijstje gedurende het seizoen nog veel langer wordt. Behalve eeuwige roem staat u tegen het eind van het seizoen in de eindfase van de Topklasse play offs nog een Ballensponsorborrel te wachten.
Wilt u nu ook een mooi gebaar maken richting VRA, uw team, vriend, familie of vindt u dat u simpelweg niet in dit rijtje voortrekkers mag ontbreken, sponsor dan ook een cricketbal. Kijk meteen in de agenda welke wedstrijden er nog te sponsoren zijn en lees hier meer over het sponsoren van een wedstrijdbal en de kosten. Doen!
Match report VRA 1 vs Hermes DVS, 21/06
Round 11: VRA vs Hermes
Persistent drizzle greeted the players as they arrived at VRA for their lower table scrap on Sunday June 21st. Whilst the titanic-esque struggles of HBS have eased the relegation pressure on the rest of the stragglers, both teams were desperate for a win to keep their hopes of a top four spot alive.
Having won the reverse fixture in similar weather at Schiedam thanks to magnificent contributions from Stephan Myburgh and world's shortest ever cricketer Kruger van Wyk, the Fluffers knew that getting these two danger men was crucial to returning to winning form.
The warm up game of Squares was a tense battle between the "youngies" and the "oldies", the youngies donning their match day whites in the rain in a classic display of youthful inexperience. Fresh from skipping leg day over and over, Leon "Chopsticks" Turmaine put in a dominant display for the youngies, but with the scores level at 4-all Emile "I'll find you" van den Burg wrote a cheque that his team mates simply couldn't cash, and the oldies ran out winners.
Having struggled for form and confidence all season the early victory was exactly what the oldies needed, and when Hermes asked the Fluffers to bat on a traditional Polak/Prasad highway, the jongens rubbed their hands together in a mixture of excitement and anticipation.
Adeel "Cricket Europe" Raja and Sachin "The Body" Peiris started well, with Raja in particular looking good against the much vaunted Hermes attack until he was caught by a girl at fine leg. Peiris was having a slightly tougher time against a clever off spinner at the other end, but a change of bat to the Atlas and a well timed hamstring tweak saw him open the shoulders and set a solid platform for the batsmen to come.
When van den Burg and Peiris both fell with the score on 114, the ominous middle order train wreck loomed large. But Eric Zoolander and Peter "I'm back, baby!" Borren had other ideas, and combined for a majestic 136 run partnership that saw a desperate Hermes use nine bowlers in an attempt to stem the flow of runs. Borren in particular was magnificent, with much improved footwork thanks to recent dancing lessons helping him hammer 82 from just 55 deliveries.
Borren's contribution, a standard 50 from Zoolander, and Quirijn "Ned" Gunning getting off the mark lifted the Fluffers to 280 from their 45 overs, which was then shortened to 256 off 38 after rain at the lunch interval.
Needing over seven an over after the loss of two early wickets, Myburgh and van Wyk came together for Hermes. They combined brilliantly for a rapid partnership of 159 that looked set to continue the Fluffers' miserable run. Just as things were getting out of control, up stepped go-to man Ned, who defied the fatigue from a heavy workload in the recent Netherlands vs PNG four day match to deliver a hostile second spell that significantly upped the asking rate. Amil "Pooper Trooper" Prasad capitalised to draw a thin inside edge from van Wyk.
The Fluffers were ecstatic, knowing that at 3/178 they were well into the Hermes tail. After Myburgh brought up a superb ton but was then immediately dismissed by Chopsticks the rest of the batting line up surrendered to the experience and guile of "Golden Arm" Raja. Hermes all out 221.
At long last, a win for the Fluffers! Not only does it make the post-match beer taste extra special, but gives the boys plenty of confidence to take into the run home and a possible top four spot.
Next up, Dosti at Dosti, where the return to form of the VRA middle order makes a reversal of the first round's thumping more than likely. Come on the Fluffers!
Mitch Lees
(Red.: Als ik me niet vergis komt de steeds regelmatiger terugkerende geuzennaam voor de spelers van ons Eerste uit de koker van voormalig VRA-pro Ben Cooper. Ik kon het niet laten en zocht het uiteindelijk maar eens op: Fluffers...? Ik raad de lezers, maar vooral spelers van VRA 1 aan dat ook te doen, best leerzaam.)
Match report VRA Zami 1 vs R&W Zami, 20/06
Finally, finally we are off the mark. I know that everyone was craving a victory, and it was finally there. Hard work and team play has payed off. Final result: VRA 205 AO in 35 vs. R&W 91 AO in 24. Not just a win, but a big one.
Some highlights: Solid batting performance by almost all batsmen. Lakki 34, Harold 44, Sud 15, Mike 21, Waleed 19, Ariesh 27, Sam 14. Nice and balanced, everyone had their share of runs, great stealing runs also by the last bats (Sander, Sam and Sanne)
Very solid bowling by Mike (3 for 20 in 7), Ariesh (1 for 17 in 5), Vijay (1 for 23 in 6), Sud (2 for 3 in 3) and yours sincerely (2 for 22 in 4).
Crazy diving catch by Sud at short third man, awesome throw in run out by Ariesh (I think, correct me if I'm wrong), and catches by Sanne and Harold.
Coming weekend Ajax home, we already have 13 guys playing, so let's show them the real power of the VRA Zami army this time and send them back to Leiden with something to think about!
Proud of the team effort against R&W, let's keep it up.
Mijndert van der Spek
the Master of the Universe and ZAMI Captain
Boekpresentatie Harry Oltheten, 19/06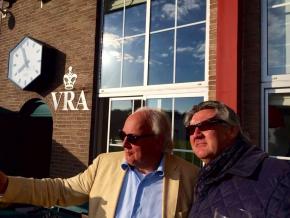 Bij gelegenheid van de officiële presentatie van Harry Oltheten's nieuwe verhalenbundel 'Houd je adem in' in ons eigen VRA-paviljoen, jl vrijdag 19 juni, hield VRA-bard Floris Kappelle een passende feestrede, die naar verluid alom werd gewaardeerd. Reden genoeg om deze roerende lofzang hier te publiceren en tegelijkertijd een welgemeende aanbeveling om Harry's nieuwe boek snel aan te schaffen.
Een nieuw boek van Harry Oltheten…
Dames en heren,
HET moment dat liefhebbers van waarachtige bellettrie opveren en worden weggerukt uit hun dromen van onschuldig minnekozen, HET moment dat kenners van het fijnere proza in de alert-stand springen, HET moment waarop onze literatuur verrijkt wordt met een pareltje van tijdloos leesgenoegen.
Maar hoe laat H.O. zich het beste kenschetsen? Als een getroebleerde bellettrist pur sang? Een romanticus van de zuiverste plank? Een geprangde stilist vol spleen en sehnsucht? Een auteur die een amechtige odyssee beleeft langs de krochten van zijn diepste roerselen om ons daarvan deelgenoot te maken? Wel… niet zozeer…
Veeleer zijn dergelijke zwelgende termen meer van toepassing op dolende lezers en zij die nog zoeken naar hun stijl en ritme, hun onderwerp en urgentie, hun toon en timbre. Wel kan men zeggen dat deze auteur zich laat drijven door een wereld vol dromen en een peilloos diep verlangen naar schoonheid en balans in een wereld die zich nochtans heel anders voordoet.
Sta mij toe de auteur louter in zijn gevoelswereld te vergelijken, altijd riskant, met de immer wat weemoedige schrijver, kindervriend en fantast J.M. Barrie die ernaar verlangde dat het altijd 1890 zou blijven en dat hij altijd cricket kon blijven spelen met zijn vriendjes… ergens in de glooiende heuvels van de veilige countryside, Surrey bij voorkeur… waar de tijd stil staat en het leven ook. Ohhh… those SALAD days, When I was green in judgment… and cold in blood…
Voor zo'n gevoel, dames en heren, een gevoel dat ik wil vasthouden, en koesteren voor eeuwig, voor zo'n gevoel houd ik mijn adem in. Want dat is de magische titel van Harry's nieuwste boek: Houd je adem in…, prachtig nietwaar? Een deceptieve titel evenwel, die niet slaat op het gevoel dat je bevangt als je zeven bent… wanneer je je eerste duik in het diepe maakt. Van je een… twee… hupsakee! Neen, driewerf neen, het zit echt anders: een wereld vol weemoed ontvouwt zich voor uw geestesoog bij het lezen van het titelverhaal. U begrijpt, meer kan ik daar niet over loslaten. En het mooie van deze verse bundel is: ELF keer welgeteld beleven we als lezer het wonder… en de verwondering over het gewone dat toch zo heel bijzonder kan worden beleefd… als je het maar beleeft. En dat doet Harry… Houd je adem in… een titel die getuigt van gevoel voor momentum… voor de timing die zo kenmerkend is voor de strenge prozaïst. En dat is Harry… een meester van de korte baan, een prima ballerina van de intense nostalgie, de held van de moderne mythe…
Ander goed nieuws is dat Harry mij heeft mij toevertrouwd dat hij nu schrijft zoals hij wil. Dat hij eindelijk de vorm heeft gevonden waar hij als veeleisend auteur op zoek naar is. Met een geheel eigen stijl en vooral: een ziel. Want dat is wat een ware schrijver onderscheidt van lieden die maar wat aan hannesen.
Terug naar deze bundel. Een kloeke uitgave, prachtig uitgevoerd, buitengewoon fraai verzorgd, een linnen band, een preeg, schitterend drukwerk, en niet onbelangrijk: het ruikt lekker bij het besnuffelen van de verse vellen. Kortom, precies zoals Harry dat wil… met zijn liefde voor een waarlijk verzorgde editie. Die liefde komt zeker ook terug in de nauwkeurige aanpak van het korte verhaal. Direct pakkend, met rake typeringen… terwijl zich een wereld ontvouwt waarin de intrige wordt geschetst zoals wij dat van de meester mogen verwachten.
Ook toont hij zich een oprekker van spanning en uitgestelde onthulling, als ook de vergeefse glorie, die het ware leven zo mismaakt. Geen geheimen heeft dat leven voor de auteur. De ondraaglijke lichtheid van het bestaan drenkt zich in een moedeloos geschlepp naar het einde, niet zelden omspoeld door grote hoeveelheden spiritualiën van de beste kwaliteit. Voor minder doet hij het niet. Want wat rest zijn hamvragen als WAARHEEN. Waarvoor? Zou de argeloze lezer kunnen denken.
Maar altoos is er troost, die in zijn personages opwelt… en de wil om door te gaan…. hoe kansloos zij zich ook slepen door dit ruwe ondermaanse. Wij noteren observatievermogen van een koele precisie vermengd met een terloopse ironie die wellustig doet snakken naar meer. De verwondering over handelingen van derden getuigen van een soeverein talent voor het kleine en vaak moedeloze gekrabbel van de tot mislukken gedoemde medemens. Vermengd met een zelfkennis die respect afdwingt en het onontkoombare lot, ja zelfs de voorbeschikking die gewezen katholieken zo oneigen is.
Verzoening met dit Dasein en met datgene dat geweest is, doen beseffen dat hier iemand aan het woord is die het leven niet wil vormen maar het accepteert zoals het is. Welk een wijsheid! Wijsheid die leidt tot een welhaast lethargische berusting die de mooie dingen van het leven in een geheel nieuw en fris perspectief plaatst. Ja, de lezer begint deze omarmer van het leven uiteindelijk te doorgronden waarna instemming en waardering triomferen. Troost en genade kun je afdwingen maar echte liefde heeft geen woorden nodig. Zelfs als het tegenzit.
De geschetste warme nostalgie is echter niet repressief maar noodt tot herkenning en reflectie. Ja, dames en heren, IK hield mijn adem in bij het begin van een nieuw verhaal. Zou het net zoon opbouw en spanningsboog vertonen als het vorige? Zoude auteur identieke emoties in de strijd werpen in zijn meeslepend proza? Ik zeg: lees het zelf en wees verrast. Want deze auteur is geworden wie hij is. Zijn karakteristieke romige stijl en de ziel die uit ieder verhaal spreekt… zeer pakkend! Ja dit is HO ten voeten uit… en dat de schrijver een welhaast schaamteloze voorliefde ventileert voor dure jasjes van Engelse snit, dure suède schoenen, kostbare sigaren en fijne wijnen, draagt alleen maar bij aan de gulle glimlach die de lezer niet zal onderdrukken als wij denken dat de autobiografische sporen evident zijn. Want niets is minder waar… goede mensen…een heer houdt immers van het goede van het leven en daar horen goede letteren bij.
Wij vragen u af: Dient ijdelheid bestraft? Welnee… er wordt gedeeld en dan is het goed. Zeker als er een zweem van zelfspot te bespeuren valt. Het werk van HO staat fier overeind… als een acacia die de onsterfelijkheid belichaamt waar elk mens van droomt. Vreemd toch dat juist DIE boom tranen plengt… juist omdat wij allen sterfelijk zijn?
Stijlvast neemt HO ons mee naar een wereld vol warme weemoed en Carmiggeltesque berusting. Vol hoop en toch ook geloof in het goede hoewel er weinig is te doen aan kleinzielige docenten en afgunstige hebberds. De aanvaarding van al wat mis kan gaan, zelfs in de liefde, niet zelden gebracht met onderkoelde humor en met de gepaste afstand van de ware observer, doet ons beseffen dat er meer is dan wat het oog vermag.
De bij vlagen Felliniaanse detaillering, de pregnante gelaagdheid van schijnbaar onbeduidende voorvallen en de kabbelende loop der dingen krijgen extra gestalte en winnen aan betekenis door de rijke stilering die deze geboren verteller machtig is, een raconteur in optima forma die ons geen boodschap wil opdringen maar hooguit duidelijk wil maken dat al wat wij maken de moeite waard is en een stille poëzie in zich bergt. Het is in de kosmos van HO dat zich ogenschijnlijk heel gewone mensen bewegen maar als de schrijver inzoomt zien we dat er van elk individu wel iets opmerkelijks is te zeggen… dat elk mens speciaal is. Het oog voor detail en de fijne pen maken hongerig naar meer. Geen wankelmoedig wereldbeeld maar vertrouwen dat het goed is. En dat is winst. Pure winst.
Zoals gezegd worden we in dit boek deelgenoot van de verwording van verschillende karakters, maar ook van personificaties die beslist verbazen. Zo kruipt Harry zelfs herhaaldelijk in de huid van een vrouw… ga er maar aan staan… als rechtgesnaarde man. Bijzonder overtuigend… de literaire duizendpoot toont zich hier op zijn best. Confronterend, rauw als het leven zelf en beslist gevoelig als de Weltschmerz opspeelt….

Een lied welt op: O muze, bezing mij de kunst van de fijnpennige Olthetus, de vernemstige verhalen verteller en verzamelaar van talloos veel gevoelens, die onverschrokken de strijd aangaat met Het Witte Vel dat links en rechts als een veelkoppig monster de kop opsteekt. Ja, bezing mij het verlangen van de dromencollectioneur Harrus Magnus naar schoonheid van het geschreven woord!
Neen, hier geen 'woordkakkerij' zoals Buurman Barend dat over zijn publiek uitstort, maar letteren die knetteren en de lezer naar gevoelens voeren die voor de smachtende poëet zo herkenbaar zijn. Het leven ten voeten uit, met al zijn ongewenste wendingen en tegenslagen en geknakte rêverieën, samengebald in een document humaine van de zuiverste plank! Het is een groot genoegen deelgenoot te worden van des dichters dagdromen en cauchemars.
Ja goede mensen, wij hebben het hier over een ware aanwinst voor de beter gesorteerde bibliotheek van onrustige zoeker naar kwaliteit, een maior opus om eens duchtig ter hand te nemen, ontspannen weggezakt in een comfortabele rookfauteuil met een goed glas whisky… om dan pardoes weg te mijmeren in het universum van Oltheten waar immer het menselijk falen op de loer ligt… maar ook hoop en verwachting… en soms wat ijdelheid… en momenten waarop het toch nog goed komt met de mensheid. Maar dat heb ik al gezegd.
Bespeuren wij autobiografische elementen? Herkennen wij onszelf in de bonte reeks kleurrijke hoofd- en bijfiguren? Wie trekt er niet aan ons voorbij in deze bundel: stokoude tantes met een geheim… ter dood veroordeelden… literaire veelvraten, opschepperige schuinsmarcheerders… pedante veelschrijvers… losgeslagen hippies… gemankeerde dichters… intimi van Koning Alcohol… knettergekke 65-plusssers en andere verdwaasde AOW gerechtigden… oeverloze zuipschuiten en gedumpte advocaten… gesneefde minnaars, gefnuikte geliefden en wonderlijke paradijsvogels… Ons voorland?... zult u denken? Neen driewerf neen… dit is HO op de toppen van zijn kunnen…
Dan nu tot besluit een kort gedicht:
Voor Harry
Hij lijkt wat op Homerus, maar in het knappe dan,
Want de kwieke schrijver is een begeerlijk man
Hetgeen ik van mezelf niet zeggen kan.
Wat is hij kundig: hij kan schrijven en gedichten zingen,
Op dromen drijven, over mijmeringen springen!
Zelf ben ik te bleu voor zulke dingen.
Brutaal breekt hij het hart der kamermeiden,
Waarom de jonge hipsters hem benijden;
Met mijn physiek valt weinig te verleiden.
Hij woont in Haarlem en eet daar aldoor kreeft,
Ach natuurlijk, voor wie zoveel centen heeft…
Ik heb geen talent en toch blijf ik beleefd.
Kortom, Harry is de Praeses der Elite,
Ja méér: de Held van de Moderne Mythe...
Harry, geef me iets om NU van te genieten!
Terwijl ik op het schelle beeldscherm staar
Waar hij verschijnt, onstuimige minnaar!
Ben ik een kleine, moedeloze peuteraar,
Een verdorde, illusielooze man,
Die niet meer met de kind'ren lachen kan.
'k Heb meer dan Harry willen zijn: tja, dat kòmt er van.
Hij is zoo prachtig fier, zoo gaaf en sterk;
Hij durft nog opgewekt te zijn… bij 't werk
En gaat waarschijnlijk argloos naar de kerk.
Wij hebben ongelijk, goede mensen, naar wij vrezen:
Oltheten, de grote schrijver, gloriërend opgerezen
Dicht spelend fijne regels en wordt alom geprezen.
Onmachtig zijn wij, sukkels, idioten;
Maar balancerend in zijn literaire noten
Hoort Harry Oltheten waarachtig tot de Grooten!
Dames en heren….
Houd uw adem in… voor het nieuwe boek van Harry Oltheten.
Floris Kappelle
VRA Ladies tour, 19/06-22/06
VRA Ladies tour 2015:
Captain Cricket & the Hilarious Heroines


Full match reports will follow later, as will the pictures and the tourvid.

For now we only want to say that we had the BEST time with our touring party, the teams that hosted us, the city of London and the weather that allowed us to play the amount of cricket we did.
Three great games, great results, awesome cricket, personal records, 6-es, wickets, catches, London, run outs, winning, singing, Cluedo killing game, St Pauls, scones, calendars, Pimms, pink cricketballs, David Beckham, 11 charming oppo's, ballbusting, cider, city hunt In The Hidden City, pints, exceptionally well timed wickets, lopsided cricketgrounds, mechanical hands, jazzy metro moments, laughing, more cricket and more laughing...
... and then maybe some more laughing!
Love,
The VRA ladies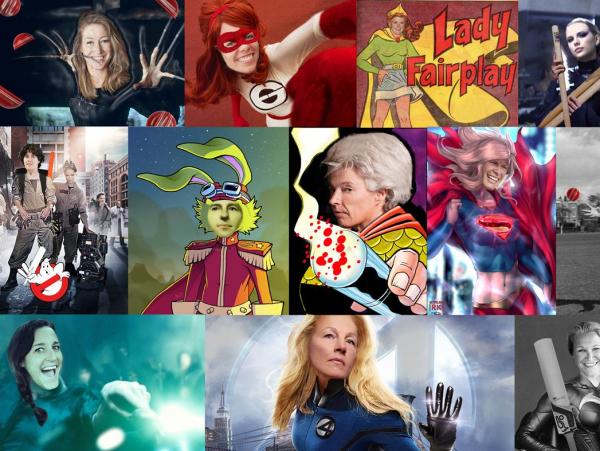 Supersal aka Captain Cricket, Tammy the Wicketslayer
, the Invisible Woman, Granny Good, Elastic Ann, Bowlerine, She-who-must-not-be-named, Inspector Helmet, Captain Hare, the Ballbuster, Batwoman aka Gotham Gitty, Misses Tapetastic, Lady Fairplay & the Freaky Fielder.
Munaf's Tips for Youngsters
Fielding
Stopping and returning.
As the bowler reaches the crease, all except the close fieldsmen will be moving in towards the batsman. Whilst the mental attitude of fieldsman must be aggressive, their first job is to stop the ball, as only then can they attempt to return quickly and accurately. To stop a ball a fielder must first get to it and this means being able to start directly he has sighted the line of the stroke.
To start quickly he must:
1. Watch the batsman so as to anticipate the likely line of the stroke.
2. Be balanced with the body slightly stooped and with the hands hanging loosely
3. Concentrate, expecting each ball to be hit to him.
To stop the ball he must:
1. Get on to the line of the ball as quickly as possible
2. Get down early and stay down.
3. Keep the head still, watching the ball until it is safely in hands.
4. The best position for receiving the ball, especially one that has been firmly struck, is called long barrier position.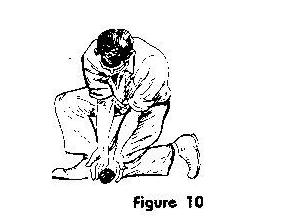 Long barrier position
1. Right foot with left knew overlapping, at right-angles to line of ball, head directly over hands.
2. If the boys don't understand, I will show them on the field
3. Fast and accurate throwing is essential for aggressive fielding.
4. Fielding is just as important in cricket as batting and bowling. It is true from my experience that a moderate bowling attack can be made brilliant by sure catching and keen ground fielding.
P.S.: Everyone needs an individual schedule of exercises to make certain that maximum benefit is obtained from time spent in training.
Mohammad Munaf
Specialist Trainer VRA Youth
Match report VRA U9 vs Bloemendaal, 20/06
The U9's strong form has continued, with a convincing win over Bloemendaal. With this week's home game played over at ACC due to India Day, the team did not miss a beat, scoring 112 for the loss of only 4 wickets. Bloemendaal were restricted to 53, and lost 9 wickets in the process.
With only 2 games left to play in the regular season, and a makeup game (again with Bloemendaal) and a couple of ad-hoc games to come, the U9's will be looking to finish their season on a high note.
The team also took the opportunity to watch some of the play of the other games going on, (U10's and VRA U12's)
Mick Verden