Webshop
Latest news about the second round of orders
The orders of the second round have not yet been completed. Due to all the hustle and bustle surrounding the ODIs, there was no time to process everything. It is a lot of work to check everything. We will be working on it again in the coming weeks.
Incidentally, there are still orders from the first round that have not been picked up. They can still report to Benno van Nierop.
Ordering new VRA competition clothing '22
The new season is rapidly approaching, so it is high time to take out your competition clothing (or your bag) and air it out. Are you ready for something new or do you not have a VRA outfit at all, then it is important to order your new outfit immediately. This is now possible via the VRA website and must also be done quickly due to long delivery times from China and the UK. Please note: since 2 years it has been mandatory to play in colored club uniform, the 'good old whites' are no longer allowed in competition.
Exceptionally, for the ZAMI department, they can decide whether or not to play in colored clothing in mutual consultation with the captains.
VRA clothing is not yet mandatory for youth up to and including U9. For them, it will be decided in consultation with the U9 coaches and youth commissioner, Sidra Raja, what the team's uniform will be.
VRA-kit
The beautiful VRA-kit has not changed compared to last season. So with the logos of our sponsors on the sleeves, namely the Amsterdam investment company Parcom ('Unlock the potential') and VR Shipping, an important forwarding agent on the transatlantic route, based in the Antilles. If you still have this outfit, you do not have to order.
Ordering via VRA
All VRA clothing can be ordered exclusively via the VRA website from our English supplier Surridge Sport. This also applies to the colored competition clothing.** It is important to know that the full color printed competition clothing (shirt and jersey) is manufactured in Asia with a minimum circulation and has a longer delivery time.** Logistically and cost-wise we therefore want to order these items simultaneously for all members who want this. This way we can also save on delivery costs.
In short, order your essential clothing sets (shirt, sweater, pants) now centrally via the VRA website. The first batch of orders will close on Friday March 18.
Ordering via the Stuart Surridge website
In addition to competition clothing, other cricket clothing can be purchased via the Stuart Surridge web shop, such as standard white clothing, training clothing, shorts, polo shirts, hoodies, jackets. These items can be ordered individually by everyone, but it is recommended to combine this with a number of interested parties due to strongly increased delivery and import costs (including due to Brexit).
Note: Although VRA clothing with logo and printing can be found on the Stuart Surridge website, it is only available through VRA.
Costs that you have to pay yourself
For individual orders via the Stuart Surridge website, the following applies: The costs for the ordered product must first be paid via the supplier's website. Other costs will follow after shipment: up to GBP 135 or EUR 150, a shipment from the UK is free of import duties, but not of 21% VAT. From GBP 135 you always have to pay 12% import duties plus VAT. There is also about €5 administration costs per package from the carrier. For the additional costs mentioned, you will automatically receive a message from the carrier after shipment with a link with which you can easily pay. After payment, the package will be delivered. Read more about the import rules on the customs website.
Order procedure
In addition to this message, all playing members will receive an invitation this week from their captain or team leader to order the new club uniform in the correct sizes via the online order form on the VRA website, with the request to do so immediately. You should eventually have at least a complete set (match shirt and pants), but if you play a lot you can also order extra, for example. A matching sweater (which is nice on cold days) can be additionally specified. The attached size chart ensures that you can determine the correct sizes yourself (women can also choose a slightly straighter model, regular fit or slimmer fitted).
Fill in the order form
At the bottom of this page there is a button that takes you to the order form for VRA clothing with imprint. If you click on this, you will be taken to a new page where you can choose what you want to order, which sizes and which print text and back number you choose.
Fill in all fields very carefully, because it cannot be changed once you have completed and paid for the order.
Back number and/or name
It is possible to have a name or number printed on the back of the shirt and sweater. That choice will be made in consultation with the captains/team leaders, but will then apply to the entire team. The clothing of a team must be uniform.
Assortment and prices
Unfortunately, due to the situation on the world market and Brexit, prices have increased compared to previous years. Fortunately, we were able to negotiate a limited price increase, but the additional costs still make the items relatively pricey.
We have also made the prices for juniors slightly more attractive.
| | |
| --- | --- |
| Item | Price |
| SENIOR | |
| VRA SET (shirt & pants) (until April 1, 2022) | € 83 |
| VRA SET (SLIM-FIT 4 LADIES shirt & pants) (until April 1, 2022) | € 83 |
| VRA-Shirt (short sleeve) | € 43 |
| VRA-Shirt SLIM-FIT 4 LADIES (short sleeve) | € 43 |
| VRA-Trousers | € 45 |
| VRA-Sweater | € 54 |
| JUNIORS | |
| VRA SET (shirt & pants) (until April 1, 2022) | € 65 |
| VRA-Shirt (short sleeve) | € 34 |
| VRA-Trousers | € 36 |
| VRA-Sweater (long sleeve) | € 48 |
Note: The offer price with €5 discount for a set (shirt and pants) until April 1:
for seniors €83 - incl. printing, shipping, import duties and VAT.
for juniors €65 - incl. printing, shipping, import duties and VAT.
Other articles
For prices of other articles, we refer to the Surridge webshop, on which the current prices will be stated from 1 April next (the prices stated now are not correct!). Please note that prices on Stuart Surridge's website are 'ex works', in GBP, exclusive of VAT, without transport, duties and customs clearance. So take into account exchange rate changes, costs for transport and VAT plus additional costs for import duties (0 to 12%). These are unfortunately the consequences of Brexit.
Sizes
Sizes are requested 1x per order and then used for all items in that order. For example, if you order a shirt and a sweater, they will be delivered in the same size. If you want a different size shirt than for a sweater, you have to fill in a separate order.
The size chart for shirts and sweaters: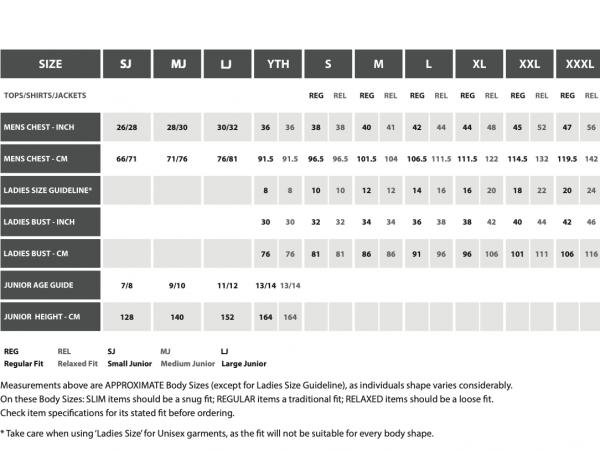 Size chart for pants: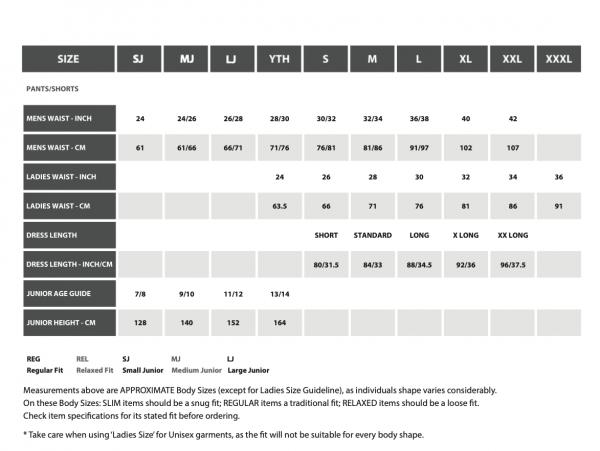 Payment
To make it easy this year, an online order form has been made for standard competition clothing, which you can use to order and pay directly. This will be used for the central bulk orders from VRA. For all other non-essential items you will be directed to the VRA shop on the Surridge website.
Delivery time
According to the supplier, the delivery time of the colored competition clothing is approximately 6 weeks after ordering by VRA. It is therefore very important that all orders are placed as soon as possible, but no later than Friday 18 March. If everyone cooperates, the clothing will be in time for the start of the season to be handed out to every player. We rely on your prompt cooperation.
Order now!
---
Web shop form on which you can order clothes with direct payment attached.