Webshop
During the General Members' Meeting of the KNCB – last December – the decision was made that teams competing in the highest divisions of the KNCB this season would play in coloured clothing. This is in anticipation of a complete switch to uniform coloured clothing in the 2020 season, at which point this will apply to all teams playing competition.
A committee consisting of Nathalie Hennis and Benno van Nierop took on the challenge to design and produce a new outfit for VRA on time. Based on a number of predetermined requirements, in the end the familiar cricket brand Stuart Surridge (also known as SS) was selected to supply VRA clothing.
In addition to the uniform coloured clothing, SS now also offers an extensive clothing line with, for example, traditional whites (for touring teams), training outfits, merchandise and various accessories. All items sport the VRA logo and are available in various sizes, for both seniors and juniors.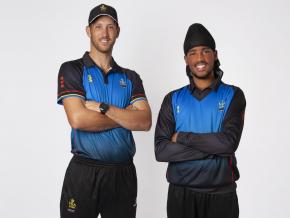 As of today, these items can be ordered online directly from Stuart Surridge by VRA teams, individual members, and VRA friends.
You can visit the webshop here.
While the coloured match clothing is available from the webshop, for logistical reasons this still should be ordered in batches via Benno (webshop@vra.nl).
This is to prevent the shipping costs from China for quantities that are too low.
A few important tips:
For most packages, shipping is GBP 12,00, so ordering together with someone saves on costs.
In principle, you can order the coloured clothing individually, but realize that teams must always play all wearing uniform clothing. So either order now with your entire team, or wait until next year. Next season, all teams must play in the club's coloured clothing. As mentioned above, individual orders are being collected in batches and sent once every two weeks. The delivery time of these items is also longer (4-6 weeks) than of other items.
Remember that 'whites' will no longer be worn in the competition. So order these only if you sometimes play in fixtures against touring teams, if you go on foreign tours yourself, or if you want to continue to play in your team in wayward white (entirely at your own risk).
At the club, ask members who have already purchased clothing if you can see how it fits. There is a size chart on the SS website, but it's not perfect.
The hoodies, polos and training shirts are not only nice to wear at the club, but also great for other activities. For members and non-members.
If you want to order something as a group, with a special print on it, please send your request to webshop@vra.nl.
Trousers must be shortened by the players, zoom tape comes with your order if all is well. Do not iron this in too hot, polyester melts!
Look carefully at the washing instructions on the labels.
Wishing you much enjoyment with all of the new club items. Order now!
Benno van Nierop
Please note:
It is not permitted to order clothing with the VRA logo on it, other than that offered in the webshop. Not from Stuart Surridge and certainly not from any other supplier. The VRA logo is copyrighted. If there are special requests (for example, team sponsorship or additional items), permission must always be obtained from the Board in advance.