Webshop
LATEST NEWS:
UPDATE July 27th, 2023: Delayed delivery VRA-kit
We get a lot of questions about the delivery of the 2nd batch of VRA clothing that has still not been delivered. Fortunately, we can report that delivery is now scheduled for week 33. That means that we will probably have the items in Amsterdam to hand out by the end of that week. We will immediately inform you about as soon as we have an exact date.
We share the frustration about the long delivery time. Manufacturers of bespoke cricket clothing are hard to find in Europe and orders via the supplier in Asia can only be made in larger numbers and have long delivery times. We are looking for an alternative solution for next year. Thank you for your patience.
---
UPDATE June 1st, 2023: From now on order direct from Surridge
You can now order directly from the Surridge VRA webshop. All VRA competition and training clothing can be obtained there. Both colored and 'whites'. Orders for the colored competition shirts and jerseys are collected per month, after which a collective order is placed in Asia. For these items, therefore, take into account delivery times of up to 8-10 weeks after ordering. All other items (including pants) are basically in stock in the UK and only need to be embossed with a logo. Delivery time to Amsterdam is usually a week or two.
Due to Brexit, you must also take into account additional costs for delivery after each order and checkout. The orderer will receive a message from the carrier with costs for customs clearance and VAT (for your purchase in the UK you do not pay VAT in the first instance). After those costs have been paid by you, the package will be delivered. It is therefore recommended to place orders with several members at the same time or per team. In the Surridge webshop you can opt for individual orders or orders 'for your team' to make this easier.
Size charts are on the Surridge website, but you can also find them at the bottom of this page.
Go ahead!
---
Update April 1st, 2023: The webshop is open again for the second batch of match kit
VRA competition clothing 2023 can be ordered again
Registration for the second delivery for season 23 is open again, and closes on Friday 26 May. Go to the order form via the button in the box below.
All VRA competition clothing can now be ordered again.
Coordination orders for teams (due to names/back numbers) via captains or team leader.
Discount per set (shirt/trousers) when ordered in time.
Expected delivery of second shipment mid July 2023.
Prices
| | |
| --- | --- |
| Seniors | Price |
| VRA Outfit SET (shirt & pants) (Offer) | €85 |
| VRA-Shirt (short sleeves) | €45 |
| VRA Pants | €45 |
| VRA-Sweater (long sleeves) | €55 |
| Juniors | |
| VRA Outfit SET (shirt & pants) (Offer) | €70 |
| VRA-Shirt (short sleeves) | €40 |
| VRA Pants | €40 |
| VRA-Sweater (long sleeves) | €50 |
| | |
For more information about the clothing, the ordering process and the size chart, read more under the form.
The VRA Club Kit
All VRA teams are required to play their competition matches in colored club clothing, with the exception of the ZAMI.
Every year in February we collect the individual clothing orders for all members and teams via the VRA website. In this way we try to have all uniforms before the start of the season.
Special club clothing is not yet mandatory for the youngest youth up to and including Under9. For them, it will be decided in consultation with the U9 coaches and the youth commissioner what the team's uniform will be.
Order via VRA
All VRA apparel is supplied exclusively by Surridge Sport. Because the full-colour printed competition clothing (shirt and jersey) including club logo is manufactured in Asia with a minimum quantity, it has a long delivery time. From a logistical and cost point of view, it is therefore not possible to order these specific items individually, but must do so via the VRA order form. This way you also save on delivery costs.
Ordering procedure
In addition to this message, all playing members will receive an invitation this week from their captain or team leader to order the new club uniform in the correct sizes via the online order form on the VRA website, with the request to do so immediately. Determine your size with the size chart below (ladies can choose a regular fit or a slim fit, the ladies fit).
Personalise: shirt number and/or name
It is possible to have a name and/or number printed on the back of the shirt and sweater. This choice will be made in consultation with the captain/team leader, but will then apply to the entire team. The clothing of a team must be uniform.
Payment Unfortunately, due to the situation on the world market and Brexit, prices have risen again compared to previous years. Fortunately, we were able to limit this through firm negotiation. We have also kept the prices for juniors a little more attractive. You can pay directly in the online order form. This will be used for the central bulk orders from VRA. For all other, non-essential items, we refer to the VRA shop on the Surridge website (only open after April 1).
Delivery time
According to the supplier, the delivery time of the colored competition clothing is more than 6 weeks after ordering by VRA. For the second batch, this means half June.
Size Chart
Clothing sizes are listed in the table below. Pants are more than long enough for everyone and can easily be hemmed to size.
Shirts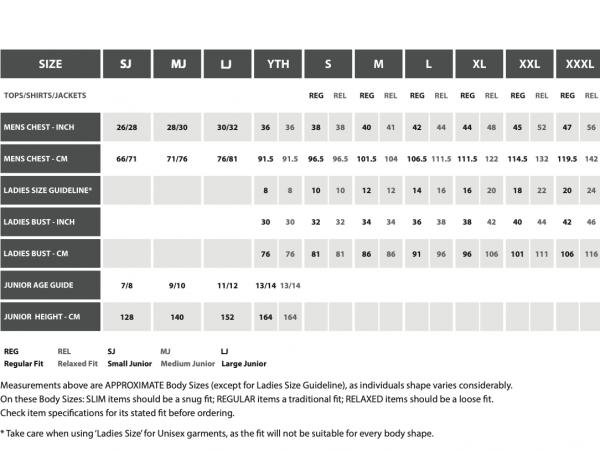 Trousers