Clubblad Amsterdamse Sportvereniging VRA
---
How's That verschijnt tijdens het cricketseizoen wekelijks
---
Five U13 VRA Players Selected for Dutch Lions Cricket Tour to the UK
We are thrilled to announce that the following U13 VRA players, Faizan Ahmed, Rory Griffin, Heinrich Joubert, Samuel Lane and Dylan Stallaart have been selected to represent The Netherlands at the Minor Counties Cricket Festival in the United Kingdom during August.
The festival is held at the Royal Hospital School in Ipswich and will see the Netherlands play matches against Norfolk, Suffolk, Wiltshire, Wales South and Middlesex Schools to name a few.
For these boys this is an opportunity to showcase their abilities, competing against top-notch county teams from the UK, while experiencing the rich cricketing culture and heritage of the country.
This achievement reflects not only their individual talent but also the excellent coaching and support provided by both the VRA and Dutch Lions coaching staff.
We extend our congratulations to these remarkable young cricketers and wish them the very best as they embark on this exciting journey representing the Dutch Lions in the UK.
Tracey Brown
Resultaten 15 - 21 juni
| Date | Grade | Home Team | Home Team Score | Result | Away Team | Away Team Score |
| --- | --- | --- | --- | --- | --- | --- |
| 17 Jun | EK T20 | VRA 2 | 5/120 | def | Punjab 2 | 119 |
| 17 Jun | TK T20 | VRA | 5/113 | def | VCC | 94 |
| 17 Jun | Vrouwen T20 | VRA | 5/143 | v | VCC | 2/111 |
| 17 Jun | 3e Klasse | De Kikkers 2 | 287 | def | VRA 6 | 224 |
| 17 Jun | Zami | Salland | | def | VRA 1 | 0/0 |
| 17 Jun | Zami | VRA 2 | 182 | def | Kampong 1 | 166 |
| 17 Jun | Zami | VRA 3 | 6/215 | def by | HCC 3 | 217 |
| 17 Jun | TK T20 | VRA | 8/149 | def | Excelsior 20 | 116 |
| 18 Jun | U11 HB | Kampong/ MOP Combi | 1/157 | def by | VRA 2 | 7/162 |
| 18 Jun | U15 | Hilversum | | v | VRA 2 | |
| 18 Jun | U15 | VRA 1 | 9/125 | def | Qui Vive | 112 |
| 18 Jun | U17 | VRA 1 | | v | VCC | |
| 18 Jun | U17 | VRA 2 | | v | VVV | |
| 18 Jun | 2e Klasse | Den Helder 1 | 175 | def by | VRA 4 | 8/248 |
| 18 Jun | 2e Klasse | VRA 5 | 2/212 | def | Zwolle 1 | 211 |
| 18 Jun | 3e Klasse | VRA 7 | 9/271 | def | Dosti 3 | 223 |
| 18 Jun | OVGK | VRA 3 | 257 | def by | Quick 1888 1 | 4/258 |
| 21 Jun | LK T20 | Hilversumsche CC | 85 | def by | VRA 2 | 9/124 |
| 21 Jun | LK T20 | VRA 1 | 8/129 | def | De Kikkers | 8/112 |
Bron: ResultsVault
---
VRA 6 vs Quick 1888 2
11th June 2023, Amsterdam Bos
Would India on Day 5 manage to cross 280 with 7 wickets in hand in the WTC Final was running in everybody's head & point of discussion when we were waiting for our home game at Amsterdam Bos (Ground 2) against "Quick 1888 2"
VRA's Captain Danish & Quick's Theo were off for the toss in the middle. Theo won & decided to bat.The sun was blazing down from a cloudless sky, casting a golden hue over the cricket field when Ravi & Asmatullah walked into the middle to open the innings, while Danish was in his bowling mark waiting to deliver the first ball of the innings. It was indeed business as usual both the opening bowlers were consistent in line and length. Srijan was hitting the deck more finer bowing a maiden to start his. Overs went by and score read 9 runs off 4 overs without any wicket. On the 5th Over Danish came up with a double sending Asmatullah for a duck caught behind by Hersch & Hassan for four trapping in front.
Akshay the new batsman walked in to join Ravi in the middle. End of power play the scoreboard read 38/2 in 8 Overs. Aditya Bhargava bowled Ravi around his legs in his first over followed by Rishab caught behind in his second over, Akshay was run out with good fielding work by Yogesh in his following over. Quick were 57/5 where all their batsman went packing Unfortunate on field injury to AB meant his bowling was curtailed and later learnt the severity ( On behalf of VRA6 we would wish you a speedy recovery AB ). Arjun & Saneel started to operate post drinks. Arjun with his sharp bowling picked up 2 quick wickets to dismiss Zubair for 8 a catch by Sunil with so much precision in long on ,the best so far I would say & Salim for 1 bowled. Raees on the other hand was slowing doing the scoring for his side but then eventually Srijan came on to bowl and dismissed him the very first ball caught behind, followed by Walter cleaned up in the same over. Arjun picked the last wicket of Theo caught behind again by Hersch to wrap up the innings for 111 in 24.4 Overs. Good all round bowling, fielding & catching (Sunil & Herch) performance lead to wrapping up Quick Innings.
The air was dry and tinged with heat to Chase 112 to win the openers Hersh & Yogesh went into the middle nothing seemed different for the two as it was just another day. Both were aggressive at the same time cautious knowing the total is too low and need to spend more time and take the team through. On the 6th Over Ravi Dismissed Hersch caught behind for 26. Arjun walked into the middle and started off from where he had left with this quick running and lovely square drives. Yogesh as usual took the spinner to the cleaners with his natural stroke play. In the 11th over Danny dismissed Yogesh for 39 caught by Salim in the slips which was a poor choice of shot from him and scoreboard read 97/2. Sunil Joined Arjun in the middle needing another 15 runs to win. At score reading 104 Raees bowled Arjun for 21 to a lazy shot which was played on to the stumps. Needing 8 runs to win Srijan walked into the middle and wrapped up the game with two quick boundaries which sealed a victory to the home team. With this 7 wicket win they move to 3rd on the table.
Aditya Krishnakumar
Salland Zami vs VRA Zami 1
Het was niet om de hoek, de uitwedstrijd tegen Salland CC, een nieuwkomer in de Zami-competitie. In Deventer, stad van het beroemde Charles Dickensfestival, stad waar de glinsterende IJssel doorheen glooit en ook nog eens trots mag zijn op zijn middeleeuwse centrum. Niet dat we daar op deze broeierige zaterdag veel van meekregen. Het Deventer van VRA Zami 1 bestond uit een kurkdroog veld met veel zwarte aarde, dat de gemeente er enkele dagen geleden in al hun wijsheid op had gestort. Al lag het wicket er, ondanks de omstandigheden, goed bij.
Na de nederlaag tegen Salland vorige week op eigen veld, reed de VRA-selectie met het mes tussen de tanden de Randstad uit op weg naar revanche. Monter en vol goede moed begonnen we aan slag. Louis Collignon en Bart Schotte leken op weg een prachtig partnership op te bouwen, maar dat werd in de zevende over bruut verstoord door een ongelukkige wicket voor Collignon. Schotte streed moedig voort en eindigde uiteindelijk op een respectabele 35 runs.
Net toen Salland dacht onze slagmensen in de houdgreep te hebben genomen, stond Ewoud de Man op. Met 47 runs, waaronder 7 'viertjes', stuwde hij ons omhoog zodat we in elk geval niet al halverwege met gebogen hoofd onze weg naar het clubhuis hoefde in te zetten.
Over mijn eigen - niet noemenswaardige - debuut als VRA-Zami-speler kan ik kort zijn. Het duurde twee overs. Er was te veel aarzeling, er was een fraaie catch en er was die vermaledijde vinger van de umpire die zijn weg omhoog vond. Better next time.
Met 176 runs konden we aan de boterhammen. Na enkele jaren een – eveneens vrij roemloze – ervaring te hebben opgedaan in het Engelse Village cricket, kwam ik in aanraking met tea's vol Indiase curries, samosa's, witte bonen in tomatensaus of, in het geval van een iets deftigere cricketclub: de befaamde driehoekssandwiches zonder korstje. De Deventer tea bestond uit, hoe kan het in Nederland ook anders, een boterham met kaas.
In de hoop dat tijdens het fielden de temperatuur iets zou zakken in de late namiddag, begonnen we vol goede moed aan het tweede deel van de wedstrijd. Dankzij zeer sterk bowlen van Andy Pulver (2 wickets) en Ernst van Raaphorst (3 wickets) leken we nog voor de eerste drinkpauze op weg naar een goede afloop. Ook Willem van Mierlo en Jelger Gustafsson bowlden zeer verdienstelijk.
Helaas bleek de slagkracht van Salland zich niet te beperken tot de eerste vier heren van de batting order. Uiteindelijk hadden ze 27 overs nodig om onze 176 runs te verpulveren.
Na afloop bij de barbecue veel aandacht voor de voorvaderen van Floris Kappelle, die op en rond Deventer in het verleden grootgrondbezitters bleken te zijn geweest, met enkele prachtige landhuizen als overblijfsel. Alleen bleek daar in 2023 voor de nazaten niet heel veel meer van over. "Te vroeg verkocht", mopperde Kappelle, die zich nog wel waagde aan een wandeling over het tuinpad van het vroegere Kappelle-imperium.
Aangezien deze debutant ook nog een catch tussen zijn vingers liet glippen, leek me het minste wat ik kon doen om de wedstrijd maar in een verslag te gieten. Bij deze.
Op naar meer!
Tim de Wit
The Barbarians and VRA Savages - Mixed Friendly
In an exciting cricketing spectacle, the Barbarians and VRA Savages fielded mixed teams comprising players from different age groups (U11, U13, U15). The match, played in a friendly and competitive spirit, showcased the talent, enthusiasm, and camaraderie among the young VRA cricketers. The toss was won by the Barbarians, who elected to bat first, aiming to set a challenging target for the VRA Savages. The opening batsmen took their positions at the crease with a sense of purpose and determination. The bowlers from VRA Savages, aimed to bowl with accuracy putting early pressure on the batsmen.
The Barbarians' opener, Mishika Shrivastava, undeterred by the challenging bowling, showcased her talent and technique. She displayed a sound defensive approach while capitalizing on scoring opportunities, rotating the strike with Aahan Singh and finding the singles.
The fielders from the VRA Savages, equally determined, put in a commendable effort to save runs and create chances with their fielding skills. As the innings progressed, the Barbarians' batsmen, Sam Lane and Faizan Ahmed continued to build partnerships and kept the scoreboard ticking. The middle order players complemented each other's strengths, showcasing their shot-making abilities and tactical awareness. The VRA Savages, despite commendable efforts by Nicol, Hitarth and Verne, struggled to rein in the extras.
The Barbarians players, regardless of age, supported and encouraged each other, creating a positive and cohesive atmosphere on the field. The spectators and parents were treated to an exhibition of skill, determination, and the joy of playing cricket together. Chasing a target of 182 runs in response, the VRA Savages began their run chase with a sense of purpose. However, as the innings progressed, lapses in concentration became evident, leading to moments of ball watching and missed scoring opportunities. The batsmen occasionally failed to pick up singles and convert them into twos, resulting in a slower scoring rate. The communication between the batsmen seemed to falter, leading to confusion and missed run-scoring opportunities. The Barbarians' fielders capitalized on these moments, displaying quick reflexes and sharp throws to create run-out chances.
The match became an enthralling contest as the VRA Savages' batsmen fought hard to chase down the target. Arinjay Sengupta and Akshit Aggarwal displayed their resilience and composure. They played calculated strokes, rotated the strike effectively, and capitalized on any loose deliveries, keeping the game finely balanced.
As the overs started to dwindle, the VRA Savages found themselves running out of time to achieve the target. The batsmen attempted to accelerate the scoring, but too many wickets had fallen and the pressure mounted with the two remaining batsmen, Arinjay and Akshit left with the daunting task of achieving a high run rate of 15 runs per over in the final two overs. Despite falling short of the target, the VRA Savages' players remained positive and displayed good sportsmanship throughout the match. The match served as a valuable learning experience for the young cricketers, providing them with opportunities to develop their skills and gain match awareness.
The conclusion of the match was celebrated with a well-deserved lunch, marking the end of an enjoyable morning of cricket.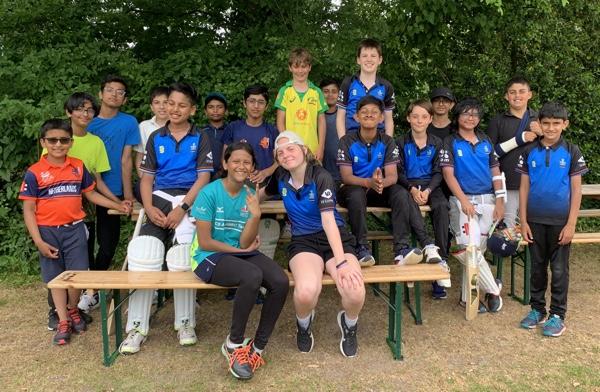 Tracey Brown
Sweet grass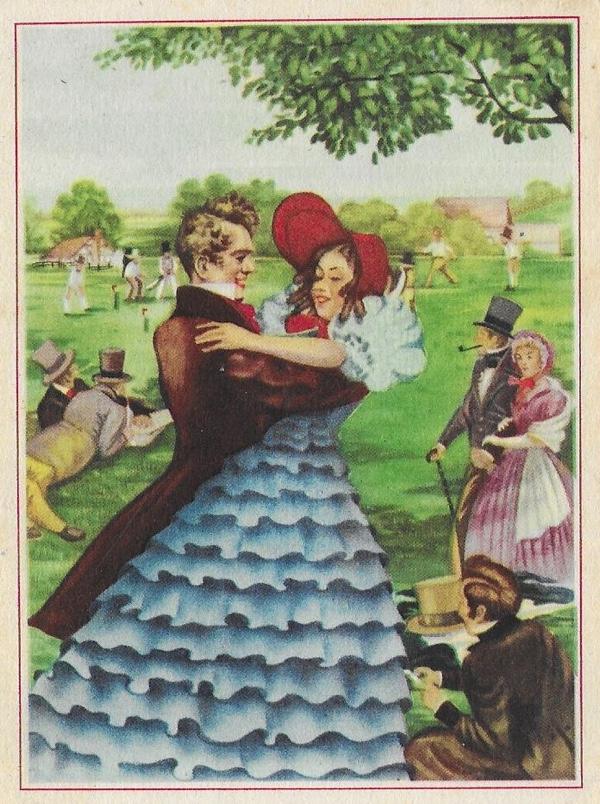 Als het warm is in juni kun je maar beter niet al te veel beweren.
Luieren, op een grasstengel kauwen, flaneren, een stijlvol dansje en dagen vol cricket zijn dan meer op hun plaats. Een paar dichtregels van George Moor ter illustratie kunnen daarbij geen kwaad;
Club match
Across green tafetta the bowler runs
with circling arm. The red ball magnified
down to the clicking bat. The ball seem suns
whose planets are the watchers' turning eyes!
The lazy lie with sweet grass in their lips;
the ladies twirl their Japanese sunshades.
All day the ball leaps down, the scratched bat clips;
all day the soft oppressive sun persuades.

'Red ball cricket'. Hoe ging dat ook alweer?
Tom Matena
Wedstrijden 22 - 28 juni
| Date | Grade | Home Team | Result | Away Team | Venue |
| --- | --- | --- | --- | --- | --- |
| Sat 24 Jun 10:00 | Vrouwen T20 | Ajax | v | VRA | Sportpark Overveer |
| Sat 24 Jun 13:00 | Zami | HCC 3 | v | VRA 3 | De Diepput |
| Sat 24 Jun 13:00 | Zami | VRA 1 | v | Kampong 1 | Amsterdamse Bos |
| Sat 24 Jun 13:00 | Zami | VRA 2 | v | Rood en Wit 1 | Amsterdamse Bos |
| Sat 24 Jun 13:00 | Zami | VRA 3 | v | Quick 2 | Amsterdamse Bos |
| Sat 24 Jun 14:00 | Topklasse Twenty20 | ACC | v | VRA | Sportpark 't Loopveld |
| Sun 25 Jun 09:00 | U11 HB | VCC | v | VRA 1 | Sportpark Westvliet |
| Sun 25 Jun 09:00 | U13 | Rood en Wit | v | VRA 1 | Sportpark Eindenhout |
| Sun 25 Jun 09:00 | U15 | VRA 1 | v | Hilversum | Amsterdamse Bos |
| Sun 25 Jun 09:00 | U15 | VRA 2 | v | Bloemendaal/Rood en Wit Combi | Amsterdamse Bos |
| Sun 25 Jun 09:00 | U17 | Eindhoven | v | VRA 1 | Sportpark Dommeldal-Zuid |
| Sun 25 Jun 13:00 | 2e Klasse | De Kikkers 1 | v | VRA 4 | Lisserweg |
| Sun 25 Jun 13:00 | 2e Klasse | VRA 5 | v | Kampong 3 | Amsterdamse Bos |
| Sun 25 Jun 13:00 | 3e Klasse | MOP 1 | v | VRA 6 | MOP Cricket |
| Sun 25 Jun 13:00 | 3e Klasse | VRA 7 | v | Hercules 3 | Amsterdamse Bos |
| Sun 25 Jun 13:00 | Overgangsklasse | VRA 3 | v | Ajax 1 | Amsterdamse Bos |
Bron: ResultsVault