Voorwoord
Het komt niet vaak voor dat er een voor mij volkomen onbekende naam opduikt in het team van mijn favorieten, de West-Indiërs, maar afgelopen vrijdag was het zover bij de match tussen de Windies en de UAE. Het was sowieso al een beetje een fantasie-elftal waarmee de mannen uit de West aantraden, maar met een beetje goede wil kon ik de meeste namen nog wel thuisbrengen. Dat gold niet voor die van opener Alick Athanaze, een speler van al 24 jaar die zijn debuut maakte, als opener nog wel. Een blik op zijn internet-profiel leerde me dat hij toch al een redelijke imposante eersteklas-carrière achter de rug had en zijn gemiddelde van ruim 37 was beslist niet slecht, maar tot de hoogste regionen was hij nooit doorgedrongen. Tot nu dus. Bij de meeste debutanten zou je trillende benen en handen verwachten, zo niet bij Alick. Hij timmerde er lustig op los en werd pas gestopt toen hij 65 runs in 45 ballen achter zijn naam had staan. En passant had hij de snelste debutanten ooit fifty gescoord. Het zou te ver gaan om te beweren dat hier een nieuwe superster was opgestaan maar Alick lijkt me zeker iemand om in de gaten te houden.
Vlak voordat ik dit stukje tikte, hoorde ik van John dat ons eerste zijn 20twenty campagne goed is begonnen. Tegen Salland werd een gemakkelijke overwinning behaald. Dat belooft veel goeds!
H.O.
Resultaten 10 - 11 juni
| Date | Grade | Home Team | Home Team Score | Result | Away Team | Away Team Score |
| --- | --- | --- | --- | --- | --- | --- |
| Sat 10 Jun 10:00 | Topklasse Twenty20 | VRA | 0/83 | def | Salland | 82 |
| Sat 10 Jun 10:00 | Vrouwen T20 | VRA | | v | Bye | |
| Sat 10 Jun 13:00 | Zami | VRA 1 | 7/201 | def by | Salland | 7/207 (cc) |
| Sat 10 Jun 15:00 | Eerst Klasse Twenty20 | Eindhoven | 7/151 (cc) | def | VRA 2 | 5/142 (cc) |
| Sun 11 Jun 09:00 | U11 HB | VRA 2 | 4/185 (cc) | def | VRA 1 | 11/178 (cc) |
| Sun 11 Jun 09:00 | U13 | Kampong | 6/169 (cc) | def by | VRA 1 | 6/170 |
| Sun 11 Jun 09:00 | U15 | Qui Vive | 0/66 | def | VRA 2 | 65 |
| Sun 11 Jun 09:00 | U15 | VRA 1 | 115 | def by | Kampong | 2/117 |
| Sun 11 Jun 09:00 | U17 | ACC | 1/222 (cc) | def by | VRA 2 | 7/244 (cc) |
| Sun 11 Jun 09:00 | U17 | VRA 1 | | v | Punjab | |
| Sun 11 Jun 11:00 | 2e Klasse | VRA 5 | 8/215 (cc) | def | Hengelo 1 | 9/212 |
| Sun 11 Jun 13:00 | 2e Klasse | VRA 4 | 220 | def by | Centurions 2 | 6/224 |
| Sun 11 Jun 13:00 | 3e Klasse | Salland 3 | 75 | def by | VRA 7 | 150 |
| Sun 11 Jun 13:00 | 3e Klasse | VRA 6 | 3/115 | def | Quick 1888 2 | 111 |
| Sun 11 Jun 13:00 | Eerst Klasse Twenty20 | VOC 2 | | drew | VRA 2 | |
| Sun 11 Jun 13:00 | Overgangsklasse | Qui Vive 3 | 2/133 | def | VRA 3 | 130 |
Bron: ResultsVault
Salland vs VRA 7
VRA 7 got off to a shaky start after winning the toss and opting to bat. Opener Sandeep SR was dismissed for a duck on just the second delivery. Vishal Kodi held the innings together with a patient knock of 31 runs off 50 deliveries. Vivek A K contributed a quickfire 10 runs off 9 balls before being dismissed. Anky Sharma struggled to find his rhythm and scored 11 runs off 35 deliveries.
The middle order saw a significant contribution from Sandeep Chavali, who played a crucial knock of 48 runs off 56 balls. However, wickets kept falling at regular intervals as Salland's bowlers maintained control over the innings. Nathan Ramanchandran, Janno Barlage, Dinesh Hemapriya, and R. Rangananthan all picked up wickets, limiting VRA 7 to a total of 150 all out in their allotted 40 overs.
Salland Bowling:
Nathan Ramanchandran: 1 wicket for 17 runs in 6 overs
Janno Barlage: 3 wickets for 34 runs in 8 overs
Dinesh Hemapriya: 3 wickets for 21 runs in 6.1 overs
R. Rangananthan: 2 wickets for 25 runs in 5 overs
Salland Innings:
In pursuit of the target of 151 runs, Salland's batting lineup struggled right from the start. Opener Rajesh Ganesan scored a quick 8 runs off 10 balls, while Mutual Saini contributed 7 runs off 12 deliveries. S Arunachalam fought hard in the middle order, scoring 17 runs off 38 balls, but wickets continued to tumble regularly.
VRA 7's bowlers put up an impressive performance, led by Vishal and K Ajjarapu in the opening spell, who claimed a wicket each. Surya wreaked havoc with his spell, taking 3 wickets for just 6 runs in 5 overs. Avinash Akella and Anky Sharma also made valuable contributions, picking up 2 wickets each.
VRA Bowling:
Vishal: 1 wicket for 12 runs in 4 overs (Opening spell)
K Ajjarapu: 2 wickets for 13 runs in 3 overs (Opening spell)
Surya: 3 wickets for 6 runs in 5 overs (1st spell)
Avinash Akella: 2 wickets for 13 runs in 3.3 overs (2nd spell)
Anky Sharma: 1 wicket for 6 runs in 3 overs (2nd spell)
Salland Innings Summary:
Despite some resistance from S Arunachalam and lower-order batsman Sarvesh Wagh (6 runs off 14 balls), Salland struggled to build substantial partnerships and were bowled out for a total of 75 runs in just 22.3 overs.
Result: VRA 7 won the match by 75 runs.
It was a dominant performance by VRA 7 as they displayed a strong batting effort and followed it up with excellent bowling to secure a comprehensive victory over Salland in this 40-overs game at the Salland Home Ground.
Avinash Akella
VRA Zami1 - Salland Zami
Zami 1 hosted the team from Salland on Saturday 10th on the hottest day of the year. Thanks to VRA1 making short work of their T20 opponents in the earlier game, the first field was now available and the opportunity to play on turf was gleefully accepted by all.
Captain Louis lost the toss (again…) and we were sent into the field with a couple of extra drinks breaks on the schedule. Opening bowlers Pulver (1/26 from 7) and de Man (3/34 from 7) applied early pressure and were rewarded with early wickets - after 9 overs Salland had slumped to 15 for 3. From here Salland set about stabilising the innings firstly through the effort of Dutch International legend Steven Lubbers and later additional middle order support. Fair to say not the best effort from ZAMI1 in the field and runs continued to flow - perhaps the heat was finally playing a role too. While a few extra wickets fell towards the end of the innings, Slland reached a very competitive 207/7 from their 35 overs.
Looking to score at 6 an over to chase this down, the openers got off to the perfect start and by the time Himanshu (30) fell, 72 runs were already on the board after 12 overs. Prasun (51) and Cameron Shepherd (41) consolidated this position further and progressed the score to 144-1 with more that 10 overs to come - surely with plenty of able batsmen to come, victory was in sight ! Unfortunately the next 7 overs saw 6 wickets fall for just 26 runs and although the pairing of Ewoud (19) and Louis (16) continued to swing hard, defeat was pull from the jaws of victory and we fell 6 runs short.
The final result was the only disappointment in a beautiful day of cricket at VRA and both teams enjoyed the sun and amber refreshments in the early evening. Talk of redemption started soon after the final shaking of hands and we are eagerly awaiting our return trip to Salland this coming Saturday to set things right again.

Andrew P.
VRA U13 Nail-Biting Win over Kampong
In a thrilling encounter, VRA's U13 team emerged victorious in a nail-biting contest against the top-of-the-league team, Kampong. The match, held at Kampong's home ground, was filled with excitement and showcased the immense talent and determination of these young cricketers.

Winning the toss, VRA elected to bowl first. The opening batsmen from Kampong started well, displaying their skills with some solid strokes and good defence to build a strong opening partnership. VRA remained calm, rotating their bowlers to try and break the opening stand and, despite the lack of initial wickets, bowled tight and straight to restrict the run rate. The breakthrough came in the 10th over, after an opening stand of 58, when Faizan Ahmed sent a rocket down the pitch that took out the batsman's middle stump. As the pressure mounted, Kampong's middle order faltered, struggling to maintain the scoring rate. VRA's disciplined bowling and tight fielding further added to their woes.
The match witnessed some intense moments as Kampong's batsmen fought back valiantly, but VRA's bowlers kept their nerve and picked up wickets when it mattered the most. In the end, Kampong managed to score a respectable total of 169/6 in their 25 overs. Faizan, was the pick of the bowlers, with 3 wickets in 3 overs and giving away only 7 runs. He was skilfully supported by Nicol Marais, who claimed 2 wickets in his 4 over spell. Both bowlers claimed the crucial wickets that put VRA back in the game.

Chasing 170 for victory, VRA got off to a shaky start, losing 2 early wickets. Before Faizan and Sam Lane built a partnership to keep VRA in the game. However at in the 11th over Faizan fell to an incredible catch by Kampong, leaving VRA faltering at 66/3 and under scoreboard pressure. Sam's, who's aggressive batting (18 of 21 balls), was accelerating the run rate, unfortunately fell two overs later to a slow ball on middle stump. Both new batsmen Dylan Stallaart and Aahan Singh played a mature innings with impeccable patience, steadily building a partnership to keep VRA in the game. However some excellent bowling and fielding by Kampong meant that the required run rate had climbed to 14 runs per over, when Aahan was dismissed in the 22nd over for 13 runs. At this point it seemed the game was slipping away from VRA's grasp, but the resilient VRA batsmen refused to give up and fought back with determination.
In a breath-taking display of stroke play, Heinrich Joubert, VRA's number seven batsman, turned the game on its head with a blistering innings, including 3 fours and a 6. He attacked the bowling from the outset, finding the boundaries with ease and unsettling the Kampong bowlers. His explosive knock of 25 runs off just 10 balls injected new life into the VRA innings and brought the required run rate under control, until he was dismissed by the last ball of the 24th over, bringing Nicol Marais in for the last over.
With the game hanging in the balance, VRA required 9 runs off the last over. The tension was palpable, and the spectators held their breath. In an incredible turn of events, Nicol smashed a boundary off the third last ball, bringing the equation down to 3 runs off two balls. Following a quick single from Nicol and with nerves of steel, Dylan guided the team to a sensational victory, striking the winning runs. Dylan finished the game with his season best figures of 37 not out, of 50 balls, including 5 fours. He was the batting rock that helped set up the VRA victory.
The VRA players erupted in joy, celebrating their remarkable triumph over the top-of-the-league team. The match had truly been a rollercoaster ride, showcasing the resilience, skill, and fighting spirit of the U13 VRA team.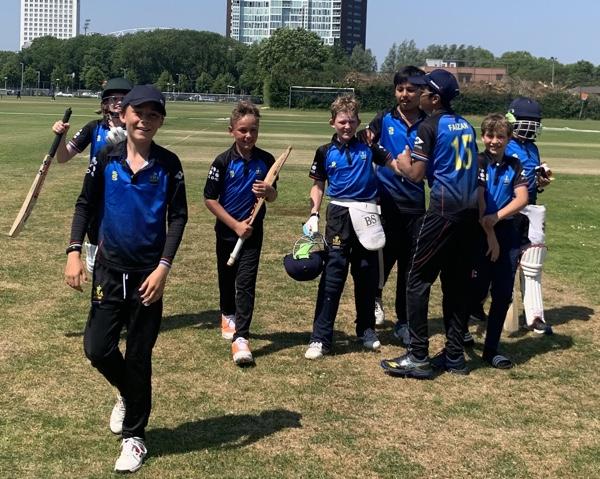 Tracey Brown
Cadbury's Cocoa
"A finger of Fudge is just enough to give your kids a treat."
"Everyone's a Fruit and Nut Cake."
"A glass and a half of full cream in every half pound."
Bij het horen van bovenstaande slogans liep of loopt welhaast bij iedere Brit het water in de mond. De drie zijn een willekeurige greep uit het reclamecampagne-arsenaal van de Engelse chocoladegigant Cadbury. De firma werd in 1824 opgericht door John en Benjamin Cadbury. Ze verkochten aanvankelijk thee, koffie en chocolademelk. Met name John was een realistische, maar tevens idealistische ondernemer. Hij wilde niet alleen geld verdienen, hij was ook begaan met de woon- en werkomstandigheden van zijn personeel. Iets ten zuiden van Birmingham kocht hij daarom Bournville Estate, een reusachtig landgoed, waar vanaf 1879 zijn 'Factory and Village in the Garden' werd gerealiseerd. Cadbury liet onder het motto 'Niemand mag ertoe worden veroordeeld om op te groeien op een plek waar een roos niet kan bloeien' het eerste Engelse tuindorp bouwen. Geriefelijke woningen voor de Cadbury Community met alle mogelijke voorzieningen, niet in de laatste plaats op sportgebied. Slechts één specifiek Britse faciliteit ontbrak: de pub. De Cadbury's waren overtuigde Quakers en dus zeer serieus van de blauwe knoop. John's zonen Richard en George, die niet van drank maar uitermate veel van een potje cricket hielden, stimuleerden de aktiviteiten op dat gebied terdege. Dat resulteerde in de bouw van het feeërieke Bournville Cricket Pavillon, dat bij nadere beschouwing ook ten zuiden van München niet zou misstaan.
)
Het werd in 1902 geopend ter opluistering van de festiviteiten rond de kroning van Edward VII. De officiële naam luidt dan ook The Coronation Cricket Pavillon. In de loop der tijden hebben twee counties gebruik gemaakt van veld en clubhuis. Worcester CCC speelde er in 1910 een draw tegen Essex en versloeg er het jaar daarop Surrey. Opmerkelijk feit is, dat beide tegenstanders van Worcs tot 198 runs kwamen. In de jaren '60 en '70 vond er een aantal wedstrijden van de Second XI van Warwickshire plaats. Geen echt opzienbarende zaken. Veel spannender waren de 'Milk Tray' reclames van Cadbury, die van 1968 tot 2003 (!) op TV werden vertoond. Een James Bond-achtige figuur ruimde daarin meer dan drie decennia lang alle mogelijke obstakels uit de weg om een Milk Tray te bezorgen bij zijn mysterieuze geliefde. Met name de afleveringen uit de jaren '70 met acteur Gary Myers – The original Milk Tray Man – zijn een aanrader. 'Cadbury Milk Tray Advert', te zien op You Tube.
Tom Matena
Wedstrijdprogramma 18 - 19 juni
| Date | Klasse | Home Team | vs | Away Team | Venue |
| --- | --- | --- | --- | --- | --- |
| Sat 17 Jun 10:00 | EK Twenty20 | VRA 2 | v | Punjab 2 | Amsterdamse Bos |
| Sat 17 Jun 10:00 | Ladies T20 | VRA | v | VCC | Amsterdamse Bos |
| Sat 17 Jun 10:00 | TK Twenty20 | VRA | v | VCC | Amsterdamse Bos |
| Sat 17 Jun 13:00 | 3e Klasse | De Kikkers 2 | v | VRA 6 | Lisserweg |
| Sat 17 Jun 13:00 | Zami | Salland | v | VRA 1 | 't Schootsveld |
| Sat 17 Jun 13:00 | Zami | VRA 2 | v | Kampong 1 | Amsterdamse Bos |
| Sat 17 Jun 13:00 | Zami | VRA 3 | v | HCC 3 | Amsterdamse Bos |
| Sat 17 Jun 17:00 | TK Twenty20 | VRA | v | Excelsior 20 | Amsterdamse Bos |
| Sun 18 Jun 09:00 | U11 HB | Kampong/ MOP Combi | v | VRA 2 | Sportpark Bergenshuizen |
| Sun 18 Jun 09:00 | U13 | VRA 1 | v | Bye | Amsterdamse Bos |
| Sun 18 Jun 09:00 | U15 | Hilversum | v | VRA 2 | Hilversumsche Cricket Club |
| Sun 18 Jun 09:00 | U15 | VRA 1 | v | Qui Vive | Amsterdamse Bos |
| Sun 18 Jun 09:00 | U17 | VRA 1 | v | VCC | Amsterdamse Bos |
| Sun 18 Jun 09:00 | U17 | VRA 2 | v | VVV | Amsterdamse Bos |
| Sun 18 Jun 13:00 | 2e Klasse | Den Helder 1 | v | VRA 4 | De Linie |
| Sun 18 Jun 13:00 | 2e Klasse | VRA 5 | v | Zwolle 1 | Amsterdamse Bos |
| Sun 18 Jun 13:00 | 3e Klasse | VRA 7 | v | Dosti 3 | Amsterdamse Bos |
| Sun 18 Jun 13:00 | OVK | VRA 3 | v | Quick 1888 1 | Amsterdamse Bos |
Bron: ResultsVault