Clubblad Amsterdamse Sportvereniging VRA
---
How's That verschijnt tijdens het cricketseizoen wekelijks
---
Voorwoord
Het gebeurde in de tweede Ashes-Test, op Lord's. Fielder Nathan Lyon sjokte in de richting van een opraapballetje dat hem geen problemen op moest leveren. Nog twee pasjes en hij was er. Hij bukte zich al bijna om de bal te pakken toen het ongelooflijke gebeurde. Hij greep naar zijn been en strompelde verder. Zijn hamstring had het begeven. Ondersteund door een verzorger verliet hij het veld. Zijn match zat erop. De volgende dag zagen we hem, dik omzwachteld, langs de boundary zitten. Het was duidelijk dat dit wel eens een lange herstelperiode kon worden. Maar het bloed kroop waar het niet gaan kon. En zo konden we weer vierentwintig uur later de opkomst aanschouwen van een kreupele Nathan die, hoewel hij nauwelijks kon lopen, zijn battingbeurt waarnam. Zijn verblijf aan het wicket duurde niet lang, maar hij produceerde in die korte tijdspanne nog wel een viertje. 'Het zou mooi zijn als dit nu precies de runs zijn die de Australiërs nodig hebben voor de zege,' mompelde een van de commentatoren. Maar zover kwam het niet. Engeland kwam ondanks een formidabele innings van captain Ben Stokes (155, 9x 4, 9x 6) 43 runs tekort. Terwijl het laatste wicket, dat van Josh Tongue, viel moest ik denken aan wielrenners die vroeger met een steenpuist op hun bil gewoon doorfietsten, zij het met een gaatje in hun zadel om de pijnlijke plek wat soelaas te bieden, en even later hoorde ik dat wielrenner Carapaz met een gebroken knieschijf de finish van de eerste etappe van de Tour de France had gehaald (al gaf hij de volgende dag op). Heroïek is dus van alle tijden. Het publiek in Londen genoot er, getuige het donderende applaus waarmee het Nathan uitgeleide deed, met volle teugen van. En ik ook.
H.O.
Twenty20 Finaledagen op VRA
Finaledag van de Twenty20 competities 15 juli op VRA
De KNCB heeft de finaledagen van zowel de Topklasse als van de Eerste Klasse aan VRA toegewezen.
Op zaterdag 15 juli worden de 2 halve finales gespeeld, gevolgd door de finales.
Op veld 1 worden de wedstrijden voor de Topklasse Twenty20 gespeeld en op veld 2 gelijktijdig de wedstrijden voor de Eerste Klasse.
Het speelschema: - 10:00 Halve finale 1 - 13:30 Halve finale 2 - 17:00 Finale
Hou 15 juli dus helemaal vrij in je agenda!
Vrijwilligers gaan deze dag tot een succes maken
Voor deze dag hebben we tientallen mensen nodig die komen helpen om deze dag tot een succes te maken. Van elk seniorteam verwachten we minstens 2 full-time vrijwilligers. De captains worden hiervoor apart benaderd. Maar ook de spelers van Under17 en Under15 willen natuurlijk ook meedoen.
Meld je dus meteen aan bij je captain of coach en houd deze dag vrij!
---
Finals Day of the Twenty20 Leagues, July 15 at VRA
The KNCB has assigned the final days of both the Top Division and the First Division to VRA.
The 2 semi-finals will be played on Saturday July 15, followed by the finals.
On field 1 the matches for the Topklasse Twenty20 are played and on field 2 simultaneously the matches for the First Division.
The game schedule: - 10:00 Semifinal 1 - 13:30 Semifinal 2 - 17:00 Final
So keep July 15th free in your calendar!
Volunteers are going to make this day a success
For this day we need dozens of people to help make this day a success. We expect at least 2 full-time volunteers from each senior team. The captains are approached separately for this. But of course the players of Under17 and Under15 also want to participate.
So sign up immediately with your captain or coach and keep this day free!
Zami 2 - Kampong
It was a lovely day and a very competitive match. Best described bij Anil about his mate Vishal:
"Vishal registered maiden five-wicket haul and ended his spell with figures of 7-1-35-5 leading VRA 2 to a win against Kampong 1 in Zami games.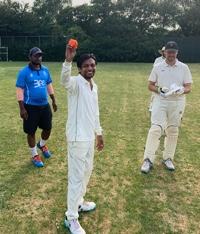 Vishal dismissed Gert Swanepoel on the last ball of the first over itself. Struck again on the first ball of his third over plumb LBW to Charan Abbineni and third ball thanks to wicketkeeper Thomas Spits grabbing a stunning catch behind the wickets. Terry Niselow's outside edge flew to the right of the keeper. This is a game changing maiden third over from Vishal.
Vishal came on second spell to bowl his 5th over & get rid of Hassan Mukadan on first ball. He was looking to play big shots with the ball tailing in but played in the air & missed the hit as it crashed into the fielder's hands. On his last over's first ball complete his maiden five wicket haul by taking caught & bowled James Calcinai."
Awesome performance from Vishal.
But as the saying goes: 'Cricket was the winner'.
Looking forward to the next clash with Kampong!
Thomas Spits
VRA U15-1 – 2 wins in 3 days!
Friday 30 June vs Hilversum
Friday evening, VRA played a catch up game against Hilversum on what turned out to be a very pleasant evening on field 2. We had a great presence of family and friends to cheer on the players which created a very enjoyable atmosphere. Hilversum won the toss and elected to bowl, much to the delight of the VRA team who have been rather successful this season when batting first!
The first 2 wickets fell early in the innings and VRA were 23/2. Batmen 3 and 4 put on a beautiful partnership and knocked the ball around the field pretty well, frustrating the bowlers and causing many changes to the fielding positions. The strike was continuously alternating and soon Muhammed Hussain reached his 60 off 44 balls and had to retire. Amaan Raja put on a fantastic 54, with only 3 four's in that score. This shows the amount of running and strategic placement of the ball from this batsmen in a great display of batting mastery. VRA ended the 25 overs with 179 on the board, a decent total to defend.
Hilversum took to the field with great determination to take on the VRA attack. They lost their 1st wicket in the 1st over, but that excitement was short lived as the next wicket only fell after 126 runs on the board. VRA made hard work of defending their score with some sloppy fielding on the boundary and missed catches as well as a couple of missed run out opportunities. Fortunately, the Hilversum line up was not a strong one after batsman no 4, so VRA made quick work of taking the last couple of wickets. Hilversum were bowled out for 154, giving VRA a good victory and keeping them at no 2 in the current pool in the league.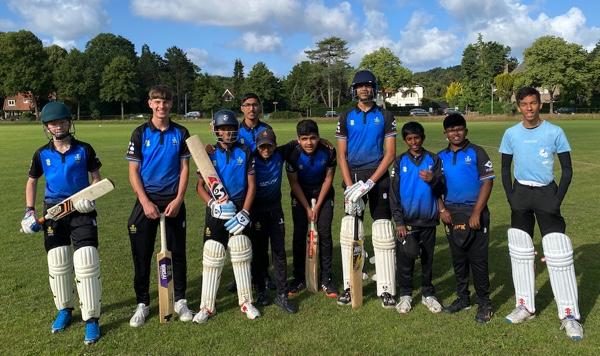 Sunday 2 July vs Bloemendaal/Rood en Wit combo
Sunday morning VRA was hosted by Bloemendaal on a chilly and windy day. Once again, the toss was won by the opposition who elected to bowl, a happy VRA as they would have elected to bat anyway!
VRA chose a reverse order batting line up, allowing some of the younger and non-frequent batsmen to get in and have a good knock. We lost a couple of early wickets, but all putting on a couple of runs on the board and getting the team off to a pleasant start. Arjan Ajjarapu put on a respectable 31 off 37 balls and assisted Adam Madgwick to another great 63 retired, it was a great partnership to set a solid foundation for the rest of the team. 2 very unfortunate run outs resulted in the end of the innings in the 29th over with 217 runs on the board.
Bloemendaal took to the field in high spirits and showed great character in the chase and were definitely having fun while doing so. As umpire for the game, this innings indeed felt like it took a very long time! The batsmen were brilliant in frustrating our bowlers by mostly blocking or just putting the bat in the way, making it difficult to take wickets. The frustration filtered into the field which contributed once again to some sloppy fielding, letting through some easy boundaries and missing out on what should have been 2 simple run outs! Finally on the last ball of the innings, VRA managed to bowl Bloemendaal out for 147. It was indeed hard work for VRA I the field, but it was a win!
All in all a great weekend of cricket, with a fantastic contribution from all our players over the weekend to make the team successful.
Brandon Madgwick
VRA U13's Dominant Victory against Rood en Wit
Stellar Opening Partnership Seals the Win
Winning the toss and electing to bat first, VRA U13 sent their opening batsmen, Faizan Ahmed and Nicol Marais to the crease with a clear intention to set a formidable total. The duo displayed remarkable composure and skill, taking control of the game from the very beginning.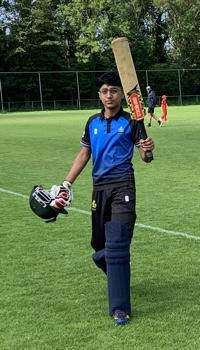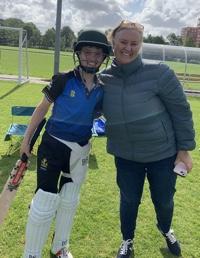 From the moment the first ball was bowled, it was evident that VRA U13's openers meant business. Their solid technique and aggressive stroke play kept the opposition bowlers on the backfoot, as they began accumulating runs at a brisk pace. The boundaries flowed regularly, showcasing their exquisite timing and shot selection.
Their ability to rotate the strike and find gaps in the field added further pressure on the opposition, leaving them scrambling for answers. As the partnership progressed, the scoreboard continued to tick over steadily. The bowlers struggled to break through the defences of the VRA U13 openers, who showcased a wide array of shots to keep the scoreboard moving. The partnership flourished, as they went on to achieve well-deserved half-centuries, delighting their teammates and spectators alike.
Faizan Ahmed retired on 51 runs off 51 balls, which included 8 fours and 1 six. Soon followed by Nicol Marais retired on 50 runs off 52 balls with 8 fours.
The opening partnership not only laid a strong foundation but also set the tone for a dominant innings. With the momentum firmly on their side, Akshit Aggarwal batting at number 6 capitalized on the foundation laid by the openers, contributing 20 valuable runs off just 13 balls to the team's final total of 194 runs for the loss of only 2 wickets.
The score proved too daunting for Rood en Wit, as they struggled to keep up with the required run rate in their chase. In the field, VRA U13's bowlers were inspired by the opening partnership's heroics. Aahan Singh claiming 3 wickets in his 3 overs for just 7 runs, Faizan Ahmed claiming 2 wickets in his 1 over for the loss of only 2 runs.
Backed by excellent fielding and support from the entire team. Rood en Wit found it impossible to recover from the early blows inflicted by the VRA U13 bowlers and failed to build any substantial partnerships.
Lastly, the wickets claimed by AJ Senjupta and Nicol Marais, one a piece, ultimately resulted in Rood en Wit being bowled out for 54 runs in the 15th over. VRA U13 emerged victorious, securing a comprehensive win.
Tracey Brown
Nederland plaatst zich voor WK Cricket 2023
(Bron: Verslag van deze wedstrijd op KNCB website)
Nederland heeft zich zeer verrassend geplaatst voor het wereldkampioenschap cricket dat in oktober en november dit jaar wordt gehouden in India. In Bulawayo (Zimbabwe) was Oranje te sterk voor Schotland. Het won bovendien met een zodanig ruime marge dat het een betere Net Run Rate had dan Schotland. Bas de Leede was de onbetwiste Man of the Match met vijf wickets en 123 runs.
Scott Edwards en Logan van Beek zorgden voor de gedroomde start; Edwards door de toss te winnen en Van Beek door de offstump van Cross te raken met een beauty van een offcutter. McBride en McMullen werkten geconcentreerd aan een partnership. 40/1 na de eerste Powerplay was gek genoeg voor beide partijen een acceptabel resultaat. Het was een korte bal die Oranje het tweede wicket bezorgde (46/2/11, McBride ct Van Beek b De Leede).
Munsey werd op 0 gedropt, maar kreeg even later een bal die nét via de handschoen in de handen van keeper Edwards belandde; een 'lucky' moment voor Nederland (64/3/15). Bijna ongemerkt gingen de Schotten van een runrate van 4.16 naar meer dan vijf runs per over.
McMullen maakte een nagenoeg foutloze 100 en Schotland voerde het tempo verder op. Zij beseften dat 'wickets in hand' belangrijk zouden zijn om 300 runs op het bord te brengen. Klein kreeg McMullen caught behind voor 106 (201/4/37.2) en bowlde even later Leask. Schotland krabbelde op totdat De Leede de midstump ontwortelde van zowel captain Berrington (64) als Greaves: 264/7. Mark Watt bezorgde De Leede met een suf badmintonshot zijn eerste 'five-for' in ODI's. Sharif hield de hattrickbal - een yorker - maar net uit de stumps.
Door deze knappe 'fightback' keken de Nederlanders niet aan tegen een target van rond de 300, maar 277/9. De Leede nam 5-52.
Innings Nederland
Nederland moest binnen 44 overs de target halen om Schotland voor te blijven op Net Run Rate. Dankzij Singh, O'Dowd én enig fortuin had Nederland een prima start. Het was 57/0 na de eerste Powerplay. Singh gaf Sharif een moeilijke c&b-kans en kwam ermee weg. Kort daarna echter gingen zowel O'Dowd (20) als Vikram (40) LBW op Leask (72/2/14.5).
Barresi (11) sloeg de bal in de handen van de short mid wicket en Nidamanuru in de handen van de cow corner (108/4). Het verliezen van topbats en het sterk oplopen van de gevraagde runrate leek een giftige combi. De Leede/ Edwards was nu voor de Schotten het te breken partnership. Een LBW-reviewverzoek op Edwards (25) leek te laat, maar werd alsnog gegeven (163/5).
Met een gevraagde runrate van ruim boven de tien leek het nu een kansloze missie. Saqib Zulfiqar en Bas de Leede realiseerden echter een onwaarschijnlijk partnership van 113 runs voor het zesde wicket, waarbij beide batsmen steeds vaker de boundary wisten te vinden. zo kwam de Schotse target steeds dichterbij, zeker toen de 41e over voor 22 ging en de 42e voor 20. De Leede leverde een briljante allroundprestatie met 123 runs. Hij ging nog run out, maar Logan van Beek sloeg de winnende run.
Wat heeft dit Nederlands team een fantastische prestatie neergezet! Vooraf leek plaatsing temidden van zoveel Full Members een kansloze missie. Oranje logenstrafte alle doemdenkers met briljante game plans en ongekende vechtlust en verdiende ten volle het eindtoernooi te halen.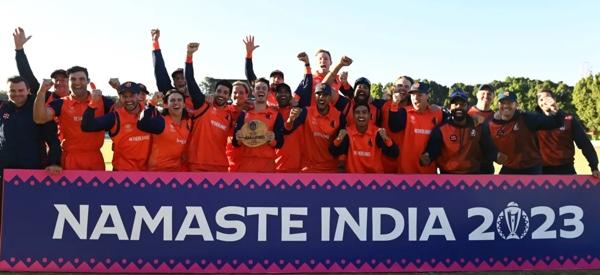 Photo credit ICC/Getty