Clubblad Amsterdamse Sportvereniging VRA
---
How's That verschijnt tijdens het cricketseizoen wekelijks
---
Voorwoord
Ik had me er nog zo op verheugd. De rit alleen al zou een genot zijn, want ik wist dat ik met elke kilometer dichter bij mijn home town Deventer zou komen, de stad waar ik bijna zestig jaar heb gewoond. Want al verblijf ik alweer meer dan twaalf jaar elders, laatstelijk in Den Haag, de band met de stad aan de IJssel zal nooit verbroken worden. Als ik Apeldoorn eenmaal voorbij ben, is het nog maar een paar minuten wachten of ik zie links boven het geboomte de toren van de Grote of Lebuinus Kerk die waakt over stad en ommelanden. Vaak heb ik de 220 treden naar zijn tweede omgang beklommen, eerst aan de hand van mijn vader en later met mijn kinderen en kleinkinderen. Als je, enigszins amechtig, boven bent, heb je een fabuleus uitzicht, een fijne beloning voor je inspanning. Maar ik dwaal af.
De reden dat ik me op zaterdag 21 mei 2022 zo verheugde over het weerzien met mijn geboortestad had dit keer niets te maken met familiebezoek of nostalgische geneugten, maar met de clash tussen cricketclub Salland en mijn eigen VRA. De eerste wedstrijd, eind april, was weliswaar door de onzen met groot verschil gewonnen, maar Salland had sindsdien vier punten vergaard, zodat ik een spannende strijd voorzag. Vroeg in de middag spoedde ik me naar mijn auto, startte de motor en keek toch nog snel even op tk-cricket om te zien hoe het ervoor stond. Het duurde even voordat mijn telefoon sjoege gaf, maar toen merkte ik dat de tocht naar het verre Deventer niet hoefde te ondernemen. Salland had maar 36 runs gescoord, een aantal dat voor VRA geen onoverkomelijke moeilijkheden op zou leveren. Even wist ik niet wat ik moest denken. Moest ik blij zijn met een eclatante overwinning of teleurgesteld over het feit dat me een ritje Deventer door de neus werd geboord. Ik wist het even niet. Gelukkig kan ik me donderdag al weer laven aan de prestaties van Peter en de zijnen. Dan wacht Excelsior. De bittere nasmaak van de ontluisterende nederlaag van een paar weken geleden is nog niet helemaal verdwenen, dus het is tijd voor revanche. Jongens, zet 'm op.

H.O.
Uitslagen afgelopen weekend
Afgelopen weekend wisten alle VRA teams (helaas met uitzondering van onze Dames) hun wedstrijden te winnen, meestal met zeer ruime marges!
Salland 36 (17.1) – VRA 37 v 3 (4.3)
VRA 2 237 v 6 (50) – VCC 2 140 v 9 (35.2)
VRA 3 221 v 9 (40) – MCC Hengelo 155 (31.2)
Sparta 1888 2 193 v 6 – VRA 4 194 v 3
Ghausia 2 157 (35) – VRA 5 161 v 5 (34.4)

Groen Geel Zami 122 (32.5) – VRA Zami 2 123 v 8 (34.4)
VRA Zami 3 124 v 3 (24) – HBS Zami 120 (32)
Rood & Wit 102 v 7 (19) - VRA Dames 92 v 5 (20)
VRA clubkleding is binnen
Nieuwe VRA clubkleding is inmiddels gearriveerd en is gesorteerd.
Captains of teamleiders kunnen een afspraak maken via de VRA webshop om de kits voor hun team te komen afhalen. Ook individuele bestellingen kunnen worden afgehaald.
Nu de eerste ODI-serie tegen de West Indies achter de rug is is het clubhuis weer beter toegankelijk.
Selectie Nederlands Elftal
Afgelopen weekend is de selectie van het Nederlands elftal voor de komende ODI's bekend gemaakt:
Pieter Seelaar, Logan van Beek, Musa Nadeem, Fred Klaassen, Scott Edwards, Teja Nidamanuru, Philippe Boissevain, Aryan Dutt, Vikram Singh, Max O'Dowd, Clayton Floyd, Shariz Ahmed, Bas de Leede, Tonny Staal, Ryan Klein, Viv Kingma.

VCC is hierbij 'hofleverancier' met 6 spelers en dat is op zijn minst gezegd bijzonder.
VRA is trots op onze bijdrage middels Vikram Singh en Aryan Dutt.

Programma – aanvang 11.00 uur
31 Mei - Nederland - West Indies, 1ste ODI
2 Juni – Nederland - West Indies, 2de ODI
4 Juni – Nederland - West Indies, 3de ODI
VRA 2 makes a solid start in Eersteklasse
VRA2 secured a well earned promotion to the EK for the 2022 Cricket Season, having been undefeated for straight 14 games over 2020-21. The team started work eagerly in the excellent indoor nets as soon as Covid relaxations allowed. After the first 5 games of the season, so far, VRA2 have won 3 and learnt some lessons in the 2 losses.
VRA2 lost to Groen & Wit2 by 30 runs | Apr 24 at VRA
VRA2 had a confident start to the season and did everything right, well almost. G&W decided to bat first after winning the toss but were awestruck with some brilliant swing bowling. G&W were soon struggling at 66/6 when a brief partnership took them to 93/6. Then the slow bowlers came on and finished what the speedsters started. G&W all out for 126 in just 35.4 overs. So far so good. But then the umpires decided to start the second innings right away instead of an early lunch break. VRA2's batting innings didn't start on the best note and were soon at 36/4. A brief partnership took the score to 75 but the grim reaper struck again eventually folding VRA2 at just 94.
Obviously a cruel blow, but believe me you - this team is a group of hard, resilient, never say die VRA fellows. And they have been tested - and will be tested more. But they are ready.
VRA2 beats Ghausia1 by 193 runs | Apr 30 at VRA
The week before couldn't get over sooner! Looking forward to shrug off the disappointment of last week, the VRA2 boys staged a remarkable turnaround. A solid opening start, some hiccups followed by a remarkable middle order performance and a superlative finish by the late order batsman gave VRA2 a good 274/9 on the board. The bowlers just continued from the last week, dealing regular blows to the Ghausia batting line up. The game was over in just 21 overs, and the VRA2 spinners didn't even need to bowl. We cannot recollect when was the last time it happened! Our sincere appreciation for young Debrup, a live wire in the field, and the kiwi thunderbolt Anish for joining us from the first team.
VRA2 beats Quivive1 by 16 runs | May 7 at VRA
Quivive is possibly one of the top 3 teams in the competition, and also one of the games to look forward to for our historic rivalry. VRA2 batted first and faced some incisive bowling. With a focus on building partnerships the innings was looking good till some umpiring howlers saw VRA2 go down from 71/1 to 107/6. However the resilience came to the fore this time around and the lower order got stuck in adding some valuable runs to set a target of 170 for Quivive to chase. However this time around the bowling didn't go as per plan. The Quivive top order quickly took the score to 95/1. And then the comeback from behind started again. The slow bowlers excellently backed up by super fielding started dealing regular blows. The batting defense was broken, the partnerships were shattered and the comeback was complete when Quivive got all out for 154. Star of the show being Keshav who took a splendid 5 wickets for 23 runs in his 9 overs. Our sincere appreciation for Zamaan for joining us from the first team and skating around the boundary saving precious runs.
VRA2 lost to Concordia1 by 185 runs | May 15 at Concordia
In case you are wondering, there's no typo in the line above. This is what the scorecard says on KNCB matchcenter. Funnily enough the team has no recollection from this game. It is as if we have collectively willed it to be removed from our memories as if it never happened. And so shall it remain.
VRA2 beats VCC2 by 97 runs | May 21 at VRA
Regular service and memory making were back for the next game. After a rain induced delay of 15 mins, VRA2 batting was back in action. So was Ashwin - one of the rockstars of the team, who had missed so far - not because of Covid but the ancient disease of jaundice! Electing to bat, all VRA2 batters got stuck in and ensured regular partnerships. The spark to turn a good performance into an excellent one came from Rahul who started cautiously and then unfurled his bewildering range of shots. He scored 90 (87b, 4x 6s, 9x 4s) and set a target of 238 for VCC to chase. VRA2 opening bowlers set the cat among pigeons pretty early. Sharad was on fire and soon had VCC at 15/4 in less than 10 overs. To their credit, VCC batted well and strung together some partnerships. VRA2 patiently stuck to their task - no easy runs, bowling to the field and taking chances when created. After some fightback, the VCC2 innings closed at 140. A sweet advantage for VRA1 loss to VCC on the weekend before!
None of this would be possible without the relentless work and support of Peter, Benno, Thomas, Layla, Theo and many others who work tirelessly behind the scenes. Our sincere gratitude and appreciation. We look forward to bringing more wins and laurels to VRA - and dedicate all our wins to them. :-)
Sudhakar
VRA 3 continues the winning streak vs Hengelo !!
VRA 3 decided to bat first after winning the toss. The pitch was having a variable bounce and was difficult to bat on and in result VRA 3 lost the first three wickets in the first 12 overs with score of 53 on board. Parag sensed the situation quite well and decided to switch to the role of anchor and decided to stabilize the innings . He was joined by Debrup on the other side who looked determined to not throw away his wicket and also made sure that none of the bad balls went unpunished. They made a 74 run partnership in the middle overs before Parag was run out. Rest of the team ensured that they played as a unit to get a decent score of 221 on the board with a loss of 9 wickets.
The chase by hengelo began with the openers of Hengelo playing it safe to ensure that they did not lose a wicket in the starting overs . The price they paid was a very slow run rate in the initial overs. The VRA 3 opening bowlers bowled tight line and length which did not allow Hengelo batsman to score freely. Jagran was able to use this situation to his benefit and extract the first three wickets in succession . The middle order of Hengelo was completely cleaned up by Srinath . Srinath bowled with wonderful precision and the batsmen had no clue which way the bowl was turning .Srinath took 5 wickets which broke the backbone of batting of Hengelo . The rest of the tail was cleaned up by Saurabh . A worthy mention also to the other bowlers Nilesh and Vivek who bowled miserly and kept the pressure building on the batsmen of Hengelo.

VRA 3 Innings - 221/9 (40 overs)
Deb Bhattacharya - 71 (76)
Parag Akre - 33 (75)

Hengelo Innings - 155 all out (31.2 overs)
Srinath - 5/28
Jagran Pandey - 3/33

Goutam Nayak
VRA Zami 2 vs Groen en Geel
After a week of rain and a brief Schinkelhaven rendezvous we set off to Groen en Geel with a couple new faces in the back seats. Having been pole-axed the week before in a 5 wicket loss to VOC defending 237 we knew professionalism and clinicality would be required to overcome the reigning champions.
What followed next was a 'gentlemans' agreement between skippers Maxwell Charlesworth and Niek Ter Marsch resulting in VRA taking the field first. G&G started well on an uncharacteristically skiddy wicket with opening bowlers Ewoud de Mann and Anil Borischa bowling a tight line and length. It wasn't until their 40th run mark in the 10th over that 1st change bowler and first-gamer Sandeep Chavali dismissed Richard van der Bijl and dangerman Niek Ter Marsch in consecutive overs.
The fall of wickets enabled spin to be brought into the game with good effect, Aubid Sarwar bowling the perfect line and length for 7 overs on the trot eventually finishing with 1-12 off 7. Remarkable. It was spin from both ends in the middle overs with Angus Maxwell claiming 2 poles from his 4 overs before the other Maxwell and Vishu Gohel combined at the death to take 3 wickets from 7 overs for 17 runs. As a result, VRA would need 123 after lunch, although with the pitch acting up and a very slow outfield, it was more characteristic of a 160+ chase.
Openers Harold Horsman and Maarten Slagter had a solid opening stand of 33 for the 3rd week in a row, with Maarten Slagter eventually being dismissed for 1 off 28. Hersch Ranjalkar came in at first drop for VRA but also found scoring difficult apart from a bomb over midwicket, departing to Han van Meer with the team total on 57. Harold, nursing an injury sustained while fielding found himself walking back 1 run later for 34 having edged behind to Emiel ter Marsch off the bowling of Van Der Bijl. VRA would then lose Anil, Aubid, Willem and Sandeep before the score passed 68. Leaving VRA 68/7 with Ewoud de Mann and Angus Maxwell at the crease.
A restorative partnership was beginning to form, punishing the bad balls, running 2's hard and looking for quick singles. Putting on a further collapse saving 15 together before looking for 1 too many quick singles, resulting in Angus being run out. This brought Vishu to the crease, playing his first hard-ball game of cricket and having taken 2 wickets in the bowling innings his confidence was running high. With persistent coaching and prodigious hitting from Ewoud at the other end, VRA managed to creep their way over the 100 run mark, consistently matching the 6 an over run rate that had accumulated over the innings and despite the committed support from the G&G players on the boundary, 2 wides off the first 2 balls of the 35th over saw us tie the game, jauntly single to long on by Ewoud sealing the match. A great cap off to a stellar innings filled with class, timing, impeccable footwork and a match winning attitude. De Man finishing not out on 43 off 40 balls.
All round a lovely days cricket played in good spirits and with a decent portion of refreshments and bittergarnitures following the affair, it was a great reminder as to why Groen and Geel is one of the best away trips in Dutch cricket.
Maxwell Charlesworth
VRA Zami 3 vs HBS
Saturday, 21st May 2022
On a sunny day, and with a big hockey match in the hood, Zami 3 mustered at VRA field three to go to battle with longtime veterans HBS. The first battle however was a huge pile of animal faeces in the middle of the astro that needed clearing. This followed by a hungover Captain fecklessly driving a golf cart back and forth between pitch and clubhouse to gather various forgotten items of cricketing paraphernalia. Finally, the outfield resembled a porridge of daisies. Finding the boundary would be hard.
So about 45mins too late…the game set off with VRA fielding first as the oppo had been done in a drugs bust on the way from The Hague (or shunted into a taxi - we couldn't quite tell which) so were not ready to bat.
CAVEAT: last time the author wrote a match report he was accused of including himself too much in the narrative. So today he will make no mention of the four crucial wickets and stabilising 7-over spell he bowled. Instead he will perform a person by person overview:
FIELDING:
JOSHUA: tidy 6 overs for 16 runs. Often caught a little unawares in the field however. Gen Z cricket at its finest.
MERLIN: bowling a heavy ball to capture 3 x wickets off 7 overs with one maiden. Not quite as good as the author but hey.
CAPEL: foxing the oppo with his variation kept run rate low with 19 off 5. Didn't take a wicket cos he kept moving his fielders.
MUHAMMED: silent but violent going for 23 off 6 with 1 maiden. Solid in the field with some nice stops.
GOODCHILD: xxxxxx
HODDER: 2 x wickets for 6 runs off 1 over as a cloud of pyrotechnic smoke from Pinoke game engulfed the pitch. #cheating
BOLAN: bit too chatty for the author's liking and part of a double fielding miss moment. Also a little distracted by his wedding.
DAN: generally looking the part and keeping good tabs on what was actually happening in the game behind the banter.
BART: solid as always in the field but evidently keen to get on with batting. Vocal encouragement and plenty of #madbantz.
BEREND (wk): some good moments and keeping byes to minimum. Definitely didn't miss a catch or LBW moment off author.
CAPTAIN WOUTER RENARDEL DE LAVALLETE: absolute demon in the field. Worked tirelseely and an example to us all.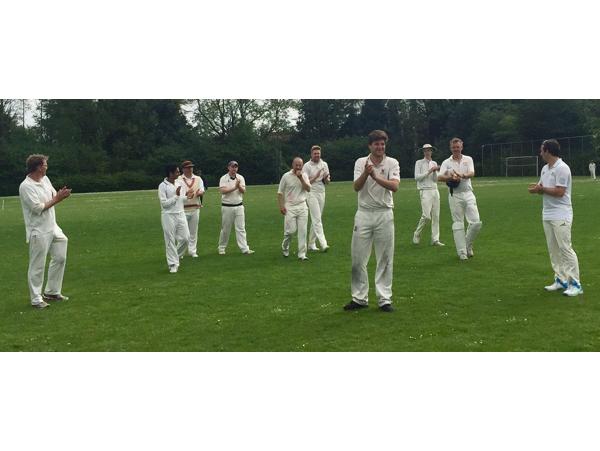 VRA toppled the oppo for a measly 120 off 32 overs which absolutely did not have anything to do with the author whatsoever or a sitter of a dropped catch by our esteemed captain.
BATTING: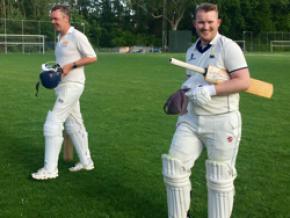 BART: solid opening as ever with 26 off 51 balls. Uncharacteristically holed out down square legs throat off a full toss??
DAN: survived an early knick behind after some wafty business outside off to get 23 off 36. Still looking the part however.
HODDER: terrible miss, huge 6, 2 x crunching 4's and OUT LBW to a pea-roller off a spinner. An entertaining shit show.
BEREND: stabilised the ship after Hodder's irresponsible innings with 17 off 10 NOT OUT. Considered and unselfish.
BOLAN: annoyingly solid as ever with 22 off 19 NOT OUT which garnered an audible sigh from one boundaried HBS player.
JOSHUA: did not bat
MUHAMMED: did not bat
GOODCHILD:xxxxxx
CAPEL: did not bat
MERLIN: did not bat
CAPTAIN WOUTER RENARDEL DE LAVALLETE: absolute demon on the bench. Worked tirelseely and an example to us all.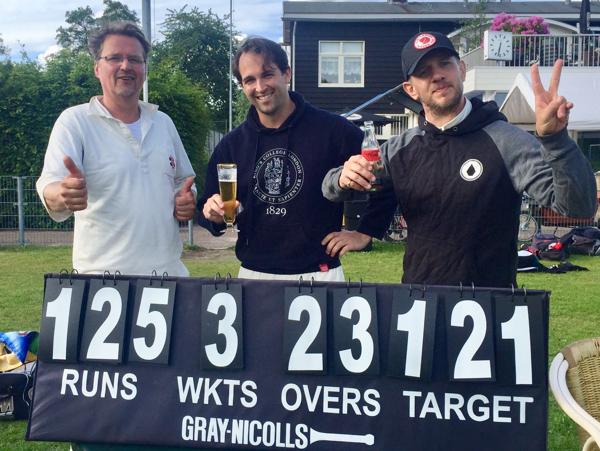 VRA cruised past HBS in 24 overs which absolutely did not have anything to do with the author whatsoever.
A lovely victorious day had by all which ended on the new and exciting VRA terrace with some well deserved beers and our esteemed Captain humbly awarding himself a Kappelli point. An example to us all.
AUTHOR: xxxxxxx
Vrijwilligers voor 6 ODI's gezocht
Vrijwilligers gezocht voor de 2 interlandseries op VRA
Volunteers needed for the 2 international series at VRA
Zoals je weet, worden er in mei en juni 2 belangrijke interlandseries gespeeld op VRA.
31 mei, 2 en 4 juni speelt het Nederlands elftal tegen de West-Indies
17, 19 en 22 juni speelt het Nederlands elftal tegen Engeland
Samen met de KNCB zijn wij op zoek naar vrijwilligers voor allerlei taken op en rond het veld.
Dit geldt voor de dagen waarop wordt gespeeld, maar zeker ook de periode voorafgaand aan en na afloop van de series en de "vrije" dagen tussen de wedstrijden.
Kortom, van 27 mei t/m 7 juni en van 14 t/m 25 juni hebben wij jouw hulp nodig!
Dit is ook een supermooie gelegenheid om van dichtbij naar de wedstrijden en trainingen te kijken, terwijl je daarnaast de club helpt!
Nadere info volgt, maar als je jezelf al wilt aanmelden, dan kan dat nu al door je aan te melden via de link
---
Volunteers needed for the 2 international series at VRA
As you all know, there will be 2 important series at VRA in May and June 2022.
On May 31, June 2 and 4 the Dutch XI will play against the West-Indies
On June 17, 19 and 22 the Dutch team will play against England
Together with the KNCB we are looking for volunteers for all kinds of jobs on and off the field. This applies to the match days, but also for the days before and after the series and the days in between the matches.
So, from May 27 – June 7 and from June 14 – June 25 we need your help!
This also offers an excellent opportunity to watch the matches and practices from a close range while helping your club!
Further information will follow, but if you already want to sign up as a volunteer, you are invited to apply through the link
Dank je!
Thank you!
VRA Ladies T20 (14/5)
On Saturday we headed to our first away game of the season, off to Schiedam to play a T20 against Excelsior.
First game back at VRA for Coco and we even found kit for her to wear which was quite an achievement. We batted first with Git and Kanishka opening proceedings. Kanish out to a frustratingly deceptive ball, to bring Maartje to the crease. Git got us off to a fine start before unfortunately placing a shot to Lisa Klokgieters who took a great catch. Katie joined Maartje and then rapidly retreated back to her preferred role spectating. Maartje batting well before also picking out Lisa in the field. We were playing on Excelsior's 2nd field, which for any that haven't visited is quite small and has lovely trees and dense greenery right along both square boundaries, with the extra bonus of a stream. Which means after every boundary everyone had to spend a lot of time scrambling around in the trees and trying to grab the ball out of the stream.
On 45-4 Captain Sally stepped in to steady the ship along with partner Ersha having a great day with the bat, hitting the ball further every game. As always Super Sal made the batting look easy racking up 60* with 8 4s and a 6 despite some excellent fielding by the opposition on the boundary (clearly incentivised by the thought of having to spend more time fishing for the ball..). In fact the only thing that challenged Sal while batting was trying to get Kanishka to feed her sweets through her helmet grill, at last we've found something for her to work on! Unfortunately no umpires in the ladies league this year so we took the approach of safety in numbers and had 4 of us on the field at once as stand in umpires for most of the afternoon enjoying the sunshine. Sal has set the team homework videos to watch to swot up on the LBW rules before next week. With some quick runs at the end from Sjouk we finished on 146. Between innings Fleur doing a wonderful job as always sorting out the scoring and keep everything in check, we would be lost without her. Nathi and Coco opened the bowling, with our first breakthrough from Nathi in the 3rd over. Off to a great start. Then Kanishka in sparkling form got 2 wickets in her first over, one a lovely catch by safe hands Maartje. Sjoukje back bowling off her proper run up this year and that did the trick picking up 2 in the 8th over, one a nice catch by keeper Manisha. Another wicket by Kanish with all looking good on 40-6 but we knew with their big hitters still in and to come plus the small boundary this wasn't over yet. But after dangling Git in the stream for yet more ball retrieval Nathi got the big wicket we needed bowling Denise in the 15th over. Great fielding from all protecting the boundary to the end and finishing with a run out.
Win for VRA by 48 runs and the new "Golden Turtle" award for outstanding performance goes to Kanishka for her fabulous bowling with 5-0-28-3. A reason for the choice of a turtle is as yet unknown but I'd like to think it is in homage to the recently retired Eric "Turtle" Szwarczynski who was, of course, always outstanding.
On to Red & White away next week.
KH
Epilogue: Git and Katie had a slight incident attempting to exit the busy carpark on the way home. Clearly too busy chatting they ended up taking a wrong turn and got stuck driving down a bike lane by mistake, while busily trying to rectify this error they were finding the situation quite entertaining….unfortunately the two policemen that pulled them over did not find it as funny. Luckily some big smiles, fluttering of eyelashes and quick talking from Git did the trick and they were allowed on their way.
Dont let it go any farther
Donald McGill (1875 – 1962 ) was een verdienstelijk tekenaar. Geëngageerd was hij ook, althans tijdens de Eerste Wereldoorlog. Toen ontwierp hij ansichtkaarten met anti-Duitse propaganda en kaarten om de Engelse jongens aan het front een hart onder de riem te steken. Bijster lang duurde dit engagement niet. McGill sloeg geheel andere wegen in en ontwikkelde zich al snel tot 'King of the saucy postcard'. Zeer omvangrijke dames en aangeschoten heren van middelbare leeftijd, schaars geklede, aantrekkelijke badnimfen, dominees, golfers en cricketers in penibele situaties, huwelijksreizigers met beginnerspech, enz. enz. bevolkten zijn ansichten. Hij tekende er zo'n 12.000, die ruim tweehonderd miljoen (!) afdrukken opleverden en.. een fors aantal rechtszaken. In 1941 schreef George Orwell een essay met de titel 'The Art of Donald Mc Gill'. Daarin stelde hij, dat McGill's kaarten vulgair en overwegend gespeend van echte artistieke kwaliteiten waren. Toch zou het volgens Orwell zeer te betreuren zijn, als ze er helemaal niet meer mochten zijn. Dat gebeurde in 1954 bijna. De tekenaar kreeg een enorm proces aan zijn broek voor het overtreden van de 'Obscene Publications Act', een wet die uit 1857 stamde. Hij werd schuldig bevonden, kreeg een boete van 50 pond en grote aantallen door hem getekende ansichten moesten in de vijftiger jaren vernietigd worden. Vijftig jaar daarvoor liep dat allemaal nog niet zo'n vaart.
Beide kaarten uit 1906 zijn verre van aanstootgevend te noemen. Eerder correct en braaf, wellicht iets té. McGill werd in die dagen qua stijl sterk beïnvloed door Tom Browne, de meester-van-de-klare-lijn (zie How's That 4 juni 2020). De bewegelijkheid van Browne's figuren treffen we bij Mc Gill echter veel minder aan. Het komt allemaal wat stijfjes over. Opvallend is ook, dat veeltekenaar McGill zijn personages vaak 'hergebruikt'. Wie aandachtig kijkt, zal zien dat de umpire en de batsman van 'I am afraid' bij de volgende kaart op het bankje zijn beland. Flink wat jaren ouder. De eerste met een inmiddels grijze snor, de ander kaler en met een fondsbrilletje. De fielder oogt als een tweelingbroer van de wicketkeeper te met dezelfde verbeten kaaklijn, maar een woester kapsel. Overigens leidt dit keer niet de voorzijde, maar de achterkant van een ansichtkaart van McGill tot meer dan een gefronste wenkbrauw.
De kaart werd op 15 juli 1907 door Louis K. en Dolf M. naar een juffrouw in Bussum gestuurd. Dolf deed, op zijn manier, de groeten, maar de boodschap van Louis verdient beslist nadere aandacht:
                   Beste Nel 

                   Even wil ik je mededeelen dat Bernard gisterenavond
                   door het zwarte dienstmeisje van den trein werd gehaald.
                   Hetzelfde waarmee hij zaterdag uit is geweest.

                                                                           Louis


Wie was Bernard? Een vriendje van de juffrouw? Een concurrent van Louis? Had Louis iets tegen mensen met een andere huidskleur? Schreef hij het berichtje wellicht in opdracht van zijn kompaan Dolf, 'de knappe jongen'? Of wilde hij de juffrouw voor iets anders waarschuwen en koos hij daarom een kaart met de tekst 'Dont let it go any farther'…? Wie zal het zeggen? Om met Sherlock Holmes te spreken:
                " It is a capital mistake to theorize before one has data."

Tom Matena