Clubblad Amsterdamse Sportvereniging VRA
---
How's That verschijnt tijdens het cricketseizoen wekelijks
---
Voorwoord
Als je het veld van de tegenstander betreedt en je ziet dat jouw favorieten het welgeteld tot 83 runs hebben gebracht voor het verlies van 8 wickets, dan zinkt je de moed heel diep in de schoenen. Her en der werd in het VRA-kamp al de suggestie gedaan om snel naar huis te gaan om te zien hoe Max Verstappen het er in Frankrijk af zou brengen, maar de echte diehards bleven uiteraard, in de vage hoop op beter. Weliswaar leek een totaal van onder de honderd zeer waarschijnlijk, maar met cricket kun je het nooit weten. Terwijl er een zekere berusting over de Amsterdamse supporters neerdaalde schreed Leon naar het wicket om daar Johan Smal gezelschap te gaan houden. Het zo lang mogelijk uitzingen was het parool, een beschamende score moest vermeden worden. De minuten verstreken en werden halve uren en nog steeds waren Johan en Leon niet uit. De HBS-aanhang begon een beetje ongeduldig te worden. Wie waren die nono's die hun dag aan het bederven waren? Maar Johan en Leon trokken zich niets aan van het gemor en gingen onverdroten voort. Het werd 150 voor 8, 200 voor acht, en uiteindelijk 258 all out, een alleszins acceptabele score. Johan eindigde op een prachtige 112 en Leon op 55, een luid hoera was hun deel. Lang leek het er daarna op dat het HBS moeilijk zou vallen het VRA-totaal te overtreffen, maar een paar, vanuit VRA-standpunt bezien, beroerde slotovers brachten de Hagenaars toch nog de overwinning (261 voor 7 in de laatste over). Primus inter pares was de HBS-er Walbrugh met 142 in 132 ballen, die bijna in zijn eentje het karwei klaarde. Een wat sneue nederlaag voor VRA, maar wel een met een dun gouden randje.
H.O.
Uitslagen afgelopen weekend
VRA T20 125 v 9 (20) – VOC 150 v 8 (20)
HBS 261 v 7 (49.2) – VRA 258 (49.3)
VCC2 204 v 6 (49) – VRA2 201 (50)
VRA3 361 v 3 (40) – Qui Vive3 351 v 9 (40)
VRA4 225 (37.5) – Kampong2 270 v 9
VRA5 172 (35.1) – Kampong4 237 v 8 (40)
CC Den Helder2 123 (20.5) – VRA7 223 v 6 (35)
VRA Zami2 185 (34.1) – Groen Geel 181 (34.1)
VRA Dames 231 v 7 (40) – Rood en Wit 162 (38.3)

VRA2 match reports
Round 11: VRA2 beats the rain
Playing away yet again against Ghausia VRA elected to bat first after a brief rain delay. The weather turned clear and hot for day with showers threatening the latter half of the game. VRA started off setting a solid stand of 83 by the new opening pair before Vijay perished for 23. Pragam was joined by the young Debu who smashed his first ball of spin for a straight six and made a quick fire 33. Pragam look set for his first century of the season before an untimely dismissal at 80. Keshav and Ashwin put on a stable partnership taking the score past 200 before a tiring Keshav – who had just recovered from COVID holed out with the score at 224. Then came VRA2's gun player - Rahul Bhatt who demolished any notions Ghausia might have had in restricting the score. Rahul put on a brutal exhibition of ball striking smashing 60 of just 29 balls with 6 sixes and 3 fours. A couple of which cleared the grounds and made way for new balls and set Ghausia a daunting chase of 344.
At the lunch interval dark clouds gathered with unstoppable rain scheduled in 90 minutes setting off discussions of DRS totals. As a team VRA2's focus was getting 20 overs bowled within the DRS targets as quickly as possible so that imminent rain would not take away the chance of securing a win. Sugam Jajodia bowled with such venom and movement landing a breakthrough in just the fourth ball of the innings making the target harder for Ghausia. He was joined by Adit who struck in the last ball of the second over to reduce Ghausia to 15/2 in 2 overs. The two bowled a combined spell of 9 overs in which Sugam added 2 more wickets to his tally to read figures of 5-0-21-3 and Aadit with 4-0-16-2 killing any hopes of a chase leaving Ghausia at 34/5. With imminent rain and time at a premium, VRA switched to spin from both ends in a hunt for wickets or completing 11 overs – whichever came first. What followed was a dramatic feeding frenzy by the spin duo of Pragam and Keshav who took the remaining 5 wickets in only 6.3 overs ending the innings at 71/10. A predatory combined spell reading 6.3-1-34-5 and leaving enough time to have a congratulatory refreshment before the rain pelted down. An emphatic performance forcing a result against the will of the opposition and the weather!
Round 12: VRA2 makes a fist
VRA2 continued its leg of continuous away games facing Qui Vive on a bright Sunday for their return game. VRA chose to bat first and had a sedate start but lost their captain Pragam early with the score reading 22/1. Harpreet who had come back into his opening slot having missed the previous game swung the momentum back to VRA by playing with intent before scoring 47 falling three short of a well deserved fifty. With his dismissal the scoring rate dropped and wickets fell regularly killing all the tempo he had created. Adil Ashraff who came in at six injected some life into the innings with a stinging 36 off 31 balls before he fell trying reducing VRA to 125/6. Quivive took 3 more wickets for 3 runs leaving the lower order who took VRA2 to a final score of 144 leaving 8 overs on the table. An incredibly under par score on a good batting day.
Having been in this position before VRA2 had the belief from their previous encounter that they could inflict a collapse. Sharad Hake reinforced that belief by snagging the Quivive opener in the last ball of the first over. Swapnil Bachhav from Quivive however took on the VRA bowlers smashing any balls off length and raced the innings along.
Sharad who has had a battle with Swapnil before out foxed him forcing Swapnil to smash a skier to mid-on; birds chirped for what seemed an eternity, mid-on settled underneath, the ball made its way down, sunglasses on this fielder made their way off for reasons unknow to humankind, and amidst this chaos the ball thudded on mid-on's chest rolled through his lower body and trickled down to the ground. A catch you would take any given Sunday, except this one.
Swapnil took full toll of this life and was belligerent in his innings, he offered a tough chance off Adil this time, but it was too difficult to convert. Adil however snagged the no 3 bat giving VRA a chance to regroup with Quivive at 93/2. The break brought an end to Swapnil's carnage knock of 60(39} resting Quivive at 93/3 in the fifteenth over with enough resources to finish the game. However, VRA2 sniffed a chance albeit small to make a fist of the chase. The VRA spinners started striking blows and slowed the scoring rate 93/3 became 110/4, then 124/5. Catches were produced amidst this run, but this Sunday was not the day VRA was going to hold on to them. As many as 4 created chances went a begging despite which Quivive was reduced to 137/7. In the end Quivive squeezed to the finish line with 3 wickets in hand leaving VRA2 to think of if only's. A spirited fightback to take away and improve on for the challenges that lay ahead in the competition.
Round 13: VRA2 disrupts Concordia
Licking off their wounds from the previous loss and back at home, VRA2 was keen on the encounter with Concordia who won the toss and chose to bat first. As what had become customary for VRA2, Sharad struck immediately in sixth ball of the opening over producing the highlight of the day. A steaming searing good length delivery inducing an edge which rendered a sharp electrifying-flying mid air horizontal one handed catch to his right by Keshav Lal at first slip. What a stunning grab! Even the Rock would have raised his eyebrow in appreciation. The opposition players were up on their feet in applauding the snag.
This pretty much set the tone for the rest of the Concordia innings, all the bowlers contributed reqularly stemming any flow, with the highest score of their batters being 32. Pressure was maintained througout and a fair sprikling of wickts amongst the 8 bowlers used cannily by the skipper Pragam rendered Concodia 145/10 in 23 overs. The mood in the VRA2 camp was content with consesus that they would have taken this score before the toss.
VRA2 started their chase with a bang racing to 59 in 7 overs with Harpreet Singh leading the charge. He didnt let the bowlers settle on any lenghts attacking them beligerntly hitting 6 fours and a solitary 6 in his knock of 41. However both openers Pragam and Harpreet fell with the score around 63 in the eight over. Another wicket fell almost immediately leaving Keshav in the middle with 82 to get in 42 overs and 7 wickets in hand - still a favorable position for the home team. However, against the run of on what looked like a setled partnership, Ashwin got out leaving the score at 89/4
A bit of nerves ran though the camp, having vistied this position multiple times this season, where VRA have tempted fate chasing comfortable totals from favorable positions. In walked our batting coach and gun player Rahul "Ranji" Bhatt himself, and what followed was a display of his batting philosophy. If the ball is in your zone dont let it go and if its out of your zone dont flirt with it.
With this diktat Rahul threw any notions of nerves or fate scoring 37(30) off which 24 runs were in boundries. At no point did it look reckless or chaotic. He veered off this philiosphy only in the end when 4 were left to get and he tried to finish it with one hit. VRA finished the game with 5 wickets in hand and 26 overs to spare giving a healthy boost to their net run rate.
Round 14: VRA2 feels the heat
On a sweltering 29C day at VCC, VRA2 was surprisingly thrust to bat on a true grass wicket – the first game VRA2 had on a turf wicket this season. VRA2 had a steady start reaching 90/1 in 25 overs frustrating the VCC bowling unit. Pragam and Vijay had put on a steady partnership at just under 4/over before Vijay perished scoring 31. This led to flurry of 2 quick wickets and the score slowed down with Pragam and Debu departing with VRA at 97/4 in 28 overs. Keshav and Ashwin put on a 73 partnership in 16 overs largely due to Ashwin upping the ante and perishing at 36(52) leaving VRA at 170/5. With 6 overs left, VCC struck thrice in 4 overs and VRA were bowled out in the final ball of the innings for 200 runs.
At the break VRA2 was content with the score and felt it was defendable given the bowling displays this season. And it was further certified by an outstanding bowling start by Harpreet Singh who took the customary scalp in the final ball off the opening over - VCC 0/1 soon became 17/3 off 10 overs with Adil and Sugam snagging a wicket each.

On a hot day VCC felt the heat, but in turn they turned it up with a counterattack from Nehan Gigani & Laurens Boissevain who stuck a 95 run partnership in 17 overs, when Nehan departed for a well-made 51 struck leg before by Keshav. Laurens was later scalped for 53 leaving VCC at 137/5 off 33 overs. Pragam stuck soon there after moving VCC at a precarious 137/6 off 34 overs. With 16 overs and 63 to get VRA felt a few more break throughs would seal the game. However, all the bowlers that followed had a patchy display, there were a string of tight balls followed by a bad delivery which would go for a boundary on a quick outfield. The ball also had lost any lacquer and looked like it was 50 overs old. Any aerial shots went in the vast gaps given the large size of the ground and there was no purchase for the VRA bowlers off the wicket. However Adil Ashraff kept VRA2 in the game with a miserly 20 runs of 8 overs which saw the chase go deep until the 49th over. Both Floris de Laange and Ali Ahmed put on a very smart match winning partnership with sharp running and timely striking remaining unbeaten on 21(45) and 37(47). VCC won by 4 wickets and an over to spare making the battle for the top 2 in the Eerste Klasse very interesting.
Karan Deepak
VRA ladies 231/7 (40) beat Rood&Wit ladies 162/10 (38.3)
After VCC had to cancel on us last week this would be our first 40-over match of the season. Sal won the toss and elected to bat on this scorching hot day. There was lots of nice batting from our very strong batting line up with very good partnerships helped along by the big cheers from our lovely supporters, among them many old and current VRA-(loony) ladies. What a joy to see them all and put up such a nice game for them! There were at least 25 extra fielding overs under the searing hot sun shared by our very own Angel and Katie for the opposing team due to injury, wonderful heart ladies! We witnessed some outstanding umpiring (Sal, Miranda, Git, Manisha) and scoring (Alice) and an absolutely excellent debut for the VRA ladies by Nidhi Patil with bat (40 of 46!) and ball (0/33/7) (nearly enough for the golden turtle)! Maartje anchored the batting innings with 80 of 96 (also nearly enough for the turtle) while top notch finisher Sal added to Rood&Wit's misery at the end (27 of 15).
Then at last a well deserved and delicious lunch with another round of superb cakes by mama Hennis was our part, yummy!! We were confident we had put up a good score, but not sure it would be enough.
Ready to take on Rood&Wit, Git, our 'bride to be', took the field in her stunning outfit!
New cricketplayers baking in the bellies of current supporting team members cheering us on. There was lovely and outstanding bowling by our incredible bowling line up of which I'll pick a few: Gwen 4/31/8.3, whoop whoop excellent!! (once again: nearly enough for the golden turtle). Nathalie 1/34/9 with a fearless catch of her own bowling and once again showing her excellence with her bionic arm and tireless boundary fielding. Sjoukje 2/17/6, simply unplayable and also unflappable with Ties demanding attention on the sideline! Angel, Nidhi and Miranda without a wicket today, but so close. Our top bowling and wonderful fielding kept a dangerous looking opponent at bay. Great catching and two smooth run outs effected by Sal combining with Sjoukje and Gwen with Miranda. All held together by excellent wicketkeeping including a lovely caught behind by Manisha earning her the beautiful golden turtle (OFPA)!!
So many top ingredients to this day! All in all one of, if not the nicest game of the season so far, what a day, what a lovely day we had! Thank you all so much!
Maartje Köster
Mike Howard remembers
Following Jeroen van Meerten's reminiscences about the VRA tour to Shamley Green in Surrey I'd like to add an anecdote of my own… I was invited to "guest" for Shamley Green when they played VRA and found myself fielding at point when Hans Mulder was batting. A short ball outside off stump was delivered and Hans played a sublime square cut and the ball inexorably flew past me towards the boundary. Sadly for Hans the ball hit the curb of the road that was inside the boundary and bounced back into my hands. I somewhat sheepishly returned it to the bowler doing my best to ignore the batsman's exasperated look. No wicket of course but an undeserving dot ball against the Dutch batsman's name. I commiserated with Hans at the end of the innings and he said "that was nothing" compared to what had happened at Effingham a day or two before. VRA were batting and the striker smashed a short ball towards the boundary, wandered up the wicket to receive the plaudits from his partner and sauntered back to face the next ball. Unfortunately there was not enough ball-watching going on as a fielder had retrieved the ball as it had drawn to a halt in the long grass and returned it to the wicket-keeper who had then run out the preening VRA batter. There's a moral hiding in there somewhere.
Mike Howard
Muffin playing cricket
Ann Hogarth leidde vanaf 1932 een succesvol poppentheater in Londen. Dit 'Hogarth Puppet Theatre' had een zeer breed repertoire, met operettes, balletten, poëzievoorstellingen, Shakespeare drama's en nog veel meer. Ook een poppencircus ontbrak niet, maar dat miste wel één wezenlijk karakter: de ezel.
Daarom sneed Punch & Judy-poppenontwerper Fred Tickner in 1933 een prachtige, vooralsnog naamloze ezelsmarionet. Helaas liepen de circusvoorstellingen niet echt en verdween de ezel uit beeld om pas ruim 10 jaar later weer op te duiken als … televisieheld!
Zijn eerste optreden vond plaats in het tv-programma 'For the Children' op 20 oktober 1946. Als tapdancende ezel bovenop een piano begeleidde hij spel en zang van presentatrice Annette Mills. Zij had hem inmiddels een naam gegeven: Muffin. ( te zien op YouTube: Muffin the mule clip. Mooi tijdsbeeld.)
Tussen 1946 en 1955, toen Mills overleed, werd de ezel door deze BBC- uitzendingen mateloos populair. Het 'Fabeltjeskrant-effect' deed zijn intrede: Muffin werd omringd door een groeiend aantal andere beesten en dat leidde in de winkels tot de verkoop van knuffels, puzzels, boekjes, speelkaarten en, onvermijdelijk, ansichtkaarten.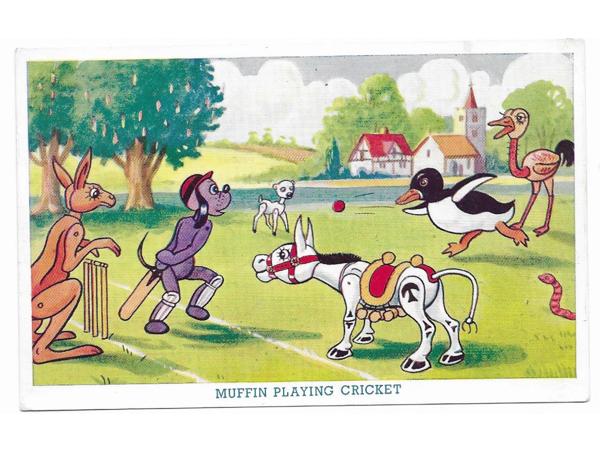 Op deze ansicht uit het einde van de jaren '50 presenteert zich – al cricketend – een substantieel deel van Muffin's vriendenkring. Allereerst natuurlijk Muffin zelf, die – beetje dom, maar ja, een ezel – wel erg dicht in staat. Wetende, dat zijn beste vriend, Peter the Pup, stond te batten. Die was ook niet al te slim, zat boordevol testosteron en sloeg navenant hard. Maar ja, Muffin draagt hier dan ook niet zijn rood- gele (MCC !) 'thinking cap', die hij in lastige situaties meestal opzette.
Achter het wicket een Australische gastspeelster, Katy the Kangaroo. Moest waarschijnlijk nog wennen aan die postie, want ze veroorzaakt hier een overduidelijke no-ball.
Op deep mid-wicket treffen we Louise the Lamb aan, een uiterst verlegen typetje. Zij sprak op tv als enige met een Cockney accent en bivakkeerde meestal in een rozerode, gebreide eigen(!) woning.
De bowler van de dag is Peregrine Penguin Esq. Hij woonde in de plaatselijke iglo en hield zich in het dagelijks leven vooral bezig met lastige vraagstukken zoals: 'How many sardines a living penguin can fit into his mouth.'
Oswald the Oistrich, voorzien van een zeer bekakte Britse tongval, neemt hier het umpiren voor zijn rekening, zoals gewoonlijk met half geopende snavel. Op de vraag "How's That?" luidde het antwoord steevast; "Duh."
En tenslotte glijdt vanuit de covers Willie the Worm geruisloos into catching position.
Een vermakelijk alitererend ploegje, en dan ontbreken hier o.a. Grace the Giraffe, Monty the Monkey, Morris en Doris Mouse, Sally the Seal, Hubert the Hippopotamus en …ho maar! Zo is 't wel genoeg voor deze keer.
Tom Matena
Allard Besier overleden
22 juli 2022
Dinsdagochtend 19 juli is, na een kort ziekbed, Allard Besier overleden. Allard werd 73 jaar.
Allard laat vele voetstappen na op VRA. Hij speelde geruime tijd tot in de hoogste regionen, waarbij zijn linksover gebowlde ballen vaak als onbespeelbaar werden bestempeld. Maar ook achter de bar heeft hij als barman de nodige strepen gezet.
Een paar jaar geleden kwam ik Allard ineens tegen op veld 2. Ik herkende hem nauwelijks. Hij zat op een stoeltje aan de boundary te wachten tot de wedstrijd van zijn zoon Martijn zou beginnen. Hij wilde daar naar gaan kijken. De eens zo joviale man met de vrolijke krulletjes en de rappe opmerkingen vertelde met zachte stem dat hij in Bergen op Zoom woonde. Het tafereel liet zien dat het leven niet altijd rozengeur en maneschijn is, maar dat cricket nog steeds de verbindende factor is.
Harold Horsman
Vriendenloterij - doe mee en steun VRA!
VRA staat ingeschreven als te steunen vereniging bij de Vriendenloterij. Dit betekent dat u in plaats van door de Vriendenloterij gekozen goede doelen, VRA kunt steunen met uw gekochte loten.
Hoe werkt dat?
De Vriendenloterij kent 40% van de aankoopprijs van elk lot toe aan VRA. Dit is 85 euro per jaar per lot. De aankoopprijs per lot verandert niet door VRA te steunen. Dit is dezelfde prijs als bij het steunen van de eerder genoemde goede doelen. Maak ik dan nog wel evenveel kans om te winnen? Ja zeker! Winst gaat via de Vriendenloterij per postcode en lotnummer niet per doel/vereniging dat gesteund wordt.
Hoe kan ik VRA steunen?
Ik heb al loten
1. Bel 0880201020
2. Kies uit het keuzemenu 'overige vragen' via toets 5 om met een telefonist in contact te komen.
3. Geef uw gegevens door en meldt dat u uw loten graag wilt omzetten naar de vereniging 'SV VRA'. Dit proces duurt ongeveer 3 minuten en brengt geen extra kosten met zich mee.

Ik heb nog geen loten
1. Ga naar de Vriendenloterij website en kies "Meespelen"
2. Kies de optie 'een club, vereniging of stichting naar keuze'
3. Zoek op 'SV VRA Amstelveen'
4. Vul de gevraagde gegevens in
5. Geef toestemming. Dit proces duurt ongeveer 5 minuten en hiermee koop je 1 lot.