Clubblad Amsterdamse Sportvereniging VRA
---
How's That verschijnt tijdens het cricketseizoen wekelijks
---
Voorwoord
Test cricket heeft altijd een bijzondere aantrekkingskracht op me gehad. Al vanaf de eerste Test match die ik in levenden lijve zag was ik in de ban van deze vijfdaagse vorm van mijn geliefde sport. Die match, Engeland - India op Lord's (1996) eindigde in een tamme draw en kende niet echt veel hoogtepunten, maar toch had ik de tijd van mijn leven. Afgelopen week werden er twee Tests gespeeld die ik op de voet volgde. Maar wat waren ze verschillend. Eerst was er het treffen van Engeland en Nieuw-Zeeland op Trent Bridge in Nottingham. Engeland kreeg op de laatste dag een pittige run chase voor de kiezen, die misschien tot een spannende ontknoping had kunnen leiden als daar niet een held was opgestaan die de Engelsen in veilige haven loodste. De rossige held die hier zijn finest hour beleefde, heette Jonny Bairstow, een hard hitter van allure. Hij had totaal geen medelijden met gerenommeerde bowlers als Trent Boult en Tim Southee en joeg de ene na de andere bal het veld uit. Door zijn 136 runs in 92 ballen kwam Engeland ruim op tijd over de streep. 'Red ball cricket meets white ball cricket,' stond er na de match op internet te lezen, en daar was geen woord aan gelogen. Hier geen bedaagd inspelen, maar onmiddellijk actie. Dat het ook andere kan bewees de West-Indische captain Kraigg Brathwaite in de Test tussen zijn team en Bangladesh. Hij scoorde trager dan traag en iemand die bijvoorbeeld alleen nog maar kan genieten van explosieve innings in de IPL zou hier zijn neus voor ophalen en in slaap vallen, maar gek genoeg bleef ik gefascineerd kijken. Kraigg strandde na 94 runs, een aantal waarvoor hij 268 ballen nodig had gehad. 'Boring', hoor ik iemand al roepen, maar voor mij gold dat niet. Ik had genoten.
H.O.
Weer een nieuw ODI wereldrecord op VRA: Engeland scoort 498 runs in 50 overs

62 boundaries en 3 centuries
: een ongelofelijke innings van Engeland tijdens de eerste ODI tegen Nederland in ICC Super League series. England maakte vrijdag 17 juni 2022 een One Day International wereldrecord totaal van
498 voor 4
en verpletterde daarmee Nederland met 232 runs verschil, terwijl 3 Engelse batsmen een century scoorden.
Eoin Morgan's team verbrak daarmee het eigen record van 481 voor 6 gevestigd tegen Australie op Trent Bridge in 2018.
Jos Buttler, die eindigde met 162 not out, scoorde zijn century in slechts 47 ballen en miste daarmee zijn eigen record van snelste Engelse century op maar een bal na.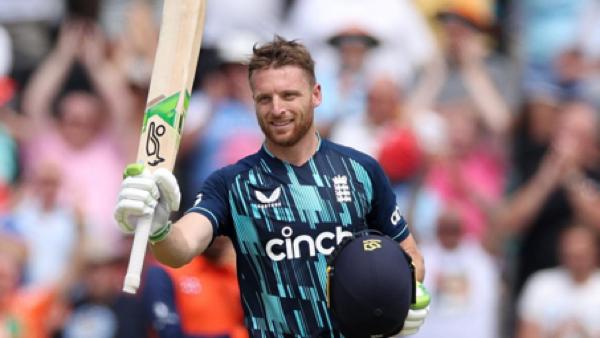 "This is a really exciting time for us," zei Buttler na afloop van deze fantastische wedstrijd die op VRA werd gespeeld onder een strakblauwe hemel waarbij de temperaturen tot boven de 30 graden opliepen.
"I have certainly tried to back my six-hitting more than I have done in previous years. I am going to try and hit a lot more sixes... and that was really the plan today," aldus Buttler, die de vrijwilligers regelmatig de bosjes instuurde om een van zijn 7 zessen te gaan zoeken.
Ondertussen sloegen ook Phil Salt en Dawid Malan centuries. En 3 centuries tijdens een ODI innings is ook weer een record!
Liam Livingstone, battend op nummer 6, maakte de snelste 50 in Engelands ODI geschiedenis. Hij had daar maar 17 ballen voor nodig! Engelands monsterscore werd mede mogelijk gemaakt door een aantal door Nederland gemiste vangen.

Nederland scoorde als antwoord op al dit geweld een respectabele 266 runs, bepaald niet slecht tegen de ODI wereldkampioen. Top scorer was wicket-keeper Scott Edwards, die met 72 runs not out bleef en een partnership van 59 runs had met captain Pieter Seelaar totdat deze door David Willey clean bowled ging voor 25.
Max O'Dowd scoorde 55 runs van evenveel ballen, inclusief zes vieren en twee zessen, waarvan er eentje een ruit van de commentaar boxen vernielde.

Nederlands aanvoerder Pieter Seelaar betreurde na afloop het aantal in het outfield gedropte vangen: "You can't drop the best batsmen in the world." "I'm not saying it would have been a completely different game, but you probably won't be looking at 498".

Man of the match was uiteraard Jos Buttler met zijn schitterende innings met 7 zessen en 14 vieren.
Engelands aanvoerder Eoin Morgan bleef na deze monsterzege echter bescheiden: "We don't take days like these for granted. We've worked incredibly hard to earn days like today," zei hij na afloop.
Universele winnaar van de dag was uiteraard het publiek. 8000 supporters (het merendeel Engels) genoten van spectaculair cricket onder tropische omstandigheden op een schitterende locatie in het Amsterdamse Bos.
Uitslagen afgelopen weekend
Groen&Wit2 176 (41.5) – VRA2 232 v 8 (50)
USV Hercules 412 v 6 (40) – VRA3 (onbekend)
Bijlmer CC 220 v 7 (36) – VRA4 219 v 9 (40)
Concordia3 220 (39.3) – VRA5 344 v 6 (40)
Groen Geel Dames 57 v 4 (20) – VRA Dames 58 v 1 (12)
VRA6 142 (30.5) – ACC5 191 (33.3)

T20 competitie: van 18 juni t/m 30 juli
Nu de eerste fase van de competitie is afgerond en VRA 1 zich heeft geplaatst voor de kampioenspoule is het tijd voor T20 cricket! De Topklasse T20 competitie begint op 18 juni. De KNCB heeft hierin een nieuwe opzet gemaakt met vele veranderingen ten opzichte van de voorgaande jaren: De opzet is zo gemaakt dat de teams spelend in de top en hoofdklasse zijn verdeeld in 5 poules, waarbij VRA is ingedeeld in een poule D met Dosti, Groen&Wit en VVV. De poulewedstrijden worden gespeeld in 4 weken tijd, waarbij er telkens door drie teams op een complex worden gespeeld: dus drie poulewedstrijden op één dag.
Omdat Groen&Wit moeite heeft met hun accommodatie en op de aangewezen wedstrijddag helaas geen velden beschikbaar heeft is in overleg met de KNCB besloten om de wedstrijden die op 25 juni op Sportpark Bijlmer gespeeld zouden worden nu bij VRA in het Amsterdamse Bos worden gespeeld.
Daardoor is het volgende speelschema gemaakt voor de Topklasse T20 competitie in poule D:
18 juni (geen wedstrijd voor VRA)
Locatie: Sportpark Oostzanerwerf
10:00 VVV-Groen&Wit
13:30 Groen&Wit-Dosti
17:00 VVV- Dosti


25 Juni
Locatie: Amsterdamse Bos
10:00 Groen & Wit-VRA
13:30 VVV-VRA
17:00 Groen & Wit-VVV


2 juli
Locatie: Amsterdamse Bos
10:00 VRA-Dosti
13:30 Dosti-Groen&Wit
17:00 VRA-Groen&Wit


9 juli
Locatie: Sportpark Drieburg
10:00 Dosti-VRA
13:30 VRA-VVV
17:00 Dosti-VVV

De winnaars van de poules en de 3 beste nummers 2 plaatsen zich voor de kwartfinale ronde op 23 juli.

De 4 winnaars van de kwartfinales plaatsen zich voor de finaledag op 30 juli (mogelijk op VRA).
VRA2 sitting pretty at number 2 after half the season
In our last update we covered the matches till Round 5. The journey after that has been heart racing to say the least. We have managed to put ourselves in difficult positions on many occasions, and each time the team has been able to make a comeback and win. Current we are at number 2 in the rankings separated only by NRR with the table toppers Eindhoven.

Round 6: VRA2 thrashes Excelsior 2
The home game started off with Excelsior winning the toss opting to field. A decision they lamented soon as the VRA openers put up a stand of 106 runs in quick time. Pragam scored a quick 75 runs and Harpreet supported with a patient 44. This followed by a few small partnerships and an eventual run feast by Keshav (55 runs) and Nikhil (24) to take VRA2 to a formidable total of 265 runs. After a few rounds of great curry provided by Layla, the team was ready to defend the total. And defend we did. Excelsior was bowled out for 172 runs in 43.3 overs. Keshav picked up 3 wickets. Rahul and Sharad took 2 wickets each.

Round 7: VRA2 steals a win from Hermes DVS2
Another home game for us. Hermes won the toss and chose to field. Our disciplined bowling restricted them to 119. Keshav was the pick of the bowlers taking 3 wickets, followed by Sharad, Nikhil and KD taking 2 apiece.

Our chase started off in a usual manner. Pragam and Harpreet gave good start of 54 runs. Breaking of the opening stand started a flood which was difficult to control. R Bhatt intervened and looked like winning the game for us before he was caught brilliantly at the boundary. The score read 96 for 8. KD together with Nikhil held the fort for a while but the pressure of dot balls got to them. KD was out and score read 101 for 9. Sugam and Nikhil showed immense character and fended off some brilliant bowling to get us to 120 in 35.4 overs. The game might have caused a few mini heart attacks but the win (and a few beers afterwards) brought everything back to normal.

Round 8: Match against Punjab abandoned due to rain

Round 9: VRA steals another win. This time from table leaders Eindhoven
Another home game, another toss lost by VRA2. Eindhoven decided to bat first but were immediately taken apart by the swing and guile of Vivek and Sharad. Vivek was able to induce massive out swing, bowling 9 over on the trot he took 3 wickets for 29 runs. At 36 for 3 Eindhoven was under some pressure, but their batters showed some amazing resilience and took the score to 100. In need of breaking the partnership, Bilaspur Express Sugam was let loose on them. A few short balls and chin music later, he broke the partnership. 2 wickets from Sugam and 3 from Pragam made sure that there was no further resistance. Final score was 143.
Our chase started shakily. We lost Pragam quickly. But Shiraz came at number 3 and put up a show. His great display of controlled aggression looked like taking the game away from opposition. We lost our second wicket at 54 when Harpreet threw away his wicket. The match still looked well in our control. But this is VRA2, and we had to make it interesting for spectators. Shiraz was caught off brilliantly at boundary and suddenly we found ourselves at 82 for 5. And just like that, a few balls later, we found ourselves at 96 for 8. With 50 runs still required, Sharad Hake joined Vivek in the middle. And both gave a masterclass in batting. Vivek took the role of holding the fort and Sharad didn't let any scoring chance go away. The opposition tried everything in their arsenal but could not get any more wickets. Vivek's patient 13 runs from 40 balls and Sharad's 31 from 48 took us home.
A special shout out to Katie for her support during this game and so many others. Our lucky charm.

Round 10: VRA2 beats Groen & wit
Playing away this time we won the toss and chose to bat. The pitch was a bit tricky and needed some getting used to. Pragam showed great application but was unfortunately run out. Other top order batters struggled to apply, and we were at 50 for 4 after 15 overs. Ashwin aka Shady and Rahul showed some great feats of concentration and made a partnership of 66 runs in next 20 overs. Ashwin was getting into his rhythm by hitting 2 consecutive boundaries of the main opposition bowler but was caught behind trying to dab a ball to third man. This brought Sharad Hake to the pitch after getting a much-deserved promotion in the batting order. And it looked like he was playing on a different pitch than others. From the other end, Rahul Bhatt had spent enough time trying to read the pitch and tiring out the opposition on a hot day. And then he let loose. After a few monstrous sixes he quickly reached 70 and took the team score to 205. Having batted 30 overs out there in the heat, Rahul was finally out in the 45th over. Sharad in the meantime reached his fifty as well scoring 55 from 52 balls. We managed to amass 232 runs.

Our defence of the total started well. There was some tight bowling from Sharad, but Harpreet struggled to control the ball against the wind. Adil and Sugam were brought into attack. Adil took quick 3 wickets and Sugam bowled a tight line and length and took wicket of one of the openers. This was followed by disciplined off-spin from Himanshu who took 2 wickets and troubled all the opposition batters. Before long Groen & wit were at 119 for 9. The last pair showed some resistance and took the score to 176 before Pragam intervened and finished it off. Pragam finished with 3 wickets and a big smile on his face.

Pragam Rathore
HCC Zami 1 vs VRA Zami 3
The complete bag of tricks from both sides was apparant on this gorgeous saturday afternoon in the Hague: reducing the game to 30 overs, switching pitches midway, bringing in a ringer for a cameo appearance of twenty minutes and twenty runs, asking the bowler to change shirts, because both shirt and ball were white and much more.
But first things first, Captain Renardel won the toss and/ or made a deal which resulted in us batting first. Our British contingent was mostly away with a variety of good, bad and even worse excuses. Not to worry, though, VRA is a truly international cricketclub, having an Aussie dad and son in the Pulvers, Andy Bolan and added to our squad were Hersch and Niri from the Indian cricket community. They opened the batting with a solid and confident 50 runs. After that the Amsterdam bravoure was quickly wiped away though, as Berend, Thomas S., Nigel, Andy and Wouter all fell in quick succession. Two bowlers from HCC were on a hattrick, both failed miserably though, dodging jugs along the way.
Enter our man for a crisis: Frederik ten Kate! Combining strong hits with solid defence and only sparingly trying to run out his partner Sebastiaan with crazy calling. An almost 50 partnership and some blows by our father-son duo, took us to a sort of respectably-ish total of 137.
As mentioned, we switched from the astro to the main pitch, as the first team of HCC had crushed ACC before tea. Graciously or arrogantly, the total remained the same for the HCC team, though it was obvious the main pitch was "just a tad slower" than the artificial one. Not to worry, thought the HCC skipper and also swapped his batting lineup, looking forward to beers in the sun in double quick-time....
But that was counting outside the barman!! Zami Thirds put up a great fight. First with Hersch QuickType swooping in for two run outs, combining with 'keeper Berend. Alec and Andrew combined to keep the run rate low, followed by Freddie, our very own Amstelveen Express. Andy bowled tidy and was very unlucky. Nigel chipped in with wickets, including an top edged caught and bowled when the pressure was on. Thomas got some sort of redmeption with a wicket and Alec had a sweet catch as well by the way.
But it wasn't to be, the quick cameo by their guy who hadn't fielded (VRA kindly providing an 11th man the whole innings) probably won it for them. So there was nothing more to do than have some beers in the sun and make plans for a big night out.
Onward and upward for the Thirds!!
GroenGeel Dames - VRA Dames
This weeks opponent was GroenGeel. The game started at 13.30 instead of the usual 10.00. Which meant a nice sleep in for the team before driving to The Hague.

After losing the toss, GroenGeel decided to start batting. Our opening bowlers Nathalie (0-13 in 4) and Sjoukje (1-18 in 4) started us off nicely, not giving away any easy runs to the GroenGeel batters. Soon after Angel (1-12 in 4) got the first wicket. The bowlers tried their best to keep the pressure on, backed up by sharp fielding by the rest of the team. GroenGeel finished their innings with 57 runs scored.

After a short break between innings, Angel (5) and Birgit (29 n.o.) opened the batting innings with some good running before Angel hit a return catch to the bowler. Katie (13*) joined Birgit in the middle, starting her innings very positively by almost hitting a 6 to mid wicket. We passed the GroenGeel score in the 12th over.
Today it was Angels turn to pass on The Golden Turtle to Katie for her amazing fielding and batting. Our next opponent will be VCC in 2 weeks!
Caroline Steenstra Toussaint
When tired of Cricket, try Spooning!
In al mijn onwetendheid en argeloosheid had ik voor de 3 ODI's tegen Engeland een passe-partout voor Stand B aangeschaft. Daarmee bleek ik mijzelf veroordeeld te hebben tot een semipermanent verblijf van zo'n 18 klokuren te midden van de Barmy Army, het Engelse 'gekkenleger', dat hun crickethelden over de hele aardbol achtervolgt.
Het viel beslist niet mee. Deze fanclub van overwegend jonge mannen brengt zichzelf al bier drinkend, nog voordat de eerste powerplay voorbij is in een, wat vroeger heette, jolige stemming. Er wordt gezongen ("Everywhere we go"), bier gedronken, weer gezongen ("Don't take me home"), nog meer bier gedronken en veel opgestaan. Het lijkt wel of ik in het Concertgebouw ben: "Bravo,well played!" en dan allemaal van en op de banken. Dan moet ik natuurlijk (?) ook, en ik wil niet. In het Concertgebouw wordt overigens beduidend beter gezongen.
Bij de Barmy Army, die in de loop van de dag in steeds grotere getale liggend onder in plaats van staand op de tribunes te vinden is, ontbreekt helaas het vrouwelijk element. Derhalve ontbreken ook elegantie en fraaie hoofddeksels.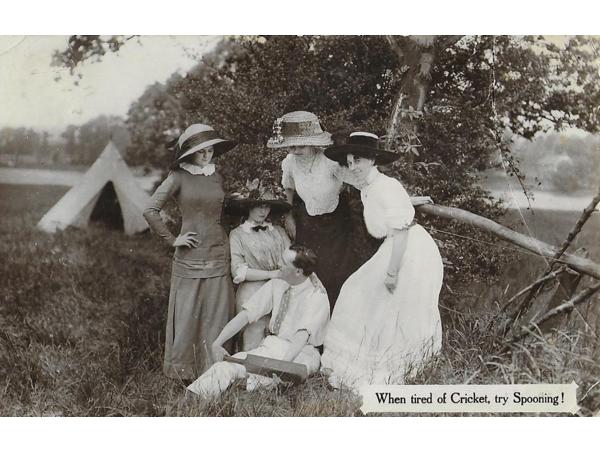 Zo zie je maar. Het kan allemaal stukken gracieuzer. Op deze ansicht uit 1911 – vanuit Norwich naar Bowling(!) Waters in Amerika - zien we hoe. Als je niet zulke perfecte spoonshots kunt lanceren als Butler en Malan, kun je altijd nog elegant gekleed en omringd door een keur aan charmante dames en hoofddeksels een andere vorm van 'spooning' proberen.
Of daarbij ook een tent van pas komt, laat ik aan de fantasie van de lezer over.

Tom Matena
Vriendenloterij - doe mee en steun VRA!
VRA staat ingeschreven als te steunen vereniging bij de Vriendenloterij. Dit betekent dat u in plaats van door de Vriendenloterij gekozen goede doelen, VRA kunt steunen met uw gekochte loten.
Hoe werkt dat?
De Vriendenloterij kent 40% van de aankoopprijs van elk lot toe aan VRA. Dit is 85 euro per jaar per lot. De aankoopprijs per lot verandert niet door VRA te steunen. Dit is dezelfde prijs als bij het steunen van de eerder genoemde goede doelen. Maak ik dan nog wel evenveel kans om te winnen? Ja zeker! Winst gaat via de Vriendenloterij per postcode en lotnummer niet per doel/vereniging dat gesteund wordt.
Hoe kan ik VRA steunen?
Ik heb al loten
1. Bel 0880201020
2. Kies uit het keuzemenu 'overige vragen' via toets 5 om met een telefonist in contact te komen.
3. Geef uw gegevens door en meldt dat u uw loten graag wilt omzetten naar de vereniging 'SV VRA'. Dit proces duurt ongeveer 3 minuten en brengt geen extra kosten met zich mee.

Ik heb nog geen loten
1. Ga naar de Vriendenloterij website en kies "Meespelen"
2. Kies de optie 'een club, vereniging of stichting naar keuze'
3. Zoek op 'SV VRA Amstelveen'
4. Vul de gevraagde gegevens in
5. Geef toestemming. Dit proces duurt ongeveer 5 minuten en hiermee koop je 1 lot.