Voorwoord
Al met al was het een seizoen(tje) met twee gezichten voor VRA I. VRA begon goed met een reeks overwinningen die veel deed verwachten, totdat daar plotseling de ontluisterende nederlaag kwam tegen HCC. Daarna ging het op en af, zodat VRA eindigde in de middenmoot. Toch was er veel om trots op te zijn. De jongelui die hun opwachting maakten in het eerste deden het naar behoren, goed gesteund door de oude garde. Als die ontwikkeling zich doorzet, kunnen we volgend jaar, wanneer er hopelijk wel een heel programma kan worden afgewerkt, nog veel goeds verwachten.
VRA I beloonde zichzelf door op de T20 finals day zichzelf te kronen tot kampioen van Nederland. Dit was een prachtige prestatie waar alle spelers van VRA I op eigen wijze en op eigen momenten substantieel aan bij hebben gedragen. VRA I heeft aankomend jaar een titel te verdedigen!
En dan nog iets over de supportersschare. Die was ook dit jaar weer miniem. Ik heb altijd gedacht, dat je als lid van een vereniging van je clubliefde blijk geeft door aanwezig te zijn bij de wedstrijden van je favorieten. Dat is bij VRA nog steeds te weinig het geval. Er is een harde kern diehards die niet vaak verstek laat gaan, maar die wordt zelden aangevuld. Floris vertelde me tijdens de wedstrijd tegen Punjab nog hoezeer de spelers genieten als ze vanaf de boundary worden aangezet tot grootse prestaties. Laten we daarom volgend jaar in groten getale oprukken naar het VRA-complex of enig ander veld om daar het eerste toe te juichen. Harry Oltheten & Wouter Renardel
Yorkshire uit
Soms schrik ik 's nachts wakker. In mijn droom miste ik een vang achter het wicket. Af en toe krijgt die droom een nog veel akeliger vervolg. Daarin spelen we uit tegen Yorkshire. Wie 'we' zijn is nooit geheel duidelijk, maar ik ben, verdorie, altijd van de partij… De droom speelt zich af in een laat 19e eeuwse ambiance, een mengsel van Sherlock Holmes en Butch Cassidy and The Sundance Kid. Ook Dr.Watson is, met bolhoed, steevast aanwezig. Maar het ergste komt nog: ik moet telkens weer openen op het bowlen van die kerel, midden rechts op de foto, die met de bal in zijn hand en die duistere blik in z'n ogen…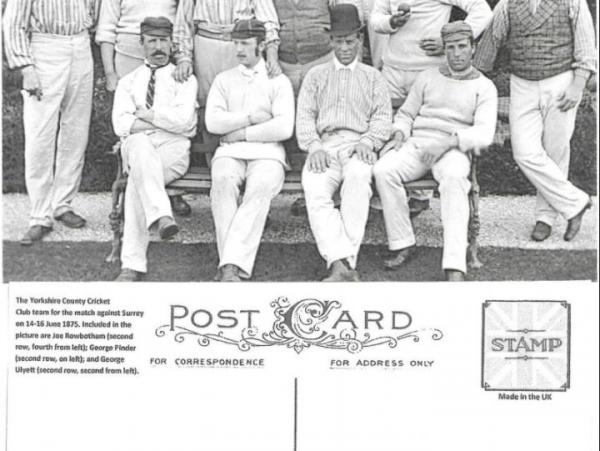 De hier afgebeelde jonge(?)mannen spoken niet alleen door mijn droomwereld, ze bestonden werkelijk. We zien, zoals de tekst aan de achterkant van deze repro-kaart vertelt, het Yorkshire County Cricket Team in de lente van het jaar 1875. De middelste rij is om meerdere redenen interessant. Niet alleen vanwege mijn kwelgeest met de bal, maar daar staan tevens George Ulyett (2e van links) en George Pinder ( uiterst links). Ulyett was een zeer hard slaande allrounder, die ruim 20 jaar voor zijn county uitkwam en meer dan 20.000 runs scoorde. Pinder, die net als Ulyett ook testcricket speelde, was een fameus wicketkeeper. Zoals in die tijd gebruikelijk, stond de keeper, ook op de snelle bowlers, 'within arm's reach' achter het wicket, met een long-stop aan de boundary. Stumpings galore! Ook bij Pinder, die meer dan één derde van zijn slachtoffers stumpte ( c. 221 st. 136). Maar George Pinder was achter het wicket zo snel en safe, dat hij als eerste wicketkeeper zonder rugdekking ging opereren. Volgens overlevering was de uitspraak tijdens een wedstrijd op de Oval van long-stop fielder Ephraim Lockwood de aanleiding daarvoor: "Nay George. I've been behind thee for 23 overs and had nowt to stop. I'm off where there's summat [ something] to do." De absolute ster van dit Yorkshire was de man links vooraan met dat leuke stropdasje. Dat was Tom Emmett, die in first Class Cricket 60.135 ballen bowlde en daarin 1572 wickets nam. Gevreesd werd deze linkse fastbowler vooral door zijn zelfbenoemde 'sostenuter': de bal pitchte iets buiten de stroke aan de legside, brak scherp en velde de off-stump. Emmett speelde diverse malen voor Engeland en diverse touring teams in Australië en, zo lezen we in J.L.Carr's 'Dictionary of Extra-Ordinary Cricketers': …'on one occasion Emmitt politely asked an Australian fielder, if he was wed. He explained that, although he had no compunction about killing him, the death of a husband and father would vex his peace of mind.' Van zoiets kan een mens wel eens slecht gaan dromen… Dat was het dan weer voor dit te korte seizoen. Volgend jaar april klinkt de bel hopelijk weer vroeg en dan…
Tom Matena

VRA I - Punjab 30-08-2020
Match Report – Round 9: VRA 1 vs Punjab
After easily the best performance of the season so far on Saturday afternoon – a commanding T20 victory over Punjab that earned the Very Reasonable Athletes a place at Finals Dag – the Fluffers went into Sunday's 50 over match against the same opponents in a confident mood. The jongens were particularly determined to sing another Yaya after an uncharacteristic Adeel "Zoidberg" Raja error fluffed the Saturday celebration, and with very little to play for after Punjab's crushing loss to HCC the week before ended their title hopes, this seemed likely.
The Yaya seemed more likely when Peter "Cricket" Borren immediately made a strong case for the man-of-the-match award by winning the toss and electing to bat. And it seemed even more likely after Eric "Coronaregels" Szwarczynski and Big Ben Cooper put on 178 runs for the first wicket, which put the Fluffers in a seemingly unassailable position and largely mitigated the effects of the wildly optimistic Saturday evening rain card. But the Fluffers will fluff, and when Big Ben was given out glove before wicket on 99 by an umpire under clear instructions to not allow any punching in games involving Punjab, the wheels began to come off, albeit in slow motion…
First went Leon "Flaps" Turmaine after some solid pinch hitting (2 off 8), followed by Shirase "Ken Doll" Rasool. Peter Cricket perished on the deep square boundary, Coronaregels ran out Push-Up King for not swinging hard enough, Q "The Cannon" Gunning missed a straight one, and Vikram "Universe Boss" Singh maintained his solid 2020 strike rate in his final VRA innings before joining the IPL. Finishing with a somewhat disappointing 7/261, only Szwarczynski maintained his standards, batting the full 50 overs for an unbeaten 120 in a superb display of social distancing from his teammates on the bench.
Following yet another lovely Layla lunch the Fluffers set about defending their middling total with a somewhat middling bowling performance. The Cannon was misfiring slightly, Zoidberg couldn't quite find his range, and after starting well Ashir "Need for Speed" Abid lost his line, making it difficult for Coronaregels Szwarczynski behind the stumps, who had elected to take the gloves in an attempt to prevent the communal ball from touching his uninfected skin. The skipper had to turn to Flaps Turmaine to find the first breakthrough, Rehmet the first Zulfi to go courtesy of a well held catch by Ken Doll.
Unfortunately things got away from the Fluffers after that, with Punjab's confident pro and the triplet that doesn't look like the other two putting on another 80-odd runs. The partnership wasn't without it's dramas though, with yet another Punjab-related caught behind controversy riling up Peter Cricket, along with The Cannon's second worst drop catch of the week allowing the pro a let-off. Peter Cricket was finally rewarded for his toil and passion when Udit "Freak" Nashier took a comfortable catch, and shortly afterwards when Zoidberg had Zulfi number two caught superbly by the Push-Up King (it was reminiscent of the chance that Universe Boss could only get one hand on against VCC – see Round 7 match report for full detail), the Fluffers thought they had an opening at 3/180. Unfortunately though, the opening was closed as the two remaining Zulfis capitalised on some ordinary bowling to take Punjab within sight of victory. Not even a jaffa from Freak to clean bowl Zulfi number three could stop the Punjab momentum, and the Fluffers' fate was finally sealed at the end of the 48th over, some brief banditry/attempted match fixing notwithstanding.
Not to worry though, 50 over cricket hasn't been the Very Reasonable Athletes' game this season. The T20 finals day is this Saturday at VCC and the Fluffs have a real chance of picking up a trophy. The first semi-final is VRA vs HBS at 10am, and we'd love to see you there.
Go the Fluffers!
VRA 3 vs. MOP 1 – 23-08-2020
Team: Arsal Ur Rehman, Steve Pringle, Mark Gray, Divan Dreyer, Thomas Pasierowski, Harry Will, Martijn Besier, Marcus Andrew, Hendrik Kruger, Piotr Pasierowski, Prasuk Jain.
MOP 1 started with the bat, sending in their top batsman to destroy our bowling line-up. Although it wasn't ment to be for our friends at MOP 1. As their captain, Alexander van Hirtum, so rightfully phrased it: "It was just one of those days."
Their nr. 1 batsman Nayab Muhammed did quite well, scoring 31 from 68 balls before getting bowled out by our 6th bowler Marcus Andrew. The other batsman struggled more with our opening bowlers. I myself, as the wicketkeeper, saw firsthand how our bowlers were outplaying the batsman. Big hooping outswings with great length from Piotr Pasierowski, looking for that outside edge. And Pacey incutting deliveries from Harry with some bodyline tactics which caused the nr. 2 batsman to desperately wanting to get off strike. A big YES to a potential run, followed by a big NO from the other batsman, causing the batsman to slip and giving me a chance to throw the ball at the stumps resulting in a run out. Seeya. Piotr's spell ended with 14 runs from 5 overs and Harry's spell ended with 5 runs from 5 overs. Harry Piotr's magic. (trademark Besier)
After our economic and entertaining opening spell, it was time to take some wickets. Hendrik was put on to skit the ball aggressively at the stumps. For some reason his deliveries drift both ways after it bounces which makes it hard too keep on, but also hard to face as a batsman. Which was clear since he took the wicket of MOP 1 captain Alexander who outlived the openingsbowlers and was ready to score some runs which we know he can do. At the other end our captain Prasuk was bowling some absolutely amazing inswing, barely missing the stumps several times and deserving a couple of wickets. But the days wickets belonged to our last 2 bowlers, Martijn Besier and Marcus Andrew.
Martijn was bowling some great legspin, outplaying the batsman and taking the bails off twice and causing a batsman to hit the ball straight up. Unlucky for Martijn, I missed a stumping and missed out on a bottom edge, although it was hit down pretty hard ;) sorry bud. On the other end Marcus was whipping the ball down hard, pitching it on a good length and serving up some juicy edges for the slip cordon. Some went through, but 2 were swallowed by Hendrik and Mark. Also appealing loudly for 2 LB's, pretty much forcing the umpire to raise his finger to save his own life. Martijn's spell ended with 14 runs from 4 overs for 3 wickets, Marcus's spell ended with 9 runs from 3 overs for 5 wickets!
MOP 1 was bowled out for 88 runs after 29 overs. Great performance! With proper textbook bowling and jungle fever fielding.
We decided to skip lunch and chase down the 88 runs. Arsal and Steve geared up and went in for the kill. Not once did they accelerate with unneccesary big shots, which would be understandable due to our comfortable position. In truth it was a true expostion of a skillful and patient opening batting pair. Rotating the strike, communicating well, punishing the bad balls down the ground and both ending with a 360 degrees scoring wagonwheel. The whole team enjoyed watching Arsal scoring 40 from 39 balls and Steve scoring 25 from 31 balls.
VRA won the game in the 11th over by 10 wickets. Excellent job boys!
Match Report: Zami Clash of the Woods 5-9-2020
As always the season ended with the traditional Clash of the Woods between Zami 1 and Zami 2. Zami 2's won the toss and stand-in captain Max, attempting to keep his 100% win record intact, chose to bat. A stirring speech (filled with many Australian...uh, colloquialisms) later the tried and tested opening partnership of Harold and Tommy walked to the middle. The start was sedate, just 7 coming off the first 3.5 overs when Harold fell LBW to the spin of Nick Goodchild, umpire Thomas Pasierowski ever so slowly raising the finger.
In came Dan at no.3 and had an entertaining battle with Prasuk. With Dan attempting to give the Zami 1's slip cordon catching practice, Nick Goodchild asked for a catch, was promptly offered one next ball and dropped it (the first of many dropped catches by Zami 1 fielders). The battle though was over soon after, with another slow slow (slow) finger raise from Thomas Pasierowski on another LBW, but not before adding impetus to the innings with 24 off 18 balls.
Andy Bolan the next man in, and together with another Englishman Chris Carey made merry, scoring 58 off just 46 deliveries. More sedate at the other end, Chris turned over the scoreboard by facing wides; more in fact than he managed off the bat. Andy eventually fell to the handgrenades of Richard, Nick Goodchild third time lucky with the catch.
Though he took 11 balls to get off the mark, and struggled with the psychological warfare displayed by Ewoud, the Amstelveen Express Freddie contributed important runs down the order, including a monstrous six off the bowling of Richard, as well as injuring Willem with 2 consecutive fizzing caught-and-bowled chances. Divan (36 off 26) then applied the finishing touches, leading Zami's 2's lower order to an imposing 216.
Billy Wu led the bowling ahead of his more experienced bowling colleagues, conceding just 11 off 2 overs at the death, and taking 2 wickets, both bowled middle stump.
Zami 1's started their innings brightly, Richard "swing from the hip" Finlay (33 off 38) playing in his usual V (point to 2nd slip) got off to a fast start, even as he struggled against the pace of opening bowler Keshav. His opening partner Prasuk, perhaps sent in as a pinch hitter, struggled to get going, making just 15 off 35 deliveries. Though they put on 50, both fell to the Amstelveen Express in quick succession, bringing together the experienced pair of Bart and Ewoud. An important partnership to break, and in a moment of brilliance was it broken. Bart "OH, is he LEFT-handed" Schotte glided one behind square and called his partner through for a quick single. A slide, a pickup, a throw, a direct hit and a girlish scream of triumph later, Ewoud was found short and on his way.
The Slovakian Warne then snapped up Wouter and Nick in quick succession, though the latter felt rather aggrieved at the LBW decision, again given by the slow slow (slow) finger of Thomas. By now Zami 1's were well behind the rate, and with Andy Bolan coming into the attack the end was approaching. To go with his first innings fifty, Andy tore through the lower order, eventually finishing with 5-17 from his 7 overs. The innings ended off the first ball from Ruurt Schreuder, with Billy caught by Divan.
A convincing win in the end, 216 playing 142 to give Zami's 2's the win by 74 runs.Thereafter sorrows were drowned, victories were celebrated, and much beer and food consumed. A great way to end the season (especially if you were Zami 2's ;).
BLOEMENDAAL U13 vs VRA U13 23-08-2020
Match Report of BLOEMENDAAL U13 vs VRA U13 23 AUG 2020 By: Suvan Patwardhan Age 12 ¾ - (Part of u13 VRA)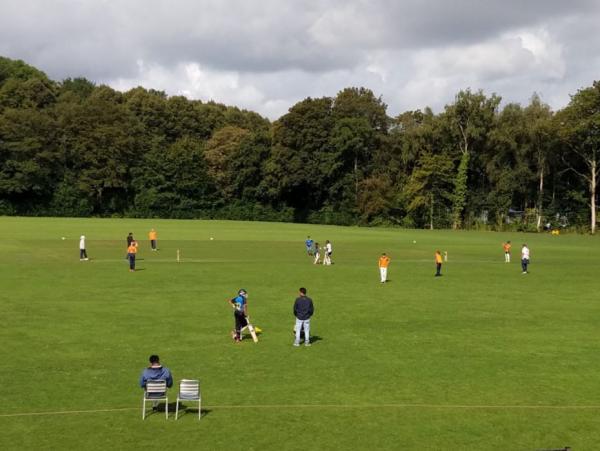 The Rain does not stop VRA U13:
Another rainy morning half way through the season now. The VRA U13 takes on Bloemendaal U13 at the classy VRA field 1 Turf Pitch. VRA Captain: Muhammad, VRA Vice Captain: Ekansh, Bloemendaal Captain: Sebastian. This time Bloemendaal won the toss with electing to field first. VRA opened with a strong partnership of Ekansh & Amaan. 5 overs in, the batting pair retired. Ekansh 22*, Amaan 13*. Next batting pair in- Muhammad and Vedant. A pair with a great striking capability, scored runs and many wides were bowled by Bloemendaal, Some aggressive batting here. Vedant retires on 26*. Number 5 walks in, Suvan. Suvan steadily plays in 1 over taking a double to get off the mark. Muhammad retires. Morris in next. Suvan and Morris carried on with a steady partnership for another 3 overs taking the score over a hundred now. VRA U13 have a high run rate and Suvan retires on 21* Vinz in next. The two carried on getting runs of the bat with no pressure and received many runs from the extras too. VRA's score on the board keeps increasing. Morris retires and Arth walks in. Arth and Vinz keep the run rate steady and make the score go up and up as VRA looks for 200. Vinz retires as Aadit takes over. Aadit leaves one ball and unfortunately is bowled by a good yorker. Suvan walks in one more time with some aggressive batting required to finish up. Arth is retired with a steady batting performance. Ekansh comes back to finish with Suvan. In the last couple of overs, too many wides were bowled and the batting pair did a good job by rotating strike. Now VRA U13's innings is over. Ekansh 2* and Suvan 20*.
VRA U13 set a magnificent target of 193 Runs !!! the highest so far in the season. Bloemendaal require 194 runs to win. The players have a short break with Stroopwafels and then its game on.
Bloemendaal's opening pair have arrived and VRA set up their field, Muhammad to open the bowling with Aadit. Muhammad opens with a great caught and bowled to break the opening. Aadit strikes as well as Suvan takes a clean catch at Mid-Wicket. Bloemendaal are not off to a great start. Muhammad back into the attack. Muhammad cleans the stumps and the skipper is gone. Next bowlers in- Vinz and Amaan. Vinz opens with a tight over and now Amaan takes over. Amaan with a brilliant bowling performance, Just missing his hat-trick! Two more wickets to go. Amaan bowls outside off and the batsman cuts it to third man. Morris with a quick throw getting a brilliant direct hit. Last wicket to come. Vinz back, and Vinz cleans the stumps to finish a one-sided game.
VRA U13 won by 177 runs!
Top performances: Wicket Keeper Arth, with tight keeping and very little extras. Batting: Suvan 41* Vedant 26* Ekansh 24* Bowling: Amaan 2 wickets Muhammad 2 wickets Aadit & Vinz 1 wicket each Fielding: Direct- hit from Morris Catch at mid-wicket from Suvan Caught & Bowled from Muhammad
extra's

VRA I Team photo

VRA I celebrating the championship

Leon Turmaine was player of the match twice

Ben Cooper bringin the cup home to Layla's kitchen.