Voorwoord
Ik heb iets met records. Al als jong ventje adoreerde ik de Duitse sprinter Armin Hary die de honderd meter als eerste aflegde in 10.0 seconden rond en ook zat ik aan mijn tv-toestel gekluisterd toen Bob Beamon tijdens de Olympische spelen van 1968 in Mexico City het wereldrecord verspringen verpulverde met een ongelooflijke 8.90 m., een prestatie die voor de eeuwigheid leek te gelden. Dat zelfs dit record niet onaantastbaar bleek, bewees Mike Powell tijdens de wereldkampioenschappen van 1991 door vijf centimeter verder te springen, een record dat al 29 jaar zelfs niet wordt benaderd. Dat van Hary was geen lang leven beschoren. Nu lopen hele horden sprinters, onder wie onze nationale blije eikel Churandy Martina, onder de tien seconden. Het ene record is dus het andere niet, dat geldt ook in de cricketwereld. Zo heeft mijn all time favourite Brian Lara er twee in handen, die al lang staan. Het ene, zijn 501 not out voor Warwickshire tegen Durham in 1994, is in beton gegoten. Dat totaal wordt nooit meer verbeterd, maar het andere, zijn 400 not out tegen Engeland in 2004, wankelt af en toe. Afgelopen week was het weer eens zo ver. De Engelsman Zak Crawley bouwde in de derde Test tegen Pakistan aan een massieve innings waaraan geen einde leek te komen. Ik begon er al terdege rekening mee te houden dat captain Joe Root hem de tijd zou gunnen om het record van Lara serieus aan te vallen, toen Zak plots werd gestumpt na 267 runs (34 x 4, 1 x 6). Diep in mijn hart was ik blij dat Lara's prestatie niet was verbeterd, maar tegelijkertijd wist ik dat dit toch eens zou gebeuren.
In dezelfde match, die door de vele regenpauzes in een lusteloze draw eindigde, sneuvelde wel een record, dat eigenlijk ook weer geen echt record was. Jimmy Anderson, al weer 38, bereikte als eerste fast bowler de grens van 600 Testwickets. De Engelse commentatoren konden er niet over uit en vergaten gemakshalve soms dat slow bowlers Muttiah Muralitharan (800), Shane Warne (708) en Anil Kumble (6190, hem al waren voorgegaan. Dat 'Grumpy' James, die verdomd chagrijnig kan kijken als het hem tegenzit, de 800 zal halen, lijkt, gezien zijn leeftijd onwaarschijnlijk, maar dat hij samen met zijn maat Stuart Broad, die inmiddels de 500 testwickets is gepasseerd, een van meeste geduchte aanvalstandems in de moderne cricketgeschiedenis vormt, staat buiten kijf. Dat moet zelfs een cricket-anglofoob als ik, zij het knarsetandend, toegeven.
Aanstaande zaterdag (17.00 uur, kwartfinale 20/twenty) en zondag (11.00 uur) hoeven er van mij voor VRA tegen Punjab geen records verbeterd te worden, als we maar winnen. Dat is na twee nederlagen gewoon een must. Ik hoop dat we met velen getuige mogen zijn van een paar prachtprestaties die het seizoen een waardig einde bezorgen.
Harry Oltheten
Hit for six
Hit for six
We betreden nog éénmaal de wereld van het dierencricket. Dit keer is niet de geprepareerde fauna, maar de getekende aan de beurt. En ik beloof , dat het daarbij zal blijven.
Angus Clifford Racey Helps ( 1913 – 1970 ) was een Engels schrijver van kinderboeken waarin voornamelijk boswezens en vogels optraden. Hij illustreerde tevens legpuzzels, inpakpapier, speel-, wens- en ansichtkaarten. Ook daarop figureren zonder uitzondering dieren, die zich als mensen gedragen. Dikwijls gebeurt dat in een sportieve ambiance: hockey door egels met dassen als scheidsrechters (geschikt zwart wit tenue ), tennissende hazen, die elkaar in John McEnroe-stijl met rackets te lijf gaan ( titel: 'Making the feathers fly!' ), croquet spelende eekhoorndametjes in prachtige jurken, geflankeerd door sjieke uilen in smoking of jaquet. Èn gemengde cricketwedstrijden van hazen en eekhoorns.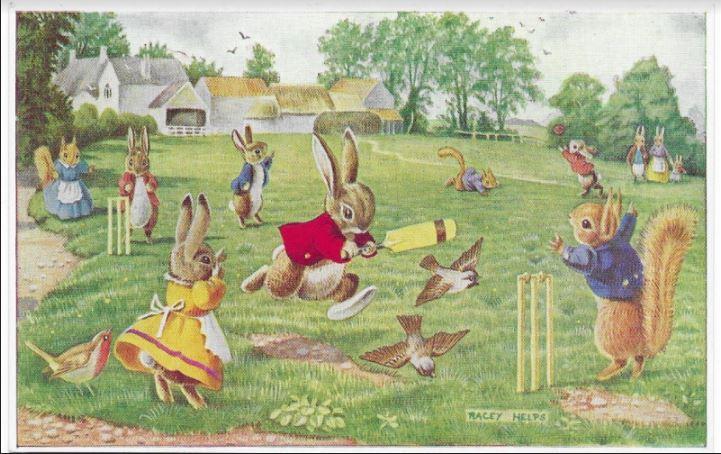 De titel van deze ansicht uit de jaren '50 luidt 'Hit for six' en dat levert de nodige hoofdbrekens op. Allereerst staat het begrip cricketwedstrijd op losse schroeven, tenzij Helps de kijker een visionaire versie van 'Last man standing' wilde voorschotelen. We zien immers geen 'running mate' van de roodgejaste haas. Het meest voor de hand liggend is wellicht, dat hier een bosversie van tip and run wordt gespeeld. En als de bowler – welk van de dieren zou daarvoor overigens in aanmerking moeten komen ? – al voor 6 wordt geslagen, waarom runt die batsman dan alsof zijn leven ervan afhangt? Toegegeven, dat zit in de aard van het beestje, maar een cricketende haas, die een 6 slaat, gaat er niet als diezelfde spreekwoordelijke haas vandoor. Hij loopt hoogstens een eindje de pitch op kijkt de bal genietend na. En tenslotte, wat zijn die twee fielders aan de boundary nou precies aan het doen? De blauwe eekhoorn is op zijn snufferd gevallen en het rode haasje lijkt een simpele vang te gaan maken of te missen. Hit for six?
Zo op het oog kon Racey Helps goed tekenen, maar had hij minder verstand van cricket. 'Het is voor kinderen bedoeld', hoor ik zeggen, 'dan hoeft het immers niet allemaal te kloppen.' Nou, denk ik dan, toch maar liever wel.
Overigens heeft die wicketkeeper een staart om jaloers op te zijn.
Tom Matena
VRA Ladies goes to Haarlem to play with Rood en Wit team. (22-08-2020)
VRA Ladies goes to Haarlem to play with Rood en Wit team. (22-08-2020)
The travel to the ground started with lots of delays and waiting because of the traffic jams on the highway with road construction and navigation issues. However, we all made it before the match time but adding to our delay the weather is not in our favor to start the game on time.
Sally did the toss amid of rain with the two umpires off the field and chose to field. While it was raining Sally gave a good long prep talk in the dressing room from the past experiences. Once the rain stopped, the girls decided to begin with warm up. The field looked wet and slippery the Umpires decided to give it a time to dry and in the meanwhile the decision was made to have yummy lunch before the match and start a continuous long match at 15:00 with a short 15 mins break in between innings.
The sun came out, bowlers Nathalie and Sjoukja gave a kick start but the bowlers were competing to keep up with the wind speed. We got our first run out, it was a beautiful ball by Nathi and Paree went for it straight into fielders hands, it was a very good coordination between Lotte and Sally. Next followed by Lot and Gwen came in to bowling action, I took a beautiful slip catch from Gwen's fast bowling where the opponents team lost their opening batsman. Splendid fielding was done by Lotte, took two magnificent catches effortlessly one in Lot's over and another one in my over. Then comes the Sieger's Sisters into the field. Both the sisters started building up partnership which was crucial for them and crucial for us to break the partnership. Nathi and Gwen came into attack, each of them claiming a wicket in the last overs which was something of a relief. I bowled the 29th over where nobody could stop Heather from hitting the boundaries and she contributed 78 runs to the team and at the end of the innings the final score was 171/9 in 30 overs.
After a quick 15 mins break after the innings, Nathi and Sjoukja went opening. Unlucky sjoukja need to return back in the second over after being caught. Katie comes to crease , looking very confident to make some runs defending the fast bowlers and Katie fell for a miscalculated runout. Next comes Meike, As the partnership between Nathi and Meike just started picking up the pace both of them gave their wickets back to back. Since then it was a fall of wickets for us until Sally came to the rescue. Sally our Savior tried getting us some runs on the board but fell for a short ball and it was a beautiful catch taken by Heather. Sadly our innings came to an ending with 61 for all out. Well it's a loss for us but it's actually an celebration time for ROED en WIT as they are the new CHAMPIONS for this year's tournament.
The Outstanding Fielding Performance Award is done differently by Meike through a very sweet video and it was given to our well-deserved Captain SAVIOR SALLY.
Love,
Vaish & VRA Ladies.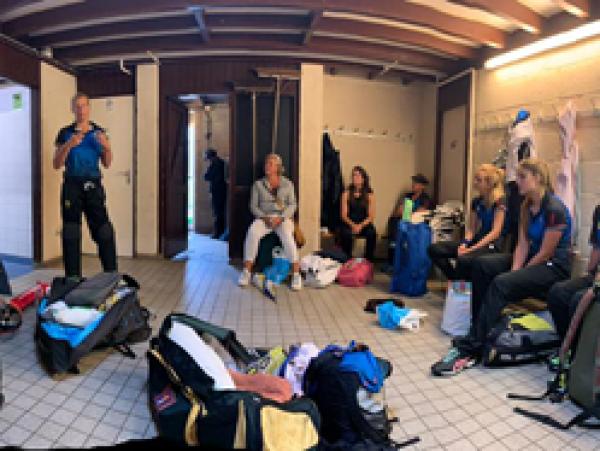 Sparta I - VRA I 23-08-2020
It was a rainy morning at Sparta for our 8th Topklasse game. We were ready for a good game of cricket. Once the covers were removed, the two captains went to the middle for the toss. Sparta won the toss and decided to bat first. Game on.
The first ball was bowled by fast bowler Qurain. It took only 2 balls for VRA 1 to get there first wicket. Full length ball on the stumps and hitting the batsman's pads for LBW. Great first over for VRA. Our 2nd over came along and that over was bowled by our left arm fast bowler Ashir. Good over only conceding 2 runs. After our first 2 overs, Sparta were 3 for 1. Sparta's second wicket partnership lasted long enough for both their number 2 and 3 batsman to score half century's. Just over half way is when we got our break through. Once we got our break through, we started to take some wickets. Then our captain Peter Borren started bowling, and you could see that he had some experience with the ball. He bowled very well and ended up with 3 wickets. Ben Cooper then came into the bowling attack and was very economical. Slowing down the run rate forcing them to play shots and picking up two wickets. Sparta ended up 227 for 9 after 50 overs.
Our innings started with Vikram and Shirase opening the batting. Shirase was unlucky by going out LBW. Followed shortly after by Ben Cooper to a sharp catch in the gully. We were then 10/2. Peter Borren at 4. Then only 21 runs later, Vikram top edged it and got caught for 19 runs. Next in was Udit. Pete and Udit were going well until Udit got bowled by a good in-swinging ball. Then not long after, Pete unfortunately top edged it as well and got caught by third man. A few wickets later Adel Raja came into the mix and started rotating the strike. He stayed in whilst the wickets fell around him, playing well for 30 not out until he ran out of partners. VRA were bowled out for 198.
Sparta won 29 runs
Luke Hartsink
VRA ZAMI I - Groen geel 22-08-2020
Match report VRA ZaMi 1 - Groen-Geel, August 22.
Let's set something to defend.
Another rainy Saturday morning in August, as the undefeated selection of VRA's ZaMi 1 is making his appearance at our beloved ground. Having fresh in mind this most exciting weekend, only five days ago during which both ZaMi 1 and 2 exceeded in excellence, when ZaMi 1 stood tall (very) against Groen-Geel's Niek ter Marsch and Martijn Bordewijk feeling very confident at home ground, and a winged ZaMi 2 that literally crushed Ajax by 80 runs. But hey, modest as always they would stroll into the pavilion to prepare their own cappuccino's and espresso's, having a friendly chat with Layla and friend, being pleased to be part of all this. Exceeding in excellence and undefeated, yes, and modest also, yes, for one should not boast about tomorrow, for one does not know what Groen-Geel may bring. Isn't it? Well, as August days in Holland may include all four seasons, this Saturday included autumn in the morning and summer in the afternoon. Sunbeams descended on us from 2 p.m. sharp, as promised by captain Louis. There was some fuss about the toss, but VRA started batting and its players were pleased. Bart and Eric had the honour of opening but a confident Martijn Molenaar put an end to a short partnership by taking Eric's wicket only in the third over; unlucky Eric. Ruben came in on third and, like a couple of weeks ago, managed to collect quite some dots feeling at ease with Bart on the other end starting to collect runs. Not before a total of 47 of which a smashing six Bart was caught by Molenaar after the keeper let go of the edged ball. Jelger came in, superior overview, and started playing the gaps. Not long after Ruben was caught and bowled by Niek (#neverdrinktomuchduringwaterbreaks) and Willem came in. Willem, the right player at the right moment, I presume, because Groen-Geel took out the pace, occasionally even introducing negative pace. Willem also knows how to make runs on low pace bowling, couple of 4's, big 6.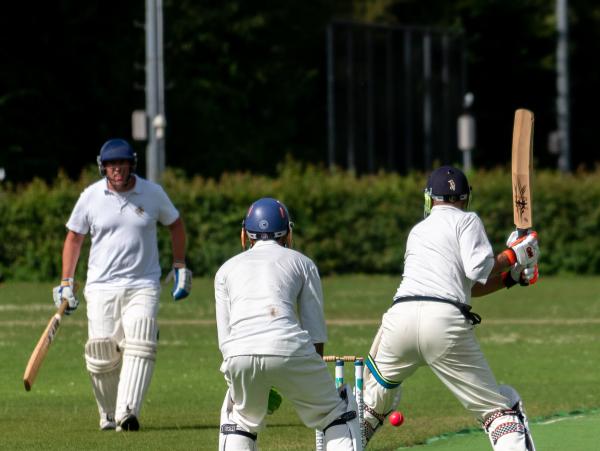 Big hit by Willem van Mierlo
Well, Jelger does to, but got caught on his 12th ball contributing 9 runs, an unlucky 'up in the air' and a good catch. Agent Mulder was called to duty when score just exceeded hundred, introducing his massive one armed after swing. Didn't manage to get this massive swing behind the ball like he's used to this time, but ran like hell! Nine ones and a two for him. Stayed out there with Willem until Willem got caught: 24 balls, 31 runs, good work. So in came Alec, looking confidant and keen from first moment on, and in this capacity started challenging Groen-Geel's long off and long on. Agent had to step down being bowled in the 29th over to be replaced by Ewoud. A total of 174 and still some overs to come! Then Alec got stumped at a total of 24 runs of 23 balls. A warm welcome to Floris, with apparently enough overs left for a spectators treat, some lovely shots, some aggressive running, Floris's well placed 4 and this 'partnership of experience' took the total beyond 200.
Floris facing
Having the finish line in sight Floris got caught and Nick came in, 3 balls, hit a one, got a dot, hit a 4, not out, what more is there to say or do. Ewoud not out for 13, just getting started but out of overs. 211, most defendable!
And thus they defended.
ZaMi 1's getting prepared to defend! Some encouraging and reassuring words spoken by captain Louis and off they go. Having to do without some of the pacy regulars Louis got the Pulvers starting. Alec taking a first wicket quite quick (his first over, wicket maiden!) and Andrew making one forget this unfortunate over last Saturday, getting really warmed up in his 4th over (next 4 overs, 9 runs), Groen-Geel making some runs but not that many, things were working out as planned. Jelger replacing Alec got Doeke Smulders (23 runs), who was getting way to confident, trapped in only his second over. Tempting Doeke with this subtle change of pace: bowled! So now VRA had to cope with the Marsch brothers batsmen Emiel and Niek. In meantime Ewoud was brought in, bowling his faster ball. The Marsch brothers didn't like it. They took some on body and gloves, didn't really got a swing at Jelgers' bowling either - Is this the moment to mention the drops? The 3, eh..., 4, no, 5, or, eh... 6 drops...? Well, hell it is! Because Groen-Geel did score runs and didn't lose another wicket! So, it took a while, but Ewoud got his lbw, bye bye Emiel (12 runs). And when overs and runs were passing by, Nick set the example by getting Holleman caught (20 runs). But why is Niek ter Marsch still in? Being dropped to many times and scoring over 50... Captain Louis sends in Willem, first ball, clean bowled. Ha! They are having a nice day! Nevertheless, this very defendable total still needs some defending... Fortunately ZaMi 1 did the job, no fours allowed, eager on the twos, always on the toes, economic bowling and Theo keen behind the wicket as always, whole innings through! In the last overs Louis got Mark (14 runs) bowled, Floris got Kerkdijk (16 runs) caught. Viradj and Martijn scored a couple and VRA won by 31 runs.
And thus they celebrated.
A hard day's work, not as much a match as the week before but satisfying. They had the beers, ate the pasta, had the other beers, and speeches were positive. The Ome Fleau Award was presented to Bart and Freddie and we're all looking forward to yet another Clash of the Woods!
How's That!