Voorwoord
Een neutrale wedstrijd bestaat voor mij niet. Ook al kijk ik op Fox Sports naar een wedstrijd uit de Amerikaanse voetbalcompetitie tussen twee ploegen die me op zich om het even zijn, dan nog kies ik na korte tijd een favoriet die ik vanuit mijn stoel hartstochtelijk aanmoedig. Bij een sport hoef ik helemaal niet na te denken aan wiens kant ik sta. Bij snooker is Ronnie O'Sullivan als sinds zijn aantreden in 1992 mijn favoriet. Hoewel hij soms rare streken uithaalt is zijn souplesse en inventiviteit zo groot dat ik hem alles vergeef. Gisterenavond behaalde hij zijn zesde wereldtitel en er was geen blijer mens op aarde dan ik. Bij cricket komt het zelden voor dat ik na moet denken over wie ik mijn favorietenrol toebedeel. Als de West Indies spelen ben ik voor hen en als Engeland speelt ben ik voor zijn tegenstander. Op vaderlandse bodem ben ik uiteraard voor VRA, zelfs in die mate dat ik slecht slaap na een nederlaag van Pete en zijn mannen. Twee daarvan, Vikram en Ben, traden afgelopen week aan voor de Hurricanes tegen de Seafarers en het sprak dus vanzelf dat ik mijn sympathie liet uitgaan naar de Hurricanes. De VRA-ers in hun dienst stelden in de match van woensdag niet teleur, sterker nog ze waren uitstekend op dreef. Weliswaar ging Vikram na 55 bedachtzame runs run out, maar Ben marcheerde onverdroten voort. Zijn century was van grote schoonheid en het was alleen jammer dat hij het bij 119 moest laten, want dat aantal bleek net niet voldoende voor de winst van zijn team.
Hoezeer hij in vorm was bleek in de twenty20 van de volgende dag. Weer rustte het welbevinden van de Hurricanes op zijn schouders en weer wist hij onder grote druk het hoofd koel te houden. De zeven runs die hij in de laatste over nog moest scoren voor de winst bleken een makkelijk te nemen horde, vooral doordat hij op de tweede bal een machtige zes sloeg. Het zou overdreven zijn om te stellen dat ik na zijn prestatie (64 not out) net zo'n diepe voldoening voelde als na een zege van VRA1, maar zeker is dat ik tevreden naar huis ging.
Dat het niet alle dag feest kan zijn, ondervond Ben de zondag erna tegen VCC toen hij te maken kreeg met 'something of a freak dismissal', maar ik ben er zeker van dat hij zich komende zondag tegen Sparta zal herpakken. Ware klasse, en die heeft hij, verloochent zich nooit.
Harry Oltheten
The Guinea Pigs' Cricket Match
The Guinea Pigs' Cricket Match
In West Sussex liggen op geringe onderlinge afstand van elkaar de plaatsen Bramber, Steyning en Upper Beeding. Onmiddellijk dienen zich associaties aan met een aflevering uit de serie 'Midsomer Murders' of een mogelijk decor voor Tolkien's Hobbits. Die associaties worden alleen maar sterker bij het noemen van de naam Walter Potter. Maar Potter was noch politie-inspecteur noch Halfling uit het rijk van Midden Aarde. Hij was taxidermist, ook wel preparateur geheten, met andere woorden een kenner en beoefenaar van het opzetten van dieren Walter Potter werd in 1835 in Bramber geboren en prepareerde ruim 15 jaar later zijn eerste dier, zijn bloedeigen gestorven kanarie … Vervolgens was hij nauwelijks meer te stoppen en had hij op zijn negentiende al 98 vogels opgezet. Daarmee maakte hij zijn eerste diorama: 'The original Death and Burial of Cock Robin.'
Er volgden een 'Village School' met 48 opgezette konijntjes in een lokaal, een ratten achtervolgingsscène genaamd 'Rats being raided by the local police rats', een 'Kittens Tea and Croquet Party' en een 'Kittens Wedding' met 20 geprepareerde, prachtig aangeklede poezen en katers. "The kittens even wear frilly knickers under their formal attire!", meldde de plaatselijke kunstcriticus. Inmiddels hadden al deze grappige, licht griezelige activiteiten namelijk tot een collectie onder de naam 'Mr.Potter's Museum of Curiosity' geleid, die onder enorme belangstelling in het museum van Bramber, Steyning en Upper Beeding werd getoond. En daar viel tevens 'The Guinea Pigs'Cricket Match' te bewonderen.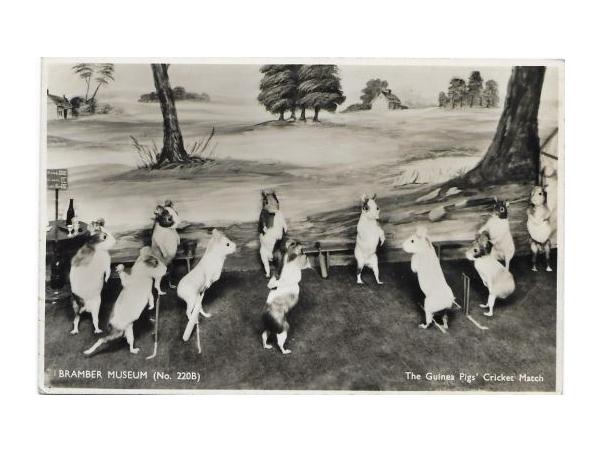 We zien een elftal opgezette cavia's met 2 batsmen in een wat witter tenue dan de negen fielders. Zijn het er werkelijk negen of staat geheel links een geconcentreerd aandachtige cavia te umpiren? Het is een enigszins krankzinnig geheel met briljante details: de wickets, creases, de bankjes langs het veld met een bat(je) daartegen geleund, het (scorers)tafeltje met een fles drank en glaasjes en … een scoreboard! Er blijken al 7 wickets te zijn gevallen, o.a. door de verraderlijke off spin van de rechts ronde bowler, die zijn veld wel erg aanvallend heeft uitgezet. Korte cavia-runs zullen een zeldzaamheid zijn geweest. Van alle cricketansichten, die ik in de loop der tijd ben tegengekomen is dit wel een van de opmerkelijkste en vermakelijkste. Met de collectie van Potter verliepen de zaken echter minder vermakelijk. Het museum raakte vanaf de jaren '70 van de vorige eeuw steeds meer in de vergetelheid.
In 2003 besloten de eigenaren om de ruim 80(!) werken van Potter bij Bonhams in Londen te veilen. Damien Hirst – die van de schedel met diamanten voor 1.000.000 pond - bood eenzelfde bedrag voor de hele inventaris. Zijn bod werd afgewezen. Hirst schreef er een artikel over in The Guardian: ' Mr.Potter, Stuffed Rats and Me'. De veiling leverde trouwens spectaculaire prijzen op voor de afzonderlijke diorama's. Het kattenhuwelijk, Cock Robin en de theevisite gingen elk voor een bedrag tussen de 20 en 25.000 pond. In het Steyning-museum is er nog maar één item van Potter over: de kanarie uit zijn jeugd. Waar de cricketende cavia's zich momenteel bevinden is mij helaas niet bekend.
Tom Matena
GG ZAMI - VRA ZAMI I 15-08-2020
Yet another day in Zami cricket, yet another game for the unbeaten team of VRA. It was time to head to Groen & Geel this Saturday, and the Zami selections were a bit sour with shortage of players. Anyhow, the general mood of the team was light in the morning, given the record against the opposition. Probably more focus was on Maxwell's debut captaincy for Zami 2.
That was only until Louis lost yet another toss, and had put us in the field on that hot and humid afternoon, much against what the team would have liked. Nevertheless, it was a bouncy and pacy track which the bowlers were looking forward to exploit. VRA started with a new opening combination but reaping similar rewards with quick early wickets for Danish, Willem and Prasuk. The score was sitting at 32/3 after 11 overs. Then came the men to the rescue for Groen & Geel with a partnership of 83 between Niek and Martijn. It took a brilliant effort from Prasuk to pull off a run out to send Martijn (25) back. Wickets then continued to tumble but Niek stayed on and hit some big balls slowly moving on to his 50 and then to his 100 in style. Andrew (3-30) and Danish (3-26) were taken out of the ground with some big sixes but Andrew had the last laugh dismissing Niek in the last over of the game, for a well-made 118. The target was set at 191, and there was a game on at Groen & Geel.
It was a surprise for everyone when Prasuk was asked to open the batting during tea. The first time opener was asked to occupy the crease and bat as long as possible. The innings started with a couple of quick wickets in the form of Eric and Willem, leaving VRA at 16/2 after 5 overs. Jelger (36) at 4 played his shots all around the ground, especially behind the keeper, to build a partnership of 78 and getting the control of the game back to VRA. After his dismissal, there were some decent partnerships, particularly with Berend, but Prasuk (66) was dismissed in the 30th over with 30 runs still to win. Then started the Andrew (24) show and it was time to take revenge for the six hitting. His innings including 3 sixes won the game for VRA at the end, with 3 wickets in hand and 1 over to spare.
Easily the best game of the season so far, when VRA was finally challenged. The unbeaten team is going to face Groen & Geel again at home next week and will hope to have another cracker of a game.
VRA Zami II - Ajax 15-08-2020
Sunday 16th of August, Maxwell wakes up in Diemen. His girlfriend is waiting in the room with an ironed shirt, pancakes with maple syrup and a couple of sandwiches neatly packed in a handkerchief:
"Goodmorning honey. Today is the big day. You finally get to captain your own cricket team. Your father left a message on the answering machine by the way, something about him being proud of you for the first time in his life. Oh Well, you listen to it"
Max grunts and drags himself towards the shower. She doesn't understand him. He looks at his whites and decides that taking a shower is not very effective if he is going to put on those clothes afterwards. No shower. He passes the bathroom and puts on an oversized shirt he won of a homeless man in an arm wrestling match.
It was Maxwell's big day as captain of ZAMI II. He decided to embrace his image of an outback Ozzy pikey in order to impress the opponents of the day, Ajax Leiden.
It reminds us all of the encounter between one time England Test Captain Chris Crowdrey and Viv Richards.
"Cowdrey, had been appointed England captain. All excited, he went out for the toss, impeccably dressed in whites and the England blazer. Richards came out wearing a Bob Marley T-shirt, surfing shorts and flip-flops. Cowdrey, true to tradition, started reading out the team list for the opposing captain when Richards stopped him after four names and said: "Play who you want, Man. Ain't gonna make any difference."
The England captain said he was made to wait in his whites and blazer for about 20 minutes before Viv emerged. The great Antiguan won the toss, and asked Cowdrey: "What do you want to do, maan?"
"Bat…?" Cowdrey answered, not sure what to say.
"Okay maan, you bat."
Viv bowled. And won.
Maxwell was obviously going for the Viv Richards swagger that 16th of august in Leiden.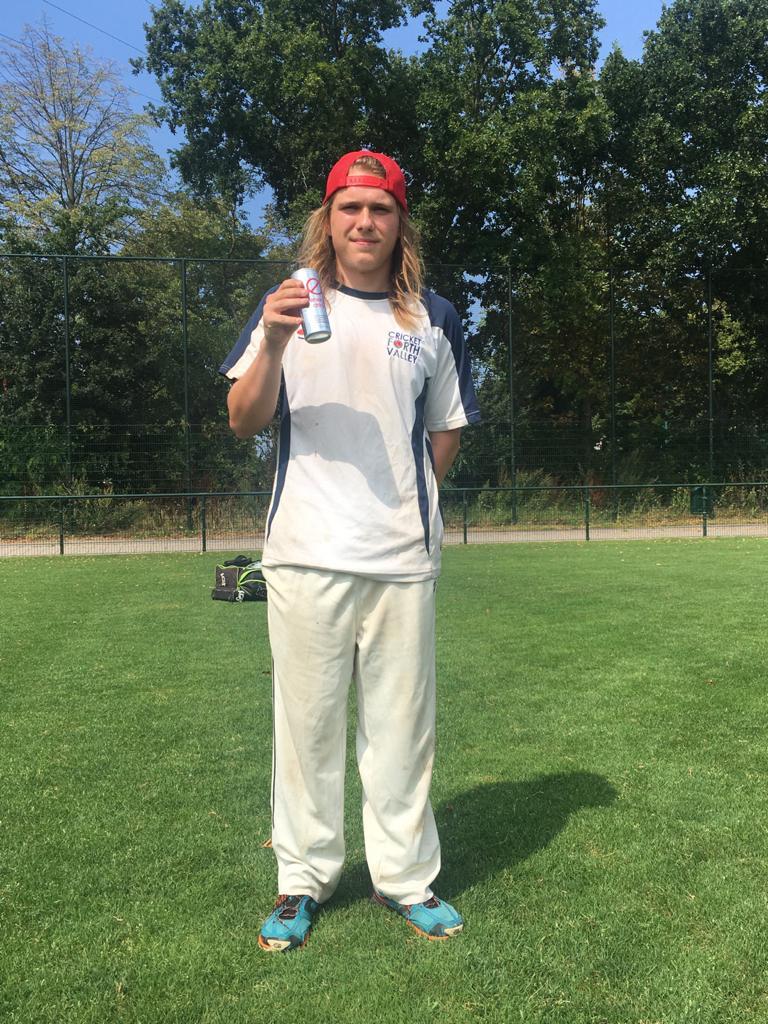 Arriving at Leiden, the heat was on in the literal sense. It felt warm and humid. Max won the toss and decided to bat. Opening was Bart Schotte and Dan Enslin. Bart fell quickly to the bowling of Rik Verhaar and in came Zaurabh. Dan and Zaurabh built quite the partnership of 75 runs, respectively scoring 38 and 34 runs. Halfway the innings Zaurabh was caught out of the bowling of Martijn Molenaar. In came Wouter Renardel, who only lasted 3 balls. An unfortunate edge got him caught out for duck off the bowling of Martijn Molenaar again. Molenaar was fired up and finally took 4 wickets. Taking 4 wickets is impressive, but there is always a bigger cock in the henhouse. We'll come back to that later.
Sebastiaan Capel steps to the plate and shows how a batsman should behave. He calmly scores singles with Freddy, Agent and Hobby as partners. He picks up the loose ball for 4 every other over, finishing the work of Dan and Zaurabh setting a total of 156 for VRA, Sebas scoring 31 runs. It seemed somewhat under par, but the outfield was slow and the pitch very suitable for bowling.
After tea, Ajax raced to the pitch and Rik Verhaar immediately started hitting big boundaries. Initially Divan was hit for 14 runs his first over. Keshav was bowling from the other end and had a very good spell including 2 maidens. Skipper Maxwell showed faith in Divan and Divan repaid the confidence by bowling a maiden in his second over. Rik Verhaar was batting dangerously, but the whole field was poised to contain him by keeping him off strike. The first wicket only fell in the 10th over at a score of 48, VRA was nervous. Jeroen 'Agent' Mulder caught their opener Alexander van Leeuwen brilliantly off the bowling of Freddy. The 'Amstelveen Express' Frederik ten Cate caught steam on a bouncing wicket and decided to take the reins. One bouncer after the other and Rik Verhaar was caught behind by Bart Schotte. Verhaar batted admirably and made 44 runs. The way he left the field was slightly less admirable, nonetheless much respect for Rik Verhaars performance, taking 3 wickets and making 44 runs.
Freddy and Bart Schotte connected and decided to decimate Ajax by repeating the same action another 4 times. Freddy finally took 6 wickets for 11 runs after 7 overs of bowling. 11-6-7. You can forget these numbers immediately, as Freddy will remind us every day for a long while. Bart Schotte took 5 catches behind the wicket from the spells of Maxwell and Freddy , showing great agility and reflexes.
Skipper Maxwell bowled 7 overs, conceding 22 runs and taking the remaining 4 wickets. This performance must not be left unnoticed. Maxwell bowled leg spin balls that spun heaps and actually bowled one of the Ajax batsmen through his legs.
Zami II won the match in the 24th over by 80 runs. Maxwell steered his team to victory. There is lots of room for improvement in his captaincy. For instance, he could start wearing actually white clothing with a collar, he could stop making us do fielding drills and he could stop instructing us before we go in to bat. Unfortunately we are just not good enough to win matches without these measures. Perhaps we should start with the man in the mirror.
All in all a great match, exceptional performances from Freddy, Bart and the first time skipper Maxwell.
Wouter Renardel
VRA I VCC I 16-08-2020
VRA 1 vs VCC
After a great win against ACC last week, we hosted VCC for our 7th Topklasse game. with Peter Borren and Eric Swarczynski back in the side, one could say we had some experience in our hands. After a good warm-up with Ben cooper, Pete went out to toss and after winning the toss VRA elected to bat first on a very good looking wicket that was prepared by Pete and Ben. with things already going our way, we were feeling good going into our innings .
Vikram and Eric went out to open the innings facing the Dutch international Vivian Kingma from the City end. With a very good first over from Kingma conceding only one run, we went in to the next over, bowled by Ali Ahmad from the forest end. He didn't take too long to dismiss Vikram Singh for 1 run with an inswinger going straight through Singh's defence, leaving VRA 1 for 1 after 1 over. With one down Leon Turmaine walked in but unfortunately he also couldn't contribute to the team, as kingma went through Leon defence with a beautiful out swinger hitting top of off. Ben Cooper walked in at 4 and a massive shout for LBW on the first ball was a bit of a scare for the boys sitting on the sideline, but luckily the umpire judged the delivery was going down leg. It didn't take too long for Ben Cooper to get off the mark next over hitting Ahmad through covers for four. Ben was looking good after hitting Kingma for 9 in his third over. As the partnership was building there was a change in the bowling as Bas the Leede came on from the forest end and dismissed Ben Cooper on the fourth ball of the over in a rather unfortunate way as Ben tried to leave a short one and the ball just hit his elbow and ricoched on to the stumps, leaving VRA on 3-28 after 8 overs. Peter Borren went in at 5 and the two experienced former Dutch internationals built the VRA innings back up with a partnership of 59. Hereafter the young leggy Philippe Boissevain turned one away from Eric and took the outside edge of the bat and Eric Swarczynski went for a well made 32 for 74 balls. Two balls later, Kingma dismissed Peter Borren from the city end, nicking him off as he tried to leave one. Peter made 26 runs of 63 balls. With two new batsmen in [Shirase Rasool and Udit Nashier] on the crease Shirase got treated with a free hit second ball that he dispatched for 4 over mid off . The two youngsters batted well together till Shirase hit a full toss straight to mid on and got dismissed caught. This brought Quirijn Gunning to the crease, who was struggling to get bat on ball so he decided to take the more positive approach, but unfortunately top edged a slog sweep and he went for 1. Two balls later Udit Nashier tried to Sweep a delivery as well, but with the same result as Shirase. This left VRA at 124-8 after 41 overs. With another new pair, Mitch Lees and Adeel Raja, at the crease the pair took the score to 158 before Adeel Raja ran himself out as he tried to take a single to Bas de Leede standing on point. Not long after that Mitch Lees edged a ball on his own stumps. With that VRA were all out for 159. VCC was proud of their bowlers, and rightfully so.
After another great lunch we headed out to defend 159. Not the score we wanted but as the wicket started to get slow, we knew we could give VCC a good fight.
The VCC openers started off well but not for long. Quirijn Gunning trapped the opener, which brought the VCC Captain Bas De Leede to the crease who was struggling to score runs. He scored his first 10 runs of 50 balls he faced. There was a change in the bowling when Peter brought himself on ,and bowled 3 maidens in his first 5 overs. As the batsmen were struggling Pete bowled 10 overs on the trot with the figures of 10-25-0. What a great spell that was. After a slow batting display on a hot day VCC were 87 -1 after 30 overs . In the 36th over the opener R.Pieterse brought up his fifty from 104 balls. VRA was slowly losing hope before Vikram Singh came with an important wicket going straight through the batsmen's defence and hitting top of middle. Not long after Singh got another one as Bas De Leede intended to drive a ball through covers and edged it to Mitch Lees, who comfortably caught it behind the stumps. With these two important wickets taken, VRA was back on track. The next over Leon Turmain Got his first wicket trapping Philippe Boissevain in front as he tried to sweep a long delivery. With 2 new batsmen on the crease, the pressure was back on VCC. The two were slowly chipping away, but in the 39 over there was a scare for VCC as Aryan Dutt Tried to hit a ball through midwicket but hit it just left of Vikram Singh and Singh dove with one hand, unfortunately could not hold on to the catch. VRA wondered if that could have well been the last opportunity to win the game. Peter Borren turned to his main bowlers as VCC needed 12 of 3 overs, but it was too late as Vivian Kingma hit Gunning for 3 fours in 3 balls. VCC won by 6 wickets, with a great fight from the VRA boys. Everyone left the field with a smile on their faces.
On behalf of the whole squad: we would love to see some VRA support as we take on Sparta Cricket Club next Sunday. you won't be disappointed.
Vikram singh
Wanicka Star I - VRA III 16-08-2020
VRA III 149 for 4 (V.Chaudry 51*, D.Dreyer 24, T.Pasierowski 23*) win with 6 wickets against Wanica Star I 148 all-out (P.Pasierowski 3-32, H.Will 3-46, H.Kruger 3-35)
With three new faces, because of personal matters and last-minute need for a player in the first, the thirds still won comfortably on a yet again hot cricketing day.
Normally on a hot day like last Sunday a captain who wins the toss decides to bat first, but not Prasuk. Knowing certain teams prefer to play without LB's, our captain wanted to see if Wanica Star still played with these rules. It didn't take too long to find out the opponent's still do, but by then the thirds were already on top and didn't bother too much.
Piotr and new face Harry (some teammates wanted Harry to open and Piotr second for a Harry Piotr combination, but Prasuk stuck to the way he wrote it down in the scorebook not to confuse the Wanica Scorers) opened the bowling and soon enough were taking wickets every couple of overs.
Both openers bowled their ten overs in one spell. In the heat Piotr took his wickets bowling full and Harry bowling shorter making the ball come through on chest height. After 20 overs Wanica were 81 for 6 with Martijn, Thomas and Prasuk all taking a catch and Steve holding on to a spectacular catch low to his right. A catch that broke a dangerous looking partnership.
While Wanica players on the side-line kept on discussing if the catch from Steve had touched the grass first (unlikely because even their own umpire said it didn't) Prasuk and Hendrik took over and when they got in their rhythm the last couple of wickets fell in quick succession. Prasuk striked first before Hendrik took the final three wickets in successive over. With Thomas taking another one behind the stumps and Steve caught another two, one on the cow-corner boundary to remove the last real batsman for 40 off the bowling of Hendrik.
With a Target of 149 Steve and Vivek opened the batting. It was a shaky start. While the run-rate was always in control, the thirds lost a couple of wickets. But Vivek kept his head down and when Divan came in both batsmen kept the scoreboard ticking and taking the game away from Wanica with smart batting. Rotating the strike, occasional boundary's and staying well in control of the required run-rate.
A small hick-up occurred when Divan got LBW in a game without LB's and not being able to go unbeaten. But it shouldn't be a surprise to him as he had been the unluckiest batsman of the team so for in the season (he has been run out twice by his runner in games earlier in the season). In the end he got 24 and Thomas was the new man in.
With Thomas in the middle Vivek reached his well deserved fifty and Wanica decided the game was lost and put their part-time bowlers in the attack with Thomas enjoying that. The final over, or rather 4 balls went for 19 with Thomas reverse sweeping/hitting (practicing the shot a couple of times as soon as the umpire signalled the free hit after a no-ball) the free hit for four and a win for VRA III. Vivek stayed unbeaten on 51 with a solid innings and Thomas finished on 23 not out.
An easy win in the end with good performances throughout the team. Upcoming weekend the thirds face MOP at home and with this win confidence to win should be high.
Piotr Pasierowski
Extra's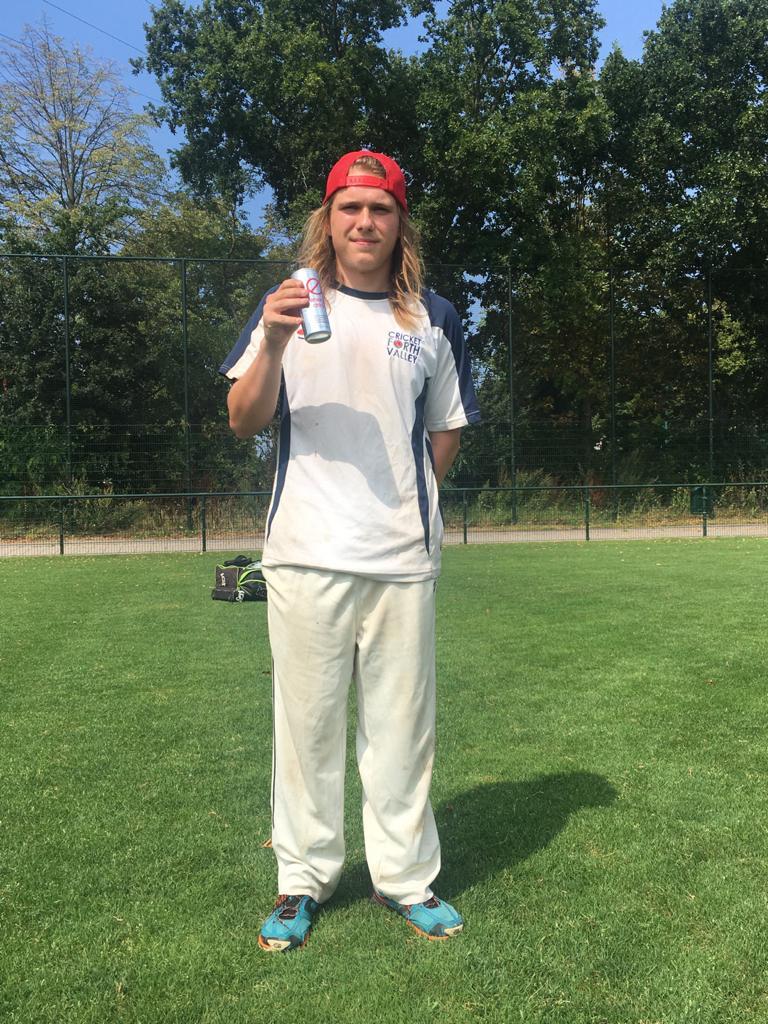 First time captain Max of VRA ZAMI II looking sharp
Terrific number with 6 wickets for 11 runs out of 7 overs for Freddyu, 5 caught behinds for Bart Schotte and Maxwell cleaning up Ajax by taking 4 wickets.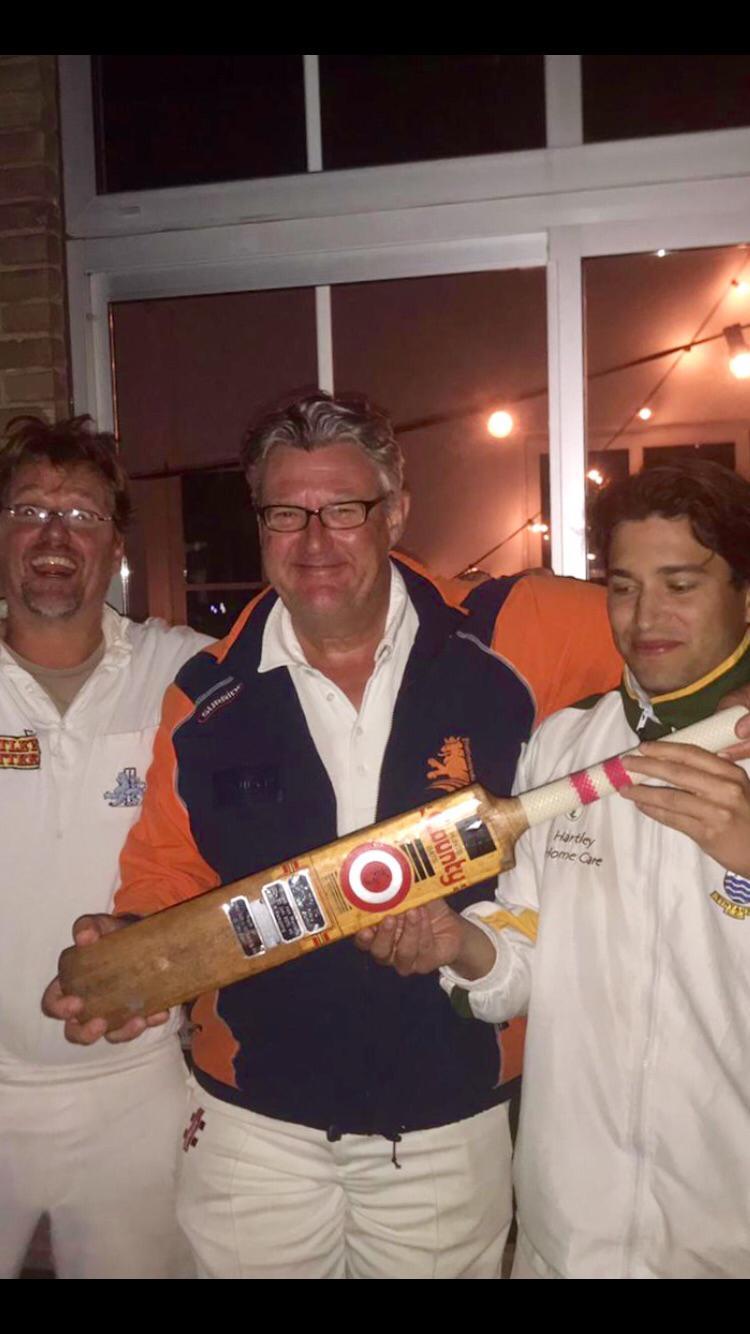 Consequentially both Freddy and Bart have been awarded the Ome Fleau award by royalty watcher Marc van der Linden.