Zami 2 Groen Geeel match report
Winst voor Zami 2 tegen Groen Geel
Het was een prachtige dag en Zami 2 moest na een kop koffie bij Schinkelhaven afreizen naar het pittoreske Groen Geel in Wassenaar. Na een verloren toss werden wij het veld in gestuurd om te fielden. Met goed bowlen van Keshav en Freddy hielden wij de run rate laag in het begin. Helaas bleek het moeilijk om de neefjes ter Marsch uit te krijgen deze keer, Emile(62) en Niek(39) hadden met een mooie partnership van 83 het totaal van Groen Geel omhoog gebracht. Het waren de magische spinballen van Maxwell die voor de doorbraak zorgde waarna Andy met nog twee wickets Groen Geel tot een score van 161 runs in 35 overs kon bedwingen. Daarna was het onze beurt. Dan en Joost begonnen goed. Dan was de eerste die viel met 13 runs, Joost iets daarna met een steady 29. Agent en Menno waren een beetje unlucky en stonden na een paar ballen weer langs de kant, maar Andy Bolan(78) en Freddy(29) hadden een fantastisch partnership neergezet en zorgde ervoor dat het totaal met nog 5 overs te gaan makkelijk werd gehaald. Man of the match: Andrew Bolan, 78 n.o., 1ct, 2 wickets 14 runs 4 overs.
Voorwoord How's that 30 juli
Bericht van de redactie: Helaas is de how's that vorige week niet verschenen. Dit komt door persoonlijke omstandigheden aan de zijde van de redactie. Het voorwoord hieronder gaat dan ook over de (gewonnen!) wedstrijd van VRA 1 tegen Excelsior. Dat dit niet over de meest recente wedstrijd van VRA 1 gaat, zal vermoedelijk weinigen van onze club als problematisch ervaren.
Aangezien ik door prettige verplichtingen de eerste twee wedstrijden van het seizoen aan me voorbij moest laten gaan was ik er zondag 19 juli des te meer op gebrand om VRA 1 aan het werk te zien. Mijn verwachtingen waren hoog gespannen, want een jong team had tegen Dosti en HBS laten zien dat het heel wat in zijn mars had. Onder een lichtbewolkte hemel ging het dus op naar Schiedam, waar het rond het veld gezellig druk was, zeker als je het vergelijkt met de over het algemeen magere opkomst op het VRA-veld. De stemming zat er goed in. Weliswaar deed Excelsior het met de bal niet al te overtuigend, maar er leek goede hoop op een batting explosie.
Omdat ik niet de zinderende spanning voelde die me anders altijd bevangt als Pete en zijn mannen aantreden - het gaat deze halve competitie eigenlijk om niets - hoefde ik mijn aandacht niet alleen op de gebeurtenissen op het veld te richten, maar kon ik mijn blik ook richten op het randgebeuren. Wat me het eerst opviel was dat de mannelijke Excelsior- supporters door hun vrouwen rijkelijk werden voorzien van etenswaren. Het ene na het andere tupperware bakje werd tevoorschijn getoverd waaruit kippenboutjes en andere snacks hun weg vonden naar de eetgrage monden van de Schiedamse aanhang. Ook werd er veel gedronken. Dienbladen vol bier vonden gretig aftrek en ook witte wijn en rosé werden niet versmaad. Die laatste drank is altijd mijn favoriet bij cricketwedstrijden, je kunt er veel van op zonder dat je er last van krijgt, en ze geeft je net die rozigheid die een nederlaag goed te verteren maakt en een overwinning van wat extra glans voorziet. De Excelsior-rosé werd helaas geserveerd in kleine plastic bekertjes, wat de appetijtelijkheid ervan niet ten goede kwam.
Natuurlijk werd er ook nog gecricket. Vooral VRA liet zich van zijn goede kant zien. De batslieden scoorden naar hartelust en de bowlers namen het ene wicket na het andere. Vooral Quirijn bowlde als een duivel. Zijn 4 voor 31 was van groot formaat waarbij moet worden aangetekend dat hij het geluk bepaald niet aan zijn zijde had. Al om kwart vijf was de strijd gestreden en kon ik voldaan huiswaarts keren. Op de terugweg moest ik denken aan de affreuze seizoenstart van vorig jaar waarbij de ene na de andere nederlaag te noteren viel. Vergeleken daarbij was dit VRA een verademing. Het bij vlagen sprankelende spel doet veel verwachten voor de toekomst. Volgende week wacht HCC, 'that should be a cracker', schrijft Rod Lyall, en daar ben ik het helemaal mee eens.
Harry Oltheten
Cricket speak
Cricket Speak Af en toe duikt te midden van alle oudjes in ansichtkaartenland een origineel jonkie op. De grijsaards doen even een stapje terug in verband met de frisse wind, die op dat moment opsteekt.Chloe Smith is een Britse kunstenares. Haar werk beweegt zich op het snijvlak van diverse disciplines: theater, street-art, installatiekunst. Dikwijlsmonumentaal van uitvoering op muren, stoepen en straten.
Die hang naar het monumentale moet er bij Chloe al vroeg in hebben gezeten. Op haar 13 e , in 1996, maakte zij een tekening in pen en kleurpotlood: Cricket Speak. Er werd een ansichtkaart van gemaakt.
Cricket Speak zou je een getekende vorm van concrete poëzie kunnen noemen. De dichter/schrijver drukt in de concrete poëzie zijn of haar gevoelens en gedachten niet op de gebruikelijke wijze uit, maar vertelt het verhaal door een bijzondere klankvorm of aparte grafische weergave te creeëren. Chloe tekent een cricketstadion onder de bijbehorende bewolkte Engelse lucht niet op de traditionele manier. Haar cricketer, cricketveld, cricketstadion bestáán uit woorden, zijn gemaakt van woorden. Een cricketwereld van taal zoals de koekenmannetjes, de suikerbeesten en de taaipoppen van oudsher de grote mensenwereld in snoepvorm voor kinderen uitbeeldden. Je krijgt bijna trek in een hapje 'bat', een zoete plak 'outfield' of een likje 'sky', als je je fantasie de vrije loop laat. Chloe was aardig compleet in haar presentatiepakket 'Cricket Speak'. Al tellend kwam ik tot 28 woorden ( 2x hetzelfde woord telt natuurlijk maar 1x mee ), maar misschien zag ik iets over het hoofd. Wie ziet en biedt er meer? Overigens is 'advertisements' in 4 kleuren met daarboven die eeuwige grijze huizen rond de Engelse stadions wel een ijzersterke beeldende vondst van de 13-jarige Chloe geweest.
Dat in dit stadion de 'spectators' ontbreken is begrijpelijk. Zij zouden met z'n allen als woord(en) andere woorden onleesbaar maken. Een cricketstadion zonder toeschouwers doet overigens niet of nauwelijks afbreuk aan het spelletje, zo kunnen wij dezer dagen op BBC 2 vaststellen. Een groot verschil met de huidige vertoningen in die holle voetbalkuilen. Je ontkomt niet aan de indruk, dat spelers en staf, deels gemuilkorfd, naar een bijveld zijn verbannen voor een eeuwigdurende oefencompetitie. Dit alles onder het staccatogeluid van ingeblikte aanmoedigingen ten overstaan van duizenden kartonnen toeschouwers. Dat laatste zou Chloe heel anders aanpakken.
Tom Matena
cricket at VRA in 2020
Wij zijn erg verheugd dat een seizoen wat in het water dreigde te vallen, gewoon op volle touren draait. Gelukkig heeft het Outbreak Management Team op tijd de brief van ene F. Kappelle geopend en ontroerd als ze waren de spreekwoordelijke 'eerste bal gegooid'. op zaterdag en zondag worden er verschillende competities gespeeld door vrouwen, jeugd, mannen en Maxwell, waarvan we de leeftijd en het geslacht eigenlijk nog steeds niet weten.
Hieronder een aantal hoogtepunten:
Parsuk gets a hattrick against ZAMi - 2. Unknown prize handed to prasuk by unknown man
Nick makes the winning runs for Zami 2 against Ajax Leiden
Ruurt looking for females and boundaries
Floris in resting position: Posing
Vikram makes 99 vs HBS, 1 short of getting an unkown prize from an unknown man
Captain Bob giving a bad example to his cousin Mats
Dibby making his first runs for VRA 1
match report VRA Zami 2 - Ajax leiden 18 juli 2020
Deze limerick dient hardop gezongen te worden:
Er was eens een clubje uit Leiden, Ze kwamen helemaal naar VRA toe rijden. Wij bowlden en Molenaar sloeg onze bal Maakten daarbij 167 als total Waarbij Goldie VRA op de voorlaatste bal wist te bevrijden!
La la lala laaaaaallaaaa……
match report VRA 1 - Excelsior
Excelsior won the toss and decided to field. To open the innings for VRA Vikram and Zamaan were sent out. Vikram was dismissed in the early stages of the game. Erik came out in the middle to join Zamaan. They had a good partnership which came to an end with the dismissal of Zamaan. Zamaan had scored a good 27. Ben was next to bat. Ben and Erik had a game changing partnership and gave VRA a good base to build off of. Ben and Erik scored crucial 50's. Once Erik was out Peter came in. He scored a quick fifty to help accelerate the innings. Leon contributed with a good 20. As the rest of the inning progressed the other batsmen contributed to attain a good total of 245. A cameo from Qurijn with a quick 18 off 8 helped Vra get to this total.
As Excelsior came out to bat, wickets started tumbling from the beginning. Peter got Luuk out on the first ball of the innings. However things were looking to turn around as a partnership started to build with Joost and Verhagen . It looked quite comfortable for these two to bat, However Verhagen was dismissed on 24 by Turmaine. Excelsior needed Ingram to dig deep and build a partnership with Joost if they were to win the game. Unfortunately for Excelsior, Qurijn caught Ingram by surprise with a good bouncer and Ingram nailed it straight down Zamaan's throat at fine leg. From there on, the game was more or less decided. Joost had gotten out shortly after the dismissal of Ingram which had decided the result of the game. Excelsior were all out for 95 after 28.1 overs. Qurijn had bowled brilliantly with 4 wickets for 31 runs in 10 overs. Peter and Adeel both picked up two wickets to help VRA get Excelsior all out.
Introductiedag nieuwe leden - een verslag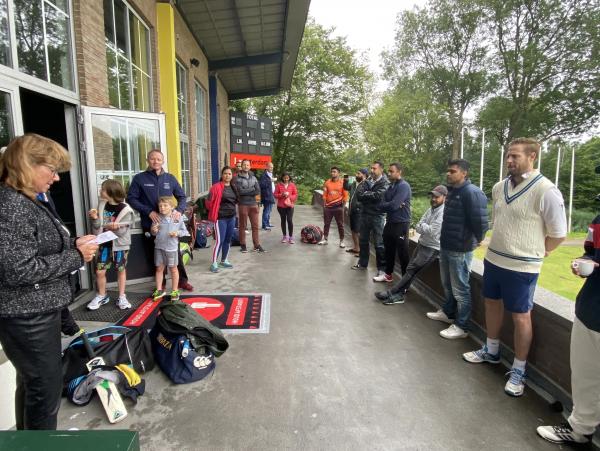 Op 4 juli konden we eindelijk onze nieuwe leden verwelkomen. Wat eerst leek op een verloren seizoen, sloeg al snel om in een voortdurende aanwas van cricketadepten die graag willen aansluiten bij de vernieuwde club die we aan het bouwen zijn. Naast de elk jaar aankomenlopende aanwas van Engelsen, Indiërs en andere Gemenebestbewoners, hebben we ook een groeiend aantal nieuwe leden die cricket een boeiende sport vinden en het aandurven om op latere leeftijd met de beginselen van onze edelen, maar o zo technische sport kennis te maken.
Om 11 uur werd de bijeenkomst geopend met koffie en taart. En iedereen weet dat Layla daar altijd een feestje van maakt. Onze voorzitter verwelkomde de vele aanwezigen met een vloeiend verhaal over de club en de grote veranderingen die in gang gezet zijn. De bouw van de indoorhal, de aankoop en de bijbehorende rigoreuze verbouwing van het clubhuis werden uiteraard prominent vermeld. Ook kwam aan de orde dat VRA een inclusieve club wil zijn voor al haar leden. Daarvoor verwachten we ook dat álle leden zich actief inzetten voor de club.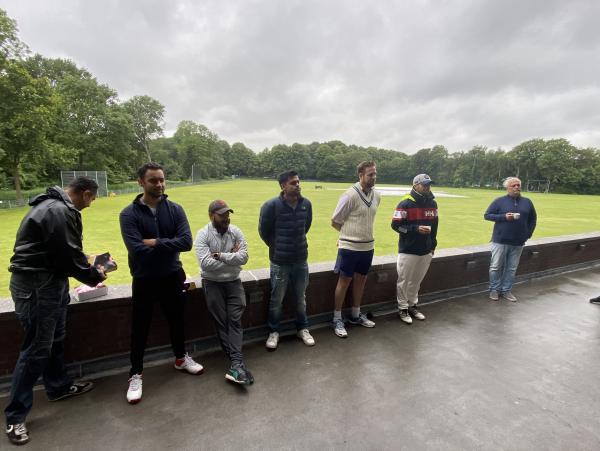 Secretaris in de dop, Harold Horsman, onderschreef nog eens het belang van vrijwlligers op de club. De club draait op vrijwilligers en is dus compleet afhankelijk van de door de leden ingebrachte expertise en tijd om al haar ambities uit te kunnen voeren. Bij het aanmelden als lid geeft iedereen al aan welke expertise hij of zij in kan brengen. Daarnaast kan iedereen zich
aanmelden voor het uitvoeren van klussen
op de club. Er zijn op die manier al duizenden manuren bespaard op de renovatiekosten. Naast het vrijwilligersverhaal, bracht hij ook nog even onder de aandacht dat de club een stricte contributiepolicy hanteert. Dat wil zeggen: No pay, no play.
Na deze officiële introductie werd het tijd voor een echte cricketinspanning. Ondanks de regenachtige voorspellingen had iedereen zich toch in gepaste kledij gehesen voor een gedreven trainingssessie onder leiding van Peter Borren in de nieuwe kooi.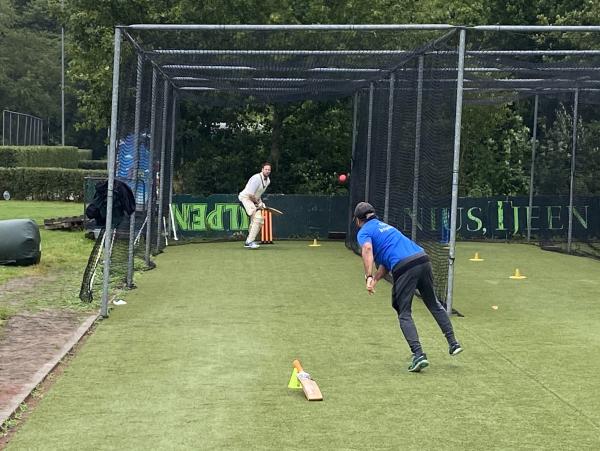 Al met al een geslaagde dag die de vele nieuwe leden vertrouwd heeft gemaakt met VRA. We wensen iedereen een geslaagd seizoen veel cricket en veel plezier.
Het VRA Bestuur
Concordia 3 - VRA 4
Our third game of the season was away to Concordia, Hobby won the toss and elected to Bat. The game was reduced to 35 overs. With the rain in the morning and a hockey field which was converted to cricket ground, it was not a pleasant wicket for batting, We lost our openers Vivek and Parag early, Hobby walked out to bat 3 and tried to take the attack to Concordia, But that did not go to plan as we lost Hobby too in the process. Pavan and Atul then went about trying to a build a partnership, Atul looked in good knick but he also perished for 17. Saurabh joined Pavan and saw us through till the drinks. The story after drinks didn't change much either, as we lost Pavan after drinks and Niranjan followed soon which was a close call but given out in the spirit of a ' Fare Game ' which was promised to us by Concordia Captain ! What they easily forgot when they came to bat !!! Saurabh and Vishal were finally able to get a partnership going , with Vishal playing some lovely strokes and Saurabh batting very sensibly. But once we lost Saurabh and Vishal the innings came to an end quite quickly. We were finally bowled out for 145.
With a Smallish target to defend, It was upto the bowlers to try to work their magic, Our opening bowlers bowled well, but the outside edge eluded them everytime, and in trying to induce an edge we started giving away some lose balls which were punished helping concordia openers to bring up their 50 run partnership, the first change bowlers Vivek and Niranjan bowled tight lines but without much luck. It was one of those days where the ball always landed in between fielders or went to the exact place from where the fielder was removed. Pavan was finally able to get rid of both the openers, This allowed us to pull the game back thanks to some tight swing bowling from Vishal and Rakesh, But this was not enough as we were unable to defend the smallish target. Concordia needed 5 runs in 3 overs when the rain stopped play. Resulting in our first loss of the season.The extra's seem still to be the biggest concern for us at the moment. Hoping for a better performance next time round.
Highlights of the game:
Good all round performance from Vishal ,
Responsible batting from Saurabh ,
Brief score : VRA 4 : 145 all out (Vishal-23, Sourab -23 , Atul -17)
Concordia 140-5 (31.4 overs ) Vishal : 5-29-2 Pavan : 6-32-2 Vivek : 7-13-1
VRA ladies march report 25th of july
Saturday the 25th of july 2020
VRA ladies go to Excelsior with umbrella's and suncream!
It was a rainy Saturday morning, when the ladies left Amsterdam for our T20 game against the Excelsior'20 ladies. We were welcomed with smiles, coffee and two umpires!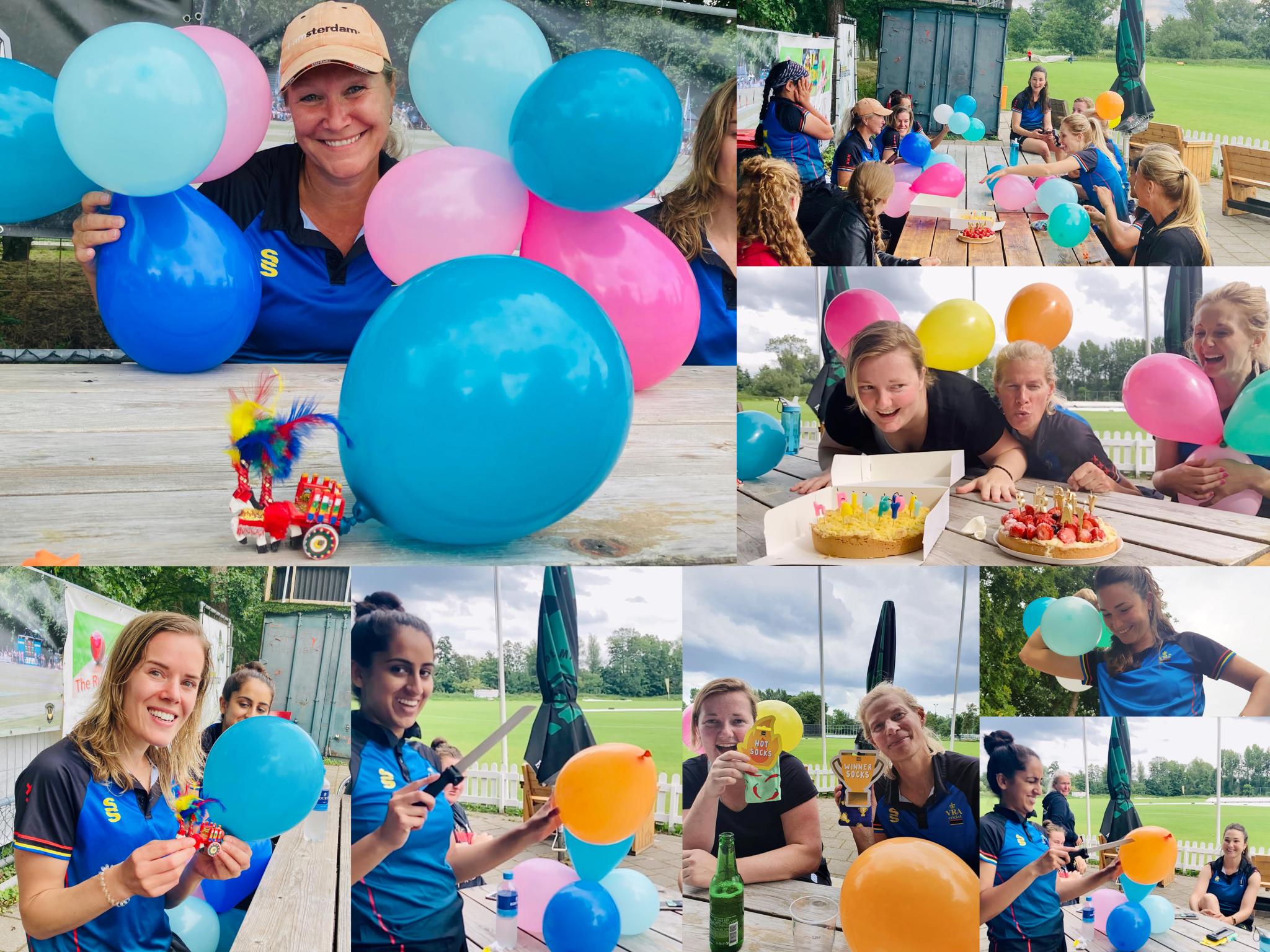 Captain Sally did the toss and as the rain stopped, Kanishka and me were padded up and ready to go. We made a nice start facing Klokgieters and Luchies bowling. The field was wet, the grass was long and it was so slow… so as we tried to run as many runs as possible, Kanisha tried to play it through the air which was sadly answered with a catch. Katie came in to do some running with me and hitting a beautiful 2, which would've clearly been a boundary if the ground would've been a bit drier haha. Meike came in to do some damage with the bat, we lifted the total to 88 runs. Sally came in, she immediately started with a 6 and off we went for a partnership of her hitting boundaries and me rotating the strike and almost running Sal out… you know, keeping it exciting for people on the sidelines… ;)
After 20 overs we ended the innings with 156 for 3. Sal making a staggering 40* in 6 overs and me 35* and hungry. Time for some lunch!
It was a small but slow field, so captain Sal told us to attack the ball, cover the wickets and go for the catches and run outs. We were pumped to go in and so the second innings commenced. Vaishno and me opened the bowling. Putting on some pressure with both having wickets in our first over. I bowled a wicket maiden and there was a beautiful teamwork run out of Vaish and Anu! Next up were Kanishka and Anu, the ball was swinging and there was a hole in the run up which tested our bowlers but they did great. Then Meike and Isa took over the bowling. Meike bowled a beautiful wicket on her first ball, it first looked like a lbw and then the ball bumped off the bails. Some confusion there, but clearly a banging wicket, she had another wicket the same over with a catch made by Gittie. Beautiful bowling, beautiful cricket! Meanwhile the bowlers were working hard, the fielders were active and sharp. Miranda behind the wicket being quick on her feet and covering ground with such humidity in the air that the ball was swinging around. Eef stopping every ball that was bashed her way, stopping so many boundaries and having many relais with Katie to get the ball back in smootly. Outstanding, outstanding! Katie is always outstanding with her fielding and there was Meike, like a mean lean fielding machine. Attacking every ball, looking very sharp in her actions, bringing the energy and it was great to see!! Let's not forget her dive catch attempt at the last ball of the innings, great stuff. After the 15th over Klokgieters and Juliette came in, running and hitting the ball around. Upping their strikerate but captain Sal was on it and the team was there to back her up.
Excelsior ended the innings on 131 for 5, so WE WONNNN!!!! Meike bowling 2-33 and me bowling 2-3, Vaish was bowling amazingly especially at the end when the batters were on attack mode. Great fielding, great team effort ladies!
After having a drink, plus some birthday celebrations for Sally and Miran, we announced who won the OFPA. Nominations were Anu, Vaish, Meike and Eef. The Outstanding Fielding Performance Award was won by Eef!
Let's see who gets it next week when we have a home game against GroenGeel.
See you all then!
Liefs
Nathalie & the VRA ladies
VRA ZAMI 2-AJAX ZAMI
Limerick: "Vra Zami 2 – Ajax'ers".
Er was eens een clubje uit Leiden, Ze kwamen helemaal naar VRA toe rijden. Wij bowlden en Molenaar sloeg onze bal Maakten daarbij 167 als total Waarbij Goldie VRA op de voorlaatste bal wist te bevrijden!
La la lala laaaaaallaaaa……
by Alex v. Hirtum
VRA 3 - Kampong 2 July 19th 2020
VRA 3 VS Kampong 2
VRA won by 75 runs
After a demoralizing defeat the week prior VRA was anxious to get back on the winners board and it was a welcome site to see a well-manicured out field compared to the first two matches and more importantly the return of the authoritative English opener Marcus. Prasuk won the toss with Hendo's 'lucky coin' and elected to bat. The first ten overs were dry and sunny for the batsmen, but much less can be said for the Kampong fielders who spent countless minutes under the shade of the Bos foliage fishing out balls from the surrounding canals due to Marcus' ferocious striking. On the seventh Kampong cricket ball Marcus was caught at long off after attempting his seventh maximum. By this stage VRA had posted 94 for two of which the Englishman contributed 83 in only 10.1 overs.
Any concern for a collapse was methodically laid to rest by the silky drives of Martijn (36) and the watchful strokes of Amsal (24). Their partnership ended after having made 68, a platform well laid for the lower order to adhere to the skipper's license to swing. The latter overs were built around the steadying limp of Divan (22) allowing the latter freewheeling destruction of Hendrick and Piotr, including a final over 15.
Even though a strong score was on the board VRA resisted (somewhat) the temptation to go back for thirds at Layla's lunchtime curry and instead opt for the professional approach of run throughs, stretches and a few high catches. The willpower was soon to pay dividends with first ball boy wonder Dilly (1 for 13 from 6 overs) claiming his second first ball of the innings wicket in two matches. Wickets fell at regular intervals thanks to some wonderful line and length bowling from Piotr (1 maiden, 4 for 43 off 10 straight overs) until batsmen six and seven dug in to save face for Kampong. The partnership was broken by Hendo (2 for 48 off 10) and other than a 9th wicket tail end flay the match was wrapped up with ease including some canny captain's late overs from Prasuk (2 for 9 off 2.2).
A terrific turn around thanks to disciplined batting and bowling. Long may that continue!