Voorwoord How's that nr 12
'Match delayed by a wet outfield.' Het kon niet beroerder. Natuurlijk hadden alle cricketliefhebbers bij de aanvang van het test-seizoen gehoopt op een stralende dag, maar ook als het minder mooi was geweest, hadden ze niet gemopperd. Als de regen maar wegbleef, en dat deed hij nu net niet. Inktzwarte wolken deden in Southampton het ergste vrezen. Toch werd er deze eerste dag van de eerste test tussen Engeland en de West-Indies gespeeld. Er was zelfs een viertje te bejubelen, maar de 35 voor 1 waarmee Engeland de dag afsloot, gaf wel aan dat het over het algemeen kommer en kwel was geweest. Maar goed, er was gecricket en dat pure feit bracht vele commentatoren al in extase.
De volgende dagen ging het beter. De zon liet zich zien en mijn favoriete West-Indiërs maakten er deze keer eens geen potje van. Integendeel, captain Jason Holder nam zes wickets waardoor de Engelsen in hun eerste innings niet verder kwamen dan 205 runs. Mijn hart sprong op. Zou het dan toch? Natuurlijk wist ik dat het de dagen voorafgaand aan de strijd in de Engelse kranten vol had gestaan met artikelen over 'the brittle West Indian batting line up', maar meer dan tweehonderd runs zou die toch wel kunnen maken. Omdat drukke bezigheden me ervan weerhielden de match op de voet te volgen, werd me pas laat in de avond duidelijk dat de kranten het mis hadden gehad. Iedere West-Indische batsman had een bijdrage geleverd aan een totaal van 318, een comfortabele lead. Nadat Engeland in zijn tweede innings door 313 runs te scoren ervoor had gezorgd dat er een target te noteren viel van exact 200, mochten de West-Indiërs het afmaken. 200 leek niet veel, maar doordat Brathwaite, Hope en Brooks al snel uitgingen, begonnen de Engelsen weer praatjes te krijgen. Gelukkig bleef Blackwood onverstoorbaar scoren en vooral door zijn toedoen haalden Holder en zijn mannen de streep.
What a Test, what a sport… and that sets up the series beautifully. De commentator op Cricinfo was er vol van en ik ook. Hoe vaak heb ik de afgelopen jaren niet moeten constateren dat mijn favorieten er een puinhoop van maakten. Winstpartijen waren zo schaars dat ze nauwelijks opvielen tussen de schier oneindige reeks nederlagen. Zeker, er was veel talent, maar op de een of andere manier kwam dat maar steeds niet uit de verf. Natuurlijk kan het zo zijn dat het in de tweede en derde test weer mis gaat, maar deze buit is alvast binnen en wie weet volgt er meer.
Aan het slot kan ik het niet laten een kort woord te wijden aan de umpires Richard Kettleborough en Richard Illingworth. Die hadden alleen op dag twee al vijf keer bij het verkeerde eind. Ze verblikten of verbloosden niet als ze hun oorspronkelijke foutieve beslissing moesten herroepen. Ook een talent.
Harry Oltheten
Battersea park
Battersea Park
Op de zuidelijke oever van de Theems, tegenover de wijk Chelsea, ligt Battersea Park. Het werd in het midden van de 19e eeuw aangelegd op de Battersea fields, waar tot die tijd voornamelijk geduelleerd werd. Op schootsafstand, onder de rook van het reusachtige Battersea Power Station, lag de dubieuze 'Red House Tavern', goed beklant door de auteur, die zichzelf 'The inimatable' noemde: Charles Dickens.
Battersea Park was van meet af aan, niet in het minst door de opening van Chelsea Bridge in 1858, een daverend succes. Met name als sport- en ontspanningsplek.
Op 9 januari 1864 werd in het park de eerste voetbal(demonstratie)wedstrijd gespeeld volgens de regels van de toen pas opgerichte Engelse voetbalbond. Vanaf die tijd hadden de Wanderers FC, de winnaars van de allereerste F.A. Cup (1872), hier hun thuisbasis. Er kwam een ambitieuze kermis met een spectaculaire houten roller coaster, 'The Big Dipper', die eerst gedeeltelijk afbrandde en na een dodelijk ongeluk tenslotte helemaal verdween. Er werd en wordt druk geflaneerd, hockey gespeeld en…cricket.
In het westelijk deel van Battersea Park bevinden zich de traditionele Battersea nets, openbaar en toegankelijk voor iedereen. Wel eerst even reserveren. Of dat laatste, rond 1910, toen deze stemmige foto werd gemaakt, ook noodzakelijk was, valt te betwijfelen. Vol aandacht en bewondering wordt deze netpractice gadegeslagen door een overwegend jeugdig publiek. Opmerkelijk detail: álle betrokkenen dragen een pet.
Of het hier om een officiële clubtraining of een vrolijk tussendoortje gaat, is niet bekend. Wat wel opvalt is de combinatie van diepe concentratie en gemoedelijkheid, van serieuze aanpak en ontspanning. Daartoe draagt de outfit van de oefenende heren vanzelfsprekend in niet geringe mate bij.
Zelf had ik het nooit zo op netsessies. Dat kwam wellicht ook door de buitengewoon on-Engelse, in feite niet bij cricket passende Hollandse benaming: de kooi. 'We gaan de kooi in' heette het en zo ervoer ik het gebeuren ook. Als batsman was je in de kooi overgeleverd aan de wilde beesten: de fastbowlers. Claustrofobie maakte zich van mij meester en de kreet 'Laat me eruit!' lag mij dan op de lippen. Daarom spreekt het gedicht 'Cricket Master' met als ondertitel 'An incident' van Sir John Betjeman mij zeer aan, zoals uit volgend fragment moge blijken;
(…) "Let's go and have some practice in the nets.
You'd better go in first." With but one pad,
No gloves and knees that knocked in utter fright,
Vainly I tried to fend the hail of balls
Hurled at my head(…)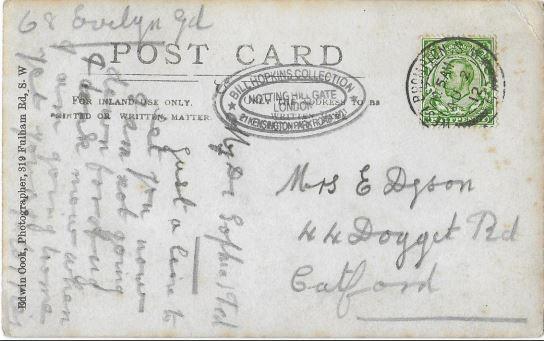 In Battersea Park worden ook wedstrijden in all formats gespeeld door KRCSC (King's Road Cricket and Social Club) met de nadruk op de letter S. Hun confrontatie met de plaatselijke aartsrival BBCC (Battersea Badgers Cricket Club) moet een soort 'London Clash of the Woods' zijn.
Bekijken we de achterkant van onze op 10 mei 1912 verzonden ansichtkaart, dan vallen een drietal zaken op;
-We hebben hier te maken met een foto van een professionele, met naam en toenaam genoemde fotograaf: Edwin Cook, Photographer. Hij was een soort Jacob Olie of Bernard Eilers van Londen, met name van de wijk Chelsea. Cook voorzag zijn foto's aan de voorzijde vaak ook trots van zijn naam.
-Een prominent handstempel laat zien, dat de kaart ooit deel uitmaakte van de Bill Hopkins Collection. Deze Hopkins, verzamelaar en handelaar, riep The Postcard Collector's Centre in Kensington in het leven. Hij plaatste op elke kaart die hij (ver)kocht zijn stempel, tot ergernis van menig verzamelaar.
-Evelyn, die deze kaart aan Mrs. E. Dyson stuurde, hanteerde een nogal basale Engelse spelling. Of was zij wellicht trendsetter?
Wiedoonkno…
Tom Matena
VRA Zami 1 HCC Zami 1
They say catches win matches. On this occasion, they were wrong. 5 sixes out of the ground give you a better chance.
Winning the toss and putting the opposition in on a damp outfield appeared to be the correct decision, hopeful that with the sun shining, the outfield would dry out sufficiently for a 2nd innings run chase.
VRA celebrated the return of Zami legend "Nobby", and welcomed You Tube sensation from Sanderstead CC – Chris Carey. The "disappointment" of his father at him joining another club, didn't subdue Chris' enthusiasm in the field – "make sure you're backing up at the bowlers' end, because I always aim for the stumps when fielding".
HCC started steadily, offering no opportunities as they coasted to 62 from the first 13 overs until Chris caught the return catch from his 3rd over in Zami cricket. Batwoman was finally out for 45, and another solid partnership of 43. 105/2 after 19 overs. At this point, HCC started going for the big shots and collapsed to 132/6 after 25 overs. All power shots, all caught brilliantly by the fielders, including Milo at square leg who had no idea until the ball had hit him at square leg. Heroically, he continued to field with an ice pack on his hand. The pressure was on HCC after their solid foundation. At this point, the author finds it hard to describe the batting as cricket – more a combination of golf and baseball - the opposite of Batwoman. 5 balls were lost and found in his 36 off 19. Somehow, HCC had reached 175.
The VRA response was steady but we didn't manage to build any partnerships in the early stages to put any pressure on the fielding side. HCC bowled a steady line and length and VRA lost regular wickets. Hendrik was run out in an unfortunate manner - his bat sticking in the ground as he slid in for a quick single. Eric was seeing the ball well, and after a couple of fours, missed the straight one, expecting some turn. At the other end, Ruben was watching the ball well, and nudging the ball around as him and Chris put on 20, before the latter tried 3 times in a row to see how far he could hit the ball, the 3rd hit the stumps. Richard had a quick go at attempting to reduce the run rate. A couple of fours didn't really help the run chase before he was caught on the boundary.
Debutant Jack, having fielded superbly (2 great catches) batted brilliantly as he contributed 27 to a 43-run partnership with Ruben, before Ruben was lbw after 73 minutes at the crease. Sud and Jelger had a go and keeping the scoreboard ticking over, but the run rate was creeping up. Nobby and Milo had some fun at the end. The former almost broke the sightscreen with a ferocious 6. Milo knocked a solid 14 off 12 balls with an injured hand.
Unfortunately, VRA fell 22 runs short. This game spoke volumes for the appeal of Zami cricket as we saw the return of Nobby after 5 years. Ruben kept wicket superbly on an unpredictable wicket. Jack fielded with so much energy and caught 2, Milo kept fielding with his thumb wrapped in ice with a suspected broken thumb (he caught it), and Chris chirped like a songbird in the covers. It was a pleasure to be part of. The Zami 1 Cricket Academy is brimming with talent, smiles and enthusiasm. I can't wait for a league match.
Richard Finlay
Quick 1888 Nijmegen - VRA 4
Quick 1888 Nijmegen - VRA 4
Our second game of the season was at quick1888, Nijmegan. After a 2 hour drive we arrived at the ground, We lost the toss and were fielding first. Our new opening combo of Vishal and Saurabh started the game off very well bowling tight lines with good pace. It was jus a matter of time before we had the first scalp with saurabh getting through the defence of one of their openers, Vishal was not be let behind, got through the defence of the other opener. Wickets kept falling at regular intervals for the quick team, with Vivek bowling economically from one end and while shubha bowling with pace and causing all sorts of troubles. With not too many runs on the board and the regular fall of wickets, the game looked like it would be over quite quickly. But for some real day light robbery of LBW's of one of the batsmen from the quick team(who was eventually cleaned by Vivek with a lovely outswinger) managed to score a half a century .(I guess even our u-13 boys would score more that with 6 lives :P). The fielding for the second game in a row was top notch from the team with helped the bowlers to build pressure, also worth mentioning was the brilliant run out from Vishal his 3rd this season. A fabulous one hand pick up and direct hit. But this game also gave us the chance to try some of the new guys with the ball, giving them some much needed game time and confidence which will definitely help them get better. We were able to bowl out 144.
With a low target to achieve , Our openers Parag and Vivek started out cautiously but very soon the boundaries started to follow with both of them looking in fabulous touch. They quickly brought up a 50 run partnership, We lost Vivek as he tried to hit one out of the park, He got a well made 38,We did lose Pavan and Atul in quick succession. But the chase was never in any danger as Parag was at his brutal best smashing the ball to all corners of the ground. One pull shot after another followed as Parag kept smacking whatever was thrown at him. He and Saurabh ensured that we reached the target with no further hiccups and won the game comfortably with 15 overs to spare and 7 wickets in hand. With Parag unbeaten on 82.
Highlights of the game:
Good opening spell from Vishal and Saurabh,
Stump Smashing bowled from Shubha ,
Excellent middle overs from Vivek,
Good opening partnership with the Bat,
Fabulous innings From Parag,
Hobby's good decision making and bowling changes
Bowling Card:
Vishal 4-13-1
Sourab 6-20-2
Vivek 6-10-2
Subha 6-15-3
Rakesh 3-5-1
Pavan 3-36-0
Saneel 3-26-0
VRA Zami 2 vs Kampong Zami
11th July 2020
After a week of rain, the trepidation was high for a wet and windy Saturday fixture. What was to unfold was one of sun, runs and a wonderful welcome back to proper Zami Saturday cricket.
The toss was held and Zami 2s were to set a total for the hosts. Openers Bolan and Schotte started slowly with the pink ball seeming to be enjoying a competitive comeback as much as the cricketers. At 30-2 off 8 overs VRA were needing a steadfast batsman to hold the innings together. Step forward young Maxwell Charlesworth. Yes Maxwell. Normally of fast right arm over fame with the rolled up sleeve, the young nomad strode to the grease with an air of stoicism, possible down to the surprise parental visit and weekend without cigarettes. Family on the boundary, the scene was set for a famous innings. A solid 96 run partnership with the impressive hitting Tom Pasierowski (43) put VRA into a commanding position. Young Maxwell reached 58, a nod to a more all rounder role in the future. So it was VRA reached a strong 201 off 35 overs - a daunting target, and as the old adage goes, provided a lot of scoreboard pressure.
So it was VRA headed into the field with a plethora of bowling options. However, it was rhythm and guile of the new ball bowlers that rammed home the scoreboard advantage. A classy 4-14 off 7 overs by Andrew Pulver, well supported by Danesh Waheed 0-19 off 7 overs restricted the home side to 4-33 off 14 overs. The result was well and truly heading back to Amsterdam. Key wickets picked up by Captain Bob 1-3 off 3 overs and Frederik Ten Kate 2-22 off 4 overs, set the stage for someone to finish off the tail. As he did with the bat, step forward Young Maxwell. Bowling legspin. Yes legspin. Nothing seemed to be making sense on this famed Saturday in Utrecht, but with the year we have had, why does it need too. Taking the final two wickets and leading the visitors to a 105 run win, this was a good Saturday for VRA Zami 2. Oh and Maxwell. Oh, and his whole family and girlfriend.
This author for one feels they should come every week, if it will help produce such all round heroics.
trainingschema
22 juni 2020 -
Het trainingsschema is nu weer helemaal open. Met de hulp van velen zijn de nieuwe matten op hun plaats gelegd en functioneren boven verwachting! De netten zijn dus alledrie beschikbaar en de beschikbare trainingsruimte is dan ook verruimd. Registreren voor de training is niet meer nodig.
Nog steeds dient iedereen die traint of speelt zijn of haar contributie voldaan te hebben óf een regeling met de Penningmeester te hebben.
| DAG | TIJD | GROEP | OPMERKING | DOOR |
| --- | --- | --- | --- | --- |
| Maandag | 17:00 - 18:00 | Under 11 | at the nets | PB/VS |
| | 18:30 - 20:00 | Under 13 | at the nets | PB |
| Dinsdag | 17:00 - 18:30 | Under 15/ Under 17 | at the nets | PB |
| | 18:30 - 20:00 | VRA 1 | at the nets | PB |
| Woensdag | 19:00 - 20:30 | VRA 4 | field 2 | |
| | 19:00 - 20:30 | VRA ladies | at the nets | PB |
| Donderdag | 17:00 - 18:30 | Under 15/Under 17 | At ACC | PB |
| | 19:00 - 20:30 | VRA ZAMI | at the nets | PB |
| | 19:00 - 20:30 | VRA 2 | field 2 | PB |
| Vrijdag | 17:00 - 18:00 | Under 9 | field 1 | PB/VS |
| | 17:00 - 18:30 | Under 13 | nets | PB/VS |
| | 18:30 - 20:00 | VRA 1 & VRA 3 | at the nets | PB |
---