Clubblad Amsterdamse Sportvereniging VRA
---
How's That verschijnt tijdens het cricketseizoen wekelijks
---
Voorwoord
Het Wankhede Stadium in Mumbai is 'the noisiest stadium in the world', althans volgens de commentator bij de IPL clash tussen de Mumbai Indians en Sunrisers Hyderabad en hoewel ik uiteraard niet in alle stadions op de aardbol ben geweest, ben ik geneigd hem gelijk te geven. Drie jaar geleden volgde ik er een aantal matches en mijn oren tuiten nog. Vandaag, 2 mei 2019, is het tot de nok toe gevuld om de Indians naar de zege te schreeuwen. Hun openers Rohit Sharma en Quinton de Kock (door de commentator liefkozend 'Quinny' genoemd), doen hun best. Rohit sneuvelt weliswaar al op 24 maar De Kock en Sutryakumar Yadav doen wat echte twenty20 specialisten doen en dat is hameren. Maar dan stokt de machine. De Kock slaat nog wel wat runs bij elkaar - 'not his most free-flowing innings' - zegt de commentator met gevoel voor understatement, en brengt het, terwijl zijn kameraden vallen tot 69 in 58 ballen (6 vieren, twee zessen). 'He tried to accelerate but wasn't allowed to', is de gerechtvaardigde conclusie. De Mumbai Indians stranden uiteindelijk op 162 voor 5, naar de huidige maatstaven gemeten een bescheiden totaal, waarmee de Sunrisers toch de nodige moeite hadden. Het werd in een onvervalste nailbiter een tie waarna de Indians de beslissende over naar zich toe trokken. Ik zat tot op het laatste moment op het puntje van mijn stoel. Spannender kon het gewoon niet.
Terwijl ik de gebeurtenissen in Mumbai volg, ligt er een boek op mijn schoot dat precies het tegenovergestelde ademt van datgene wat zich afspeelt in het verre India. Het heet 'The golden age of cricket - 1890-1914' en is samengesteld door de vermaarde David Frith. Als er al een woord op van toepassing is dan is het 'rust'. Dat begint al met het omslag. Daarop zetelt een bebaarde en dikbuikige W.G. Grace te midden van een aantal tijdgenoten. Ze maken niet de indruk gebukt te gaan onder grote pressie. Ook de andere foto's in het boek geven een cricketwereld weer die ons in al zijn eenvoud een neerslag lijkt van een permanent dolce far niente. De mooiste afbeelding staat op pagina 67. 'We're off to the match' luidt het onderschrift en we zien de spelers van Lyndhurst in een door vier paarden getrokken koets op weg naar een match in Lymington. Hun snorren en strohoeden zijn getuigen van een lang voorbije tijd.
Wat te kiezen? Mumbai 2019 of Lymington omstreeks 1900. Ik weet het zo net nog niet.
Harry Oltheten
VRA1: Een ontgoocheling
ACC1 – VRA1
VRA1: 139 all out
ACC: 143 voor 3
ACC wint met 7 wickets
Wie zich als rasechte VRA-er iets te laat naar het ACC-veld spoedde in de verwachting dat zijn favorieten het ook in zijn afwezigheid goed of althans naar behoren zouden doen wachtte een ware ontgoocheling. 18 voor 3 stond er op het scorebord en dat na 11 overs. Vikram Singh (2, lbw), Eric Szwarczynski (2, lbw) en Ben Cooper (3, c & b) waren al vertrokken en Leon Turmaine maakte het nog erger door zich in aantal runs bij Vikram en Eric aan te sluiten. Bij 38 voor 6 in 19 overs leek een ongekend debacle aanstaande. Dat dit werd afgewend was te danken aan Mitch Lees (21) en vooral een weergaloze Peter Borren die liet zien wat geconcentreerd batten inhoudt. Hij passeerde de vijftig met een strakke vier en sneefde pas op 81. 139 was natuurlijk geen totaal dat de ACC-ers schrik aanjoeg. Ze scoorden geduldig en aan de hand van R. en S. Zulfiqar (resp. 34 en 56) bereikten ze om kwart voor zes de finish. Natuurlijk werd in de VRA-aanval Quirijn Gunning die op Bali vakantie vierde node gemist, maar het waren deze middag toch vooral de batslieden (uiteraard met uitzondering van Peter) die ervoor zorgden dat VRA een ontnuchterende seizoenstart beleefde.
VRA2 VS EINDHOVEN
Eindhoven won by 42 runs
First game of the season and first time in Eerste class, it could not get any more exciting than this fo a bunch of guys who have been playing together for 5 years. Having had a great season last year and topping the OV-A league to be promoted to the First Class, the team was quite upbeat going into the first game. Change in rules to play in colored kits and white ball just added to the excitement.
We reached the ground quite early as we knew there was a ton of ground work to be done - setting the black sight screens, boundary rope and marking the 30 yard circle etc. Arranging all these things was a bit chaotic and to add to our worries, there were constant drizzles. This left us with no time for pre-match practice drills. But we quickly put this behind us and got down to business almost immediately. We lost the toss and had to bowl first. The bowling started off a bit wayward and we constantly bowled loose balls and wides. Soon Eindhoven were 74 for 1 in 10 overs. Once we brought in spin, things were starting to happen. Pragam's tight line and occasional wrong ones proved too much for the Eindhoven batters. Hiimanshu , on the other end kept things quite tight with his off spin - bowling 10 overs on the trot and giving away just 12 runs while picking 2 wickets. Shadab added to the wickets tally by picking 2 wickets in 2 balls in his first over. Pragam ended up as the best bowler of the match with 4 wickets and Eindhoven was bowled out for 165 in 40 overs.
The moment VRA2 came out to bat, it started to rain and the umpires were in no mood to stop the game. We started to lose focus and gave away early wickets, mostly playing across the line when the bounce was uneven. We were 13 for 4 in 5 overs before Pragam and Vijay stopped the wicket fall and added 40 runs before Vijay was trapped LBW. Pragam, who came one down kept holding one end while wickets started to fall regularly on the other end.
A few more bad shots from VRA batters and some bad running resulted in VRA eventually getting bowled out for 115.
In the end, what should have been an easy chase turned out to be a collapse from VRA side. But looking back to the previous seasons, VRA2 has always been a slow starter to the season. The team regrouped after the match to identify what went wrong and areas which needed improvement and are confident we will get back to winning ways very soon.
Van rebel tot barmanager: In gesprek met Layla Hehanussa
Toen Eric Clapton samen met zijn Derek and the Dominos in 1970 de dubbel-lp 'Layla and other assorted love songs' uitbracht, kon hij niet bevroeden dat een flink aantal jaren later in het AMC een meisje zou worden geboren dat de naam droeg van de door hem in de titelsong bezongen geliefde. De kleine Layla Hehanussa groeide met een zusje aan haar zijde als een echte Amsterdamse op in de Pijp waar ze de Derde Dalton School bezocht. Daarop volgde het Berlage Lyceum waar haar loopbaan werd onderbroken door een vertrek naar Gouda. 'Ik was nogal een rebel,' zegt ze nu lachend. 'Ik was even niet te handhaven.' Aan het Driestar College in de kaasstad, een zwaar gereformeerd bolwerk waar elke ochtend uit Bijbel werd voorgelezen, haalde ze haar havodiploma. Daarna lokte Amsterdam weer, waar ze een opleiding volgde aan het MBO (handel en verkoop) en ook alle Horeca-papieren in de wacht sleepte. In die laatste sector lag al vanaf de middelbare school haar hart. Ze werkte in Amsterdam en Zwolle in de bediening en deed zo de nodige ervaring op.
Bij VRA werd ze geïntroduceerd door een meisje dat daar werkte. Ze werd gebeld om te assisteren bij een grote partij en viel, misschien wel omdat ze meteen een enorme flater sloeg, bij Paul Polak in de smaak.' Jij blijft hier werken,' zei hij, en zo geschiedde. Het eerste jaar viel zij alleen in bij grote evenementen, daarna was ze al snel alle weekenden te vinden in het VRA-clubhuis. Samen met Karima zorgt ze daar onder veel andere zaken voor de lunches. 'Ik maak gewoon wat in me opkomt al laat ik me soms wel leiden door de aanbiedingen bij de Hanos,' zegt ze met de blik van de zakenvrouw die op de kleintjes moet letten. Die blik blijft als ze het heeft over de gebrekkige communicatie bij reserveringen voor feestjes en de barbecue. 'Laatst schreven zich veertig personen in en kwamen er maar dertien. Dat kan natuurlijk niet. Dan blijven we met een hele voorraad zitten. O ja, al ons vlees en al onze vleeswaren zijn halal, laat daar geen misverstand over bestaan.'
Layla's hart ligt bij VRA. Daar brengt ze als hoofdverantwoordelijke voor de baractiviteiten vele uren door wat vooral mogelijk wordt gemaakt door een lieve moeder die als het nodig is past op Rayan (8) en Amira (5). 'Ik blijf zeker nog lang bij VRA,' zegt Layla aan het einde van ons gesprek. 'Het bevalt me hier goed.' 'Het bevalt ons ook goed,' zou ik hieraan toe willen voegen. VRA mag blij zijn met Layla Hehanussa.
H.O.
VRA Zami 1 vs Rood en Wit Zami
VRA Zami 1 vs 'Rood en Wit Zami, Saturday May 4th 2019
So bats had been knocked-in, shoulders loosened, nets erected, warm-up games completed and the VRA Zami 'What's App' firing with the healthy banter of the weak-witted. Now it was time. Time to not f*ck it up!
The league opener for VRA Zami 1 saw the team travel to Rood en Wit's (R&W) ground near Haarlem on a blustery but fine day. A lot of travel-chat about their new astro 'wicket' proved incorrect when the team was greeted by a baggy piece of fabric with dubious foundation and about as much bounce as a sand-pit.
Nonetheless, confidence was high and it was time to rise! Esteemed captain Louis Collignon lost the toss and VRA were sent in to field. After quickly rebuilding the stumps using sand (likely from beneath the astro) everyone was ready for a thrilling start to the competitive season.
However, R&W opening bats had other ideas. VRA opening bowlers Daneesh Waheed and Prasuk Jain found immediate line and length which told of solid pre-season preparation. Although their offer was not without temptation. A few were short and wide. Would R&W take the bait? They would not. And by the time the first wicket fell (a calm stumping by 'recently-relegated-from-VRA-5s', Richard Finlay-Newton) the oppo had collated a paltry 40 runs off 14.3 overs.
Zami 1 - in charge!
At first change, on came Prasun Banerjee and Chris Harvey and, together with some reasonable fielding, slowly the job started to get done. Chris managing to capture his man with a neat catch at fly-slip by Ernst van Raaphorst. Ernst proceeded to come on to bowl and trapped his man LBW whilst Zami stalwart Willem van Mierlo joined in by dismissing R&W's niggly number 2 with a nice nipper. Willem also stunned everyone with an athletic run-out - again prompting the task of a complete rebuild of the stumps in water-logged sand. Snore. Even our ever-pensive Captain (clearly been practicing his "Don't-worry-chaps-I-know-what-I-am-doing" face over the winter) chipped-in with one of his lethal leg-side full tosses being picked up on the boundary by the ever-reliable Prasuk Jain.
Pick of the innings however went to the exceptional Daneesh Waheed who ended with 4 wickets for 16 off 7 overs…all bowled. This included R&W's middle-order answer to Thor who did some inelegant damage wielding his bat like the God of Thunder himself. A great contribution from Daneesh supported by some solid 'Extras-Mitigation' by keeper Richard with R&W finishing on 133 all out.
So to bat.
The author sacrificed his wicket via LBW for 0 in the first over so could get to umpiring where his true contribution would later occur. Ewoud de Man missed his first ball (AKA.. 'it stayed very low Nick') and it hit the stick-things for 0. Richard Finlay-Newton had other ideas and started carting it about (including a 'dolly' right in front of an older member of R&W's side who refused to even approach the ball!) but soon fell caught-and-bowled for a decent 18. VRA Zami 1 were suddenly 22-3 after 3 overs. In stepped calm leadership in a moment of crisis from our Captain. "What the f*ck was that you three". #feelingblessed
Thankfully, not for the first time that day, Floris Kappelle came to the rescue with his new signing from Rotterdam ("I made him burn his jumper"), Jelger Gustafsson, who showed the rest of Zami 1 that no matter how dodgy a wicket, all conditions can be calmly played. Exactly the tonic required, Jelger built a match saving innings with plenty of well executed boundaries (inc. 1 x six) for good measure. A deserved MOM with a unbeaten 59. Great stuff.
However, he had help. Firstly, from our very own 'One-Handed Wonder', Jeroen Agent Mulder who took the attack to the opposition and did so in his own inimitable style. A great supporting innings that got VRA Zami 1 out of trouble with Willem van Mierlo providing a composed nine runs to boot.
But then the real action started. Floris Kappelle came to the crease. 1st over, big LBW shout. The author, now penance-umpiring, quickly adjudicates Not Out. (It really was going down leg!). Oppo angry and losing hope. What then happened from Kapelle was a string of dots and singles that reads in a score-book like the digital ramblings of a man unable to strike a cricket ball with any meaningful force. What it actually was, was the perfect platform for Jelger to accumulate the deficit and allow Floris to deservedly hit the winning runs. Well done sir. And you're welcome!
So…despite an early 2nd innings scare, Zami 1 comfortably passed the total in 26.3 overs with 5 wickets to spare. Season starts with a win. Nothing to do with Kappelle!
Nick Goodchild
ZAMI 2 vs HCC
T'was a typical Dutch morning on Saturday the 4th, a brisk 8 degrees which would change little for the better throughout the day, as the Zami 2 side was enjoying their Schinkelhaven coffee in full swing. The first game of the season was upon us and the excitement was rampant. We downed our thermoses at good pace before enduring the seemingly never-ending drive to far away land called; Den Haag. A few more coffees later and the toss was underway, HCC had won and the Zami 2's were to enjoy their first hit out of the season, and boy what a good one it would be.
Harold and Thomas came out to open, steel in their eyes and the Zami ethos in their hearts. They endured a trying spell of brisk pace from the HCC opening bowlers of Steven 'Essex' and Jan Ensing, the openers going wicketless for the whole game. The Horse and Tommo playing their usual juxtaposing styles composed well, seeing off the majority of the 1st and 2nd change bowlers too, and imposing a game high 95 run partnership within the first 19 overs. That is until Thomas fell caught behind to HCC's stout off spinner, Adeel Haq for a professionally made 22 off 50, a stay that lasted over an hour and placed the Zami athletes in the driving seat to build a mammoth score.
Joost The Beast Dekker came to the crease to join Harold who was still ticking along. They combined for a vital partnership of 17 that delayed the collapse that was to come. As the score grazed 112 in the end of the 22nd over The Beast fell bowled to Vivek Bajaj who went on to bag 5. As Joost walked off the ground, the returning veteran Maarten replaced him. The Horse was, even now, was still at the other end, however, not for much longer, as Bajaj would soon remove the bails of his castle, sending him on his way for a marvellous 78 off 76, an innings played in great skill, spirit and class.
In an almost identical stay to Joost, Maarten also made 5 off 10, including an attacking 3 down the ground that showed the rust was beginning to shed. Unfortunately, his stay would not last much longer, as the mischievous inswinger Bajaj trapped him LBW. This left Wouter The Menace Renardel De Lavalette, who had been poised to strike since the fall of Harold, to pick up the slack. The slack was pulled alright, and a masterful 28 off 24 which included 3 4's was struck in a measly 20 minutes. In the length of 1 Simpsons episode Wouter and Nigel Drenthe had propelled the score to 165 for a combined partnership of 37 in just 4.9 overs.
The Menace would soon fall however to, you guessed it, Bajaj, who now had his 4th. This brought Maxwell No-ball Charlesworth to the crease with a licence from the captain to thrill. Long story short, he did not, the boundaries were left untroubled and the debutant left for 2 off 5 after a painful-to-watch stay lasting 4 minutes, gifting his wicket to Bajaj for his 5th and 4th bowled of the innings.
The beard, Menno 'Menno' Spits came out to join Nigel The-not-so-little-master Drenthe who would both end with red ink with scores of 5* and 22* respectively. Nigel especially played an entertaining knock striking at a strike rate of 85 only conceding 8 dot balls in his 26-ball stay. At the end of VRA's innings we were poised to clean up HCC with our commanding total of 188.
Opening the bowling was the fearsome pace twins of Bob Vernon Prenen, and Freddie The-Amstelveen-Express ten Kate. Bob's expert line and length (which saw him concede only 10 runs off his 4 overs) was paired perfectly with Freddie's pace, countless balls hitting the HCC opening batsmen's pads and thighs in a spell that would garner a lonesome wicket but would soften up the batsmen for the bowlers to come.
At first change was the foreign import duo of No-ball Charlesworth and Jimmy Hendrick Kruger (that's a double play on words of Jimmy Hendrix and Jimmy Anderson. Badum tss). The immigrants bowled a tight line and length outside off (with the occasional strategic wide down leg to keep the batsmen guessing) but would have to wait until Maxwell's 5th over to see a breakthrough, and then 1 ball later to see another. The first gamer picking up 2 in 2 with identical balls, first nicking off the HCC stalwart Maarten Schwandt for 11 caught behind off a full 'completely intentional' outswinger and then the pinch hitter Adeel Haq also caught behind off a full 'completely intentional' outswinger. Tobias completing both catches behind the wicket with ease and grace.
Kruger and Charlesworth bowled out their spells with Hendrik picking up a key wicket in his last over to leave the HCC innings in tatters at 84-5. The end of The Immigrant's spells inclusion of Tommo and Nigel into the attack both of who had an immediate impact. Thomas picking up 2 in his first, both batsmen being bowled of his strategic low bouncing double yorkers. With Nigel picking up the last recognised batsmen of Bajaj for 2, caught by Wouter The Menace in close on the offside. Thomas continued his rampaging at the other soccer end taking HCC's 9th wicket and closing his 2 over spell with the tidy figures of 3 wickets for 5 runs with an incredible bowling average of 1.6.
The final 6 overs of the HCC innings were bowled by a combination of Menno, Joost The Beast and Wouter The Menace, with Joost picking up the final wicket of the innings, out caught by Nigel off a high skying top edge.
The game was over, VRA's Zami 2's had recorder their first win of the season, and an impressive one at that, winning by 75 runs with the top scorer of HCC's innings being the 54 extras we bowled. Well done Zami 2's and look out Zami 1's, we're coming for you.
VRA Ladies XI: First Friendly of the season 2019
The 28th of April, 3rd ground VRA
Leinster Cricket Club takes on the VRA ladies
Weather is always better at VRA, we expected rainstorms but the sun was kind of shining! Hurdled around the coffeemachine at Layla's we shared Kingsday stories and cuddles, whilst thinking of what to do again before a game to get the field ready... we were definitely missing Paul and then we quickly went into action mode. Git, Annelfeur and Lotte were all over it. Lotte took on golfcart duties and drove around gathering everything we needed with some help.
Annefleure organised the game against these Dublin Dames, she also organised a game for them on Kingsday against a British touringteam at Kampong. I think that's super sweet and helpful, thanks Annefleure for your organisation skills. So, off to the 3rd ground, time to toss. The opponent chose to field first, which meant our steady openers Git and Kanishka opened the Innings. Kanishka was followed by legend Sally who was hiting it all over the place. 70 runs in 35 balls. Not bad, not bad at all. Our newest shiny member Anzelle came in for a bat, first time on the middle, Katie came in with her newly shaved bat and quicly hit some singles, Anne showed how well her batt was doing, Miranda came in and hit some 4's all over the place, Gwen and me finished the 20 overs. We got to a beautiful total of 150. Defendeable we think, but you never know what the Irish will bring to the table.
Shout out to miss Dimond, who bowled an amazing 3-11, not to say the other bowlers weren't worth mentioning. It was a very good standard of bowling. They brought 10 bowlers in 20 overs!
Quick change out of the pads and on to the middle. Gwen and me opened the bowling, my god... can we take a moment to appreciate Gwen's bowling. No wonder she's picked to debute for the Dutch women this season. First wicket of the game in her first over - boom - caught by Sally. Anne, me and Miranda were bowling steadily and putting pressure on the batsmen. Kanishka, Gwen and Annefleure were shining in the wickettaking starring catchers Miranda and Sal. Absolutely great cricket to watch. Spirits were up during the fielding innings. I was rusty in the captaining, mid fielding innings, counting overs and who bowled and how many again haha... lack of upkeeping the scorebord was not helping, luckily I have an awesome team who thinks along with me haha. Love you guys. After 20 overs we had run outs, catches, bowled wickets, two batsmen (Ridgeway and MacManon) who really build up their innings who we needed to get out. But, Gwen 1-9, Annefleure 4-17 kept it together, add tight fielding and good energy on the field and off the field. Maartje, Meike and Lot didn't play but did come to cheer us on... and we WON!!
Followed by an A-MA-ZINNG bbq prepared by Layla -cannot wait to have more of those this summer. We shared stories and contacts with the Irish crew, such good crowd. We are WELL excited to look into touring to Dublin next season for a rematch on Irish soil.
Great start of the season! Looking forward to seeing everyone soon the 25th of May.
Love, Nathalie & the VRA ladies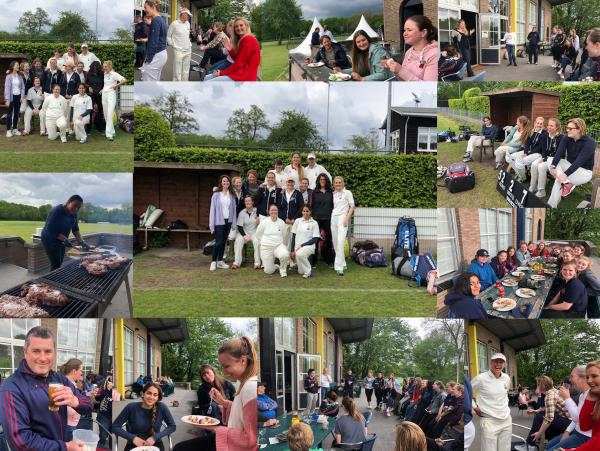 VRA Ladies vs Kampong first Twenty20
As many cricketers will recognise, the day of the match began with a bunch of Whatsapp messages from different sides of the Amsterdam regarding the weather. "First drops and a rainbow showing in Oost", "It is currently raining in West". But fortunately, we also received the following message "Blue skies over VRA" – such a delight! We were not going to let it rain on our parade. With storm clouds brewing over Amsterdam we made our way to our club. This was not our first match of the season. Last week (yes, the day after Kingsday..) we played an Irish Touring team on the 3rd field, as a great starting match for the season. An exciting match, great fun, amazing BBQ - Photos below.
Today, weather was not on our side, but we were ready for the official start of the T20 Season.
We made our way to the third field and started the game, we were to bat first. With a great line up of batsman to come, Birgit and Kaniska opened the batting order. After two solid bowling overs from our opponent, our great openings pair got their head in the game. With Git batting steady as a rock and Kaniska batting well and taking risks, we got off to a great start. After the fall of the first wicket, our skipper Nathi came in. Looking like she never went on winter break, her and Git had a great partnership of 60 runs. Bowling from our opponent was on point, but they managed to sneak the odd one through and run effectively. Nathi made a great score of 33 runs before unfortunately being given run out by me (the current umpire). Lotte took over and made Git run even more – great looking singles and fast runs. Then our fifth batsman Miranda came in (she had luckily taken an actual working bat into the field), she hit 5 boundaries and ended up with a score of 26 not out. Git eventually managed to score a great 44 NOT OUT, giving us a grand total of 129 to defend.
In the fielding innings we were off to a great start with amazing bowling from Nathi, and 2 wickets within Miranda's first over. Spirits were high and hands were cold. Miranda continued her bowling streak, ending up with 3 wickets from 5 overs with 9 runs against her only. The partnership of Nathi and Git continued in the fielding innings with great ball from Nathi ending up in Git's hands. Annefleure pulled rabbits out of her hat with magic bowling and Kaniska kept the opponent on their toes. Our fielding was very much on point. No silly mistakes were made or overcasualness was shown (I know that is not a word, but it should be). We played a good game and put in a great performance. I think we can have confidence going forward in this season as we have quality players who give it their all, and amazing talent in our up and comers and younger players!
Veel liefs, Anne en de VRA dames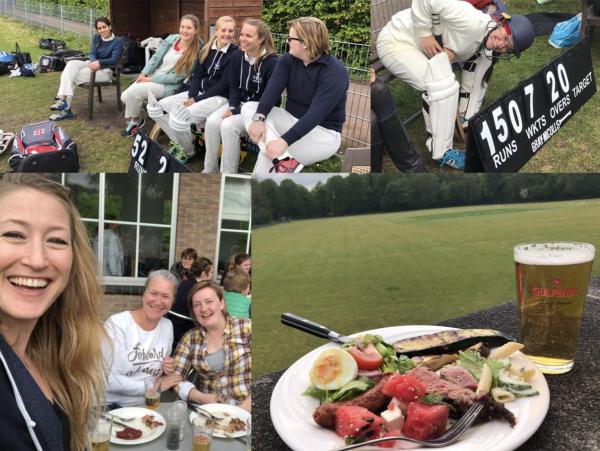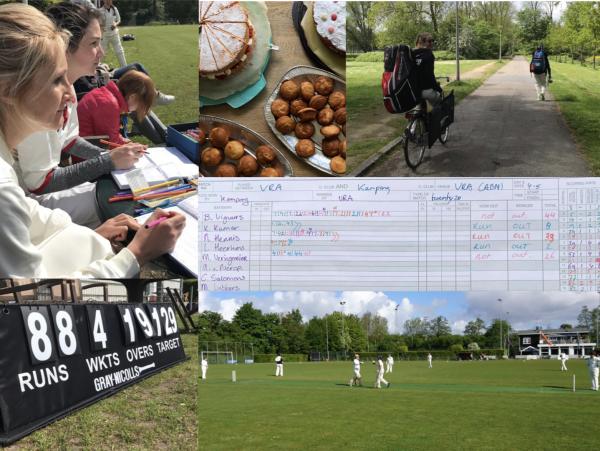 Branscombe Ravens CC
From our Castle in Compton Abbas it was only an hour's drive to the cricket ground of Branscombe Raves, if you were able to find the ground. Close to the coast and yet far from civilization: in the middle of nowhere we managed to find a farm, a church, a pub and of course the inevitable Rabobank. Here we got some additional directions to the ground to arrive just in time for most tourists and too late for a few players. Which is always fun for the utter unexpected result of the famous Auction of Jelger Gustafsson.
However having arrived at the ground of Branscombe Ravens we were astounded by the beauty of the surroundings: picturesque does not cover for the views. Luscious trees, a small creek, a clear blue sky around a small ground. With rather optimistic powerplay circles and a complete unpredictable pitch. A groundsman who not believes in covers, watering, let alone rolling the pitch to make sure players can't hit too many sixes. We were welcomed by very enthusiastic and hospitable opposition, tea ladies, umpires and scores. The whole village had a task running the show of the year: young foreign lads from Holland playing at the local cricket club: wouldn't that be a chance for a change?
Our Captain of the day Ewoud de Man agreed on a 35 over format with a maximum of 4 overs per bowler and VRA fielding first. Opening the bowling with Andrew the Pulveriser and Nick Worries. Each 2 overs. Andrew started with 0-5 and Nick bowled a wide down leg on his third ball. Our stand in and stood up Wicket Keeper Berend Steenhof stretched, dived rolled on as Neymar so Ravens Bill decided to take the run and Berend managed to smash his wicket with a direct hit: a marvellous run out!
In his second over Andy bowled a neat maiden and Nick took 2 consecutive early wickets (one bowled and one caught behind) and he was on a hattrick. However Nick bowled the hattrick ball wide, which was for the better as this would have ruined the auction right away. VRA tourists had an excellent start of the game.
First change bowlers Piotr Pasierowski and Ewoud de Man took over and put the pressure even more on Branscombe: a wicket for Ewoud in his first over which as caught behind by stand in and stood up Wicket Keeper Berend. A wicket for Piotr in his second over, caught by Seabasss Capel. Branscombe were on 32 for 5!
Then Ravens Graeme and Andy stood up to get to a decent partnership of 82 taking the score to a 115. Bowlers Bob Prenen, Jelger Gustafsson, Andrew Pulver, Ewoud de Man, Piotr Pasierowski, Seabasss Capel en Willem van Mierlo worked hard for no wickets until the 25th over: ultimately Willem van Mierlo broke the partnership and got the scalp of opposition Captain Andy who got bowled at a total of 44 runs!
Eric Fabery was next to bowl for 3 overs and got a wicket in his 3rd over. Nick Worries returned to the crease got wicket (caught and bowled). And Seabasss Capel pretty much wrapping up the Branscombe Ravens batting site with two wickets in his 3rd over: Graeme was bowled getting to the high score for Branscombe of the day: 65 runs. Capels last victim was Gary who was caught by Bob Prenen who managed to hold on to a catch, setting Branscombes total on 181!
The Branscombe Tea Ladies (BTL) treated us to a splendid lunch after which our batting innings could start with our openers Nigel Drenthe (tour debbie) and Floris Kappelle (tour mastodont). Both managing 4 runs and quickly dismissed by the Ravens attack… Would the pitch be too unplayable for us continental players? Would we manage to get to the total of 181? The answer was in the hands of Piotr and Nick and the answer was yes! Nick a bit more defensive and Piotr all the more aggressive, Piotr scored a 17 (!!) ball half century (which could be a club record) ending up with a career best of 78 runs getting caught behind. Piotr did not know, as an act of politeness, the maximum allowed number of sixes was just one after which he was supposed to play down the ground. Instead he hit just 7 sixes… 8 lost and found balls and a lot of pounds for the local kids retrieving the balls from the roads and the creek.
Piotr managed a partnership with Nick Worries of 105 runs to get the score to 115 runs after 13 overs. In came Ewoud de Man at number 5. He got to a partnership of 51 with Nick and his wicket fell after he got tricked in a classic trap: first a short one on the helmet and then a long ball caught in the slips (quote Maarten Slagter) to end up with 8 runs. In was Eric Fabery who added a glorious boundary cover drive to the total and Nick Worries piling his runs up to 73 and both not out up to a total score of 182 runs for 4 wickets in 21 overs.
Though having won the game quite convincingly, Branscombe kept up the excellent cricket 3rd innings spirits in good sportsmanship and quite a few alcoholic beverages plus a great high tea. The whole village (30 odd people) had a part in the display of hospitality and Branscombe is more than welcome to tour Amsterdam next year! We got on our way to our Castle to arrive at 22.30 hrs where we enjoyed an exquise prepared dinner of tenderloin beef (thank you Theo and Eric)… It stayed very gezellig for quite a long time!
Het gele turfje
Hoewel de verschijning van de nieuwe Wisden nog zeker een week of zeven op zich zou laten wachten bespeurde ik bij de vooraankondiging in februari al iets van zenuwen. Het is dan ook nogal iets. Meer dan vijftienhonderd pagina's cricketgeschriften, goed voor wekenlang leesgenot. Op 25 april 2009 was het zover. De man van de post wist niet wat voor een schat hij mij overhandigde en mompelde iets van 'Hier, ik geloof een boek'. Inderdaad het was een boek, maar bepaald geen gewoon exemplaar. Het was in al zijn glorie 'Wisden Cricketers' Almanack 2019' edited by Lawrence Booth. Het telde dit keer 1536 pagina's een aantal dat me niet afschrok, maar juist onweerstaanbaar aantrok.
'Cricketer of the year' werd dit keer, niet geheel onverwachts Virat Kohli, een man met een mythische status in India. 'The image of Virat Kohli celebrating another hundred - chest out, teeth bared, a vision of furious fulfilment - was already one of the international game's staples,' schrijft Wisden, maar daar kwam in 2018 nog heel wat bij. Test series in Zuid-Afrika, Engeland en Australië 'so often graveyards for Indian batsmen' brachten Virat nu succes. Zo was het niet meer dan terecht dat hij na 2016 en 2017 opnieuw cricketer of the year werd.
Uit de obituaries vallen weer veel mooie verhalen te destilleren. Een ervan gaat over Ajit Laxman Wadekar die op 15 augustus 2018 overleed, 77 jaar oud. Hij maakte deel uit van het Indiase team dat in augustus 1971 de beslissende Test uitvocht op The Oval. In de tweede over op de laatste morgen met India op 97 runs van een series victory aarzelde hij bij het nemen van een single met een run out tot gevolg. India was 3 down en het leek nog spannend te gaan worden. Wadekar keerde terug naar de kleedkamer, ging op een bank liggen en zonk weg in een diepe slaap. Terwijl hij in dromenland verkeerde, bereikte zijn team een mijlpaal in Indiaas cricket door met vier wickets te winnen. Te zeggen dat hij verdwaasd wakker werd is een understatement. Het loont de moeite in dit geval Wisden Cricketers' Almanack voor het betreffende jaar erbij nemen die meldt dat India in die Test Match crickethistorie schreef door voor de eerste keer te winnen op Engelse bodem, en passant een einde makend aan een reeks van 26 opeenvolgende officiële Tests zonder nederlaag voor het Engelse team. De Indiase matchwinner was wristspinner Chandrasekhar die zes voor 38 bowlde en Engeland in de tweede innings voor 101 aan de kant kreeg, En Wadekar? Die scoorde 48 en 45 runs, waarmee hij een niet onaanzienlijk aandeel had in Indiaas historische overwinning. De herinnering aan 1971 was schortlived. In 1974 verloor India in de Engeland de serie met 3-0, met daarbij een 42 all out op Lord's. Er werden stenen gegooid naar Wadekars huis in Mumbai en hij verloor de captaincy. Toch was hij hiermee niet verloren voor het Indiase cricket. In de vroege jaren negentig werd hij Indiaas hoofdcoach en ook was hij even chairman of selectors, Toen het nieuws van zijn dood het Indiase touring team in 2018 bereikte eerden de spelers hem door tijdens de derde Test Math op Trent Bridge zwarte armbanden te dragen.
Dit zijn nog maar een paar krenten uit de pap. Volgende week meer.
H.O.