Clubblad Amsterdamse Sportvereniging VRA
---
How's That verschijnt tijdens het cricketseizoen wekelijks
---
Voorwoord
Het is lichtelijk enerverend, maar voor de ware cricketliefhebber die op de hoogte wil blijven van de ins en outs van zijn sport onontbeerlijk. Ik heb het over de mededelingen die rechtsonder in je pc-beeld verschijnen, wanneer er ergens in de wereld wat opmerkelijks op cricketgebied gebeurt. Soms is dat niets iets om je over op te winden, maar soms ook vindt er iets plaats dat je je wenkbrauwen doet fronsen. Zo werd ik er op de bloedhete middag van woensdag de 24ste juli van het jaar 2019 op geattendeerd dat Engeland er in zijn eerste en enige test tegen Ierland op Lord's niets van terechtbracht. Precies tien dagen na hun zege in de World Cup brachten captain Joe Root en zijn mannen het in hun eerste innings nog niet eens tot de helft van een 50 over-match. In exact 23.4 overs waren ze all out voor 85 'paltry' runs. De voornaamste destroyer aan Ierse zijde was Tim Murtagh met 5 voor 13 in 9 overs, voorwaar een Herculische prestatie.
Nog nagenietend van deze afgang, anyone but England per slot van rekening, wijdde ik me weer aan de redactie van een boek over een seriemoordenares dat met hevig boeide. Maar tijdens mijn arbeid, die dankzij een ventilator die recht in mijn gezicht blies, nog enigszins genietbaar was, gingen mijn ogen steeds naar de mededelingen over Ierlands innings. Zou de roodharige Kevin O'Brien, die ik ooit in India heldendaden zag verrichten, nu ook uit zijn slof schieten? Zou Engeland met een oninhaalbaar totaal worden geconfronteerd? Het viel allemaal nogal tegen. 207 all out is niet goed en ook niet slecht. Terwijl de temperatuur op mijn studeerkamer de veertig graden naderde, kon ik een licht gevoel van teleurstelling niet onderdrukken. Ergens knaagde de gedachte dat de Engelsen morgen aan een miraculeuze recovery zouden beginnen. Maat ik hoopte van niet.
Harry Oltheten
VRA 1 - VOC 1
20 juli 2019
VRA: 154 voor 5
VOC: 181 voor 9 (DLS target 189)
VRA wint met acht runs
---
Bloedstollend
In deze verschoven wedstrijd waren de weergoden de cricketers en hun supporters aanvankelijk allerminst gunstig gezind. Het regende zo nu en dan pijpenstelen en pas ver na tweeën kon er worden gestart voor een match van 25 overs. VRA captain Peter had de toss verloren en moest met zijn mannen gaan batten. Dat ging Vikram en Emile niet zo heel goed af (resp. 5 en 15) en pas na het aantreden van Ben en Pete kwam er schot in de zaak. Eerstgenoemde sneuvelde na dertig runs, maar Pete ging gestaag door en werd pas gestopt door Pieter Seelaar ( (66 in 58 ballen) . Alleen Quirijn droeg daarna nog was bij aan de score (17 in 9 ballen), zodat VRA kon gaan rusten na 154 voor 5.
Ook VOC verliet niet zonder haperingen de startblokken. De gevreesde Max O'Dowd viel al snel voor toedoen van Haseeb (18 uit 11) en ook Van Lent was bepaald niet op dreef (7 uit 13), Maar Van Baren en Seelaar deden het aanzienlijk beter. Eerstgenoemde viel ten offer aan Brandon (31 in 19), en laatstgenoemde, die op weg leek om VOC de overwinning te bezorgen, vernielde zijn eigen wicket en kon na 62 in 53 vertrekken. Mullett leek het nog even spannend te maken (33 in 26), voordat Ben een einde maakte aan zijn ambities. Nadat Said en Durrani run out waren gegaan was de nipte en zeer kostbare VRA zege een feit en kon men zich gaan voorbereiden op de clash met Dosti de volgende dag.
VRA 1 - Dosti 1
21 juli 2019
Dosti: 245 voor 6
VRA: 221 all out
Dosti wint met 25 runs
---
Bens century tevergeefs
Hoewel twee snelle wickets van Haseeb deden vermoeden dat het voor VRA een makkelijke middag zou worden, pakte het heel anders uit. Nummer drie en vier, Kohli en Singh, bouwden namelijk daarna aan een imposant partnership dat pas door Peter kon worden verbroken. Hij nam het wicket van Kohli, maar die had en passant wel 81 runs aan de score toegevoegd (174 voor 3). Zijn maat Singh ging niet lang daarna (b. Leon, ct Brandon), maar ofschoon hij net niet tot een century reikte (92 in 115) was zijn bijdrage zodanig dat een totaal van tegen de 300 in het verschiet leek te liggen (194 voor 4). Wat de VRA-zaak ook niet hielp was het gebrekkige fielden. 'Sloppy' zouden de Engelsen zeggen. De nummers 5 en 6 lieten zich daarna ook niet onbetuigd, zodat VRA pas in de laatste over via good old Adeel weer twee succesjes kon boeken (246 voor 6).
De VRA-start was vervolgens zonder meer desastreus te noemen. Emile (1 uit 11), Vikram (1 uit 16) en Matt (0 uit 7) scoorden niet alleen niet, maar verloren ook snel hun wicket. De VRA-supporters waren plots gehuld in somberheid en een goede afloop leek ver weg. Godzijdank waren daar Pete en Ben die het schip vlot trokken en er gloorde zelfs een klein beetje hoop op een overwinning. Met name Ben stak in grootse vorm, lanceerde een paar force zessen en trakteerde het publiek op een stuk of vier cover drives uit het boekje. Hij bereikte zijn verdiende century met een vier die niet tot zijn mooiste behoorde, maar daar maalde verder niemand om. Dat Pete, die een mooie ankerrol vervulde, kort daarna caught behind ging was doodzonde (43 in 78). Nadat ook Ben na 114 runs (a run a ball) was vertrokken (een zeer betwistbare lbw volgens Tom Matena), voerde Mitch nog een verwoed achterhoede gevecht (44 ), maar dat mocht niet baten. Een nederlaag na vier overwinningen op rij. Het was weer even wennen.
VRA ladies place 2nd in the T20 competition of 2019!!
It was a hectic but fun day at VRA that Saturday the 6th of July. The clubhouse and grounds were filled with women that love to play cricket. Supported by Layla, Amil, Peter and Sieb, it was possible to have a successful day of ladies cricket at VRA. Sieb was playing tunes, whilst Amil was making sure all the grounds were sorted and ready. Hosted by the KNCB/VRA ladies and sponsored by SGS for 10 years in a row -hearhear- and sponsored by the women's department of the Flamingo's.
We had a bake off where all the teams could enter one or more cakes or baking miracles and Duco and Bart after trying ALL decided my mum was the best baker of the Dutch Cricket community. We of course are not surprised, but nonetheless proud of Claudine Hennis, our favourite baker!!
The semi final we played against R&W. After 20 overs they got to a total of 97 runs. Sjouk, Kainshka and me got a wicket and we came off due to rain. The game got shortened to a 15 over game and we needed to make 75 runs in the 2nd innings. Git and Maartje went in and were AMAZING. Their focus and skills with the bat and knowledge of the game were clearly showing. Together they got us tot the total within the 13th over. SO proud. Shoutout to Maartje's dad who came to watch the game - so Maartje was able to play and indirectly getting us to the finals!
After a lot of rain and deliberatinos. Thankgod for umpires and Bart to coordinate all the teams through, THE finale game came down to a 5-5over game. We got to batt first and made 25 runs. It's an ok run rate, but if you're up against Helmien… who has been on a roll so far this season would've made anything I reckon. They made it in the 4th over, great bowling by our talented Gwen and great keeping by Git and Meike who quickly had to swop cause we needed Git to bowl!
So in total we played about 20 overs that day, with a 15 over and a 5 over game. Not quite the T20 finale day we were all hoping for, but it was soo great to have everyone there, we had dinner with 65 people and stayed till late, whilst having a laugh playing pool and having a drink.
Big shoutout to Layla, who was running the bar with lunch for 9 teams at different times, a huge ass bbq and also the youth was eating at some point… jaw dropping impressive if you ask me and the food was at an amazing standard. Freshly pressed juices and freshly baked quiches I mean… top drawer! ;)
Thanks to my team, all the other teams and everyone involved to make it such a successful day!!
Now bring on the 40 over competition
Liefs,
Nathalie & de VRA dames
VRA ladies - QuickHaag
Saturday the 20th of July 2019
---
VRA ladies go to QuickHaag for a 40 over game.
Sooo, when 13 people from your team are unavailable to play, you're super happy with the ones that are able to play. We have holidays, birthdays, multiple injuries (!) that the team had to cope with this weekend. With 3 wicketkeepers but none available it was down to Katie to give it a try.
With two umpires present and Miranda helping from the sidelines we were ready to play some cricket.
I unfortunately lost the toss, which meant katie had to put on the wicket keeping gear. She did amaaazingly!!! So proud of you Katie. Sjoukje bowled the stars out of the sky with 3-22. I was very happy with my 2 wickets, Maartje was the other wicket taker. Also we had some eye-catching catches this game. Meike, Maartje and Katie showed us how it's done. Kanishka, Lot, Anne and Cat also showed us their bowling magic. Huge thanks to the people that came with us this game to support us and did amazingly in the field. Its a huge difference going into a 40 over game with 8 people or with 11. It was so so soo appreciated Cat and Neetha in particular.
Soo time for some lunch, krokketten, watermeloen and bananaa's and back to the game.
Kanishka and me opened the batting, Sjoukje quickly came in and together we tried to stay in and get into a comfortable partnership. We got to 39 partnership and then I got caught & bowled. Which was actually quite a good thing, cause my god.I got a ball on my toe and I didn't know how to stand or walk anymore. Ended up getting it checked out at the hospital. Gekneusd - mehh.. 4-6 weeks of pain I can expect. Awesome. Back to the game. Meike came in and she did sooo wel together with Sjoukje. They had a partnership of 37. Maartje came in and then quickly got followed by Anne. Who did amaaaaazing.
Anne has been batting so well last few games, this game she made a 37 not out. Katie came in for a bit and then Lot batted it out with Anne with a partnership that made us all cheer loudly on the sidelines.
All together we came down to a 145 runs. Not enough because QuickHaag made 218 runs, but hey, you can't win them all :) proud of the team!!
Looking forward to next game the 3rd of August against VCC/Excelsior.
Let's hope most injuries, including mine, are doing better by then so we can kick some ass!
Liefs,
Nathalie & de VRA dames
VRA ZAMI 1 - Hercules ZAMI
De wedstrijd op zaterdagmiddag werd ingeleid door een regenachtige morgen. De regen hield gelukkig precies op tijd op zodat VRA kon gaan batten na een verloren toss. Richard en Louis opende. Al snel bleek dat er moeilijk runs op het bord kwamen mede door een uitstekende aanval van Hercules die, waarschijnlijk door vakantietekorten, zijn team had aangevuld met jonge spelers van het eerste en tweede team. Richard maakte al snel plaats voor Jelger maar de run-rate bleef laag. Hercules fieldde zeer scherp en hadden onze batsmen volledig in de tang. Na een partnership van 47 runs met Louis werd Jelger (27) verzwolgen. Hierna vielen de wickets op rustig tempo richting het einde. Spectaculair batten van Eric met een snelle 11 runs deed onze harten nog even opspringen maar het mocht niet baten. 113 o.a.
De lunch was door een regenpauze al in de 25e over van de eerste inning genoten dus na snel wisselen mochten wij proberen Hercules onder de 113 te houden.
De batting order van Hercules was omgedraaid wat ons al snel het besef opleverde dat wij de speelbal waren van een sterk team. Door de staart van Hercules niet al te snel uit te bowlen wisten wij de run-rate nog lang laag te houden. Toen echter de nummer 6 het veld in kwam bleek al snel hoe kansloos wij waren. Jelger wist nog wel één van de kanonnen uit te bowlen met een prima vang van Chris. In de 31e over had Hercules ons totaal gehaald met een verlies van 7 wickets.
Snel vergeten deze wedstrijd en op naar de twee krakers waarmee we ons seizoen gaan afsluiten: Kampong en "The clash of the Woods". Maar nu eerst, op tour!
Ernst
Clash of the titans
It was an amazing sunny weather on the Sunday, 21st July, a home game for VRA boys against the mighty Hercules team. This game was special in itself since it was played between the two table toppers from the 3B series. It all began with Avnish (captain, VRA) winning the toss and selecting to bowl first. Maninder and Danish had an amazing opening spell on display showing some brilliant swing to start with. They restricted them well and which lead into pressure situation for the Hercules batsmen and resulted into wickets eventually. Later, the mighty spin attack of VRA, Avnish and Himanshu had their own share of brilliance and took wickets at constant interval. This resulted into a total score of 169 from Hercules and 170 as target for VRA.
It was an amazing start from the VRA batsmen, with proper strategy of staying on the pitch. Himanshu and Giri holded their ends and contributed to a brilliant 58 runs opening partnership. Later after couple of wickets, Ashutosh from VRA walked in at number 4 and took control of the innings. He dominated the Hercules bowlers maintaining a great run rate for VRA. Also losing couple of balls in the process, reason being the meaty blows which went flying across the boundaries for sixes. Ashutosh took control of the innings along with his partners Jithesh and Avnish driving the innings and maintaining the required run rate down under 5 per over scoring . Finally, VRA had a convincing win with a big blow from Avnish traveling across the boundary and finishing off the match. It was an exemplary win by VRA facing against the unbeaten team Hercules in the series 3B. It was finally a good cricketing day played with the spirit of game and maintaining the definition, the gentlemen's game!
VRA5 - Quivive
VRA5 wins by 6 wickets
Quivive won the toss and decided to bat first.We gave too many extras during the first 5 overs and Quivive got to a good start of 50/0 in 10 overs.Then Shubha provided the much needed breakthrough by taking 2 wickets in successive overs. Vivek bowled with good line and length and finished his spell with 19/2.Rakesh assisted him well with figures of 42/2.Quivive were all out on 169 in the 39 th over.
It was a difficult wicket to bat on.Our chase did not go well as we lost Hobby in the very first over.Vivek showed some intent to score quickly but got out cheaply.Pavan and Deb started to build a partnership.Just when it looked like a comfortable win Pavan got out trying to hit a six over longon and Atul too persihed soon.It's time for our captain to gain some confidence and take our team home.Saurabh along with Deb spent time in the middle and kept the scoreboard ticking. Deb was showcasing an exhibition of beautiful strokeamaking.Deb scored a match wining 69 and Saurabh with an equally important 33.We chased the target in 31 overs.
Regards,
Shubha
Quick Haag - VRA U13
Second last match against last year group champion was not that easy especially playing on artificial football ground. Vinz won the toss and ask opponent to bat. They had started their batting carefully and randomly pick the bad ball to score boundaries. VRA unable to pick wickets but in that last 8 overs, they restricted opponent to not scored more than 130 runs. Which indeed a good team work.
VRA started their inning very badly lost top3 wickets cheaply including Harsh and Ibi. It was looking like VRA is moving to biggest run defeat but then Amaan and Vinz raised stand & started building inning again. Vinz battled till the end but other VRA batters unable to provide good support from other end.
At the end, VRA lost by 8 runs (don't remember the exact number but it was very close).
Last match VCC vs VRA (Away)
Must win game for VRA, everybody knew it and players knew if they win the toss than have to select batting first to score some good runs as our bowling is good as compare to batting line-up.
But unfortunate we lost the toss and VCC asked us to bowl first. Again players didn't learned from their previous mistakes and gave loads of extra runs (Mr. Extra was top scorer again). Harsh did good job to getting wickets and not giving runs (4 Overs - 5 runs - 3 wickets) followed by Morris, Madhya, Shaheer and Vinz (taking 1 wicket each). Out of 115, VCC made 41 runs by bat, rest were extras.
Chasing this target was not easy as looking at previous record of VRA and it was correct as we lost first four wickets cheaply including Mats, Vinz, Lars and Morris. Harsh and Ibi started building inning again but Ibi after long resistance got out on 4. On other hand Harsh was keeping playing shots and keep scorer busy. Amaan, Madhya and Bas gave support to Harsh but at the end Harsh inning (31*) went in vain and VRA lost the match by 11 runs.
Don't know whether VRA will qualify for Semis or not but i am and i am very much sure, every parents, coach (Peter and Aadil) and team managers (Sidra, Sander and others) are really proud of VRA U 13's first journey for professional cricket. Surly they need to improve a lot as a professional cricketers but i am 100% convinced if VRA team management train them throughout the year then next year results will be completely positively surprise.
Best of luck Team and supporting staff.
Caught in the "slips"
In december 1951 werd in Poona een cricketwedstrijd tussen Maharashtra en een Engels team gespeeld. Terwijl de bowler terug liep naar de start van zijn aanloop, verscheen een aap op het veld. Enigszins nerveus rondscharrelend koos hij er tenslotte voor om, geconcentreerd voorover gebogen, de vacante plek in de gully in te nemen.
In het ware jongensboek zou hij dan vervolgens een spectaculaire vang maken en als batsman voor Maharashtra op de laatste bal van de wedstrijd de vereiste winnende 6 slaan.
Dat gebeurde helaas niet, hij werd door een jongen met een stok van de pitch verjaagd. Maar de aap liet zich niet kennen, klom op het dak van het paviljoen en bekeek vanaf die veilige positie aandachtig de rest van de wedstrijd.
Een aap in een menselijke situatie – als fielder, als toeschouwer – het is een scenario, dat bedacht had kunnen zijn door Lawson Wood. Wood ( 1878 – 1957 ) was, behalve schilder en tekenaar, een overtuigd dierenactivist. Als lid van de Royal Zoological Society realiseerde hij o.a. een verzorgingshuis voor bejaarde dieren. Zijn belangrijkste 'mensbeest' was de oerang oetanachtige chimpansee Gran Pop, die wij op bijgaande ansichtkaart in actie zien. [ Let vooral even op de bail(s). ]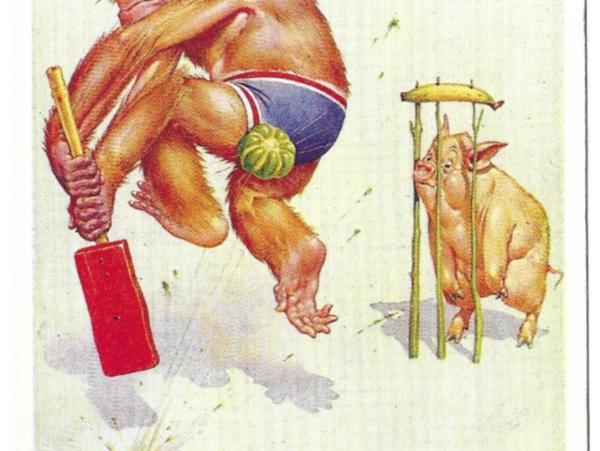 KLIK OP AFBEELDING OM TE VERGOTEN
Deze geweldige mensaap eiste tussen 1935 en 1957 een hoofdrol op in Wood's satirische ansichtkaartenuniversum, waar de aap en zijn maten de gedragingen van hun opvolgers in de evolutieketen fors op de hak namen. De getekende dieren werden zelfs zo populair, dat ze als houten speelgoed op de markt verschenen: de Lawson Woodies!
KLIK OP AFBEELDING OM TE VERGOTEN
Bij nadere beschouwing van de achterzijde van de kaart zien wij, naast de plichtmatige groet aan de mama van Giles, dat het hier om een postcard van de firma met de lieftallige naam Valentine gaat. In een later stadium verschenen de reeksen ansichtkaarten rond Gran Pop via een bedrijf met een volstrekt andere maatschappelijke insteek. Arcadia Works of Carrera Ltd. was een sigarettenfirma waar, zoals de achterzijde van de kaartjes vermeldde: '…happy, healthy workpeople made good cigarettes with care, pride and conscience under the most hygienic manufacturing conditions.'
Tja, dat was nog eens een andere tekst dan de mededelingen, die vandaag de dag op de rookwaren te vinden zijn.
Met Lawson Wood zelf had het leven in de latere fase nog heel wat te stellen. Wood had een groot hart voor dieren, minder voor mensen, en bovendien was hij altijd al een intens bewonderaar van de oertijd geweest. Daarom besloot hij om zich gedurende zijn laatste levensfase als kluizenaar in een Middeleeuws kasteel terug te trekken. De stenen daarvan had hij stuk voor stuk en hoogstpersoonlijk vanuit Sussex naar de grens met Kent verplaatst. Op 26 oktober 1957 overleed hij.
Tom Matena