Clubblad Amsterdamse Sportvereniging VRA
---
How's That verschijnt tijdens het cricketseizoen wekelijks
---
Voorwoord
Er is voor mij weinig verslavenders dan het kijken naar de geschreven live-commentaren op Cricinfo. Zeker, je kunt via allerlei kanalen bewegende beelden zien en die kunnen je beslist meeslepen, maar de deskundige tekstparels die de journalisten van Cricinfo bij tijd en wijle produceren gaan voor mij boven alles. En dan is er het wachten. Wordt de volgende bal weggeslagen voor zes, is het een benauwd eentje of ben je in retrospectief getuige van een ongelukkige run out? Gespannen naar mijn scherm, loerend schat ik de kansen in. Verloopt er weinig tijd voordat er op je beeldscherm een aantal tekstregels opflitst dan is er waarschijnlijk sprake van een dot-ball die de wereld niet zal schokken. Verloopt er wat meer tijd dan heb je kans op een tweetje, drietje of viertje. En is de tijdspanne heel erg ruim dan heb je alle kans op een wicket dat de dichtaderen van de commentatoren rijkelijk doet vloeien.
Dat dit laatste niet helemaal waar is, blijkt me op dit moment waarop ik wedstrijd tussen Australië en Zuid-Afrika volg. Bijna onmiddellijk nadat Nathan Lyon een weinig opzienbarende bal bowlt op Quinton de Kock die er evenwel weinig mee kan doen – 0 runs dus – schiet er een rood balletje in mijn beeld ten teken dat er een wicket is gevallen. Meer niet, geen commentaar. Dat volgt pas minuten alsof de commentator zich even heeft bezonnen op een extra fraai stijlbloempje. Dat komt dan ook. 'Both Markram and De Kock have tossed away bright stars.' Je kunt natuurlijk ook heel prozaïsch zeggen dat beide Zuid-Afrikaanse openers geen goed vervolg hebben geven aan een veelbelovend begin, maar dit is aanzienlijk beter.
Hoewel dringende zaken mij eigenlijk roepen, besluit ik bij te wachten tot het volgende wicket valt om te zien of ook dit direct wordt gemeld. En natuurlijk hoop ik dan weer op een fraaie formulering die even in het geheugen blijft hangen. Dat wachten duurde een hele poos, want pas aan het eind van de 42ste over valt, exact op het moment waarop ik de deurbel beantwoord, het wicket van Faf du Plessis, die net zijn century had bereikt (100 in 94 ballen). 'He slices a slog to short third man,' schrijft de commentator, een mooie alliteratie, waarover is nagedacht. Dan komt na een schier eindeloze wachtperiode na 46.4 46.5 met het beruchte rode cirkeltje, aanwijzing dat Jean-Paul Duminy uit is. Het commentaar is ditmaal elegisch: 'End of an ODI career that could've been so much more. Weinig woorden, veel betekenis.
Aangezien ik op het punt sta een echtelijke ruzie te riskeren, scheur ik me los van het scherm en ga op weg naar een eetafspraak waarnaar mijn vrouw al lang heeft uitgezien, maar ik weet dat ik onder de tafel mijn telefoon tersluiks vele malen zal raadplegen. Haute cuisine of niet.
Harry Oltheten
VRA 1 - HCC 1
Zondag 7 juli 2019
VRA 1: 230 voor 6
HCC 1: 195 all out
VRA wint met 35 runs
---
Een ongekende luxe
Op deze kille zondagmorgen was het even afwachten of VRA een vervolg kon geven aan de mooie overwinning op VOC van de week ervoor. Vikram deed er in ieder geval zijn uiterste best voor en zorgde met een solide 33 voor een redelijke basis. Maar het echte werk werd verricht door Eric en Pete die na het vertrek van Emile (5) en Ben (14) bouwden aan een imposant partnership. Dat de runs in stromen vloeiden zou wat te veel zijn gezegd, maar ze kwamen in ieder geval wel. Pas toen er al 189 runs op het bord stonden, viel het wicket van Pete die op dat moment kon terugzien op een fraaie innings (66 in 76 ballen). De 200 kwam in de 46ste over en precies op dat moment leek Mitch er zin in te krijgen. Hij produceerde razendsnel 15 runs alvorens hij werd gevangen aan de boundary (216 voor 5). In de laatste over ging ook Eric nog, maar zijn 71 runs deden de VRA-harten zoveel sneller kloppen dat er al voorzichtig rekening werd gehouden met een overwinning (230 voor 6).
Voordat die een feit was, was het nog wel even zweten. Weliswaar waren Itagi (1) en Staal (7) al redelijk snel vertrokken en ook Street (9) kende geen al te te lang verblijf aan het wicket, maar Adam Wiffen had er zin in en leek voorlopig niet uit te krijgen. Gelukkig viel hij na een lange windstilte ten offer aan het bowlen van Quirijn. Zijn 83 (in 82 ballen) hadden HCC evenwel zover op weg geholpen dat de eindstreep in zicht was. Op dat moment ontpopte Debrup Dasgupta zich als een echte matchwinner. Hij nam o.a het wicket van de gevaarlijke Boris Gorlee en eindigde met de fraaie cijfers van 3 voor 36 in 8.5. Maar ook Leon deed van zich spreken. Zijn 3 voor 39 in 9 was nagenoeg even goed. HCC kwam uiteindelijk 35 runs te kort en VRA kon zich verheugen over een tweede overwinning in successie. Op naar de volgende.
VRA 2 - Concordia
Played at VCC on 9th July 2019
It started out to be a cloudy and drizzling day but as the match progressed the clouds cleared to let the gods witness a splendid all-round team performance by VRA2.
To begin with we all gathered up at the VCC clubhouse and began our warmup and a few had a hit at the nets. Vijay "Intensity" Jayanthi our regular skipper decided to sit the game out and be the official scorer from our side. Meanwhile, our skipper for the day Sud "One Knee" Sharma lost the toss and we were fielding first.
Everyone was set to go, and we had our usual team huddle on the ground waiting for the pep talk from the skip. The first few sentences from Sud probably gave us the extra motivation; "Guys today we will be doing things a bit differently. For every wicket the bowler will get two beers, every 10 runs scored by the batsman is a beer and any extra ordinary fielding effort will also be rewarded with a beer. Everything will be paid by ME!!!". Sharad "Bhau" Hake gave us a great start hitting the right lengths from ball one and it was immediately evident that the pitch wasn't an easy one to bat. Harpreet "maa ki aankh" Singh bowled from the other end and guess what earned the first two beers in his first over itself by getting one of their openers LBW. The new pair started rebuilding the innings by putting away loose deliveries and respecting the good ones. Sud decided to not let the batsmen settle so easily and decided to constantly rotate the bowlers. The 2nd spell was delivered by Rahul "Ranji" Bhatt and Adil "ballisht" Ashraff and they carried on well swinging & seaming the ball while hitting perfect lengths. Rahul gave us the second breakthrough with a ball that the great Wasim Akram would be proud of; pitching on middle & leg and seaming away from the right hander to hit top of off stump. It was magical to watch.
Vikram, the opponent's best batsman walked out to the middle. He had to go back to the dug out without facing a ball thanks to Sharad's brilliance. The other batsman hit the ball towards deep square leg and pushed Vikram for a second, but little did they realize that they are taking on one of the best arms in the league. Sharad picked the ball cleanly and let go a bullet throw which hit the middle stump at the non-striker's end catching unaware Vikram short of the crease.
Incredible stuff by VRA2 so far. The batsmen (Sri Charan and H Patel) started to rebuild the chase and were doing a good job not letting us have the upper hand in the game yet. Our spin trio, Pragam "Warne" Rathore, Shadab "Hatt" Khan and Karan "Mayte" Deepak, were brought into action but the batting pair were punishing all the bad balls that was on offer. Pragam wanted to take a break after 3 overs but Sud insisted that he bowl another one. Guess what he got us the much-needed breakthrough. The score read 120-4 in 29 overs. That wicket gave the spinners the confidence needed, and they kept a lid on the runs scored. What we witnessed in the coming overs was Pragam's incredible spell which would make any world class spinner proud. He took 4 more wickets to get his career's first 5-fer and was denied a in his last over 6th by the leg-umpire. The score read 171-9 in 41 overs and Pragam had finished his outstanding spell that read 10 overs 5 for 47. Pragam surpassed his weekly quota of beers!
We expected to get the last wicket out quickly and head for lunch but that was not the case. Their last pair showed determination and patience and built a steady partnership. Sud brought back his medium pace bowlers, but the batsmen were scoring 5-6runs an over. Adil finally got the last wicket by trapping the batsman LBW in 49th over. The last pair had added 40 runs.
Target 212
We all headed for the lunch break thinking we should have got them out under 185 but looking at the minefield of an outfield we were super confident that we would chase the target successfully. After a quick lunch we were back on the field and out top order had a quick throw down session.
Pragam and Harpreet opened our innings. Similar to how he started his bowling, Harpreet started what could only be described as an onslaught and scored 11 runs of the first over which included a pull of the 3rd delivery for 4 runs and monstrous six over deep mid-wicket off the last ball. That start rubbed off on everyone in the dug out and that was how whoever went in to bat carried their innings. Pragam at the other end wasn't content with the 10 beers he had earned and wanted to add a few more. He started showcasing his trademark square cut and cover drive and the two built a rapid opening stand of 60 runs in 10 overs. One shot that deserves a special mention is Harpreet walking down to Sid (opponents best bowler) and dispatching the ball over extra cover for a boundary. The opponents were clueless and brought in spin as early as the 10th over and Harpreet couldn't resist one flighted delivery and holed out at mid-on.
Shadab walked in at no 3 (promoted after few splendid knocks lower down the order) and immediately started showcasing his flicks and drives and moved to 8 runs in no time but couldn't keep a cover drive along the ground and was caught spectacularly at short covers. Adil joined Pragam in the middle and the two carried the innings forward. There was a couple of moments of hara-kiri where Pragam could have been run-out but other than that the two never looked like giving their wickets away. Adil showed us why he's a dangerous batsman as he hit two humongous sixes straight down the ground. Just as the partnership crossed 50, Adil tried another slog sweep to deep mid-wicket but the ball bounced a bit high off the pitch and he couldn't clear the fielder at short mid-wicket.
In walked Keshava "hitman" Lal and was up and running straightaway. Pragam and Keshava kept the scoreboard ticking. Sid decided that the game was slipping away and brought himself into the attack. Pragam welcomed him with two lovely square cuts but fell for the trap and got out caught at gully for a well made 42. Ashwin "Shady" Oppu came to the middle and was not allowed to settle down. Sid was bowling his heart out and Ashwin survived a couple of close chances. Just when, probably, the dugout felt Ashwin had overcome a bit of a shaky start he perished trying to slog sweep over mid on a ball that was pitched way outside off.
Rahul joined Keshava at the crease with close to 60 runs still required. There were probably a few anxious faces in the dug out but that was put to rest by the two. Keshav continued his class act with his flicks, sweeps and lofted cover drives scoring 13 off one over while Rahul hit a six straight down the ground at the other end. With 11 runs needed the next padded up batsmen Sud and Nikhil "Ionic" Gupta started removing their cricket gears. Bhatt finished with the chase with a flurry of flicks. We chased down the total under 40 overs!!!
Special Mention
Kudos to our regular skip who sat himself out to score during the first innings and came into field whenever someone needed a breather and Karan for scoring during the entire second innings. To every member of the team to come out and produce a wonderful performance in all the departments and show everyone that we are indeed a champion side.
Thanks Sud, for a nice initiative and keeping your word. Only time will tell if he will stick to it for the next game but what we all know is that come next Sunday two points will be added to our kitty!!!
Best Regards,
Vijay
VRA5 vs ACC
VRA 5 wins a thriller!!
On Sunday 7th July, VRA5 won its closest match of the season since the begining of the season.
ACC won the toss and decided to bowl first to take advantage of the overcast conditions.Unluckily in the first over the ball swung back only for vivek to play it down to the stumps,resulting in his second consecutive duck for the season. VRA5 was one down in the very first over. ACC were bowling with good discipline and had not given any extras in the first 10 overs. The batsmen were forced to work hard for each and every run. Hobby and Pavan spent time in the middle and kept the scoreboard moving through a 50 run partnership.Hobby got out after a well made 36.Deb and Pavan steadied the ship sensibly and we are 95/2 after 23 overs. In order to accelerate the score Pavan threw his wicket away after a good start (44) again.Deb was batting well but wickets kept falling from the other end in order to accelarate the run rate.Deb got run out on 43 after a disastrous call. Thanks to Vishal and Rakesh for the last wicket partnership of 25 runs which proved to be very crucial.So it was 187 we were going to defend, a total 20-30 runs short of what we may have expected at start of the innings, but we were happy at it looking at the conditon of the pitch and we believed we can defend that.
It was then time for the bowlers to perform. Shubha and Rakesh started the proceedings pretty well.It was very difficult for the batsmen to judge the pitch and bowlers tooks full advantage of it. Shubha removed the opener in his second over and completed the spell of 4 overs just for 8 runs.Rakesh was bowling beautifully from the other end.Batsmen were not scoring runs but were relishing the extras given by the VRA bowlers, as a result from the first 50 runs on board 25 were only from bat and rest were extras.Then Vivek and Goutam bowled superbly in the middle overs not allowing ACC to score freely. The duo gave only 42 runs in their combined spell of 15 overs which build the pressure and increased the required rate.Deb provided the much needed breakthrough by removing Murtaza who was well settled opener and was batting well. Still ACC required a run a ball and eventually the situation cameto 60 from 9 overs which shows how pretty we bowled throughout.Pavan who was the captain for the first time took the command and disguised the batsmen with his cutters and slower ones. We needed someone from the other end who could rip through their middle order. Atul took thhe responsibility on his hsoulders and asked the captain to give him the bowl for the first time in the season inspite of having a stiff back. He bowled with extreme pace and aggression and kept the batsman guessing.Atul ended in 3 overs 14/2 , with two bowleds.The game went to the last over and ACC required 12 of the final over and Pavan was well set to defend it with all his experience.VRA5 won the game by 4 runs.
It was a great team victory for us and it showed what we are capable as a bowling unit.
Still the main concern for our bowlers are controlling extras. We gave 57 extras in a low scoring match is unforgivable.We hope to improve this in future matches.
VRA Zami 1 vs Hercules Zami 2
June 29th 2019
This match was epic for Zami 1 even before it started, since it would be one of the few matches we get to play on the main field. And not only that: we were allowed to play on the grass wicket as well. This was a nice touch on a very hot and sunny afternoon. Hercules surprised us by winning the toss and electing to field first in the heat. Openers Mark Rosine and Jelger Gustafsson duly started enjoying themselves in the middle, the opposition bowlers never really able to contain the scoring. After a sweet opening stand of 65 Jelger fell and Mark was joined by Mike Rier. Mark happily carried on to a half-century, and no-one would have been able to tell this was a man who had only recently recovered from complicated heart surgery last year. After another good partnership Mike fell, leaving the score at 121/2 after 16 overs. Now Ewoud de Man joined Mark and continued the fun, notching up his own half century. Mark eventually fell for 71, and Ewoud continued until the end to be dismissed of the last ball of the innings for 51. The score ended at 234/8 after 35 overs and we had no reason to complain about Hercules' decision after winning the toss.
Lunch was perfect as always thanks to Layla, after which we went into the field confident of defending our score in considerably more pleasurable temperatures. Hercules' left-handed opener Dravitzki put us on our toes however, looking the part and casually playing a gorgeous on-drive of our best bowler Prasuk Jain. It was such a difficult shot played with so much ease, timing and natural talent that we had our hearts in our mouths about how we were going to get him out. But Chris Harvey, opening up from the other end, didn't seem to share our concern and got Dravitzki to play on a delivery coming back in to him. 15/1 and the best player back in the shed. The other Hercules batsmen did their best to get as close as they could but always had trouble matching the required run-rate due to disciplined bowling, with Prasun (2), Sud Sharma, Willem van Mierlo and Mike Rier picking up wickets alongside Chris. The fielding was sharp too, with the special highlight being the ageless Mike George taking a screamer at cover high above his head (quoted: "those are easy, it's getting down low that's the problem", and then quoted again after I suggested his girlfriend Anna who would fly into the country later that night give his knees a rub: "well I think she'll be rubbing me somewhere else"). Hercules never recovered or threatened after that, and their innings eventually closed on 125/6 after 35 overs. The third innings on the sunny balcony afterwards was epic as ever, as stories were told, drinks were had and laughter was heard.
VRA Zami Tour 2018: Uplyme & Lyme Regis CC
Jaarlijks vertrekt een VRA gezelschap naar Engeland voor de legendary ZAMI tour. De wedstrijdverslagen van de 2018 tour leest u de komende weken in de How's That. (Deel 6 van 7)
---
Wednesday saw the ZAMI Army travel to the English seaside to take on the boys from Uplyme & Lyme Regis cricket club. The team took advantage of the local conditions and headed first to the beach for an early lunch and for some a refreshing swim in the chilled waters of the Jurassic coast.
The match saw the hosts bat first and get off to a slow start - opening bowler Bob continuing his miserly tour form with two early maidens. From the 8th to the 18th over wickets fell at regular intervals - firstly for captain Jelger and then through the introduction of spin for Louis who's two wickets took his tour tally to 10. From 5/66 with a run rate of barely 3.5 it was difficult to predict the carnage that was to follow as the two local batsmen took advantage of one very short boundary as the ZAMI bowlers felt the full effects of the 30+ degree temperature. The scorebook looked more like that of a tennis in the final overs - 646460...460646...(bowlers names withheld to protect the effected parties). Such hitting saw the hosts finish their 30 overs at 5/214 which was indeed an imposing total.
Keen to inflict some damage of their own the ZAMI tourists set about their chase full of optimism. Despite good starts for both Mike and Jelger we were unable to find the boundary (or even go over it) with the same regularity as the home team. At one point being bowled out was a possibility, however such a situation was averted thanks to Berend who used both his bat and on one occasion his helmet to repel the opposition bowlers, Post match the two teams mixed for some time over local ciders and beverages as we worked hard to replenish fluids lost during the day.
An exciting moment in the match
Liefde langs de boundary. Een gevoelig thema. Een precaire kwestie.
Sterk en aangrijpend verbeeld in de film ' The Go-Between' uit 1971 onder regie van Joseph Losey. Wervelend en romantisch neergezet in de Bollywoodproductie 'Lagaan' (2001). Rond die tijd door een contingent VRA'ers in de Vondelparkbios van daverend applaus voorzien.
Fraai, maar vilein verwoord door Vernon Scannel ( 1922 - 2007 ) in:
---
Wicket maiden
It is a game for gentle men;
Entirely wrong that man's spare rib
Should learn the mysteries of spin.
Women should not be allowed
To study subtleties of flight;
They should bowl underarm and wide.
Or, better still, not bowl at all,
Sit elegant in summer chairs,
Flatter the quiet with pale applause.
It shouldn't happen, yet it did:
She bowled a wicked heartbreak - one,
That's all. God help the next man in.
---
' She bowled a wicked heartbreak '. Niet te vertalen zo plastisch goed geformuleerd.
Slechts heel zelden wordt de (ontluikende) liefde afgebeeld op de ansichtkaarten, die vooral in het begin van de 20e eeuw alle cricket-varia documenteren.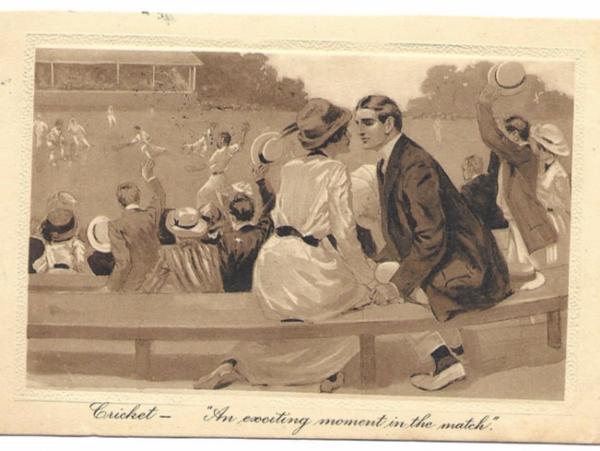 KLIK OP AFBEELDING OM TE VERGROTEN
Maar hier hebben wij dan toch een prachtig specimen.
Op het veld spelen zich woeste taferelen af. Men waant zich aanvankelijk toeschouwer van een angstaanjagend tafereel uit de Dardanellen-oorlog met gesluierde Oosterse strijders en bebaarde woestelingen. Bij nader inzien blijkt het om een run out-mogelijkheid te gaan. Spannend en het publiek verheft zich al van de banken. Het is 'an exciting moment'. Dat geldt ook voor beide protagonisten op deze kaart, maar dan niet in cricket. Voor hen is het een opwindend moment in hun eigen 'match'.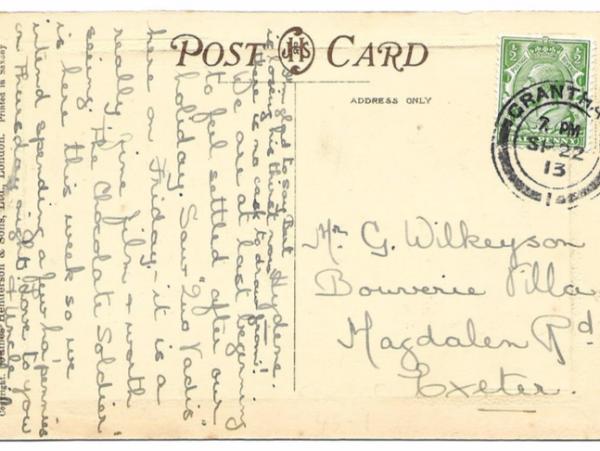 KLIK OP AFBEELDING OM TE VERGROTEN
Als het later dan maar niet zo verloopt als bij Ethel - die deze kaart schreef en op 22/09/1913 verstuurde - en Bert, over wie zij in de eerste 3 regels vermeldt:
" I'm glad to say Bert is losing his thirst now there is no cask to draw from! "
Tja, wat in het vat zit kan de boel soms flink doen verzuren.
Maar onze beide hoofdrolspelers behoefden zich, hoop ik, geen zorgen te maken.
It shouldn't happen, yet...
Tom Matena
Uit de oude doos
Elke collectie, hoe uitgebreid op een gegeven moment ook, heeft haar startpunt en voor mij ligt dit nu precies dertig jaar geleden. O zeker, ik bezat op dat moment al cricketboeken, maar dat waren run-of-the-mill oftewel alledaagse boeken die je in elk antiquariaat in overvloed aantreft. Al enige tijd wilde ik een stapje verder gaan en ook een kleine verzameling negentiende-eeuwse boeken aanschaffen, maar die waren in Nederland niet of nauwelijks te vinden, ook niet door de boekenspeurneus die in mijn opdracht tweedehandszaken en markten in verafgelegen plaatsen met een bezoek vereerde. Maar er gloorde hoop. De VVV-Deventer, die de stad wilde opstoten in de vaart de volkeren, had het op zich genomen om aan de boorden van de IJssel een grote boekenmarkt te organiseren. Ik rook mijn kans. Al bij het krieken van de dag, toen de meeste handelaren met de slaap nog in hun ogen bezig waren met uitladen, vervoegde ik me de stalletjes en pluisde uur na uur alles na. Om vier uur in de middag, toen mijn voeten zwaar waren en mijn ogen brandden, had ik nog niets gevonden. Ja. er was een handelaar die tegen een exorbitant bedrag een biografie van Ian Botham trachtte te slijten, en ook zag ik The Faber book of cricket dat ik al in duplo had, maar oude boeken, ho maar. Snakkend naar een ijskoud biertje waagde ik nog een laatste wanhopige poging. Het was bij een stalletje waar van alles lag. De handelaar die met een nat shagje in zijn mondhoek achter de tafel stond, maakte niet de indruk dat hij een zeer voorspoedige dag achter de rug had, maar zijn ogen lichtten op toen ik hem vroeg of hij misschien oude cricketboeken in de aanbieding had. 'Ja ik heb er een,' zei hij zonder het tabaksstaafje uit zijn mond te halen. 'Misschien is het niet veel bijzonders, maar kijk zelf maar even.' Hij bukte zich en haalde uit een doos onder de tafel een kleine rood boekje waarop in zwarte letters 'Cricket' stond en ook de naam van de uitgever: Edmund Routledge. Snel, en zonder aan afdingen te denken, telde ik de verlangde zestig gulden neer en ging aan het bier, mijn pas verworven schat in mijn hand geklemd.
Nadat ik enig onderzoek had verricht, bleek mijn aanwinst te stammen uit 1862. Het is een zogenaamd 'Six Penny Handbook' dat van een inleiding is voorzien door de uitgever. Die laat zich van zijn nobele kant zien door te melden dat hij weliswaar met zijn goedkope uitgave niets nieuws brengt, maar dat hij cricket in ieder geval toegankelijk maakt voor de massa. Zelf is hij ook een verdienstelijk speler geweest waardoor hij kan bevestigen: 'that all the matter it contains, wether of principle or practice, have been tested in my own play and experience on many a hard-fought field.' Het is duidelijk dat hij dit 'cheap and handy book' een grote verspreiding toewenst. Prijs geen bezwaar hoor je hem denken. Hoe weinig kon hij bevroeden dat 127 jaar later een Hollandse cricketliefhebber een veelvoud voor zijn editie zou betalen.
H.O.