Clubblad Amsterdamse Sportvereniging VRA
---
How's That verschijnt tijdens het cricketseizoen wekelijks
---
Voorwoord
De liefde zat al vroeg diep. Ik herinner me nog goed hoe een goede vriend die in het bezit was van een Sky Sports abonnement me belde met de mededeling dat de West Indies misschien wel een volstrekt onverwachte overwinning tegen Australië uit het vuur zouden slepen. Of ik zin had de apotheose van deze nailbiter te zien? Nou, dat had ik. Ik sprong in mijn auto en snelde van mijn toenmalige woonplaats Deventer naar het Veluwe-dorp waar mijn vriend op me zat te wachten. Samen bekeken we de laatste twintig overs van wat een echte klassieker zou worden, Als mijn geheugen me niet bedriegt, waren het de twee brothers in arms, Courtney Walsh en Curtly Ambrose, die nu eens niet als bowlers, maar als batsmen hun team over de eindstreep loodsten. Het spreekt vanzelf dat mijn vriend en ik onder het genot van een heerlijke whisky heel wat stof hadden voor een lange nazit. Mijn terugweg naar Deventer was enigszins in nevelen gehuld, maar ik kwam heelhuids over en soesde even later heerlijk weg met C. en C. op mijn netvlies.
De tijden dat de West Indies dergelijke heroïsche daden op hun naam brachten, ligt al weer geruime tijd achter ons, maar toch heb ik altijd als ze voor een belangrijke wedstrijd aantreden een sprankje hoop dat ze iets van de oude glorie zullen uitstralen. Zo hoopte ik dat ze aan de 321 runs die ze op maandag 17 juni tegen Bangladesh scoorden ruimschoots genoeg zouden hebben. Die hoop bleek ijdel. Hun tegenstanders hadden aan 41.3 overs voldoende om dit toch niet misse totaal te passeren. Op naar zaterdag 22 juni, de dag dat ze het op moesten nemen tegen Nieuw-Zeeland. Een zekere nederlaag leek aanstaande toen Carlos Brathwaite zich aan het front meldde, de man die ooit Ben Stokes 'vermoordde' door hem in de laatste over te trakteren op een regen van zessen. Ook nu leek hij op weg naar een sensatie. Maar helaas, in de voorlaatste over wilde hij iets te veel, zodat Nieuw-Zeeland won met vijf runs. Nadat Carlos aan de boundary fraai was gevangen door Trent Boult voelde ik een grote weemoed over me komen, maar al snel rechtte ik mijn rug. Ooit zal het goed komen met mijn helden, dat weet ik zeker.
Harry Oltheten
250ste wedstrijd Eric Szwarczynski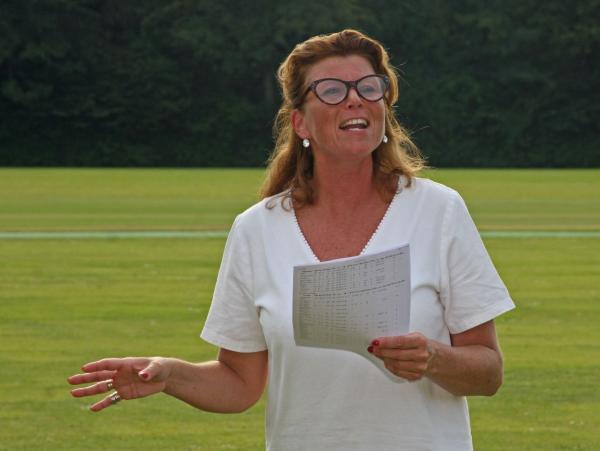 KLIK OP AFBEELDING OM TE VERGROTEN
VRA-voorzitter Dorien Rauwerda spreekt Eric Szwarczynski toe ter gelegenheid van diens 250ste wedstrijd in VRA 1
KLIK OP AFBEELDING OM TE VERGROTEN
Eric Szwarczynski bij de huldiging vanwege zijn 250ste wedstrijd
VRA 1 - ACC 1
Zondag 23 juni 2019
ACC 1: 231 voor 5
VRA: 149 all out
ACC wint met 82 runs
Ben wordt zeer gemist
Er vielen reeds betrekkelijk snel twee wickets, maar de ACC-ers lieten zich daardoor niet uit het veld slaan en marcheerden rustig door. Pas toen er 165 runs op het bord stonden, had de VRA-aanval weer succes via P. Rathore. ACC bleek daarna in de persoon van Jean Marais een echte rungetter in huis te hebben die snel doorstootte naar zijn verdiende century. Veel verder kwam hij evenwel niet, want Leon veroverde zij scalp toen hij zijn mijlpaal nog maar twee runs voorbij was (201 voor 4). Op het terras circuleerden op dat moment al totalen van rond de 280. Zover kwam het evenwel niet, maar 231 voor 5 was een redelijk, maar zo op het oog geen onhaalbaar totaal. Toch was het weldra uit het zicht doordat VRA en heel langzaam scoorde en al snel de wickets van Vikram (0) en Matt (6) verloor. Op dit moment werd Ben Cooper, die met het Nederlands elftal aantrad tegen Zimbabwe, node gemist.
Na tien overs vielen er maar 24 runs te noteren en was een versnelling noodzakelijk. Emile deed zijn best om die te bewerkstelligen, maar sneefde uiteindelijk na 38 verdienstelijke runs. De VRA-hoop was toen gevestigd op Pete en Eric, maar eerstgenoemde hield het bij 5 runs terwijl zijn maat slow but steady voortging. De 44 runs waarop hij uiteindelijk strandde, bleken bij lange na niet genoeg. Omdat de rest, zoals helaas vaker, weinig bijdroeg strandde VRA op 149. 'We won't relegate,'zei captain Pete na afloop. Ik help het hem hopen.
VRA2 - EINDHOVEN
VRA faced off ECC in their quest to add to their solo win this season. It was the hottest day of the summer thus far with temperatures reaching 29 C at its peak, it was so hot that some in the team took two coffee breaks driving to Eindhoven. ECC won the toss and to much surprise chose to bowl first. There were no umpires for the game so they wanted to see how the umpiring was to set up the rest of the game. VRA happy to bat first, started off very tentatively by losing 2 for 15 runs. Adil Ashraff joined Sudhakar Sharma who was still in having opened the innings and gave the innings some impetus before falling LB for 11. This left VRA at 42 for 3 on a pitch that offered variable bounce to the quicks off a good length. Keshava joined Sud and the duo added another 40 runs before Sud ended his vigil for 29 in the 32nd over leaving the team at 89/4. In walked Ashwin Oppu with 18 overs left to score and everyone wanting Oppu no more, but the real Slim Shady hitting some fours. And follow him we did, Keshava and Ashwin sped the score upto a 100 running quick singles and punishing any loose deliveries. Against the run of play, Keshava was caught out in a freak catch at cover attempting to pierce the infield for a well-made 32 and the team at 101/5. This spurred Shady and he unfurled his 360 repertoire, walking across nonchalantly flicking, disdainfully driving, salaciously slapping the attack around as if punishing ECC for separating him from his mate. For context, Vijay had joined him and they added 59 runs of which Vijay had scored a rapid 15 when Vijay was run out with 10 overs to go. Shadab Khan fresh from a break in Ibiza likes a party as much as any of us, and party he did at further expense of the ECC bowlers. If Shady seemed vengeful, Shadab was vicious plundering 29 runs and ensuring VRA reached 200. Shady finally fell for the innings top socre of 57, and a quick fire 11* by Nikhil took VRA to 226 with 3 balls to spare. VRA was content with this score in an oddly shaped ground, the ball behaving inconsistently off length and soaring temperatures at the break. It made for a tough run chase…or so we supposed.
VRA continued its momentum after the break as Harpret bowled a test match beauty to dismiss the ECC opener. Harpreet was not supposed to bowl today, but perhaps his lack of runs spurred him on, perhaps it was the lunch, either way a lot of parts were to be played in the ensuing run chase. At 1/6 VRA was confident of getting regular break throughs much has been the blue print of the season. ECC went on as if nothing happened and Kumar Singh took on the VRA bowlers regularly finding the boundaries, his partner happy to defend and rotate the strike they built on to 61/1 into the drinks break. Vijay rang in the change and introduced spin by bringing Shadab Khan in who struck immediately by removing Kumar Singh who skied him caught and bowled. KD was introduced and went for a few runs before picking up their third wicket at 93/3, Shahab was relentless with in his spell and prized out the fourth wicket immediately for no runs. The fifth wicket was taken by KD and at 94/5 and VRA were on top of the game. However, KD leaked a few runs and was removed from the attack, Sud came in and was attacked immediately and before you knew it, ECC had added 44 runs in the span of 10 overs. The game was brought back into the balance as the score read 136/5 and 20 overs left to go. A 90 more runs off 120 balls and a period absent of wickets and quick runs. With sweltering temperatures a much needed drinks break was taken, VRA needed a wicket and it had to be of the more aggressive batsman who had cantered 30* already from the 40run partnership. Sharad Hake, VRA's strike bowler who had bowled well so far with no results was brought in, first ball taken for a single to bring the more aggressive batsmen on strike. With the game in balance nervous words of encouragement rang in from the field, "cmon SHarad" "wicket time Sharad" "1 brings 2" chimed the keeper. Sharad sauntered in, hit the ball on length and the took off, the batsman who hadn't really faced Sharads pace yet leaned forward to offer a dead bat in line with the ball, in line to the right of the ball perhaps, in line with the outer edge kissing it like a mistress in love but abandoning it for the greener pastures in the safe hands of Vijay at first slip who snapped it up to his right and ran a celebratory run faster than Imran Tahir towards square leg. 137/6 and VRA was back in the game. Rahul "Ranji" Bhatt was brought in the other end and bowled in tandem with Sharad, however ECC buckled down and had another 20 run partnership before Rahul struck bringing the score to 154/7 off 34 overs. ECC once again had a fighting partnership, their nos 8 & 9 played sensible cricket with one striking away the bad balls and the other taking singles at every opportunity, within 6 overs they added another 30 runs. At this point VRA had to bowl ECC out as they only needed 33 runs off the last 10 overs. Yet another spark was needed, Harpreet Singh who was nursing his ailing shoulder was called upon to replace Sharad and he struck immediately hitting that difficult length and kiss another edge to break the partnership and get VRA back in the game at 194/8. With no 10 in, Shahab was brought back in to prize out 2 wickets in his remaining 3 overs, he struck in his penultimate over bowling out no 10 for 1 more run, 195/9. One more wicket kept VRA at bay, Shahab finished with outstanding figures of 10-0-36-3, but still left a job to be done. Nerves were at large as their no 8 and captain, Asim Khan had scored 26 runs and hit every bowler cleanly to score his runs. He played Sharad with ease, Harpreet was not a threat and the no 11 even hit out a boundary with the field up to protect the single. 199 on the board and Vijay turned to Rahul Bhatt again, the field was open enough for the single, Asim Khan now on 28* hit the first ball cleanly over cover for a boundary, killer focus in his eyes and an intent to win the game through.
However, "Ranji" had a different plan in mind, he wasn't going to go back home after a long hot day in the field, a cramping back, a sub par batting effort with only 2 runs to his name, awake since 7 am waiting for Sud to drive for 2 hours and think about what ifs, "what if I had hit a quick 50, this game would be dead" Creaking bones and all, Rahul pulled out a left arm bolt that thudded on length, THAT length which kept up and down, THAT length which Sharad and Harry and called up earlier, only this time in line with the stumps past any defense Asim Khan could muster and crash victory securely to VRA. 203/10 Best regards
Vijay
HCC Zami 1 - VRA Zami 1
It was a warm summer morning, as Vra Zami 1's headed to the Hague for the much anticipated rematch against our perennial rivals HCC. After a victorious home fixture 2 weeks earlier, we were confident of strengthening our grip on the title at the halfway point of the season.
In the absence of Captain Louis, Willem took charge and was satisfied when HCC won the toss and decided to bat first on a lush and long outfield with long, straight boundaries. It was a steady start. The opening 4 over spell from Danish allowing only 4 runs. The outswingers must have beaten the outside edge 10 times. Unfortunately the edges didn't come. As they built solidly, Andrew came on to bowl and with 2 wickets bowled (2/14), saw them slip from 39/0 to 52/2. .HCC has solid partnerships of 44, and 65 with their opener providing the glue. He was eventually bowled 66 as Prasuk took 2 wickets with his last 2 balls (leaving him on a hat-trick for the next game) and HCC made a competitive 170 after what turned out to be 40 overs with the assistance of our 29 wides.
Arsal and Ewoud confidently strode out to the wicket knowing that a run-rate of 5 per over would see us home. Unfortunately, the plan of the 2 top batsmen opening didn't quite go to plan as Arsal was caught out driving and Ewoud hooking - we were 2 down before 10 runs were scored. Richard was in at 3 and started to build a revival with Prasuk, until he was bowled after a steady start. After a run-a-ball 24, Richard was bowled trying to drive a full and straight one for 6. He must remember that his natural game is not always what is required. In the next hour, regular wickets fell as the bowlers shared the wickets apart from 2 run outs - one in particular involving Mike and Prasun who stopped for a chat in the middle whilst running, to decide who should run and in which direction. Unfortunately Mike was running to the danger end and the bails were whipped off. HCC batted sensibly and bowled well to a disciplined field. With only 2 batsmen making double figures we were finally dismissed for 83.
We all headed to the pavilion as Afghanistan fans cheering them to an almost Sri Lankan-style upset. Fortunately we still have a 2 point lead at the top of the table as we prepare for the strength of Hercules next weekend.
Go well......
Richard F-N
VRA5 vs HCC
In all the five matches played so far VRA5 had won the toss and batted first to set a target for the opponents. Eager to test their chasing skills, this Sunday they were made to chase by HCC after winning the toss and deciding to bat first.
The regular bowlers Goutam and Shubha started the spell. It seemed like a good toss to lose as due to the moisture we are getting the early swing. Subha removed the opener with great inswinging delivery and in the same over Hobby showed his brilliant presence of mind behind the stumps by a run-out on which batsman had no clue that he was out of the crease.Rakesh and Vishal continuing the attack also bowled well and did not allow the batsmen to score quickly. The captain who was anchoring the innings fell to the pressure created by dot balls by all the bowlers. After 2 more wickets, it was a brilliant second spell from Goutam who took the last 4 wickets to clean up the tail. HCC to 155 all out in 31st over. The bowling attack of VRA5 looked good and on target but the number of wides still remains an area of concern and which team needs to focus on.
Chasing for the first time this year, VRA5 was looking to stay focussed as we know a low scoring match can be tricky anyway. So we decided to play as we are used to rather than trying anything fancy.
Things did not go well as we lost Hobby in the very first over and then next Pavan, Atul, and Saurabh in quick succession. We were struggling at 31/4 after 10 overs but we had a belief that we can achieve the target as we bat quite deep.Now 156 was a real challenge from that moment.All we needed was to stay there and build a partnership to anchor the innings.Vivek and Deb started the restoration process quite well.Vivek tried to be a bit more aggressive gave up his wicket got out for a well made 30.Deb, on the other hand, was batting well in the middle with patience and playing each ball according to merit. Vikram joined him in the middle who showed great signs of composure and the duo accomplished the challenge by chasing the target in 29 overs. Despite failures from our top order, this was the first time our inexperienced middle order was tested and Deb played a match-winning inning of 63.
Shubha
VRA dames - Rood & Wit dames
On June 22nd we played our final T20 game before the finals, against R&W Ladies at their grounds.
It's always a bit of a challenge to reach R&W (something to do with small roads, bridges, a gazebo and generally underestimating the driving time), but we made it! Captain Hennis won the toss and decided to bat first during our first tropical match of the season.
Birgit and Sjoukje were opening, but unfortunately both left the field a bit too soon, as did Anne. Captain Hennis (17) decided to take up the challenge herself and built a nice partnership with the hero of the batting Innings, Carolien Salomons (60). With some runs and wides here and there we made a total of 113 in the first innings.
Start of the second innings we were wondering whether our total would be enough to defend…
Nathalie opened the second innings with some magical bowling (1-6 in 5), but the first wicket was taken by Gwen (2-8 in 3) with a beautiful catch by Katie (she does make fielding look easy). Two more wickets were taken by Birgit (2-8 in 3) – and yes, we're very happy to have her back as a bowler. The second innings were characterized by decent bowling (Lot, Anne, Haas and Sjoukje) and great fielding; especially by Vaisno, who played her first game for us yay! With two beautiful catches by Meike, we took a total of 6 wickets and they reached a total of 62 runs in their batting innings.
VRA won! That means we came second in the T20 competition and will be playing R&W in the semi-finals. The T20 finals will be held at VRA on July 6th , so please all come down to support your favourite ladies team (and we hope that's us)!
Quite the latest
Terwijl Eoin Morgan op 18 juni in zijn uppie 17 zessen sloeg, werden alle 11 dames van het nationale cricketteam van Mali samen voor in totaal 6 runs uitgegooid door Rwanda.
Mariam Samake was topscorer met 1 en er waren 5 extra's. Rwanda scoorde vervolgens 8 v. 0 in 4 ballen. Dit gebeurde allemaal op het Kwibuka-toernooi in Rwanda. In de volgende 5 wedstrijden kwamen de Malinaises tot 10, 14 (2x), 17 en 30 v.9(!). Daar zit toch wel een stijgende lijn in.
Maar hoe is cricket eigenlijk bij de gekleurde vrouwelijke bevolking op het Afrikaanse continent beland? En is de afbeelding op bijgaande ansichtkaart representatief voor de wijze waarop de gekleurde cricketvrouw begin 1900, in dit geval in Zuid-Afrika, werd gepresenteerd?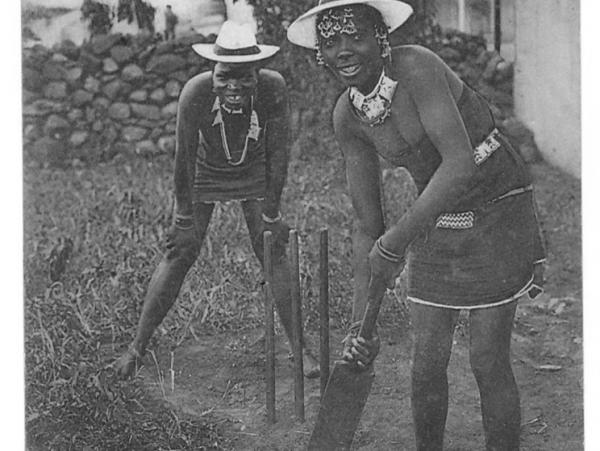 KLIK OP AFBEELDING OM TE VERGROTEN
Het eerste ooggetuigenverslag van vrouwencricket in Zuid-Afrika dateert van 1888. Harry Cadwallender, de latere secretaris van de Zuid-Afrikaanse cricketbond, schrijft over '…a number of the fair sex indulging in practice with the willow on the Pirates Ground in Kimberley and they showed they are possessed of not inconsiderable talent'. Of het hier om blanke dan wel gekleurde speelsters gaat, is niet duidelijk. Wel is het zo, dat de vroegst bekende cricketclubs voor gekleurde vrouwen in datzelfde Kimberley ( de hoofdstad van de provincie Noord-Kaap) in 1909 werden opgericht.
Maar de geschiedenis van het gekleurde Zuid-Afrikaanse damescricket gaat verder terug. In 'The story of an African Game' (2003) schrijft de Afrikaanse cricketgoeroe Professor André Odendaal op basis van zeldzame 19e eeuwse Afrikaanstalige kranten, familie-fotoalbums en interviews over een bewonderenswaardig rijke gekleurde Afrikaanse cricketcultuur. Die begon zo rond 1850. Aanvankelijk op missiescholen, later via village games en inter-town tournaments', maar niet op hoger of internationaal niveau. Dat bleef zeer lange tijd voorbestemd aan blanke speelsters.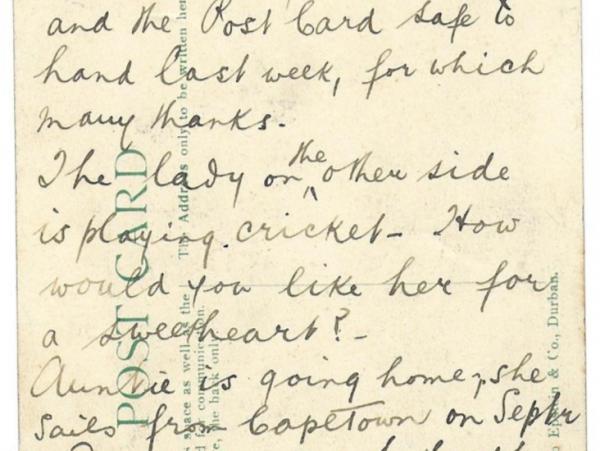 KLIK OP AFBEELDING OM TE VERGROTEN
De ansichtkaart, die Will op 25 juli 1908 vanuit Johannesburg verstuurt naar (neef?) Achille, die hij van plan is het jaar daarop in Parijs te bezoeken, roept bij de kijker toch een dubbel gevoel op. Zijn dit de dames, die rond die tijd in Kimberley CC of vergelijkbare clubs begonnen te cricketen en dan vanzelfsprekend door hun coach op een betere 'grip' werden geattendeerd? Of is dit ruim 100 jaar geleden allemaal in scène gezet? Een leuk toeristisch plaatje, met als tendentieuze titel 'Quite the latest', het laatste speeltje voor de expat rond 1900: 'How would you like her for a sweetheart?'
Zelf heb ik de keuze inmiddels gemaakt.
Tom Matena