Clubblad Amsterdamse Sportvereniging VRA
---
How's That verschijnt tijdens het cricketseizoen wekelijks
---
Voorwoord
In deze uitgave van de How's That zijn er maar liefst drie verslagen van de dames te lezen. Nathalie Hennis en Brigit Viguurs schrijven over de finaledag van het T20 toernooi dat zich 3 juni afspeelde op onze mooie club. Daarnaast heeft Hennis nog een leuk verslag geschreven over de wedstrijd tegen Ajax van 10 Juni. Tot slot kunt u lezen over de spannende wedstrijd van VRA 3 tegen Kampong 2 die gewonnen werd in de laatste over door...
Dit weekend wordt er uiteraard weer gespeeld met hout en leer. Het wedstrijdprogramma van komend weekend treft u aan op de home-pagina en u kunt de gehele agenda hier terugvinden.
Veel cricket plezier gewenst,
Thomas Pasierowski
Cancelled: T20 on Saturday 17 June
Gezien het drukke programma van het Ned. XI in de komende 2 weken heeft de technische staf van het Nederlands XI besloten dat het niet verstandig is als een aantal spelers de T20 wedstrijden van a.s. zaterdag gaan spelen. Dit bericht geldt onder andere voor vijf spelers van VRA. Gezien de grote hoeveelheid spelers van VRA heeft de KNCB besloten om de Twenty20 wedstrijden van VRA van komende zaterdag te verzetten naar zaterdag 1 juli. De agenda op de website is inmiddels hierop aangepast.
---
Due to the intensive program of the Dutch XI, the KNCB's technical staff has decided that it isn't wise for selected players to be involved in extra curricular activities (ie the Topklasse T20 competition). Because five VRA players have been selected for the upcoming tours and matches, it's been decided to postpone this Saturday's T20 matches to Saturday 1 July. The online agenda has already been updated accordingly.
Vrijwilligers gezocht! Volunteers needed!

Als door de ICC erkende A-locatie in Nederland krijgt VRA uiteraard weer een aantal (internationale) wedstrijden van de Nederlandse selectie te organiseren. Voor iedere wedstrijd zijn er minimaal 12 vrijwilligers nodig om de ground crew te bemannen. Alle hulp is welkom om deze wedstrijden in goede banen te leiden. Het is telkens de hele dag vanaf 8:00 uur tot 1 uur na het einde van de wedstrijd en vrijwilligers ontvangen per dag een onkostenvergoeding. Vrijwilligers kunnen zich aanmelden bij Peter van Gulik via penningmeester@vra.nl. Het betreft de volgende dagen:

As the ICC approved A-location in Netherlands VRA will of course host several (international) matches of the Dutch selection. For each match a minimum of 12 volunteers are needed as ground crew. All help is more than welcome to assure that these games run smoothly. Every day will be from 8am until an hour after the match has finished and volunteers will receive a compensation for expenses. Volunteers can sign up with Peter van Gulik via penningmeester@vra.nl. The matches are on the following dates:

MON 12-6: ICC Europe, EK divisie 1 round 3
TUE 13-6: ICC Europe, EK divisie 1 round 4
TUE 20-6: Nederland vs Zimbabwe (ODI 1, 50 overs)
THU 22-6: Nederland vs Zimbabwe (ODI 2, 50 overs)
MON 10-7: Nederland vs UAE (ODI, 50 overs)

Met vriendelijke groet / Kind regards,

Peter van Gulik
Match report: VRA 3 vs Kampong 2, 11/6
VRA 3 had an away game at Kampong 2 (Utrecht). VRA 3 captain Ashwin won the toss and elected to bat first. Team didn't get the ideal start with Keshava getting out LBW off the first ball of the match without troubling the scorers. Viju and Piyush stabilized the innings before Piyush was adjudged LBW on a ball that apparently seemed to be pitching outside the leg stump. (Score 36-2) In went Shadab, and both the batsman played some solid shots getting maximum value for the shots on a quick outfield. In the 19th over at 78, Shadab went for a sweep shot and top edged it to the fielder. VRA 3 was now struggling at 78-3 and it got worse with JD falling soon after (swept directly to fielder) and Viju who was playing brilliantly, played a tired shot and got out at mid off. VRA 3 was now in a difficult situation at 83-5 now. Ashwin was now joined by Avnish, and the two batsman showed how to play on a tough pitch, by playing amazing shots in the gaps and scampering for 1s and 2s. Ashwin showed the myriad of shots he has in his armory both on and off side of the field. Avnish too played some brilliant shots and with these two on the crease dressing room was breathing easy. Avnish in an attempt to get a single and rotate strike which these two were doing pretty well, gave a catch back to the bowler. Score was at 138-6 in 31 overs. Harry joined Ashwin, but got run out. Ashish and Ashwin kept the battle on and kept scoring in the midst of losing wickets. Ashish was looking good but got cleaned up on a slower Yorker, Nikhil now joined Ashwin, and while wickets were falling on one end, Ashwin kept hitting boundaries on the other end, he played some wonderful scoops and flicks. Nikhil went in and hit a smashing boundary on the off side. Ashwin who completed his 50 and helped the team to recover finally got out in the penultimate over and sharad also went out cheaply and VRA 3 managed to post 198 on the board.
Kampong 2 didn't start the chase easy with Sharad and Thapa firing on both ends. A lot of play and misses on both ends, but VRA 3 was not able to pick a wicket. Sharad bowled his heart out in the first spell but was unlucky not to pick a wicket due to dropped catches. Shadab broke the opening partnership at the team score of 70. Few close LBW decisions went Kampong's way and soon they were at 139, when the second opener got run out. Kampong still needed 5 runs per over and VRA 3 had got their feet in the door with the second wicket. Just 4 runs later, in an attempt to increase the rate, new batsman scooped one and got out caught at mid off. Sharad finally got rewarded for his brilliant bowling on the day. Now VRA 3 was really into the game but made some important fielding errors in a game that could have gone either way, towards the end, Anvish and Shadab both picked up another wicket, but was a bit too late. Kampong 2 won by 5 wickets with 1 over to spare.
Match report: Dames vs Germany, 3/6 (home, T20 final day)
3 June the day of the T20 Finals, I hear the national anthem in the back of my head... the first game is against Germany. They arrive early to do the warming up, we are standing at the balcony to have a coffee. A big difference in preparation, but we also knew that it was going to rain and we probably wouldn't start at 10. So we had some more coffee... the rain came and went and we where also preparing to get started.
Nathalie won the toss and decided to field first and opened the bowling with Icara, the first wicket fell after 2 runs. That feels good, there is something about playing against Germany, we were fielding well and some got overexcited in their encouragement:-) Like hysterical shouts of 'bowler' or 'keeper' in case of a run out. After 16 overs they had 97 runs, Kanishka and Icara both taking two wickets... Well done!
Then we started batting. Germany has some bowling skills so it was hard work, Maartje and Nathalie went out very fast and I was in with Sally. The total was not that high but still we found it difficult to score runs until Sal thought 'okay lets do this' and with some beautiful batting and running we did win the game. Finishing it in style with a relieving six and four we were in the finals of the T20 tournament.
Now we wait until 5 to start the second game against Quick Haag,
Birgit Viguurs
Match report: Dames vs Quick Haag, 3/6 (home, T20 final day)
VRA dames T20 finale game against Quick Haag 3rd of June 2017
The exciting finale day, almost all the cricket playing women of the Netherlands gathered at VRA this saturday. It was a good atmosphere, even when the morning started with rainfall, all the games would be shortened so that the finale game would be played at 17.00 and the full 20 overs. After a tight game with Germany we took in some sun before our game against the Quick Haag women.
Time to toss, I lost, because I was so unbelieving of it, I forgot what the decision was and had to find captain Robine to ask what we were gonna do the first innings. Great start of the game no? Haha. We would start with the bat.
Birgit and Katie opened for us, Quick Haag was bowling well and fielding well, also great field placement. We had a challenge ahead of us, but we were excited to face it. After Katie got c&b it was Lot's turn, meanwhile Git was keeping steady. Then Lot got bowled and Maartje got in. Git got bowled with the total on 47. Me and Maartje were in, Maartje hit a few nice boundaries. then I got super strangely run out with the bowler between me and my crease... never knew that was a way to get out. Shows you how cricket can surprise and teach you every time you play it. To be honest, I was SUPER bummed out, but enough about that. Meanwhile Sal and Lotte were in, Sally was hitting the ball around, Chavvi, Cat, Icara and then Saskia supported her in the middle. Quick Haag played very well, we got to a total of 101-9-20. ( Git 26 runs, Sal 23 no)
Time to get ready for our fielding innings, we did so well the first game today but the total put some pressure on. But you know... it only takes 10 balls to get the opponent out, so let's see what the second innings would bring :)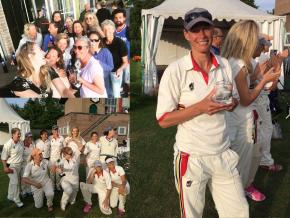 Running in with a tennisball-sized-anckle was my personal challenge of the day haha. The team was doing very well in the field, in the 4th over we got one of the opening batsmen run out. Go team! In the 11th over Sassy stumped Helmien on Chavvi's bowling, she left the field with a bangin' 43 runs. Cat Brown, our new VRA addition played her first game today. Welcome to the team! Cat bowled a beautiful wicket and on my bowling Lotte took a beautiful catch. In the 17th over the Quick Haag ladies got to 102 runs and they won this finale game. (Nathalie 1-20, Cat 1-22, Chavvi 1-23)
I have to say, we bowled and fielded really nicely, with more runs on the board it could've been a much tighter game, but Quick Haag really played beautifully. So congrats on your first place the T20 competition. See you next year, we'll bring it!!!
Afterwards we got presented with the runner's up cup. After winning 5 out of 5 of the T20 competition games, but losing the finale we became 2nd, very proud of my girls!! Great team effort. Also our Sally, aka Supersal, got presented with player of the competition trophee for her amazing overal performance but especially her batting innings with an average of 204*. She got that boom-boom-that all the bowlers faces- hits all the right balls in all the right places. ( one of our toursongs, one day you might hear it, it's beautiful)
Liefs Nathalie
Match report: Dames vs Ajax, 10/6 (away)
10th of June, 40 over competition, Ajax, here we come!
First challenge of the day, getting to the game on time, I was an hour early on the meeting spot but then managed to -thanks to a big hurd of honking trucks- get to the game 20 minutes before starting. Saskia drove me straight to the ground for a quick toss, won it, YES, time to get ready to field our first 40 over game of the season.
Icara and I started the innings off with the ball. Keeping it nice and tight, TOIGHT, Icara bowling maidens, Sassy keeping it tight behind the stumps, which led us to the first wicket in the 7th over with the total on 6. Go team, good energy on the field and good backing up and throwing. Lot and Kanishka took 1st change, they were bowling really nicely and the field was backing their bowlers. Lot took a quick 2 wickets (2-16-7). The ball went up and Gitje took a lovely catch in the slips and Katie took this amazing catch on midwicket. Simon will be so proud of us! 2nd change were Lotte and Sjoukje, time for them to shine. Just want to mention how lovely it is to have our beloved Sjoukje on the field with us, her bowling skills and energy are the best in a 40 over game haha. Our teamTOKs also have a great effect though, positive thinking and making a lot of noise, we have to tok to eachother to keep eachother focussed and cheerful you know :) Lotte was bowling magical balls, making the batsmen move which led to a great run out in her overs. After the 40 overs they got to a total of 126-4 and Pietje went of retired hurt, hope your knee gets better soon!! Nathalie 1-18-9 / Lot 2-16-7 Big shout out to Isa who came for the first innings before her evening shift. Thanks, great team spirit!!
After a really good lunch, pastasalades, fruitsalads, chocolate brownies, we were too full to play the 2nd innings. We had to though haha.
Katie an Git had the honors of opening the batting innings. Two quick unfortunate events saw Katie and Kanishka leaving early, but Git(31) stayed strong and steady and together with Lot got the total to 46 in the 16th over. I showed my face briefely, then Sal and lot were in. Sjoukje took over from Lot and Sjouk(13no) and Sal(42no) batted out the innings. We made it to 127 runs in the 33rd over.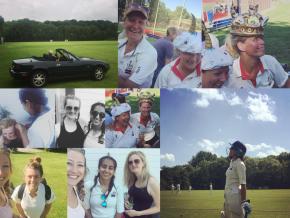 Later on we had a great time with the Ajax women, great hosts, we also crowned Sal as player of the match for her great batting innings. Lot won the Outstanding Fielding Performance Unicorn for her bowling. Then Kanishka showed us her outstanding braiding skills, so katie could go home all fierced and braided up. I propose next time everyone comes early and we use that hour early for teambraiding haha.
Next game is the 24th of June away at GroenGeel, there we're happy to have Gwen Bloemen join us for her first game this season. Jeeeh!! Also, Katie and I took some time to provide the VRA women with awesome hoodies and also the planning for the 2017 tour to the UK is in full progress under the wings of Sal, Lot and Katie and a bit of me :) End of update.
Have a great week everyone!
Liefs
Nathalie & the VRA ladies
Column door Harry Oltheten, deel 7: De Golden Duck
Een golden duck
Sommige wedstrijden zijn zeer beladen, andere een beetje, en weer andere gaan om des keizers baard. Zuid-Afrika-Pakistan op 7 juni gespeeld op Edgbaston in Birmingham behoorde tot de middencategorie. Zuid-Afrika had zijn eerste match tegen Sri Lanka goed gespeeld en gewonnen en Pakistan had er tegen aartsrivaal India weinig van gebakken. Op Safraz Ahmed en zijn mannen rustte dus enige druk terwijl Zuid-Afrika's captain AB de Villiers de zaken redelijk ontspannen kon bekijken. Per slot van rekening stond zijn team nummer 1 in de eendaagsen lijst en Pakistan nummer 8. Hij zal dan ook een beetje verbaasd zijn geweest toen hij een herboren Pakistaans team tegenover zich vond. Niets geen 'lacklustre performance' zoals tegen het buurland, maar afwisselend pittig en sluw bowlingwerk. Gelukkig voor de Proteas overleefden openers Quinton de Kock en Hashim Amla aanvankelijk, zij het nipt, reden voor de commentatoren om een lange lofrede op de capaciteiten van laatstgenoemde af te steken. Als je hen mocht geloven was hij nagenoeg geniaal. Hij was goed tegen slow bowlers, hij wist wel raad met het snelle werk, hij kon de bal subtiel wegtikken of voor zes het veld uit rammen. Hij kon… Hier stokte het commentaar even want precies op dat moment verkeek hun held zich op een lepe delivery van Imad Wasim en was plumb lbw. Ai, dat was pijnlijk. Zestien runs, ver beneden zijn waardigheid. Faf du Plessis kwam in en schraapte samen met De Kock wat runs bij elkaar. De commentatoren, enigszins bekomen van de schok, begonnen nu De Kock de hemel in de prijzen. Wat een talentvolle speler was dat. Zoveel brille zag je niet vaak. Zie hij stond al weer op 33. Dat hij niet verder kwam veroorzaakte opnieuw een stilte in de commentaarcabine. Daar zaten ze opnieuw behoorlijk naast. Maar goed nu kwam Abraham Benjamin de Villiers en op AB kon je altijd rekenen.
AB volg ik altijd extra opmerkzaam vanwege zijn vriendelijke voorwoord bij Rood leer op wilgenhout. Menig topcricketer zou een verzoek van twee cricketmaffe Hollanders om een inleidend stukje te schrijven voor hun interviewboek minachtend terzijde hebben geschoven maar AB ging erop in. Sterker nog, hij leverde per omgaande een aardige tekst. 'Ek is baie bevoorregt,'schreef hij, 'dat ek Suid-Afrika al in vele kontinente en toernooie kon verteenwoordig. Krieket het my na plekke geneem wat ek nooit sou gesien het nie, was dit nie vir my kolf, bal en handskoene nie.'
Natuurlijk wist ik dat AB de laatste tijd niet in sprankelende vorm was, maar ik was er toch van overtuigd dat hij in de strijd om de ICC Champions Trophy zou gaan schitterende. Pieken echte toppers niet altijd op het juiste moment?
En daar stond hij dan voor het hekje dat toegang gaf tot het veld. Het ging niet meteen open, maar na wat gemorrel kon hij toch het gras betreden. Daar deed hij wat bijna alle cricketers doen die zich opmaken voor iets groots. Hij tikte een paar keer met zijn hakken zijn billen aan, beklopte met zijn bat zijn legguards en oefende even de perfecte off drive. Dit alles nam een meter of vijftien in beslag. De rest van de afstand tot het wicket schreed hij. Aan alles was te merken dat hier een heerser aantrad. Niet iemand die genoegen zou nemen met twintig of dertig runs, maar iemand die alleen tevreden zou zijn met een snelle, kansloze century. Iemand die zijn team naar een veilige haven zou loodsen.
In het midden aangekomen tikje hij nonchalant met zijn vuist die van Faf aan en posteerde zich toen voor de palen. Daar keek hij even rond waar de fielders stonden en wachtte af wat Imad Wasim hem te bieden had. Dat leek niet veel bijzonders, veel meer dan een loosener
was het niet, zo leek het. AB maakte zich op voor zijn eerste boundary maar vond, helaas voor hem, Mohammad Hafeez op zijn weg die een van de makkelijkste vangen uit zijn loopbaan op zijn naam bracht.
Je zag het van verre aan zijn houding. Nog nooit was hem dit overkomen. Meer dan tweehonderd one-dayers overvol runs had hij gespeeld en 33 jaar en 110 dagen had hij op moeder aarde vertoefd, en dan nu deze totale afgang. Een golden duck, uit op de eerste bal die je ontvangt
Ik moet zeggen dat hij zijn lot waardig droeg, maar in stilte moet hij hebben geleden. Vlak voor het hekje dat hem naar de trap die naar de kleedkamer leidde zou voeren maakte hij aanstalten om zijn helm los te maken. Heel even leek het erop of hij het volk een smartelijk vertrokken aangezicht zou tonen. Maar hij bedacht zich. En zo was het goed. Een gevallen held blijft een held.
AB de Villiers, de man die de snelste vijftig scoorde in een one-dayer (in 16 ballen) en de snelste honderd (in 31 ballen), zal er wel weer bovenop komen. Voor mij lag dat in mijn ultrakorte actieve cricketcarrière wel anders. Die carrière duurde precies een wedstrijd (wel in de toenmalige hoofdklasse) en een bal. Uit op de eerste en enige bal die je ooit in de enige wedstrijd die je hebt gespeeld te verwerken kreeg. Daar moet nog eens een naam voor worden gevonden. Het gevoel dat me beving toen ik het veld afliep valt moeilijk te beschrijven. Iets als een kruising tussen The loneliness of the long distant runner en Der Angst des Tormanns beim Elfmeter. Want eenzaam voelde ik me. Die angst bleek trouwens ongegrond. Mijn teamgenoten staken niet de gek met mij aan zoals ik had verwacht maar deden gewoon alsof mijn optreden nooit had plaatsgevonden. En dat zou maar beter geweest zijn ook.
Harry Oltheten