Clubblad Amsterdamse Sportvereniging VRA
---
How's That verschijnt tijdens het cricketseizoen wekelijks
---
Voorwoord
Het seizoen is nu in volle gang en het weer is er ook steeds meer naar. Kijkt u maar eens vandaag naar buiten en bedenkt u dan dat dit weer de komende dagen zeker zal aanhouden. En dat treft, want komend weekend staan er een hoop thuiswedstrijden op het programma waar u een grote diversiteit aan VRA team kunt komen bewonderen en aanmoedigen.
Morgen, zaterdag 27 mei, staat allereerst de Topklasse derby tussen VRA1 en ACC1 op het programma. De ploeg van captain Peter Borren zit bomvol met jong talent en doorgewinterde routiniers en heeft van de afgelopen vier wedstrijden er drie naar zich toe kunnen trekken, maar zijn onze jongens bestand tegen de familie Zulfiqar en consorten? De wedstrijd begint om 11:00 uur op het prachtig geprepareerde hoofdveld van VRA, dus komt dat zien!
Morgen is er ook nog een andere indrukwekkende derby op VRA, namelijk the Clash of the Woods: de strijd tussen Zami 1 en Zami 2. Hoewel het er wellicht wat gemoedelijker aan toe zal gaan dan op het hoofdveld, zal het fanatisme er niet minder om zijn. Weest allen voorbereid om een hoop gezelligheid en een overvloed aan versnaperingen na de wedstrijd op het bordes!
Op zondag is het vervolgens in de ochtend eerst de beurt aan de verschillende jeugdteams en spelen U11-1, U13 en U15 thuis. Vanaf 9:00 uur kunt u komen kijken naar de talentvolle spelers die over een paar jaar mogelijk hun opwachting zullen doen in VRA1. Ander, ietwat minder jeugdig meer, talent in de vorm van VRA2 en VRA4 vanaf 13:00 uur. Deze beide senioren ploegen hebben een goede start van de competitie gehad, maar uw aanmoediging zal zeker helpen om die lijn door te zetten.
Kortom, veel om dit weekend naar VRA te komen! Veel plezier en geniet van de zon en het spel!
Tobias Maessen
Secretaris VRA
Match Report - Round 2: VOC vs VRA
After a close loss to the defending champions the week before, the Fluffers were determined to find their first win of the season away in Rotterdam in week two. Inclement weather washed out training on match eve, and with plenty more rain forecasted for game day there was forbidden fruit in the offing. Wisely though, the jongens elected not to play a rain card, and arrived at VOC fresh and raring to go. The Fluffers had been handed a huge boost the night before, with gun bowler Fred "105kph Trent Boult" Klaassen passed fit by the VRA medical team. Along with confounding Fantasy League managers around the country, Klaassen's appearance in the warm up surely sent a ripple of fear through the Friends' batting line-up.
They didn't have to wait long to have their fears realised. Skipper Borren won the toss, elected to bowl, and Klaassen and fellow red Quirijn "Ned" Gunning set about dismantling the VOC top order with ruthless precision. It was an immediate resumption of last season's demolition, as Gunning quickly removed both openers and Klaassen did the rest, removing all three of VOC's pretty boys with superb deliveries, the highlight being the inswinging seamer that removed Pieter Seelaar's middle stump. Quickasaflash the opposition were 5-32, and with a very brittle looking tail last season's 39 all-out was in danger of being outdone. However a KNCB limitation on Klaassen's overs, some extreme uncoordination from the 'keeper, and a valuable rearguard 35 from Jelte Boomheim led a partial recovery that eventually saw the home team to 125 all-out. A less than imposing target despite the unpredictable nature of the pitch.
Perhaps there was something in the lunchtime broodje kroket, or the Red Bull, but with rain in the air and the prospect of some silkies the Fluffers set out like they needed the runs in five overs. First Mitch "give yourself a chance" Lees played a shot that would have embarrassed a 12 year old, then Ben "two fantasy league teams" Cooper lost his off pole in the same over, and the score was 2-7. A long period of rain and a brief period of consolidation followed, but when Vikram "Fig Jam" Singh chipped a catch and Peter "I need to plan my post-match activities more carefully" Borren took a questionable option, the Fluffs were 4-37 and behind the Duckworth-Lewis par target.
Fluffers fans would have been worried if Inzamam ul-van den Burg hadn't strode to the wicket to join the immovable Eric "Zoolander" Szwarczynski. The contrasting pair proceeded to make the rest of the chase look like they had a bet on who could score the most runs. With a 20 run head start Zoolander looked the favourite, but Inzamam had other ideas, and used Zoo's struggles against the accurate Bobby Hanif to narrow the gap. Zoolander whipped out his trademark sweep to maintain the advantage, but Inzamam hit back with three consecutive boundaries to tie it up at 41-all. It wasn't to be for Inzy though, as a faint edge sent him packing and allowed Szwarczynski to take the Fluffers home, bringing up his half century - and 25 bonus fantasy points - in the process.
Though not without its moments, in the end it was another comfortable victory for the Fluffers over the Friends, and takes the winning streak over our favourite rivals to four. Next up, the Fritzls at home in the Bos this Saturday. The first wicket is scheduled for 11:02, so don't be late!
Go the Fluffers!
Match report: Dames vs Germany (20/5, home)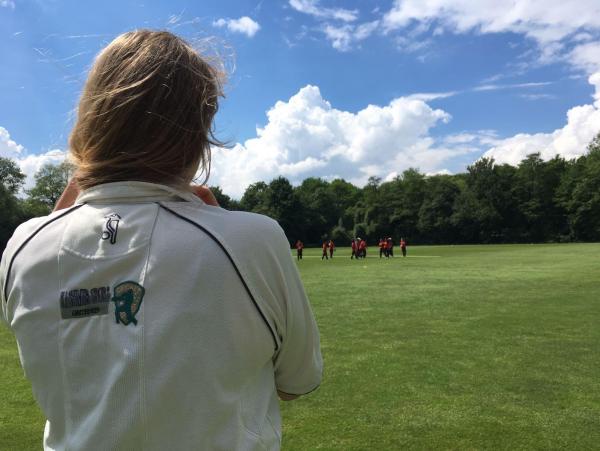 VRA ladies take on the Germany National squad, a nailbiting T20
20th of May 2017, VRA
YAY, another home game, wet ground and honestly a bit of a clueless captain. Should we bat or field, there was something to say about both and the situation of an unknown opponent was making my head twirl on the early morning, all very exciting though. Luckily Germany took that decision of my hands during the toss, fielding it was. The umpires told us that Germany is a strong side and while we were having a coffee, their team was warming up. It looked good and we are amazed by the long travels they had to go through to get to our 10.00 game. We were getting ready and pumped to bowl and field with full focus. Everyone was fielding really good, we did give away a fair amount of wides - oops - giving Simon something to focus on coming week haha. First wicket fell by Chavvi, with Sassy getting a beautiful caught behind. Chavvi bowled a great 1-18. The 2nd wicket was a great run out, by quick fielding and good throwing. The 3rd wicket was a catch by our awesome Sally and bowler Icara with the eyes as clear as pools that make you just want to jump in, who was bowling greeat!! If we forget about the first over, she had the amazing figures of 1-5. Katie and Lotte were being a unpasseable wall on point and midwicket all day long. Solid, very solid fielding ladies.
Meanwhile Haas and Maartje were bowling wonderfully, Kanishka clean bowled wicket number 4, getting 1-14. I got the last wicket in the last over, getting 1-12.
After the first innings Germany got to a total of 107-5, with us politely giving them 43 extra's. They didn't get a lot of off the bat by tight fielding and we didn't let the short tropical rainfall mess up our focus. Good work. Time for the 2nd innings, Maartje and Katie opened the batting. Maartje started up with a bang-bang and then let me give it a go, Katie was doing amazing, me less so. Sal took over because I put my leg inbetween the ball and the wicket -not good. The German team was really tight in their bowling, way less giving then us haha, fair enough. The fielding was also tight so we were facing a challenge, 6 runs an over, but the first few wickest went down soon. Katie supported Sal till the 5th over and it was Lot's turn. With the total on 27-5-3, we were all eyes on the batsmen. They did so well, it was only after a 41 partnership with the total on 68 that Lot got out. Time for Sassy to go in, two experienced players in, Sally being warmed up, but Germany still keeping it tight in the field, they were slowly but steadily scoring runs. Getting quick 1's and finding runs in the gaps. Saskia's wicket fell with the total on 93 after 17.3 overs. It was getting close, we're nervous and excited at thesame time. Time for Icara to go in. We needed 13 runs of the last 12 balls.
First a dot ball, then 2 runs, then a 4, a wide, another 2, a wide and a single. Sal and Ica were on fire. A slight sense of relief, but still it wasn't over. Bowler number 2 came on, dotball, and then BOOOM Sal hit a 4. Getting us to a total of 110, to win this very exciting T20 of the last over!
This game was a lot of fun, nerve wrecking at times too, but great to have such a tight game... and then ofcourse win - go team! The rest of the day we were celebrating the win, checking out the 1st men's game and the zami game on the 2nd ground. All VRA teams won their homegames last saturday. Great sunny day at the club, ending even with a little dance at the 1890 for some of us. Feels like the season officially began.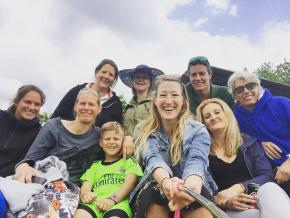 Next up is Rood&Wit, the last T20 game before the Finale day at VRA the 3rd of June. That will be great fun, see everyone there!
x Nathalie
I hope you'll excuse me for the amount of long sentences, spelling and comma's, I was in a hurry writing this.
Match report: VRA3 vs HMS (21/5, away)
Good toss to lose and a good match to win!!
VRA3 vs HMS on 21-05-2017
A bright sunny day, a new opponent and an unknown ground. The team had pooled in two different cars with a bike following it towards the ground. The pre-match discussion before reaching the ground suggested that the team should bat first winning the toss as the stats proved that the opponents were good at defending whatever total they put up. The ground was one of the smallest that we have played. The power play rules required only 2 players to be outside the 30 yards but the square boundaries were at about 36.3 yards. Now there were doubts whether we should indeed bat first winning the toss. It turned out to be a good toss to lose and we were asked to field first.
Ram opened the spell with five dot balls, the defensive push off the last ball resulted in a boundary. Thapa from the other end struck immediately, plumb in front of the wicket. This didn't seem to affect the opposition much as they came out with the only intention of clearing the ropes. Next few overs resulted in a flurry of boundaries. Score was 43/1 in 5 overs. Then in the 6th over of the innings from Thapa, Harpreet took a very good catch running towards square to take the skier and the immediate next ball the wickets rattled. Two back to back wickets. This didn't really change the mind-set of the opposition as they were always looking to score boundaries. Score was now 48/3 in 8 overs.
Sharad was brought into the attack from the other end. He probed the batsmen with different variations and was unlucky to not get a wicket in his spell. Pragam started quietly from the other end and got a wicket in his second over which was because of an excellent catch on the boundary by Keshav, the ball was travelling fast and flat towards him. Pragam in his next over took another wicket, this time Sud plucking the catch inches off the ground in the slips. Their highest scorer also fell to Pragram – bowled between his legs. Score was now 94/6 in 16 overs.
KD got a wicket in every over that he bowled. Good catches taken by JD and Keshav to complement KD's superb bowling. KD was the most economical bowler of the day. His figures were 3-0-2-3.
135 to chase never seemed improbable with a deep batting line up. Keshav and Sud opened the innings but perished soon. Keshav fell for an inside edge and Sud fell skying one. Viju fresh from his 93 from the previous match hit a nice cover drive but was caught in the gully region trying to play a similar shot. What went unnoticed in the melee was that Shadab at the other end was timing his shots perfectly and had scored a couple of boundaries.
Shadab was dealing more in boundaries than singles or doubles. It was a delight to watch him clear the ropes effortlessly. Sud was counting down the boundaries required to win and Shadab didn't disappoint to bring that count down. JD and Pragam couldn't hold the fort from the other end and were caught and bowled by the bowler in quick succession. Harpreet joined Shadab and made sure that there were no further wickets lost. The target was achieved in the 15th over. Shadab had scored 9 fours and 7 sixes in his score of 82 n.o.
Early finish gave the team an opportunity to cheer for the other VRA team playing in the VRA grounds. There we could witness a brilliant opening spell from Nikhil and Piyush who scalped 3 wickets, 2 excellent catches from Avnish and superb stumping by Jithesh. There was no doubt that the team would defend a the total of 205 easily which they did eventually.
Cheers,
Ashwin Oppu
Match report: VRA Zami 1 vs Groen Geel, (22/5, home)
Zami Match report: VRA Zami 1 vs Groen Geel
Date: Saturday May 22, 2017
Scores: Groen Geel 155 for 11, 35 overs. VRA Zami 1 156 for 7, 33 overs.
Result: VRA Zami 1 won by 5 wickets.
Last Saturday was an historic day for cricket. In March 1877 Australian cricketer Billy Midwinter was the first bowler in the history of Test cricket to take a five-wicket haul on debut, a so-called "Fifer". On 2 January 1879 the first test match "Hat-trick" was recorded. And on May 20th those of us who were lucky enough to be there witnessed the first ever Zami "Fifer Hat-trick Fortysomething Not Out", also known as a "Fifer-Hat-Forty-No". At least, it's the first that I have ever seen, and as Jean-Paul Sartre might have said, my perception is my reality. And adapting Winston Churchill, History will be kind to Zami's because a Zami is writing it. Ergo, this Zami declares that a Zami achieved the first the "Fifer-Hat-Forty-No" in the history of the game on May 20 2017.
But who was that Zami? Gary Sobers, Jacques Kallis, Kapil Dev, Ian Botham, Imran Khan, Shaun Pollock, Richard Hadlee, Shane Warne, and Andrew Flintoff haven't slept since Saturday because there is a new name among them about to trash their legacies. That name is Sud Sharma.
Yes, Sud Sharma is the man - nay the God, the Zami Deity - who gave birth to the Fifer-Hat-Forty-No. Practice saying the words: "Fifer-Hat-Forty-No"… and "Sud Sharma". The season is young, and while Sud Sharma is not, he has many more games ahead of him (once his quad muscle heals) and thus many more Fifer-Hat-Forty-No's coming on.
Yes, bowling with guile, accuracy and luck, Sud Sharma (5 for 18) ate alive on the pitch Wentges (14), Stapel (5), Klooster (6), Schwoll (0), and Wagter (8), the last resulting in the Fifer-Hat part of the historic Fifer-Hat-Forty-No. Only Nick ter Marsh (72) one of around seven ter Marshes to be playing that day, was able to resist Sharma's cricketing cannibalism, the eating alive of these Wassenaarians. And while Nick ter Marsh resisted cannibalism, he was the victim of fratricide as his brother gave him out LBW in a move not matched since Romulus killed Remus. Describing the rest is like describing what happened in the first three innings at Headingly 1981 before Botham's 149 not out, or the first three innings at Edgbaston 1981 before Botham took 5 wickets for 1 run. Which is to say, it's all irrelevant. Only one other Groen Geeler made double figures (P ter Marsh, 12); and the other VRA bowlers paled into insignificance by comparison (van Raaphorst 2 for 27, Debnath 2 for 13, Bisen 1 for 26, Collignon 1 for 19, van Mierlo 0 for 15, and my sorry self, 0 for 30). Groen Geel's total was 155.
Similarly, what happened in the second innings around Sud Sharma's 44 not out was also largely just filling in Sharma's iced cake. Mike Rier opened with a stylish 34 before falling to P ter Marsh (1 for 40). Julian Molenaar (3), Willem Van Mierlo (4) and Captain Louis Collignon (9) fell in relatively quick succession, paving the way for yours truly to prop up Sud Sharma with a partnership of 58 before falling with 21 runs to Bhattarai (2 for 45). This happened in the 27th over with the total at 124, leaving 32 runs to get in the last 7 overs. By this time, Gladiator Sharma needed a runner due to his strained quad, and it was a good job I got out because I could barely run either (and have hardly been able to walk since). [Note to self: in future, warm up and show up at practice before again playing for the first time in three years]. Floris Kappelle (run out for 0), Bisen (7), and Marnix Hazeweijer (1 not out) helped Warrior Sharma carry VRA over the line to victory with two overs to spare, leaving our hero free to wince and massage his pulled quad as he contemplated the history that he had made that day. Other Groen Geel bowlers ensured a close match: Sander Kempen (loaned to GG, 0 for 5), Lednor (2 for 19), P ter Marsh (1 for 40), P. Bol (0 for 37), and N ter Marsh (1 for 9). But ultimately they were overpowered by the Zamis.
Say the words again: "Fifer-Hat-Forty-No"… and "Sud Sharma". And remember the date: May 20, 2017.
Nick Fowler
Column door Harry Oltheten, deel 4: Schelden doet (geen) pijn
Het contrast kan niet groter zijn. Aan de ene kant een boekje van 37 pagina's vol cricketsonnetten van een zeer beschaafde heer en aan de andere kant een boek van viermaal die omvang gevuld met schuttingtaal en andere onwelvoeglijkheden. Ook de titels verschillen zeer Jacques van Gents gedichten verschenen onder de passende titel Bedacht, geregeld en gespeeld door heren en Liam McCanns geschiedenis van beledigingen en scheldpartijen draagt als titel The sledger's handbook, how to deliver the perfect cricketing insult. En alsof dat niet erg genoeg is, staat er een rood bandje op de kaft met de tekst 'Warning, this book contains language which may offend'. Omdat ik alles verzamel wat er op het gebied van cricketliteratuur en -lectuur verschijnt maken ze beide deel uit van mijn collectie. Les extrêmes se touchent.
Ik moet eerlijk bekennen dat ik bij mijn late entree in de cricketwereld dacht terecht te komen in een entourage vol goede manieren op het veld en erudiete conversatie en goed gekozen bon mots aan de boundary, kort gezegd der wereld van Jacques van Gent. Nu is het niet zo dat het absolute tegendeel het geval bleek, maar er bleken ook wat ruwere kantjes aan 'the king of sports' te kleven. Liam Mc Cann heeft daar een open oog voor. Sledging is het woord dat hij meteen introduceert en van een kleine toelichting voorziet. Het is voor hem de kunst van het verbaal intimideren van een batsman, bowler of fielder met het doel hem uit zijn concentratie te brengen. Het in gang zetten van mentale desintegratie, daar gaat het dus om. Het woord schijnt ontleend te zijn aan het gedag van de New South Wales cricketer Grahame Corling die zo subtiel schijnt te zijn geweest als een 'sledgehammer' (moker).
Sledging is van alle tijden. Hoewel vooral de Australische teams van de laatste decennia er berucht om waren, kon de aartsvader van het Engelse cricket, de bebaarde reus dr. W.G. Grace er ook al wat van. Hij voelde zich zo boven alles en iedereen verheven dat hij ervan uitging dat regels die anderen moesten eerbiedigen niet voor hem golden. Niet alleen met zijn mond maar ook met zijn hele houding tartte hij alles en iedereen. Bekend is het verhaal dat de Essex bowler Charles Kortright (de allersnelste in zijn dagen) een LBW appeal door de umpire niet gehonoreerd zag. 'Plumb,'zei iedereen, maar de dokter verblikte of verbloosde niet en gaf ook geen sjoege toen een forse nick door de keeper werd gevangen. Met zijn volgende delivery versplinterde Kortwright twee van de drie stumps achter Grace, die ook toen nog niet in beweging kwam, waarop Kortright de onvergetelijke zin plaatste: 'Surely you're not walking doctor? Why, there's one stump still standing.'
Natuurlijk laat McCann de controverses tijdens de beruchte bodyline-tour (1932-1933) niet onopgemerkt voorbijgaan, maar zijn meeste aandacht gaat toch uit naar de moderne tijd. Veel van de in dat deel genoemde spelers kan ik me nog goed voor de geest halen. Graeme Hick bijvoorbeeld (door McCann abusievelijk Graham genoemd). Die was altijd zo nerveus als hij naar het wicket liep dat hij onveranderlijk werd begroet met 'Braveheart' of 'So Graeme, what does your husband do when you're playing?' (deze laatste opmerking kent allerlei variaties – 'Does your boyfriend know you're here?' 'You'd better ring your mummy to tell her you'll be home by tea' etc. etc.).
Hebben bovenstaande uitingen nog iets met humor van doen, die is ver te zoeken in de kanonnades van vierletterwoorden waarin bowlers als Glenn McGrath (een ware kampioen in het genre) en Shane Warne excelleerden. Ik laat ze hier weg, niet uit prudentie, maar omdat ze getuigen van een bijzonder geringe herseninhoud. Slechts in een incidenteel geval heeft het
wel iets. Zoals tijdens een test tussen Australië en Zimbabwe. Aan het wicket stond de Zimbabwaanse nummer elf Eddo Brandes, een speler met een indrukwekkend fysiek en weinig batting capaciteiten. Nadat hij een fors aantal malen finaal langs de bal heen had gemaaid vroeg McGrath vilein: 'Oi Brandes, why are you so fat?' 'Because every time I fuck your wife she gives me a biscuit, ' riposteerde de aangesprokene. Daar had Glenn even niet van terug.
Tot slot nog twee uit de iets oudere doos. De Australische paceman Dennis Lillee uitte zich zo over de ijdele Geoffrey Boycott: 'He's the only fellow I've ever met who fell in love with himself at a young age and has remained faithful ever since.'
En de Australische wicket-keeper Rodney Marsh verwelkomde Ian Botham tijdens een Ashes Test in 1981 met een hartelijk: 'So, how's your wife and my kids?' waarop Beefy, ook niet op zijn mondje gevallen, antwoordde: 'The wife is allright, but the kids are retarded.'
Niet alles in The Sledger's handbook is nieuw. Vooral degenen die zich af en toe onderdompelen in de cricketliteratuur zullen passages tegenkomen die ook elders vermeld zijn. Toch heb ik enkele aangename uren doorgebracht met Shane, Glenn. Merv the moving moustache en Ian, al moest ik af en toe denken aan de charme van Bedacht, geregeld en gespeeld door heren van Jacques van Gent waaruit ik het volgende sonnet citeer:
LBW

De bowlers werpen, draven, worden moe,
outswingers bij de vleet, maar nauwgezet
wordt er verdedigd en gescoord, en hoe!
Nooit werd er met meer vaardigheid gebat.

Dan, plotseling, is er een heel gedoe,
en alle kelen worden opgezet,
geen twijfel mogelijk: LBW!!
Het hele veld brult: 'How's that?'

De umpire geeft om ons appeal geen sou
wij denken: hij heeft wéér niet opgelet
en wensen hem dus naar de bliksem toe,
maar wel in stilte, want zijn wil is wet

Zo gaat het ied're zomerdag, wel honderd keren
een hoop misbaar, maar toch, wij blijven heren.
Zo braaf hoeft het ook weer niet, hoor ik de lezer zeggen. Nee, natuurlijk niet, en voor The sledger's handbook komt dit beschaafde protest niet in aanmerking, maar het heeft wel een patina van lang vervlogen tijden waarnaar ik soms terug verlang.
Harry Oltheten
18 Juni IGC op VRA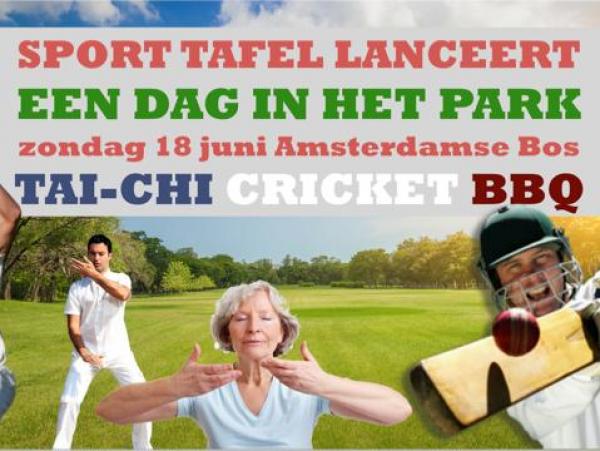 Zondag 18 juni 2017 - 12.30
Uniek Tai-Chi & Cricket Programma voor IGC leden en hun introducés.
VRA Cricket Club, Nieuwe Kalfjeslaan 21-B, 1182 AA Amstelveen (Amsterdamse Bos)
Tai-Chi Clinic
Ervaar de ontspannende werking van Tai-Chi. Kung Fu Master Paul Resnick laat je kennismaken met deze bijzondere contactloze vechtkunst. Misschien krijg je wel de smaak te pakken, net als miljoenen Chinezen. Supergezond, brengt het lichaam weer in balans. Draag gemakkelijk zittende kleding, lange broek voor de heren. Tijdens de les bij voorkeur blote voeten, maar sneakers mag ook. Kleedkamers beschikbaar in overleg ter plekke.
Cricket Clinic
Ontdek de geheimen van het edele cricket o.l.v. niemand minder dan cricket veteraan Floris Kappelle. Wellicht wat balletjes bowlen in de kooi, maar zeker genieten van topcricket tussen de eerste teams van VRA en HERMES
Fancy Blazer Funny Hat Competition
Cricket past bij IGC, dat merk je direct aan de ontspannen sfeer op het buitengemeen comfortabele terras van VRA, Nederlands oudste cricket club dat neerkijkt op een van Europa's mooiste cricket grounds. Met een ice-tea of G&T kom je de tijd wel door. We sluiten af met een Fancy Blazer Funny Hat Competition met in de jury stijlexperts Floris Kappelle & Sanne Salomons
Barbecue voor de liefhebbers
We rekenen natuurlijk op mooi weer en daar hoort een lekkere barbecue bij. Je kunt dit opgeven bij de inschrijving via de website van IGC.
Vrienden en introducés van harte welkom.
Deze activiteit wordt van harte aanbevolen door de Tafels van de Pyama's en Jong IGC.
Inschrijving
Deelname aan de clinics is geheel gratis. Let op! Omdat het een buitenactiviteit betreft dienen de kosten van de BBQ voor introducés als familie en vrienden door het IGC-lid te worden voldaan bij de inschrijving. Prijs slechts EUR 15,00 p.p. (via ledenpas). Overige consumpties ter plaatse afrekenen.
Programma indeling
12.30 Verzamelen clubhuis
13.00 Tai-Chi Clinic (60-75 min)
15.00 Cricket Clinic
18.30 Prijsuitreiking Fancy Blazer Funny Hat Competition
19.00 Start BBQ
Opgeven voor deze gelegenheid per email is mogelijk bij sanne salomons cricket@sannesalomons.org
Oproep: vermist!
Afgelopen week ontving de redactie van de How's That! een oproep van de Hulpgroep vermiste honden NH/ZH in verband met de vermissing van het Hondje Tony in Hoofddorp. Toni is het hondje van een Duitse chauffeur die in Hoofddorp aan het overnachten was. Daar is het hondje op 6 april verdwenen. Inmiddels zou Tony in Amstelveen en het Amsterdamse Bos zijn gespot.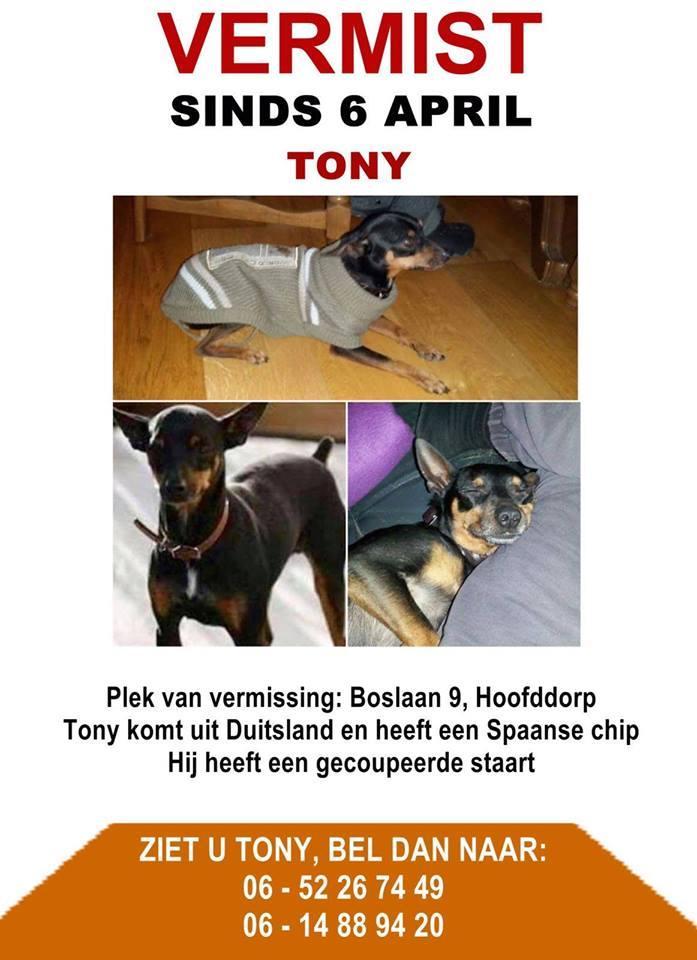 Vacature : KNCB Verenigingsondersteuner
De KNCB is per direct op zoek naar een Verenigingsondersteuner (PT – 20 uur p/wk)
Functie omschrijving:
De functionaris geeft mede uitvoering aan de lange termijn strategie van de KNCB zoals is verwoord in het Strategisch Plan 2017-2021 en hij / zij stimuleert en adviseert de verenigingen bij de werving en het behoud van leden.
Competenties:
De verenigingsondersteuner vervult naar gelang de vraag de rol van adviseur, netwerker, aanjager en/of manager en is verantwoordelijk voor het initiëren van vernieuwingen. Hij of zij zoekt voor het oplossen van problemen samenwerking met diverse partijen, is creatief, innovatief een heeft een vooruitstrevende visie op de nieuwe sportvereniging. De functionaris kan zelfstandig en in teamverband werken, is een bruggenbouwer, is zowel mondeling als schriftelijk communicatief vaardig, heeft relevante werkervaring een in soortgelijke functie en heeft bij voorkeur een HBO sportmanagement opleiding afgerond en heeft, last but not least, een gezonde affiniteit met de cricketsport.
Verantwoordelijkheden:
Algemeen
Geeft uitvoering aan en houdt toezicht op de implementatie van de KNCB strategie bij de KNCB aangesloten verenigingen
Handelt te allen tijde in het belang van de cricketsport en draagt de kernwaarden van de KNCB uit Levert content voor de website, magazine, sociale media en overige communicatie van de KNCB en informeert bestuur en medewerkers met regelmaat over het verloop
Werkt nauw samen met de KNCB Development Officers en heeft zitting in de Jeugd- en Damescommissie van de KNCB Geeft mede inhoud aan de nieuw te formeren Cricket-Lab Commissie.
Neemt initiatieven voor het (verder) ontwikkelen van alternatieve spelvormen
Is mede verantwoordelijk voor het upgraden van het KNCB handboek voor verenigingen en adviseert clubs over sport gerelateerde subsidie mogelijkheden van o.a. lokale- provinciale overheden
Ondersteunt bij de overige werkzaamheden van het KNCB kantoor
Adviseert het bestuur en het bureau bij de opzet, uitwerking en verbetering van de KNCB Scorecard
Verenigingen
Geeft sturing aan de ontwikkeling van hoogwaardige programma's binnen de verenigingen teneinde de participatie en ontwikkeling van spelers te stimuleren
Helpt verenigingen bij de ontwikkeling van het bestuurlijk kader en draagt bij aan het opzetten van een goede organisatiestructuur.
Initieert het opstellen van vereniging jaarplannen en adviseert bij het op schrift zetten van een verenigingsvisie
Houdt rekening met de diversiteit en speelt in op de veranderende behoeften van verenigingen
Assisteert de verenigingen bij de implementatie van de jaar- en beleidsplannen en levert een innovatieve bijdrage om die plannen te realiseren
Ziet er op toe dat verenigingen er alles aan doen om hun leden te behouden en doet suggesties voor de werving van nieuwe leden ( delen van best practices )
Bundelt nieuwe groepen cricketers en stimuleert de oprichting van nieuwe verenigingen ( met name buiten de Randstad)
Adviseert en assisteert verenigingen in hun gesprekken en onderhandelingen met medegebruikers van hun sportaccommodaties
Adviseert de verenigingen in het streven om hun positie op de KNCB scorecard te verbeteren
Werving
Werkt, in samenwerking met het Development Team van de KNCB, aan programma's om cricket 12 maanden per jaar mogelijk te maken
Geeft uitvoering aan de beleidsnota "Dames gaan ervoor" en stimuleert de deelname van dames.
Brengt de redenen van uittreders in beeld en ontwikkelt een strategie die door verenigingen kan worden ingezet om hen te behouden voor de cricketsport
Maakt draaiboeken voor verschillende type clinics, gericht op diverse doelgroepen, die door de verenigingen kunnen worden ingezet voor hun ledenwerving
Helpt de verenigingen met hun communicatie richting de diverse doelgroepen en adviseert clubs met hun berichtgeving naar de geschreven media.
Stimuleert en adviseert verenigingen om beeldmateriaal via diverse media te verspreiden en daarmee cricket op de kaart te zetten.
Externe Relaties
Onderhoudt contact met vereniging-bezoekers van andere sportbonden in Nederland en voert overleg met collega's van andere cricketlanden in Europa ( al dan niet binnen ICC-Europe verband)
Volgt nauwlettend de ontwikkelingen van de sport in Nederland binnen NOCNSF verband en adviseert de KNCB organisatie omtrent de ontwikkelingen betreffende de Transitie in de Sport in Nederland
Voert overleg met Last Man Stands en diverse vrijwilligers organisaties om expertise te delen en best practices uit te wisselen met als doel de cricketsport te doen groeien
Is goed in netwerken en maakt gebruik van bewezen strategieën die een bijdrage kunnen leveren aan de groei van de cricketsport alsmede het verbeteren van het imago van de cricketsport in Nederland
In deze functie heeft u nauw contact met:
Directeur KNCB
Development Officers KNCB
Marketing en Communicatie Manager KNCB
KNCB Bestuur
KNCB Jeugdcommissie
KNCB Dames Commissie
Alle aangesloten cricketverenigingen
Andere Sportbonden en ICC Europe
Lokale autoriteiten
Diverse Expat Organisaties
Geïnteresseerden die voldoen aan bovenstaande functie-eisen kunnen hun sollicitatiebrief voor 30 mei, vergezeld van CV, sturen aan:
K.N.C.B.
T.a.v. A. de la Mar
Wattbaan 31-49
3439ML Nieuwegein