Clubblad Amsterdamse Sportvereniging VRA
---
How's That verschijnt tijdens het cricketseizoen wekelijks
---
Editorial
Voor u 'ligt' de nieuwe How's That, het digitale clubblad van VRA. De samenstelling hiervan wordt traditie getrouw gedaan door een aantal vrijwilligers die u wekelijks op de hoogte brengen van het reilen en zeilen binnen de club. De afgelopen seizoenen is er veel ziel en zaligheid in de HT gelegd door noeste arbeid van met name Sieb Mulder en Benno van Nierop. Komend seizoen wordt ondergetekende bijgestaan door niemand minder door Thomas Pasierowski. Mocht u een leuke bijdrage hebben voor de How's That, schroom dan niet om uw matchreport, fotoreportage of recept voor uw favoriete taart met Thomas te delen!
Afgelopen weekend was de eerste competitiewedstrijd van ons zondagse Eerste (VRA1), ons zaterdagse Eerste (Zami 1) en ons Dames Eerste. Alle drie op dezelfde dag nog wel! Hoewel de mannen van Peter Borren helaas de regerend kampioen niet wisten te verslaan, pakten zowel Zami 1 als de Dames hun eerste competitiepunten. Ook de eerste jeugdwedstrijden gingen van start op zondag. Meer over de verrichtingen van onze teams leest u uiteraard in deze editie.
Komend weekend wordt ook door onze andere teams de eerste stap in hun competities. Hoe het hun verging leest u hopelijk terug in de wedstrijdverslagen van volgende week (captains, lever op tijd een stukje in!), maar u bent uiteraard van harte welkom om alle VRA teams aan te komen moedigen. Het wedstrijdprogramma van komend weekend treft u aan op de home-pagina en u kunt de gehele agenda hier terugvinden.
Tot slot vermeld ik graag dat achteraan in deze HT deel twee van de column van Harry Oltheten staat. De redeactie heeft reeds de volgende paar delen ontvangen, dus komende weken is ook op dat vlak leesplezier verzekerd
Tobias Maessen
Secretaris VRA
Friendly fixture vs Jewellery Quarter Cricket Club
Komende vrijdag ontvangt VRA het touring team van Jewellery Quarter Cricket Club. In tegenstelling tot de eerdere berichtgeving wordt deze wedstrijd een T20 waarbij er om 18:00h verzameld wordt. Na de wedstrijd is er de mogelijkheid om een hapje mee te eten en onder genot van een drankje verhalen uit te wisselen met de tegenstander. Er zijn nog een aantal plaatsen beschikbaar, dus meld u zo spoedig aan via secretaris@vra.nl.
---
This Friday VRA will host a touring team from Jewellery Quarter Cricket Club. Contrary to prior announcements, the match will be a T20 format and we'll meet at the club at 18:00h and start soon thereafter. After the match there will be a simple meal for all players and the opportunity to swap stories with our opponent. We still need a couple of players to fill the team, so please let me know as soon as possible if you'd like to join via secretaris@vra.nl.
Dutch Lionesses
Wij zijn verheugd u te kunnen mededelen dat meerdere speelsters van VRA dit jaar zijn geselecteerd voor het nationale Dutch Lionesses U15 team. Namens VRA zullen de volgende VRA meisjes deze zomer op tour naar Engeland gaan:
Gwen Bloemen
Chhavi Nashier
Kanishka Kumar
Van harte gefeliciteerd met jullie selectie en alvast veel plezier toegewenst!
Dutch Lions
Ook dit jaar zijn er verschillende VRA spelers voor de verschillende selecties van de Dutch Lions geselecteerd om mee te gaan op tour:
Udit Nashier is uitgenodigd om zowel met de U12 mee te touren naar het Royal Hospital School Festival (26 juli - 5 augustus) en met de U13 deel te nemen aan een tour naar Kent en Essex (22 juli – 29 juli)
Debrup Dasgupta en Vikramjit Singh zijn geselecteerd om met de U15 te touren naar Husum – Noord Duitsland (17 – 21 juli) en deel te nemen aan de Euro Challenge die in Nederland wordt gehouden (24 – 28 juli)
Vikramjit Singh is tevens voor de U17 geselecteerd om van 12 tot 19 augustus af te reizen naar het London Schools Cricket Festival Ampleforth College. Ook Salman Mirza kan nog een plek voor deze tour bemachtigen door zich in de competitie te bewijzen.
Het bestuur feliciteert Udit, Debrup en Vikramjit met het behalen van de betreffende selecties en wenst Salman succes met het werken naar zijn selectie. De genoemde tours zullen zelfs een tour-veteraan als Floris Kappelle doen watertanden en wij zijn ervan overtuigd dat alle jongens fantastische ervaringen tegemoet gaan, gepaard met top-cricket en nieuwe vriendschappen!
VRA vs Excelsior 20
The past two seasons have been tough ones for the Fluffers. A lack of depth, unfulfilled potential, and untimely injuries to key players have meant consecutive relegation battles, but 2017 is looking much brighter. The return of big men Ben "best lefty in his family" Cooper and Fred "The Negotiator" Klaassen, along with the development of youth potential Haseeb "Early Shower" Mian and Vikramjit "Fig Jam" Singh provided much cause for optimism as the season opener against defending champions Leicester City Excelsior 20 approached.
An intense pre-season had taken its toll though. A stinging series loss to Hungary away in Budapest was followed by defeat to the HCC 3rd XI, and despite salvaging some pride last week with a convincing win over visitors France, the casualty list was growing. Ahead of Round 1 no less than seven first choice players were either unavailable or battling injury, chief among them Sarabjit "no show pro" Singh (Visa issues), Peter "Papa" Borren (calf), Fred "Cosmo" Klaassen (gross knee), Jeroen "dry needle" Mulder (made of glass), and Adeel "Cricket Europe" Raja (PCL preparation).
It takes more than a few niggles to phase the Fluffers though, and confidence was high as Borren won the toss and chose to bat on a sunny morning in The Bos. The optimism didn't last long as the dangerous Tommy Heggelman removed both Mitch "PCL" Lees and Cooper, and from there things quickly went slowly, with Eric "Annabel's Dad" Szwarczynski and Singh consolidating the innings at 1960s test match pace. It was the correct approach though, and the shine was well and truly off the ball by the time Singh chipped a catch back to Small Head Kroesen and Borren came to the crease. The skipper made a positive start but Zoolander's struggles continued, and when he missed a straight one from cunning former VRA bowling superstar Sohail Bhatti it was a blessing in disguise. Enter the underprepared and out of condition Emile "Shenanigans" van den Burg, who - like David Boon and Inzamam-ul-Haq before him - proved once again that match fitness and a good diet are far less important than sublime natural talent. Making it look all too easy Shenanigans compiled a breezy run-a-ball 61, combining with a resolute Borren (63 off 74) for an invaluable 90 run stand. By the time he was out in the last over Shenanigans had ensured the Fluffers' total of 194 had an air of defendability to it.
The first over after the lunch break went exactly to plan, with Quirijn "Ned" Gunning nicking off Tim Etman just as the oracle had prophesised. At the other end 2016 player of the year Verhagen was reprieved twice in his brief innings before falling LBW/Caught to the left arm pace of Haseeb Mian, and suddenly Excelsior were 2/26 and ripe for the taking. If only the Fluffers could end their eternal struggles with opposition Pros. Despite exceptional opening spells from Ned and Haseeb a solid partnership between the immovable Lorenzo Ingram and disciplined Aussie James Hildreth saw the opposition through to 2/92. The game was quickly slipping away before debutant Pragam "substitute pro" Rathore took possibly the most prized wicket in the Topklasse with just his third delivery, sending Ingram packing for a well compiled 49.
The Fluffers were back in the hunt, and when a sublime piece of fielding from Ned ran out Heggelman only Hildreth and the impossibly out of proportion Joost Kroesen stood between the Very Reasonable Athletes and the Excelsior tail with 80 runs still required. Sadly the Excelsior pair proved up to the task as they – with the aid of some elderly bowling – advanced the score within range of some late toothpick pinch hitting by David Woutersen. In the end Excelsior got home with 14 balls to spare and the Fluffers first proper outing ended in disappointment.
It certainly isn't all doom and gloom though. Despite an injury depleted line up, gun batsmen going cheaply, rusty bowling, and early season drifting in the field, the Fluffers still managed to push the defending champs hard. With significant room for improvement the Very Reasonable Athletes will be favourites for the win against last season's wooden spooners VOC this coming Saturday in Rotterdam. The Fluffers whitewashed the Friends 3-0 last season, punctuated by a 39 all out/8 wicket crushing in the pre-relegation playoff on the last day of season 2016. VOC are a much improved team this season, but it remains to be seen how they will bounce back after last season's tea bagging thrashings. The Fluffers will be aiming for early wickets on Saturday morning to reopen those mental scars, with pretty boys Dirk van Baren, Pieter Seelaar, and Maxwell O-Dowd among the chief targets.
Go The Fluffers!
Mitch Lees
Match report: Zami 1 vs Ajax, 6/5 (home)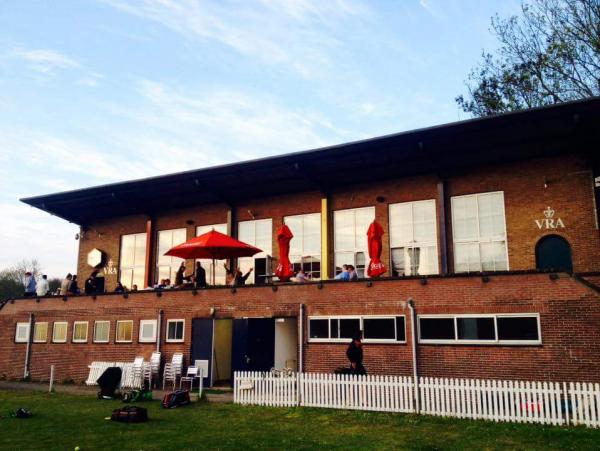 A very good start off...
A sunny day. The smell of fresh cut grass. The pleasant noise of the birdies attracting the opposite sex. The feeling of a light though fresh breeze. And the sight of the VRA pavilion. IT'S MAY!!!! The season starts again. VRA 1 playing on the turf. The ladies on pitch 2. And the Zami's...? On pitch 2 as well after the ladies finished their game. 13 VRA Zami players pumped up (with a special welcome to Nick Fowler, the come back kid), full of energy and ready for the first league game against 12 players of Ajax Leiden. Hopefully the number of players will cause no problems afterwards with E cricket... Having lost the toss, our opponents decided to field first. VRA batting openers Thomas Spits and Julian Molenaar put up a good show: a partnership of 61 in barely 14 overs. Molenaar (25 runs) was bowled by... Molenaar!! Anything can happen in Zami! Louis Collignon stepped up and soon the wicket of Tommy (31 runs) fell. Captain Willem van Mierlo entered the Arena soon followed by Mike Bryant, as Louis wicket (for 8 runs) fell quickly. The 4th partnership reached 87 (!) runs in about 10 overs. Big Mike scored a solid and quick 53, being bowled. First 50 of the new season! Willem was joined by Bilal Tayyab. Couple of balls later Willem (31 runs) was caught, soon followed by Bilal (1 run). With good old Floris Kappelle and Joost Dekkers at the crease a quick 21 runs partnership was added to the total. Sebas Capel replaced Flo (4 runs) adding 3 runs to the total before getting caught and leaving Joost not out with 17 runs and Ernst not out with 0 runs. The result? A total of 192 runs. Not bad at all we thought and the best had yet to come!
The Kitchen Brigade took care of a good lunch...
After lunch Mike Bryant took up the new (pink) ball together with Ernst van Raaphorst. In 9 overs they kept Ajax on 39 runs with each a big wicket: Verhaar (bowled) and Driessen (caught by Louis Collignon). First change Sebas Capel replaced Ernst and bowled a fine line and length taking 2 wickets (1 clean bowled and a catch from Ernst van Raaphorst) within 3 overs. In the meantime Mike Bryant finished his 7 over spel taking his 2nd wicket (clean bowled) and complaining about the "swingless" pink ball, ending his spell with 2 wickets in 7 overs conceding 18 runs. Willem van Mierlo bowled 3 overs taking 1 big wicket (bowled) for 21 runs. Sebas kept on bowling a fine line and length supported by Louis Collignon on the other end. Racing through the backend batters of Ajax Louis managed taking 2 wickets (bowled and a caught behind by Theo Lindemann), for 5 runs in 2 overs. The other 3 wickets (2 clean bowled and a catch by good old Floris Kappelle) were for...? Sebas Capel: his career best! A 5 wicket haul in 7 overs just conceding 9 runs and Man of the Match, leaving Ajax with (only) 78 runs. A convincing first win for the VRA Zami 1 team by 114 runs: yessss a very good start off.
A sunny day, the smell of charcoal and steaks on the BBQ of Paul Polak, still the pleasant noise of the birdies, the feeling of cool beers passing thirsty throats and the sight of cricket lovers having fun and chatting about their (non) performances and more on the terrace of VRA. An even better start off...!?
Cheers, Willem van Mierlo
VRA U11
VRA is proud to host 2 strong U11 teams in this year's competition. With a number of youngsters, still likely to qualify for another season SmashCricket, the graduation from soft to hard ball proper rules will prove to be the real McCoy. No better way to test progress since training started than playing against your fellow VRA peers for season opener.
With a curious crowd of parents, caretakers, siblings and onlookers and a hint of sunny weather, the coaches and umpires agreed rules and the captains tossed.
VRA 1 (the 'seniors') took to the field, Sam and Atharva opening the batting. Mats West and Oliver Fraser made inroads early on with tight and full bowling, leaving the 'seniors' rattled at 3-3 in 4 overs. The score grew through a tsunami of extras from the VRA 2 bowlers, the heavier leather ball proving a challenge for a number of bowlers. The seniors ended their innings on 86-6 after their allotted 16 overs with top contributors Arham (10 runs) and Matt (6 runs). Mats was pick of the bowlers, with figures of 2-11 while Oliver, Morris, Lars and Klaas ended with 1 wicket a piece.
The seniors took to the field ready to defend a solid score with their pace attack looking hungry for early wickets. Opening batsmen Oliver and Mats initially looked comfortable against the new ball, but soon fell to the full, pacy deliveries of Atharva backed up by Josh. Next up was Morris (13) and Iggy (10: 1x4) who treated the crowd to a variety of pull and cut shots and even straight drives. A feast for the eye and promising for the weeks to come. When the duo departed Vinz and Bas continued the good work with mature shots and well run singles. Atharva and Josh eere the pick of the crop sharing 7 wickets between the two of them: well done lads!
The innings ended and scores were calculated. Despite their mature batting display, VRA U11-2 came 14 runs short leaving their counterparts with a deserved victory.
The sides retreated to the clubhouse where Lars' mom treated all to a tasty lunch. Great, sportsmanlike opening to the season with one conclusion: VRA youngest youth is healthy!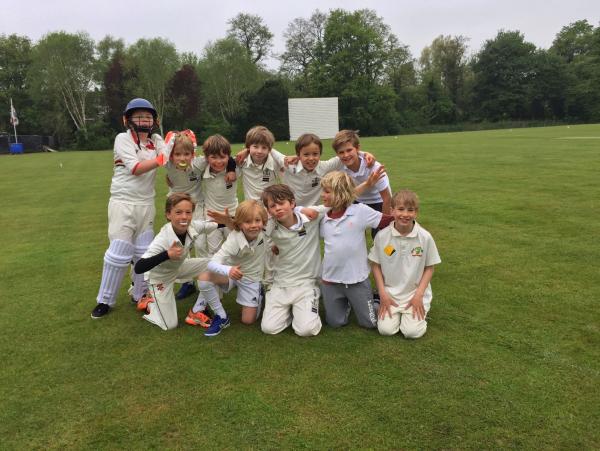 A Very Bright Start
U17s travelled to Bloemendaal on Sunday to get their season underway, promptly winning the toss and electing to bat first. Runs flowed rapidly against a younger, less experienced Bloemendaal bowling attack. Vikram Singh was particularly aggressive with successive sixes to open his scoring. In total Vikram hit 9 sixes as he raced to his first century (103) for the club off just 47 balls. After Vikram's retirement the rest of the batsmen carried on a scoring rate in excess of 9 runs per over – Debrup Dasgupta (53 ret off 47 balls) and Zamaan Khan (51 ret off 60 balls). Late in the innings Tariq Totakheel (30) hit 4 successive sixes as the VRA innings closed at 285 from the 30 overs. Wickets fell at regular intervals during the Bloemendaal chase with all bowlers picking up wickets – Alec Pulver (2/8), Ashir Abid (2/3), Zilan Master (3/18) and first gamer Hasaan Mirza (3/20).
A very bright start to the season for VRA and a real confidence builder for the season ahead. This coming week we host last year's champions VCC who will provide a much more testing assignment.
Congratulations to Vikram for a fantastic performance.
0, 6, 6, 4, 2, 0, 0, 0, 1, 0, 0, 4, 0, 1, 0, 6, 1, 0, 1, 0, 4, 0, 2, 1, 2, 4, 6, 6, 6, 4, 0, 0, 1, 2, 6, 1, 2, 1, 4, 2, 2, 2, 0, 0, 1, 6, 6 (47 balls = 103 runs)
Andrew Pulver
Manager U17s.
Column door Harry Oltheten, deel 2: De betekenis van cricket
Wie zijn boek de titel The meaning of cricket meegeeft, verplicht zich er bijna toe een pil van een pagina of zeshonderd te produceren vol filosofieën diep als de Marianentrog, maar dat doet Jon Hotton niet. Hij beperkt zich tot 224 pagina's, met bijdragen die gebaseerd zijn op zijn blog The old batsman. Het is heerlijke leesstof. Hotton beschikt over humor en eruditie en sprenkelt die ruimhartig over de hoofdstukken. Het zou te ver voeren om die hier allemaal aan de orde te stellen. Ik neem er twee die er voor mij meteen uitsprongen: The amateurs en The professionals. Die titels zetten me wel op het verkeerde been. Mijn gedachten gingen namelijk onmiddellijk naar het onderscheid tussen amateurs (rijke liefhebbers die niet cricketten om den brode) en players (pro's, die cricketten om de poen) dat het Engelse cricket tot 1962 teisterde. Het was me een toestand toen. Amateurs en players hadden verschillende kleedkamers, aten verschillend voedsel (zalm voor de amateurs, schelvis voor de players), werden verschillend ondergebracht (amateurs gerieflijk bij de plaatselijke upper ten, players in gore hotels) en betraden door een verschillende ingang het veld, de amateurs uiteraard voorop. Maar het is al snel duidelijk dat Hotton niet op dit anachonisme doelt. Bij hem is de amateur de goedwillende liefhebber die zich op zaterdag- of zondagmiddag met grote verwachtingen in zijn cricketoutfit hijst om niet lang daarna tot de conclusie te komen dat zijn verwachtingspatroon niet helemaal gelijke trede heeft gehouden met zijn talent. Prototype van dit slag cricketers is voor Hotton ene Pete, een teamgenoot die maar één doel heeft: de strijd te beginnen met een zes. Je voelt al aankomen dat dit een hele onderneming zal worden want: 'He opened the batting because he'd been at the club (i.c. Wrecclesham CC) for as long as anyone, and because there was no man who wanted to deny him his chance.' Pete haalt woest uit naar elke eerste bal, 'short or full, wide or straight, good or bad'. Hij verzamelt meer golden ducks dan welke andere opener ook, maar hij past zijn strijdplan nooit aan. Hij wil zijn zes, hij wil ook dolgraag zijn eerste vijftig. Die zes komt er nooit, die vijftig wel. Op een heiige zondagmiddag mist hij zoals gewoonlijk de eerste bal, maar deze keer is hij niet uit. Sterker nog, zuchtend en steunend en hakkend en maaiend bereikt hij zijn vijftig. 'Twenty-five years I've waited for this,'schreeuwt hij naar het paviljoen, zijn bat hoog boven zijn hoofd. De volgende bal was hij uit.
Bij de professional bij uitstek, Ricky Ponting, is het heel andere koek. Elke avond voordat hij moest batten voor Australië maakte hij het volgende lijstje met aandachtspunten voor de dag erop:
Watch the ball
Play straight
Loud calls
Be patient
Be positive in attack and defense
Bat for a long time
Make 100
Be man of the match
Be man of the series
Nadat hij dit had opgeschreven onderstreepte hij elk punt terwijl hij de lijst luidop voorlas en elke actie visualiseerde. Daarna maakte hij een lijstje met de namen van bowlers die hij tegenover zich kreeg, visualiseerde de ballen die hij van hen kon verwachten en bedacht hoe
hij die tegemoet zou treden. Daarna ging hij tevreden slapen. Ook de volgende dag is er een vol vaste gewoonten. 'Once at the crease…. He took a middle-stump guard from the umpire and then began to "clear" any real and imagined bits of turf, stud marks, dirt and other "rubble" until the crease was totally clear. En zo gaat hij nog wel even tot iedereen knettergek is als hij eindelijk klaar is om de eerste bal te ontvangen.
Het kan ook anders. Hotton citeert een verhaal van Mike Selvey, cricketcorrespondent van The Guardian, over een oefensessie van het Pakistaanse team onder Javed Miandad. De warming-up mag er zijn Iedereen werkt zich een ongeluk, behalve Inzaman ul-Haq, een reus die liever vieren en zessen slaat dan dat hij rent. Die moet zich nog losmaken van de heerlijke airconditioning in de kleedkamer. Op het veld is intussen een fieldingsessie aan de gang die het zweet in stromen doet vloeien. Pas dan voelt Inzy het moment gekomen om te verschijnen. Gekleed in trainingspak en 'padded up' betreedt hij het veld en begeeft zich naar een rieten leunstoel bij de kooien. Peinzend kijkt hij een tijdje naar de inspanningen van zijn teamgenoten op het veld. Wanneer die zich melden voor een 'net session' komt hij nog steeds niet in beweging. Pas na een tijdje hijst hij zich overeind en bat twintig minuten als een koning. Dan vindt hij het genoeg en terwijl de rest voortploetert verdwijnt hij naar de kleedkamer om niet meer tevoorschijn te komen. De volgende dag maakte hij natuurlijk een schitterende century.
De schrijver Harold Pinter noemde cricket 'God's greatest creation'. Hij was een man die nooit een blad voor de mond nam en tijdens zijn speech bij het aanvaarden van de Nobelprijs de Amerikaanse regering duchtig les las. Maar als het op cricket aankwam was hij verlegen. Zo zou hij er niet over denken een ontmoeting te arrangeren met zijn grote held Yorkshire-man Len Hutton. Hij schreef wel een gedicht over hem dat luidde:
I saw Len Hutton in his prime,
Another time, another time
Hij stuurde het naar zijn vriend, de toneelschrijver Simon Gray, en belde hem de volgende dag om te vragen wat hij ervan vond. 'Ik heb het nog niet helemaal uit,' antwoordde die droog.
Waarvan akte.
Harry Oltheten