Clubblad Amsterdamse Sportvereniging VRA
---
How's That verschijnt tijdens het cricketseizoen wekelijks
---
Redactioneel
De afgelopen weken zijn erg snel voorbij gegaan. Zo snel zelfs dat het een uitdaging is gebleken om tijdig nieuwe edities van de How's That uit te geven. Aan de vooravond van de VRA Zami tour naar Dorset heugt het mij echter u te kunnen vertellen dat het erg goed gaat met VRA. Ondanks de praktische zaken waar iedere sportvereniging tegenaan loopt, lukt het iedere week om te doen waar wij voor bijeen zijn: cricket!
Sinds de laatste editie is zijn er weer een hoop wedstrijden gewonnen, verloren en zelfs een in een tie geëindigd, zoals uit de diverse match reports blijkt. Dat cricket niet alleen op het veld wordt gespeeld maar ook daarnaast, wordt geïllustreerd door de ingezonden stukken van Wim de Groot en David Kenwery. Ik wens u veel plezier met het lezen van hun woorden en alle verslagen die zijn ontvangen!
Tobias Maessen
Secretaris VRA
Wedstrijden deze week

VR 15/07 18.30 VRA Twenty20 - Groen en Wit

ZA 16/07 10.00 Dames Cricket Festival op Kampong
ZA 16/07 11.00 VRA 1 - Quick Haag (inhaalwedstrijd)
ZA 16/07 13.00 VRA ZaEK - Almere Aligators

ZO 17/07 11.00 ACC - VRA 1
ZO 17/07 12.00 VRA 2 - Olympia 1
ZO 17/07 13.00 HMS 1 - VRA 3
Wedstrijden volgende week
DI 19/07 11.00 3 daagse oefenwedstrijd NL XI at VRA
WO 20/07 11.00 3 daagse oefenwedstrijd NL XI at VRA
DO 21/07 11.00 3 daagse oefenwedstrijd NL XI at VRA

ZA 23/07 13.00 Punjab - VRA ZaEK
ZA 23/07 13.30 GroenGeel - VRA ZAMI 1
ZA 23/07 13.30 Hilversum - VRA ZAMI 2

ZO 24/07 11.00 VRA 1 - VOC
ZO 24/07 13.00 VRA 3 - Qui Vive 4
ZO 24/07 13.00 VRA 4 - Zeemacht 1
Vrijwilliger gezocht / Volunteers needed
VRA is op zoek naar vrijwilligers voor de landelijke T20 finale die op zaterdag 20 augustus op VRA wordt gespeeld. Helpt uw club en meldt u aan via secretaris@vra.nl!
---
VRA is looking for volunteers for the national T20 finals on Saturday 20th August to be played at VRA. Help your club out and let us know if you are available via secretaris@vra.nl!
Jubileumfeest 95-jarig ACC
Afgelopen week ontving het bestuur een uitnodiging om op zondag 17 juli 2016 het jubileumfeest ter ere van het 96-jarige bestaan van ACC mee te vieren. Die dag speelt VRA 1 haar uitwedstrijd tegen ACC, dus een uitstekende gelegenheid om onze mannen aan te gaan moedigen en een gezellige middag mee te pakken.
ACC 95 Jubileum

Na het zeer geslaagde jubileumdiner in april, is het tijd voor feest! Op zondag 17 juli aanstaande vieren wij tijdens en na afloop van de Topklasse derby ACC-VRA ons 95-jarig bestaan.

Voor iedereen (kids, ouders, spelers, supporters) is er wat wils:
- Springkussen voor de kinderen
- Fun cricketgames tijdens de innings break
- High tea (tea, scones, sandwiches, cakes) om 15:00 uur
- Barbecue (sate, hamburger, worstje, gegrilde groenten, salade, frietjes) om 19:00 uur
- Speeches
- Muziek
- Extra staantafels, zitbanken en tafels
- Gastheer Ben Markx biedt ook nog een harinkje aan

Inschrijvingen voor de high-tea (€8,50) en barbecue (€11), of beiden (€17,50) graag richting events@acc-cricket.nl

http://www.acc-cricket.nl/blog/komt-allen-naar-jubileumfeest-95-jarige-acc-op-zondag-17-juli
Farewell speech David Kenwery
Last Saturday one of our new members in 2016, David Kenwery, bid his teammates farewell due to work relocation. Even though we all had a wonderful evening sharing drinks and stories, David didn't get around to share the words he had prepared for the occasion. Therefore he sent his speech to me to share with you all.
Dear all,
I just wanted to say thanks to all of my Zami team mates for a great 2016 season. Unfortunately I had to sign off before the end of play in July, due to a transfer in my job up to the port of Esbjerg on the North Sea coast of Denmark. I lived there before from 2012-14, so I know what to expect. As luck would have it, I played the invitational T20's last Friday against Esbjerg CC and met and remember a few guys that I knew. Hopefully however you haven't seen the last of this Aussie in the Zamis and I will make the effort to turn out at least once or twice, if not this season, then next.
I wanted to say a few specific thank yous to those who made my enjoyment of the Zami cricket so special this season.
Firstly Tobias Maessen who welcomed me into the VRA and kept me up to date on all of the happenings around the club. Tobi is our tireless secretary who keeps the standards of the VRA high.
Bob Prenen is a skilled skipper and tricky bowler who keeps the enjoyment factor in Zami 2 also very high, mainly with his encyclopedic knowledge of the Harry Potter books. I think Bobby may have even have brought Zami 2 some valuable wickets, due to the batsmen laughing at his jokes on field!
I only played once in a losing Zami side, although I'm not sure that my sub-standard catching did not contribute too much to this success. In fact Eric de Jonge once had some quite choice words in Australian to say in my direction after I dropped a complete dolly off his bowling. However I did have a fun innings chasing quick runs with Alex van Hirtum against Kampong that will stick in the memory.
Sebastiaan Capel deserves much credit for his splendid batting and bowling exploits this season but also for his interest in my Friday night social activities on KNSM Eiland. However I also had to sometimes front the stare from Tobias on Saturdays as well!
Corinne does a fantastic job with the catering on match days. What a supremely organized lady!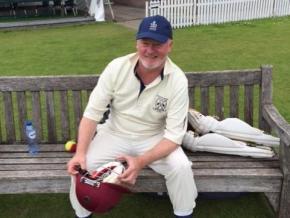 Mike Rier does a great job rounding up the Zamis. Toon, Willem, Alex, Floris, Harold, Berend, Tommy, Meindert and many others were great team mates. Paul always makes it a privilege to play on the national pitch. And if I've missed anyone, I apologise; you all contributed to making my time at VRA a most enjoyable time. I won't be lost to the club.
Good luck in the finals, Zami army!
With best regards,
David Kenwery
Match report VRA1 vs Dosti, 25/6
Match Report - Round 10: VRA vs Dosti
After an unmentionable result against Stephan Myburgh (also known as Hermes) in Round 9, the Fluffers welcomed unbeaten table toppers Dosti to fortress VRA. Despite being at opposite ends of the ledger, the Fluffs were determined to show their capabilities against the heavily favoured visitors, and winning the toss on a seam friendly green top provided the perfect opportunity. The Fluffers would bowl first.
Despite their lack of a youth program Dosti somehow manage to produce a capable team each week, however their over-reliance on pros Ackermann, van Zyl, Frylinck, Hafeez, Bukhari, and Jamil was a weakness the Very Reasonable Athletes were confident of exposing. Quirijn "I'm all outta love" Gunning started brilliantly to remove both pro-watchmen, and at 2/16 an opening presented itself. It was quickly closed though, as Ackermann and van Zyl added 90 before Leon "T-Rex" Turmaine dismissed van Zyl for the third time this season.
With only three pros left in the shed Ackermann knew it was up to him if the Dosti juggernaut was to continue rolling. He was equal to the task, and produced arguably the best pro-masterclass of the many pro-masterclasses the Fluffers have witnessed this season. The jongens were incapable of finding a way through the South African's defences, and despite a much improved bowling display Dosti ended with 6/246 from their allotment, largely due to Ackermann's unbeaten 120.

Leon Turmaine (file photo)
A change in the batting line-up saw Ruben "One Touch" van der Berg open with all rounder Eric "Zoolander" Szwarczynski, and it worked. The pair added 70 for the first wicket, the highest so far this season, before Zoolander was dismissed. Van der Berg followed soon after, but Gunning and Emile "Shenanigans" van den Burg continued promisingly to take the total past 100. When Nelson struck to remove Gunning with the score on 111, skipper Peter "Selfie Stick" Borren entered with the match delicately poised.
As the 150 was passed with only three down the Fluffers began to sniff an upset. If Leave could spring the mother of all upsets in the Brexit referendum, surely the Fluffs could do this small thing? The crowd began to swell as word circulated that something special was on the cards, and preparations for a post-match victory BBQ were commenced. But as quickly as the delicate flower that is the Fluffers' potential for a win started to bloom, it was crushed under the enormously heavy boot of South African pro Frylinck, who claimed the vital wicket of Shenanigans.
When Borren departed shortly thereafter attempting a suicidal second, it ended the contest. After mercilessly dispatching Jeroen Mulder, T-Rex marshalled the tail admirably to bat out the draw, with Mark "Mark's my name, rugby's my game" Grey and Hugo "Le Coq" Debaig ensuring that the exceptional services of Butlerbuddy.com were not required. The Fluffers ended on 8/194 to fall 52 short, with the one positive being that the match ended in disappointment rather than the disgrace that has befallen many of Dosti's opponents this season.
Next up, the Fluffers travel to Utrecht on Saturday for a must win T20 clash with the "Domstad Daredevils", followed by a trip to Excelsior on Sunday.
Go the Fluffers!
Mitch Lees
Match report VRA U16 vs Hermes, 2/7 (away)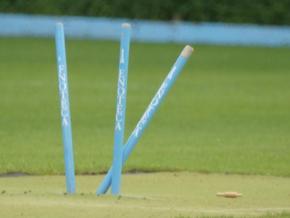 VRA U16s travelled to Schiedam on Saturday for the crucial match with Hermes. Following on from a win the week before, VRA still need to win each of their last three matches to qualify for the end of season final series. Captain Vikram Singh as usual won the toss and elected to bowl with intermittent showers filling the first hour of play. Opening bowlers Haseeb Gul (2/29) and Alec Pulver (2/21) made the early inroads with Zilan Master (3/6) bowling very tightly to finish off the Hermes innings at just 58 inside of 14 overs. Small targets can sometimes be tricky targets, but not today for the U16s with Alec Pulver and Vikram Singh (39*) seeing the team to victory in the 12th over. All eyes now turn to the home-based double-header this weekend – HCC on Saturday and ACC on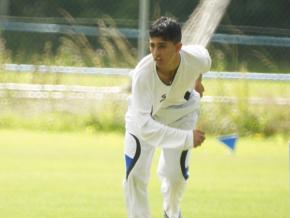 Sunday – two victories will see the team move to the final series in August / September.
Andrew Pulver













Match report VRA U10 vs Bloemendaal, 2/7
This past Saturday was the return day of the VRA / Bloemendaal U10 fixture. The old tree at VRA again formed the background of what would be another memorable outing for our boys who seem to grow in stature by the week.
Captain Liam won the toss and decided to put the travellers in first, hoping to profit from the home advantage. He was rewarded immediately, when opening bowler Lars took 2 wickets from his first 2 balls. A dream start with rest of the confident VRA bowling attack supporting well. Despite a number of wide deliveries, Bloemendaal was unable to score a boundary until the 11th over, the VRA fielding deserving credit. A number of seemingly inevitable boundaries were stopped with desperate dives and slides, Morris and captain Liam leading by example. A solid partnership at the death of their innnings, showing the value of intelligent running between the wickets helped Bloemendaal end their innings with increasing momentum.
After the tea break, opening batsmen Aarham and Morris started the VRA innings well, adding 25 runs off 4 overs. Mats and Olivier followed and played one of the most prolific innings of the season adding a mammoth 39 runs off their 18 balls at the crease. Lars and Vince (19 runs of 3 overs), Josh and Caspar (27 off 3 overs) and Liam and Iggy (18 runs off 3 overs) all contributed well with strike rates at or above 100%.
The scorers convened, and came to a result: VRA U10 223/4 and Bloemendaal U10 153/7. VRA win by 70 runs.
The boys and girls sealed an exhilarating day with a nice lunch in the club house. As always, Bloemendaal were exemplary and positive. Thanks to Richard van Dam and his team for an enjoyable morning of cricket!
Qui Vive awaits for the final game - VRA looking to make it 3 from 3 in the playoffs!
Nesbit & Sander
Match report VRA Dames vs Quick Haag, 9/7 (away)
Quick Haag – Vra ladies / Saturday July 9
Last Saturday, after a great late night out at het Vrijthof in Maastricht with Andre Rieu, I got up early and into the car to go to Den-Haag to play a game. I was not so happy to hear that we had to play at the artificial football field, but Edgar Schiferli was having a nice retirement game with friends on the grass, which was a lot of fun too Nathi won the Toss and decided to field first. We were with only 10 of us, but did a very good job fielding!! The bal went either for 4 or for 1. We through our bodies on the ground to stop the 4, had some good teamwork in the field and bowled some outstanding balls!. Quick Haag batted well, but we bowled good too The 6th over was a wicket maiden for Haas and at 27 runs Robine Rijke could walk off and Caroline Rambaldo came in. In the 33rd over at a score of 243 Haas took the wicket of batsman number 2 Caroline de lange, who made a total of 78 runs. Rambaldo made a Century and than Nathi took her wicket in the 37th over after 40 overs they had 305 runs! A big challenge for us! I have to meantion Lot her bowling. Only 44 runs in 10 overs, which is not much on this quick filed!
After a nice lunch Git and Sas opened the batting. Unfortunately Git (14) got out in the 10th over at a total score of 53 runs. Together with Nathi, Sas ging als een speer! Her wicket fell in the 26th over. She made 89 runs and had a partnership of 105 runs Sally came in and batted beautiful with Nathi and made a nice partnership off 113 runs when Nathi's (67) wicket was taken in the 36th over. Anne, Lot and Katie ran well with Sally (70), till she got out in the last over at a score of 302 runs. Haas got on stike, only 3 balls left and 3 runs to win. Haas and Katie both made one run and on the last ball we needed 1 run to win. Haas hit the bal into a fielder, ran as fast as she could, but was run out afterall, haha. It was a very thrilling nerve-racking game that ended up in a tie. 610 runs in one match the 3rd innings in the sun was gezellig too….
Woman of the Match: Saskia Melchers!
Sally: 3x6 yeah
After having so much fun this season already and last weekend on tour, it is going to be quiet for a few weeks. No games till August 6th.
See ya!
Haas
Foto's Tour 2016 Canterbury: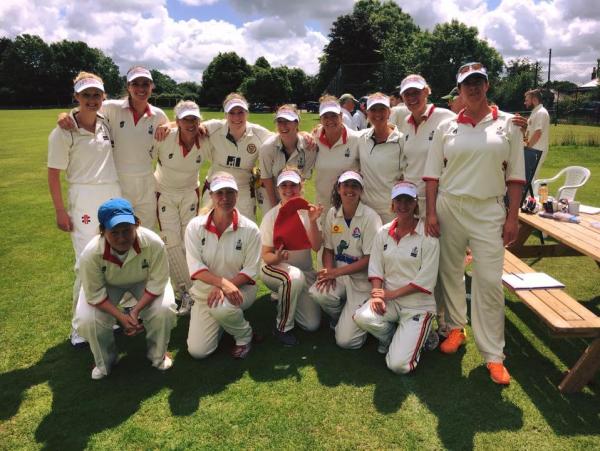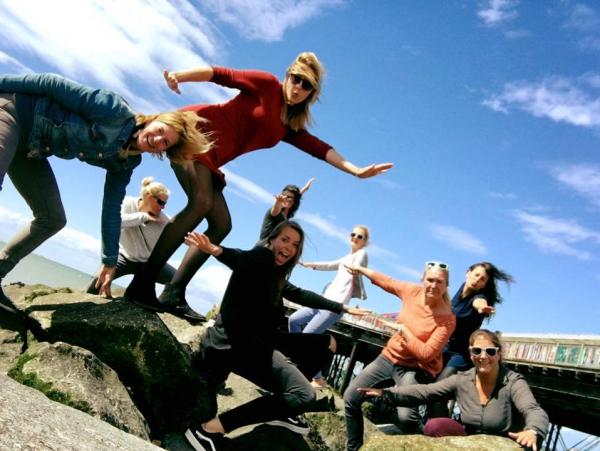 Match report VRA Zami 2 vs HCC, 9/7
Haastige Harrie - Honderd - The Horseman Hakt in op Hongerige Hagenezen (wat een Held)
Een episch verhaal van de tweede winst op HCC in 2016. Zoals Sebastiaan Capel ooit aanhaalde in een verslag: "Wat is er mooier dan winnen van HCC? 2 keer winnen van HCC". Daaraan kan nu het woord "Episch" aan worden toegevoegd. Lees en glimlach even mee.
Eerder dit seizoen speelden we op een koude meidag tegen HCC. WE konden toen gebruik maken van de diensten van Aswin - Apu - Oppu, die liet zien hoe een steady innings wordt opgebouwd. Díe winst smaakte al zoet, al hebben we dat niet geproefd in Den Haag omdat het KZ clubhuis toen al dicht was. Mee terug gaan naar HCC was voor de verkleumde lijven van de Comedians te veel van het goede.
Deze week was ons een mooie zonnige dag beloofd waarop HCC haar sportieve wraak kon komen halen. De Haagsche selectiecommittee had goed haar best gedaan met een sterke opstelling te komen, en voorwaar, Captain Blob kneep m een beetje. Altijd fijn overigens om Bordewijk weer op het veld tegen te komen, al leidt dit steeds vaker tot kleine woordenwisselingen tijdens de wedstrijd. Dit lijkt gelijk op te gaan met de animositeit tussen Den Haag en VRA Zami 2. Ook dit is jammer, temeer dat dit tegen de spirit of the game in lijkt te gaan.
Zo tegen enen was iedereen van VRA verzameld en stonden ze klaar om de 7 winstpartij in successie te gaan spelen. Moraal is erg hoog, mensen zijn gretig te spelen, zeker tegen HCC. Captain Nuijten jr. won de toss en besloot te gaan batten, een goede keus. Openingsbat Toxopeus deed goed zijn best de Amsterdamsche aanval goed te ontregelen en scoorde een mooie 50. De bal nadat hij deze mijlpaal bereikte, leverde hij in bij Thomas Spits die een keurige vang pakte op het bowlen van Sud. Batsman no2 van de Haagschen was door Tommie al prachtig run out gegaan. Toxopeus en Sajjat Ali hadden een mooi partnership van 85 waarbij onze aanval danig op de proef werd gesteld. Moraal zakte licht in, maar omdat het veld goed stond, Sud als een koning stond te bowlen, was de partnership strikerate niet al te hoog: 85 uit 105 ballen.
Na het wicket van Toxopeus werd er daadwerkelijk versneld. Ook daar volgde een partnership van 85, dit keer van The Hoff en Sajjat, uit 78 ballen. Sajjat Ali was uiteindelijk 85 not out, een mooie prestatie en een mooi opgebouwde innings. Iets wat hij vaker doet , maar dan in HCC 2 dat in de eerste klasse uitkomt, en reeds nu al gepromoveerd is naar de hoofdklasse. Volgens de regels die de Zami coördinator Willem Winckel (ook HCC verrassend genoeg) heeft opgesteld is het niet toegestaan een speler op te stellen in poule 3 die in de eerste klasse of hoger uitkomt. Mocht dit wel het geval zijn, dan dient er dispensatie bij Willem te worden aangevraagd EN de captain van de tegenpartij moet op de hoogte worden gebracht. Dan kunnen er nl afspraken worden gemaakt over het aantal te bowlen overs of de plek waar iemand in gaat. Uiteraard is dit niet gebeurd, want zo rollen de harige Hagenezen. Laat ze de volgende keer Feiko Kloppenburg meenemen. Captain van HCC 2 met een veel lager gemiddelde dan Sajjat. Hebben Bokito en Bob tenminste een rood en witter waar ze tegen kunnen spelen.
Uiteindelijk kwamen de horkerige Hagenezen tot een handige honderd negentig runs, althans, dat vermoeden we want scoren is nog steeds lastig voor ze. Er was weer gedoe over het aantal overs dat gespeeld was, waardoor Capitano Badabob zijn tactiek omgooide. De wedstrijd werd hierdoor uiteindelijk niet heel erg beïnvloed, vervelend was het wel. Met name door de reactie van de hakkelende Hagenezen toen ze hierop werden aangesproken.
Tijdens de lunch kwam er nog een run bij, vanwege, ja vanwege wat eigenlijk? vanwege dat scoren lastig is, zeker als er plots runouts zijn, wickets, runs short, noem maar op. 191 moest dus verslagen worden, en daar hadden de amsterdammers goede goesting in dat dit gehaald zou worden. De lineup was immers diep met spelers als Ashish (Zaterdag eerste klasse en Zondag 2B) en Sud (zondag 2B), Thomas Spits (2B) en Harrie The Horse. Dan heb ik het niet eens over leading runscorer T-Rex Capel, Voldemort Dekkers, Jules. In zijn voorlopig laatste wedstrijd voor VRA mocht David op 5 starten, zijn nieuw verkregen Cap zou hem steunen in een goede innings.
Zoals altijd begint bob met Harrie Horseman omdat hij mooi op de benen staat en uit de startblokken vliegt om bowlers direct af te straffen. Bordewijk werd in zijn eerste over nog gespaard, de opener aan de andere kant kwam al direct in de problemen. Na over 3 was het hek van de dam en werd er gemiddeld 7 runs door Thomas en Harrie gehaald. Iedere bowler werd genadeloos afgestraft. De goedkoopste bowler was Sajjat met een economy van 4,57. Bordewijk was een mooie tweede met 5,87. De overige bowlers zijn voor minimaal 6 per over afgestraft met als uitschieters Jan nuijten, 9,25 en Vivek Bajaj. Hun openingsbowler die 10 runs per over moest incasseren. Hij mocht dan ook maar 3.1 overs bowlen.
Tommy en Harrie scoorden er lustig op los en beiden zaten continue op een strikerate van 100. Zo wandelde VRA naar een 50 partnership in de 8e over, een 100 partnership in de 14e over (13 vd over) en een 150 partnership in de 23e over. Ergens in de 26e over sloeg Handige Harrie zijn tweede 100 ooit in de boeken met een mooie single. Inmiddels zat iedereen langs de kant zich af te vragen waar we naar aan het kijken waren. Zelfs de legendarische Jan SPits kwam van het bordes om enthousiast te melden dat dit écht cricket is. Niet in de laatste plaats omdat zijn zoon samen met harrie stond te heersen. De trotse teamgenoten van Thomas en Harrie stonden vol ongeloof op en klapten hun handen stuk toen Harrie in over 29 met een mooie 4 de wedstrijd besliste. 193 voor het verlies van 0 wickets, een runchase om in te lijsten. Op het laatst waren de heren wat slordig en dropte HCC wat opgelegde vang kansen. De koppies hingen toen al omlaag in de wetenschap dat de schande van dit verlies nog weken na zal dreunen in de Residentie. Het zij ze vergeven, de fielders voor de drops en de batsman voor hun slordigheid op het laatst.
Het mooie van statistiek is dat de drops niet worden bijgehouden. De statistieken zeggen dat Harrie en Tommy hebben staan heersen, dat ze beiden Not Out zijn gebleven en dat wij met 10 wickets van HCC hebben gewonnen, ze beiden een strikerate van 100+ hebben en dat Harrie nu met afstand de leading runscorer is in Poule 3 met 291 runs. Jammer dat hij nu 3 weken naar Zuid Frankrijk is om te herstellen en pas in augustus weer kan aantreden. De toekomst moet uitwijzen hoe afhankelijk we zijn van zijn runs en hoe diep onze line up is. We weten wel dat de nummer 2 runscorer van onze poule Thomas Spits (245) heet, en nummer 3 Sebasti-Banaan Capel (235). De heren van HCC hadden afspraken elders gemaakt en konden niet allemaal blijven om met Harold zijn 100 te vieren, het zij ze vergeven.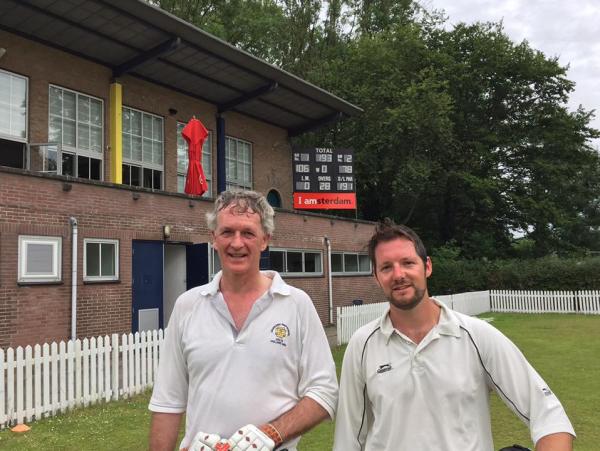 So far so good kunnen we wel zeggen. 8 gespeeld, 7 gewonnen. Onze grootste concurrent is Hilversum en daar spelen we onze volgende wedstrijd tegen op 23 juli. Zij verloren tot nog toe 3 wedstrijden, met winst op de 23e kunnen we een mooie stap zetten en de eerste plaats steviger bezetten.
Dit was het epische verhaal van de wedstrijd van Harrie Honderd tegen de Haagsche Harries. Nu op trainingskamp voor de tweede helft van het seizoen. Dit jaar hebben we Dorset uitgekozen, omdat dit het meest de Hilversumsche omstandigheden simuleert.
Een trotse groet van een trotse Capitán,
The great train Bobbery

Klassement Supporter of the Year:

Jan Spits 2389
Moeder Kappelle* 2193
Noor Maessen en Vrouw van hirtum 2065
Mike Georges Girlfriend 1854
Familie Prenen 1799
Familie Schreuder 1100

* bonus punten vanwege toejuichen van het concurrerende team van zoon Floris en daarmee aangevende het attractieve spel van zami 2 te verkiezen boven de catenaccio van Zami 1 (zie WORM)
Match Report VRA U16 vs ACC, 10/7
The U16s season came down to the last match of the 1st phase fixtures with only a win against ACC being sufficient to move into the semi-final series in September. ACC won the toss and elected to bat first on the VRA #1 field. Captain Salman Mirza (2/24) got his team off to an ideal start with two wickets in his 2nd over and in combination with Haseeb Gul (1/26) VRA were able to keep the run rate at an acceptable level. With two good partnerships ACC finished their innings at a competitive 5/141. The VRA pursuit was built around an excellent innings from Vikram Singh (71*) who has now passed 350 runs for the season. In partnership with Zamaan Khan (17) VRA added more than 90 runs for the second wicket and secured the victory with 3 overs to spare. ACC 5/141 Vs VRA 2/142. A great finish for the team and we now look forward to the next phase of matches in September. Well done boys !