Clubblad Amsterdamse Sportvereniging VRA
---
How's That verschijnt tijdens het cricketseizoen wekelijks
---
Redactioneel 17/6
Helaas deze week geen uitgebreide terugblik op afgelopen week door een gebrek aan tijd op de redactie, maar de vele match reports spreken voor zich. Veel leesplezier en tot snel op VRA!
Tobias Maessen
Secretaris VRA
Wedstrijden deze week

VR 17/06 18.30 Groen&Wit - VRA Twenty20 (away)

ZA 18/06 9.00 Kampong - VRA U10 (away)
ZA 18/06 9.00 VRA U12 - Hermes (home)
ZA 18/06 9.00 VRA U14 - VCC (home)
ZA 18/06 9.00 VRA U16 - VCC (home)
ZA 18/06 10.00 VRA U9 (1) - Bloemendaal (op VRA)
ZA 18/06 10.00 VRA U9 (2) - Qui Vive (op VRA)
ZA 18/06 13.00 VRA Dames - HilKamp (home)
ZA 18/06 13.30 HCC Zami 3 - VRA ZAMI 1 (Wicket Cricket Fest, op VRA)
ZA 18/06 13.30 VRA ZAMI 2 - Hilversum (home)

ZO 19/06 9.00 VRA U12 - Quick Haag (inhaalwedstrijd) (home)
ZO 19/06 10.00 VRA U10 - VCC (inhaalwedstrijd) (home)
ZO 19/06 11.00 VRA 1 - Hermes (home)
ZO 19/06 11.00 Oefenwedstrijd Mini Pro U13 (op VRA)
ZO 19/06 12.00 HBS 2 - VRA 2 (away)
ZO 19/06 13.00 Eindhoven CC 1 - VRA 3 (away)
ZO 19/06 13.00 VRA 4 - Kikkers 1 (home)
Wedstrijden volgende week
VR 24/06 13.30 Old Studs - Old Bloemendaal (op VRA)
VR 24/06 18.00 VCC (inhaalwedstrijd) - VRA U16 (away)

ZA 25/06 9.00 Excelsior'20 - VRA U12 (away)
ZA 25/06 10.00 Indiadag (op VRA)
ZA 25/06 10.00 VRA U9 (2) - VRA U9 (1) (op Qui Vive)
ZA 25/06 10.00 U9 carrousel: Qui Vive - Bloemendaal (op Qui Vive)
ZA 25/06 13.00 VOC - VRA Dames (away)
ZA 25/06 13.30 Ajax - VRA ZAMI 1 (away)

ZO 26/06 9.00 VRA U16 - Rood en Wit (home)
ZO 26/06 11.00 VRA 1 - Dosti (home)
ZO 26/06 12.00 Concordia 1 - VRA 2 (away)
ZO 26/06 13.00 Quick Haag 3 - VRA 3 (away)
ZO 26/06 13.00 VRA 4 - Rood & Wit 2 (home)
Match report VRA 1 vs VOC, 4/6 (away)
Match Report - Round 7: VOC vs VRA
Despite having lost every single competitive match of 2016 and been bowled out for less than a hundred the week before (not to mention the Pro Series), the Fluffers were in a surprisingly buoyant mood heading into their match with VOC in Rotterdam on a sunny Saturday. Despite taking up 10 of the 11 spots in the Topklasse "good bugger" XI, both VOC and VRA have struggled to turn their winning personalities into wins this season, with VOC only marginally outdoing their visitors after one victory in six attempts.
The Fluffers were confident of an uptick in their fortunes this time. Adeel "Cricket Europe" Raja and Mitch "PCL" Lees had rediscovered the art of winning with the Lahore Avengers in mid-week, and eagerly provided their learnings to fellow Fluffs in the warm-up. A lost toss meant the jongens got to bowl first on what looked like a raging turner, the result of disrupted preparations involving two broken rollers that would have tested even the best of groundsmen, let alone rookie Dirk "Gorgeous 10" van Baren.
Undeterred, the Very Reasonable Athletes got stuck into their work. Zoolander almost immediately put down his now customary regulation opportunity off Quirijn "Ferris Bueller" Gunning - who handled it surprisingly well considering some of his recent red-head related incidents - but the drop didn't cost much as Sadiq induced a fine edge in the following over. An even finer edge followed off the bat of van Baren soon after, but the confident appeal didn't move the umpire and the Fluffers were left wondering if it was going to be another one of those days. Skipper Borren was having none of it though, stepping up to bowl the groundsman with a peach that nipped back through the gate.
Despite the bowling toil and a much improved fielding display VOC were slipping away at 2/86. The Fluffers needed a spark, and none other than senior citizen Raja would provide it. Blocking out the pain in his arthritic bones to make his 200th appearance for VRA, Raja set about dismantling the VOC line-up with the calm and precision of a rocket surgeon. By the time his operation was complete Raja had claimed his best Topklasse figures of 6/16 and left the VOC line-up a tattered mess to be all out 115. Zoolander ably assisted the destruction with four fine catches, and Ned won both "best fielding" and "best celebration" with a superb runout of Pieter Seelaar, followed by his best impression of a hopped up Orangutan.
With nearly an hour to bat before lunch "PCL" Lees and Sachin "Usher" Peiris were hoping to end the contest early, but Lees was dismissed in the first over and Ruben van der "Ice" Berg followed soon after to leave the match precariously poised at 2/21. When Peiris perished after the break and was then quickly followed by Zoolander it was suddenly 4/46 and the nerves started to kick in.
It wasn't a matter of who would blink first in this cellar-dweller battle, but who would blink least. Peter "The Wall" Borren can hold a gaze with the best of them though, and put on a composed and crucial partnership of 32 with Emile "Shenanigans" van den Burg, who shelved his normal freestyle batting in favour of a much more conservative approach. Just when things were starting look safe "Shenanigans" and then Leon "Bionic Man" Turmaine were dismissed in the same over, leaving the Fluffers at 6/78 and with plenty still to do. Not for the first time this season Ned mounted a rearguard action, combining with "The Wall" to add another crucial 20 runs before Borren chipped a full toss to mid on. It was left to hero of the day Raja to see his team home as the rest of the Fluffers and their support staff watched on nervelessly.
In the end VRA cruised home with three wickets to spare, earning their first win of the season to jump ahead of VOC and off the bottom of the table. Finally there was cause for celebration, and the Fluffers duly obliged. Next up, HCC away, where another win may even raise the prospect of a top-four finish!
Go the Fluffers!
Mitch Lees
Match report VRA 1 vs HCC, 11/6 (away)
Match Report - Round 8: HCC vs VRA
Fresh from their first win of the season against VOC and delighted by the transportation improvement on the week before, the Fluffers set off to Den Haag for a showdown with mid-table HCC with rediscovered belief and confidence occupying the spare seat. Some shocking mid-journey news from Leon "T-Rex" Turmaine failed to dampen spirits, and when the jongens were welcomed to HCC by persistent drizzle and a delayed start, the opportunity to watch the All Blacks dispatch Wales was seized upon with glee. Surely this was a sign of things to come?
Despite the reluctance of the officials and a nervous HCC skipper the match was started without too much time lost, and a 41 over contest commenced with VRA batting first. Despite failure last time out, skipper Peter "Boom Boom" Borren persevered with Mitch "PCL" Lees at the top of the order, much to the delight of Cricket Europe, and he and Sachin "Usher" Peiris set out for battle.
Lees quickly opted for baseball instead of cricket, and with the benefit of no strike-out rule got the Fluffers off to a reasonable start. Things were moving positively and a big score looked on the cards until Usher also forgot he was playing cricket, shunning the umpires' not-out decision and walking after being caught down the leg side. The bottom of the Topklasse table is no place for such magnanimous acts.
As has so often been the case this season, things went pear-shaped thereafter. "Shenanigans" came and went, "Zoolander" offered catching practice, "PCL" finally struck out, "Boom Boom" boom boomed and was then caught at long-off, and the rest folded like a polyester suit. Only "T-Rex" and Ruben van der "Ice" Berg offered brief resistance, and the Fluffers lost 9/43 to be all out 106.
It was another sub-par total, but the Very Reasonably Athletic Bowlers had yet to have their say. Quirijncard Gunning and Borren had a brief fruitless spell each, but when Gunning was hobbled by a worrisome knee injury baggy entrepreneur Jeroen Mulder entered the fray. Ned's crippling injury quickly paid dividends as Mulder calmly dismantled the HCC top-order with an metronomic display of line and length bowling. Suddenly the Fluffers were in the game at 3/30, but as quickly as hopes were raised they were dashed, and the HCC pair of Vandiar and Overdijk combined impressively to take the hosts home with 7 wickets to spare.
So another loss to add to the already impressive tally. It's not all bad though, this week sees the Fluffers return to their natural habitat - T20 - with an away game against Groen and Wit at the Bijlmer Arena on Friday, followed by a 50 over home match against the mighty Hermes on Sunday.
Go the Fluffers!
Mitch Lees
Match report VRA Dames T20-finals, 11/6 at Groen Geel
Finals T20 at Groen Geel
It was beautiful weather all week but on Saturday the predictions were not that good. Thunder, lightning and rain, a typical summers day in the Netherlands. So when I left home it was drizzling, in Amsterdam it was dry. All the way up to Wassenaar it was raining and when I arrived at Groen geel it was…. still raining. Luckily I could find shelter in a tent where, by the smell of it , has been a party the evening before. All the teams arrived and the wait began.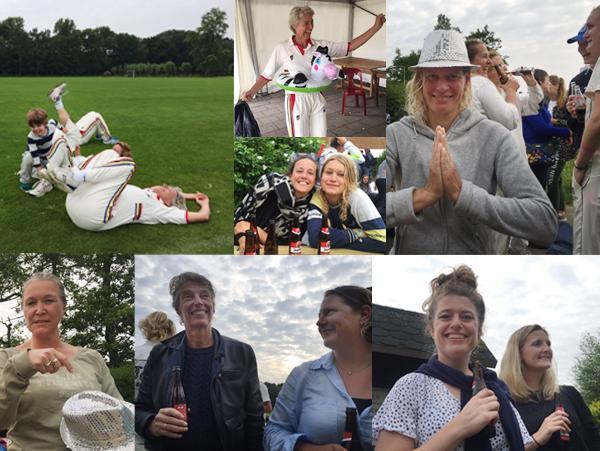 After an hour we decided to start the first game. Playing against Groen/geel. Our over seas was over again and Fernande played her first game.
The field was really wet, grass was long and it was drizzling still but we started anyway. Nathalie lossed the toss and Groen Geel decided to field first. So Saskia and me were opening the batting. Apparently Groen Geel has had a drill practice on hitting stumps ;-( they had me after four runs and Saskia atfter 5. Nathalie and Katie had a couple of runs, but the majority of runs came from Sally (37) and Sjoukje (18), after 20 overs we had a score of 99 runs.
We fielded really well, bowled really well and the energy was high in the field. The one we were afraid of, the lovely Tessa, started off with a four and a six but our overseas didn't blink an eye while bowling and bowled her for 19 runs.
That games was in the pocket and now we had to wait for the other games to finish and see who our opponent was in the 'final'.
So a lot of girls went to HCC and cheer the men on, and a couple stayed behind to check out the competition. It looked like we were going to play VCC. A young team with a lot of potential.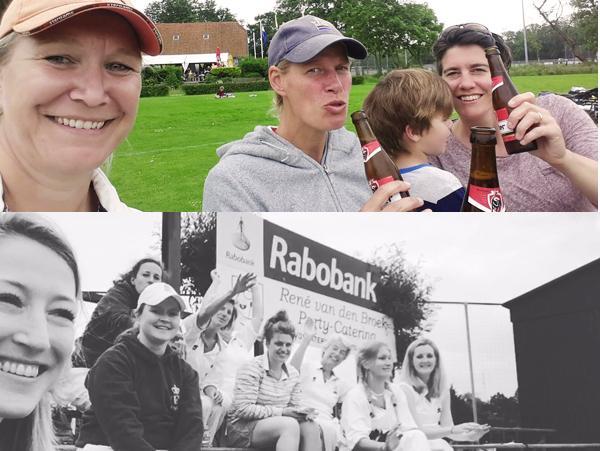 Again we lossed the toss but we were sent out to field. That is okay, with the nice bowling figures of the first game in the back of our minds we will be fine… but what happened?? Was it the nerves, the pressure of wanting to win the woman of the match award??? But in the first two overs we had toooooo many wides, such a shame. The confidence went down and we really needed to pick ourselves up. Lot bowling really well and the took the first wicked and immediately after the second, so she was on a hattrick. Unfortunately she didn't get it, but got her third wicket later in the games, well done Lot (3v20in4). Btw everybody picked up their bowling after the bad start. VCC got to 106 runs.
I opened with Nathalie, she was bowled en Fleur was run out pretty fast after her. Sally came in and we started to build the inning. I got caught behind and Icara(13) came in the field. Sally batted strong and we were just 6 runs short… pfff it was very exciting!!!
Sally of course became woman of the tournament for us.
This was the end of our T20 competition. Coming Saturday we start out 40 over competition, starting at home against Hilkamp.
Birgit Viguurs
Match report VRA Zami 1 vs Kampong, 11/6 (away)
Kamping ZaMi vrs VRA ZaMi I
Location Galgenbos
(An Essay on cynicism)
By Publius Valeriaan Publicola
A battle was fought here, not marked in any history books or a plaque by the roadside, but it is written in the souls, of those that bled and perished over this soil.
Weather was precogitated, the terrain had been scouted and Sun Zu 'd been envisaged long before.
A fortnight had passed since the Bestevaer had been consulted by the Zami­Raad and assigned to this meet. Kamping; the landlocked humble yet vile Utrechters were to be submitted to the enlightened spirit of the Hollanders. And their grass disdainfully urinodenotated. As Kamping has it's origins in Colonial guilt, it seemed prudent for the Cincinnated Cricktator to study their barbarism in detail. The "Koninklijk Instituut Tropen" provided this knowledge to Bestevaer Kappelle, after which he concluded and confided to his ilk: " 't is allemaal K.I.T."
As History has shown any land­war with the East depends on it's logistics, and thus it was supposed that one car should be deployed per participant.
The men had to be constituted, so the Marshal­staff had carefully alerted it's minions with a twelve­hour in advance reveille.
And a call to arms at the command centre at Café Schinkelhaven.
Many of the eager lads were glad to administer higher grades caffeine or lighter(Vedet Witbier) hops to their systems to assure willful determination in the sight of the brutish opposition.
The squadron managed to reach the first waypoint unseen. Taxi'd their vehicles into the shade and greens for nature to successfully camouflage their vehicle­fleet from 'Utrech Ulee­Gan raiders' corsairing the area.
The Kamping was rife with trailer­trash; with the likes of Cook; Woolfie and Tewarie.
A great leader, as all of us know who served time, shows his strength from moment the crew makes landfall;
Floris Kappelle decided on the strategy of first­field.
Theo was inserted to keep wicket for a change and Kempen austed to cool off.
The tactics that proved most productive in the past; an agile bowling spell of interchanging speeds and the use of robust outfielders with the light­infantry fielding close, were implemented.
VRA Zami I (aka the Comedians) are known for their camaraderie and their quality and equality in form.
Such advantages were genus to the fielding that was to take place.
Each bowler was individually instructed and for each fielder there was a technical plan to execute.
The spellbound orders demanded to take wickets, yet to retain the lesser batsmen to the strikers' site. The fearless Hannan contributed maybe most in these matters although only mentioned thrice for his
bowling, his cunning and guile proved him to be of immeasurable use as a fielder. Hazeweijer proved up to his reputed fame and easily took out four of the toughest wickets. Baig and Dekkers should be mentioned among these snipers with an essential double each in their suppression roles.
Drawing fire were perhaps the most courageous men of that mire; Rosine with three expected yet thrilling retained, and Vreeke catching two of the guided missiles entering his sphere.
Two more bogeys were taken out by Kempen en Salomons, that could have done significant area of effect damage.
Others not yet mentioned; such as Mulder and Molenaar were avid in their very field­existence. Yet can be primarily mentioned for their all­round perseverance during this endured bombardment.
As the Kamping­folk are frail in their pleasures and their maxim's are simple; so are their wants.
Rations were ample and although the ingredients were poor; best use was made of them, and they provided a welcome feast to the battered and weary souls during the Armistice.
An opposing Floris, finally coming of age, catered a variety of edibles, quiches from the continent, strawberries from Virginia and rõti from the Pashtun.
For those refilling on their courage; IPA's were served and so were Tempranillos before several grounds of coffee could keep the heart at pase.
The counter­offensive that ensued took all by surprise, the toll by the Kamping shelling before was just below two hundred and would have suggested half a century below par.
Yet the VRA battery was off, Rosine and Hannan played their part. Though the hand of Hades appears untimely and the chords of the Erinyes can not be measured. Valiantly Dekkers, Kempen and Mulder fell.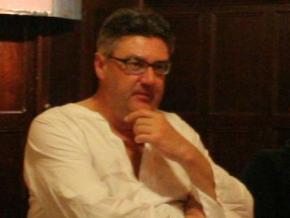 Kappelle not struck by the blinding force of defeat, reacted quickly and stepped down from his line­up and took hold of the best deliveries that were cast. Enduring the fury that was written to be our Nemesis, before relinquishing reign over the outpour to Baig and Hazeweijer and ensuring our victory.
With the dimming of the drumms our captain resumed his humble stature and awarded well deserved Kappelli points to those performing with outstanding fearlessness in the face of impending doom, lowly foregoing the spoils that were rightly his.
Still, up to this day there is no monument, that tells the story of the man crowned by Aris.
Yet those who were there, will not forget the day that Floris Kappelle was 'captain of the match'.
Sanne Salomons
Match report VRA Zami 1 vs Kampong, 11/6 (away) by opponent
Kampong restaurant and bar, June 11th 2016
Although I am a regular at the Kampong restaurant and bar, I feel compelled to write about the marvellous food and drinks served me on June 11th. With my friends of Gentlemen of Zami we invited VRA over as our guest at this venue. The morning/early afternoon coffee was good and the first course was served. Derk and Nick went straight for the bigger menu, Willem and JP went for the more fine dining experience but did not found it to their liking. Wout however ordered the duck and it was served goldish yellow like it should. Nick meanwhile seemed to have ordered the unlimited spareribs and kept on going. After his last rib tasted a bit burned he stopped. Although it is Ramadan Hassan had a nice plate of various assorted delicacies. After that Pieter and Avi seemed to have ordered the satay, ate them at a slowish rate until Avi went for the binge and stuffed 5 eggrolls in one go down his gob. The leftovers were for Wolfy, Vimal and Simon. The bill was 193 in total with 10 broken plates.
The second course was probably the best. Mrs Vimal provided a terrific curry and Floris and Lisette delivered again with quiches, hot cake and more. A stuffed Gentlemen of Zami waddled over for the third course.
Our esteemed guests of VRA then took hold of the menu and Mark, Dilhan and Floris Kappelle stuffed themselves with meat off the served up buffet, while Gentlemen of Zami seemed not able to hold on to almost anything that dropped off their plates. Floris was the worst offender by spilling his food five times in eight scoops off the buffet. They did however not enjoy some of the cherries served by Wolfy as they deemed them a bit off and left them for what they were. This was after Joost was sick after the meatballs out of the Pressure Cooker and had to leave the restaurant and Julian slipped up while running towards the wrong table. Kampong also went for the more unusual food and ordered the Schwalbe collectively. At the end of the course Sander consumed a big steak and VRA found themselves billed for 195 with seven broken plates.
For those who were still hungry afterwards there was more meat on the barbecue and drinks all round. An excellent experience and surely worth five out of five stars.
The leagues: Schwable: Nelson 5, Wout 1, Pieter 1, Wolfy 4, the Pressure 2, JP 3, Willem 2, Avi 3, Derk 3, Hassan 1. Ducks: Wout 2 The politically incorrect appeal: JP 5, Willem 4, Derk 2, Vimal 2, the Pressure 2, Wolfy 1, Wout 1, Nelson 2, Pieter 2, Avi 3. Joost-de-Boer: Wolfy 2, Nelson 3, Derk 2, JP 2, Vimal 3, Pieter 2, Willem 1, Avi 2.
Jeroen van Wolferen
Captain Kampong Zami
Match report VRA ZaEK vs Qui Vive, 11/6
K.D(honi) makes home, in a thriller.
KD casually steers his team home with a sensational knock of 31* with the last man standing. A knock that demanded something slightly stronger than the nerves of steel and an innings that was a amalgam of determination and a great deal of temperament .
Having lost the toss, Quivive wanted to bat first. With Keshav behind the stumps and Sharad (Bangalore Express) sharing the new ball with Vikram singh, it was not going to be any easy for the opposition. They did their preparation well. They brought some new players – reasonable arsenal to add up their fire power.
The first wicket fell in the first over . The batsman was caught up like a rabbit caught in the headlights…It was plumb in front and it was no brainer and made the umpire job easy by still standing online of the stump .. The finger was raised. Next came a fairly determined batsman. Vicky bowled a very good line and length second over. Now Sharad was pumped up again. Couple of inswingers which was very carefully played and an unexpected yorker rocked the timbers. They were shattered with 2 down in the third over. They were trying to regroup and we were on the top of the game. There was a pattern emerging for every two or three overs one wicket falling initially till 5. Avnish and maddy were superb with the ball. Sometimes Avnish was feeling that 9 players to field was redundant. The moment he gets the ball no time for field placement. We need to ask a regulatory question," Am I in the right position ? " for which we always get a statutory answer "Billkul Bharabhar" . At one point we were dangerously close to each other we even did a one arm exercise to have a safe distance between us. Avnish has the credit of taking a good catch .. Rest of us should try fishing so that we could catch something
There was a silent partnership building between the two batsman (Sekhar and Hobby) slowly the ball reaching the boundary and going to six. KD the man in command made a brilliant move by looking up to Viju who was always looked down by Sud .. Viju produced a wicket in every over for atleast two consecutive overs . He could have done that magic again with the third but he grassed a skier. He even made a call "It is mine" , what he actually missed noticing is .. all others were taking one step backward on seeing the ball reaching the orbit. For his caliber he should have taken .. But he dropped .. Now Another shot to long on . Where he reached comfortably with his athleticism again, for his caliber, he should have taken it, it was grassed again. Sammy for his part went past the boundary line and tried to pluck and throw (kevin pollard style), It only left him with injured hand. Maddy was sent to the deep mid wicket . He made very valiant attempt.
Finally KD wanted to finish the opposition and took the last wicket and final score was 175.
With the target of 176 to win in 40 overs. We should have made merry with the kind of start we got. Keshav and Giri opened the innings. An aggressive start from both the batsman. Keshav was hitting the ball with good power. There was a slight chance that was offered but it was a powerful hit. He grew with confidence with 46 odd run from the first 8 overs we were in a flier .. Giri got a leading edge of a flick. As a matter of fact the opening bowlers were taken off the attack. Both Keshav and Giri taking comfortable 2's , 1's and 4's . The bowling was decent and more importantly to the field. They even had 7 – 2 field setup at point (later in the innings) .. After Giri wicket, Maddy came in . Maddy who wanted to steal a run in the gully area did play a shot on the air and it was caught (much to their surprise). Avnish went in, started flurry of shots marked with boundary and doubles and single, he was giving the required company for Keshav who was batting on the other end with aplomb. Avinsh was LBW and Sud went in . Sud played excellently till he hit a on drive in the air. It directly went to the fielder and it was one such rare occasion they caught it. Sammy with his injury already was difficult to manage the situation. We lost couple of quick wickets Keshav, Sud, Sammy. With Viju and KD on crease with 6 down already with a score of 80's it was getting difficult.
KD was determined he was to stay there for ever. All his shots were on the ground and stealing ones and twos . The run rate was not alarming . It was always 4 per over. Viju played well for his 17 runs. The important partnership was not building as we would wanted it to be . Jithesh also fell in the subsequent over. 8 down and close to 60 odd run opposition were in smiles .. The body language was speaking for itself. Vikky came to the crease .. I have to mention he uses "Power Bow ". He was casual & didn't give heed to any pressure. As a matter of fact there was absence of pressure ..Which was troubling us.. He was smiling all the time .. There were riot appeals for run outs. Avnish was true with his judgements and cool as a cucumbers to reflect the abuses. The scene was getting murkier. The hall mark of Vicky's innings and KD's were the running between the wickets and just reaching out of singles and twos. There was only one boundary in KD's entire innings. Vicky played a brilliant 23 coming at 9. He and KD made it look, we will cross the finish line with 2 wickets win. But a bad second run whether it existed or not caused the twist to the story ..
Yes Vicky was run out . We still need 9 runs. Sharad padded and came alone.. Cheers from home team turned in to tense moments.
38.2 overs , Sharad coming in 9 runs to win. It was a very tense moment. Everybody sniffed their chances . The ball was a full toss ball down the leg and sharad played a beautiful flick along the ground .. KD insisted for at least couple of runs .. Sharad held him back .. "see it is a four .. I knew it when it was hit" . Next ball he duly took a single and gave the strike to KD . KD took a couple and a single and kept his strike for the last over. Now even when the umpire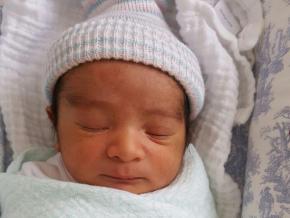 mentioned it is over. KD started correcting the umpire nope .. one more run to win.. That was the only time he was corrected .. Sorry KD, the over is completed . KD deservingly took the winning run and made sure the team is home. Now with five victories on the trot and his wife holding up (with lot of temperament) for his match winning performance to come by. RD made his entry .
RD made his foot imprint in this world on 12th June . KD is a proud father now.
Congratulations for both !
Venkatagiri Pattabi
Match report Zami 2 vs Groen Geel, 11/6
Not the sunniest of days for a game of cricket but no rain so we'll take it. After a second no show by Aussie ringer Sam by yet another lame excuse, furiously arrived at the club to the good news that we'd be playing on the main oval. Some careful grass pitch playing instructions from Paul we won the toss and began fielding. With 10 to their 9 and the first holes are starting to appear in the new and revised availability rooster.
Groen Geel started slowly and had great trouble with the fantastic balls of fire coming from Robert Prenen and Sebastien Capel. Huge swing on grassy pitch. Just 5 overs in and Sebastien Capel claimed the 1st wicket and Bob Prenen claiming the next in the following over in a great caught and bowled. Han the Terrible (known for the damage he can create on the pitch) was next but didn't get any further than 5 runs before succumbing to a great inswinger from Alex van Hirtum. As he walked back, somewhat mystified, the Groen Geel captain came in to get the job done for them. While being dropped numerous times, we let him make it to 63 before finally being able to send him back to the sidelines. Tobias Maessen dismissed of their remaining talent with his first ball bringing their final score to a beatable 150.
VRA Zami 2 began well with the bat, Harold Horseman and toon Hintzen got the run rate off to a good start and built up a partnership of 54 before Harold went lbw. After Toon also got caught it was time for Sebastien Capel and Alexander van Hirtum to get us back on track as by now the run rate was starting to slow. This worked very well until Alex decided to go on a kamikaze run and dismissing himself in the process. Next, Aussie Dave came and supported Sebastien though out challenge ahead. Now on 107 and having just lost Robert Prenen, we were still quite a way off victory and only 2 wickets left in hand. Tobias stepped up to the crease and in a great display (and showing off to his wife on the sideline) proceeded to support Sebastien in getting us to the finish line. A great reverse sweep that went for 4 ensured he'd be getting lucky that night while simultaneously breaking one the last hopes Groen Gell had of winning. Groen Geel was in with one final when one of Philip ter Marsch's balls was possibly a very plumb lbw. Unfortunately he finished his bowling action by walking in front of the umpire's line of sight (yours truly) and it couldn't be given. This was the final nail in the coffin and Sebastien and Tobias wasted no time in gathering the remaining runs needed and claiming victory.
Eric Fabery de Jonge
Match report VRA U16 vs ACC, 12/6
VRA U16s hosted ACC on Sunday still looking for that second win of the season. As a result of some injuries we found ourselves restricted to ten players, with the Captain Salman Mirza also being unable to bowl. Bowling first the ACC batters took a liking to the VRA pace bowlers and were scoring at 7 runs an over in the early stages. The introduction of spin had immediate effect with Lancelot Bloemen (3/23) picking up 2 wickets in his opening over and was followed up with Thomas Debaig (4/20) collecting two wickets in both his 2nd and 3rd overs. Unfortunately with ACC at 9/107 after 20 overs VRA was unable to quickly close out the last pair who batted sensibly in adding a vital 26 runs. As has been the pattern with the U16s batting this season a solid start (Vikram Singh 17) was followed by the fall of regular wickets as ACC bowled tightly. ACC 133 Vs VRA 89.
Andrew Pulver
Match report VRA U12 vs Olympia, 12/6 (away)
With almost a 'full house' of 12 players, our U12 team arrived early at the Olympia ground.
We were warmheartedly welcomed by the Olympia team and given fresh coffee and tea. The field was prepared, with everything set for the match.
Olympia is an old club that has history going back a long time. We were told that the club would have their own clubhouse in the near future. Presently, it meant that if we'd want to go to the bathroom, we could question whether we would arrive back on the field before the end of the innings. Some of us experienced this...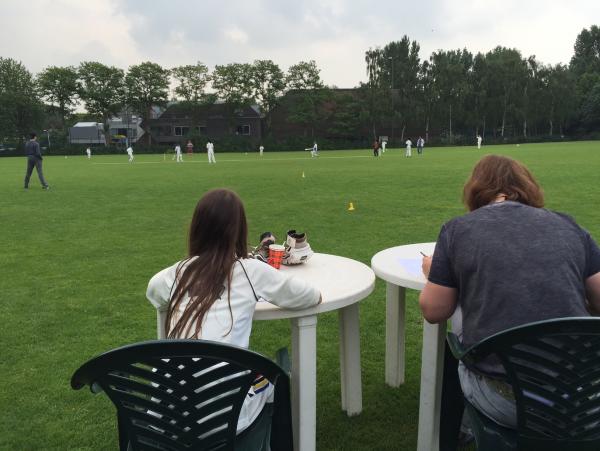 The great spirit of our team was translated into a great and first victory of this season. Aadil was the man of the match with overall all round performance especially taking crucial wickets at the right time but compliments to all the players. Rafael showed himself as an outstanding keeper and of course was the highest scorer as he listened to the coach's instructions well enough to stay on & play a strong innings scoring the maximum runs. Doeschka bowled wicket to wicket & even took a wicket besides a shot to the boundary when she batted. Prabpartik took a brilliant diving catch on the boundary while all others - Isabella,
Kay, Lorenz, Louis, Laila, Qasim contributed well & strongly on the field under the able captainship of Rishabh who led from the front. Off the field, VRA U12 had a lot of support from all the great parents and siblings who supported the team. As mentioned before, this victory was a total team effort. Cheers and thanks to all!
Match report VRA 4 vs Qui Vive 3, 12/6
VRA4midables vs Quivive 3
SHARAD RUNS RIOT
It started out to be a cloudy and drizzling day but as the match progressed the clouds cleared to let the gods witness one of the best spells of fast and aggressive bowling you'll ever see.
To begin with we all gathered up at the clubhouse and had our cup of free coffee. In the meanwhile Sud "One Knee" Sharma won the toss and had a brief discussion with his players and decided to bat first. In went Vijay "Saravana Bhawan" Krishna and Rahul "Devastating" Bhatt and Vijay got out lbw after a silent 2-3 overs. In went Khalid "Afghani Sher" Sherzad and he and Bhatt started to open up with a boundary each. Just when Khalid was looking solid and the dug out expecting another amazing partnership like the game against VCC Khalid got bowled around the legs trying to play a scoop-sweep!!!.
Bhatt was joined by Ashish "Sherpa" Thapa and immediately Bhatt decided its time to unleash his destructiveness and asked for the Kookaburra bat (pretty similar to Hayden asking for the Mongoose bat). What followed was an amazing display of stroke play from Bhatt and a few good shots by the Sherpa himself. A solid quickfire partnership built up and the momentum was with us when Thapa tried to clear the infield and a top edge ended at the hands of short third man. In went Jaydeep "Reliably Floating" Hiryalu and like in most of his innings offered a chance first up at short extra covers but again as most often happens with JD the fielder dropped it. Other hand Bhatt was on another planet kept on unleashing his range of strokes and when he looked set for a big score, he holed out at long on for an enthralling 48.
The score board read 86-4 with more than 20 overs to go. A healthy platform was set up and Ashwin " Canal Rider" Oppu (Shady) joined JD at the crease. Singles and doubles started to flow easily and the Jongens were scoring 4-5 an over without taking any risks. Its always the case so far when these two bat they never have a partnership more than 40 (hope it's never the case in the future) and again this time it was JD holding out to covers trying to play a lofted shot. Harpreet "upto aa jaun" Singh came in and similar to the previous partnership singles and doubles were coming easily and boundaries also started to flow. 30 overs 150 odd on the board with 5 wickets in hand the "Jongens" thought its a great platform to score 220+ by 40 overs. In the 32nd over Shady decided to open up and hit his trademark shot over midwicket. Things were going so smoothly but Shady decided to commit a suicide by taking a single when there wasn't one and Ashwin ran himself out.
"One Knee" Sud joined and as expected singles weren't coming easily and soon enough Harpreet nicked one to the keeper and now 220 was looking too far but still 200 was definetly on. Sharad "Bhau" Hake joined Sud in the middle. Around 14 dot balls followed when Sud decided to open up and hit a couple of good shots but got out nicking one to the keeper. Awais "six hitter" Masood went in but came back a few balls later when he got bowled.
Scoreboard read 169-9 in 35 odd overs. Even 180 was looking tough. Ram "Major" Prabhu went in and guess what the first ball he hit over the top straight for four. 180 hopes were still alive. Now all of a suddenly field spread out and singles were coming easily added with a couple of extras. A loud cheer from the dugout once 180 reached. Next step 190 and soon enough these two gems got us there. 6 balls left 6 runs needed to get to 200. first 3 balls were singles and then came a massive straight six from Sharad. What a shot it was, sound of a gunshot when the ball hit the bat. These two came back with their bats help up rightly so and we went in to lunch with smiles and momentum in our hand.
Target 208
After a quick lunch and a quick warm up the 2nd innings began. Major Ram started with a wide, unusual as he mostly starts with a maiden. Their opener Vijay pulled the next ball for 6 over midwicket and another boundary in the over. They got a solid start. The batsman at the other end wasn't threatening. Ram's second over also went for runs though a top edge went for a six. 4 overs they were 45-0. Still long way to go. In came our Bhau Sharad and guess what he went for a 4 and a six in two balls. We were like wow this guy can hit and we need a breakthrough now to stop the momentum and rightfully Sharad got him lbw and the game was on. We thought it'll go down to the wire but Sharad had other plans.
Those who missed the game I pity you as this was one of the best fast bowling spell you'll ever witness. Sharad was on top in every over getting a wicket or two. Their no:3 got an unplayable yorker and got bowled. Their no:4 wanted a risky single and Awais hit a direct throw and he was gone. those guys were under serious pressure and our VRA lads kept the intensity up as we sensed now that we can roll them over with a few more wickets.
Sharad happily obliged. Guys their no:5 got out to an absolute peach. Reminded me of the wicket of Michael Clarke getting bowled of Simon Jones in the Ashes. He didn't offer a shot to a ball that pitched on 6th stump and hitting top of off. Wow what a scene!!!. From the other end Sherpa Thapa was bowling a good tight line and trapped their no:2 who was struggling and Thapa put him out of his misery by having him caught behind. In the same over their no:6 offered a chance at mid off to Sharad (safe pair of hands) but he dropped it (More like I will get him next over). Guess what that's what he did a yorker right on the money and no:6 was trapped plumb in front. Their no:6 and no:7 weren't comfortable but they hung on for a while (not scoring much though) as Ram and Awais bowled tight and on the money.
There was an attempt made by Sud at gully which if he had pulled it off would have been one of the best catches you'll ever see at any level. At the start of the 19th over a few players wanted a drink but our dictator the "one Knee" Sud said it might rain so lets get the 20-25 overs done asap and two balls later Ram got the no:8 caught at short covers by Thapa. Bhatt came into the attack and started mixing up his deliveries and got their captain no:7 out caught by Awais. Sharad cam back in for his second spell and rightly so got the remaining two wickets quickly. His figures read 6-32 on top of 16 not out.
Special Mention: Thanks Jitesh "Kerala Kutty" for pitching in to umpire. Highly Appreciated!!! Thanks Madhur "Maddy" for coming in as 12th man and fielding for a bit when our bowlers needed a break.
Thanks to Khalid and his mom for the Afghani Biryani was amazing and thanks Madhur for inviting us to your place to have drinks and eat the delicious Biryani.
Summary: Awesome performance guys and VRA4midables on track for mission Overgang!!!

ONE GAME AT A TIME JONGENS
Ashwin Oppu
Note: if I forgot to mention someone or something my apologies for it.