Clubblad Amsterdamse Sportvereniging VRA
---
How's That verschijnt tijdens het cricketseizoen wekelijks
---
Redactioneel
Helaas hebben we afgelopen weekend minder geluk gehad met het weer waardoor er enkele wedstrijden verregend zijn, waaronder de thuiswedstrijd van het Eerste tegen Quick Haag. Gelukkig vonden de meeste wedstrijden wel doorgang en werd er door verschillende teams gewonnen en door alle teams vooral erg gezellige wedstrijden gespeeld.
Komend weekend lijkt het spannend of we het op zaterdag en zondag droog houden, maar hopelijk blijft de regen beperkt en kan een ieder genieten van elkaars (sportieve) gezelschap op de diverse pitches, zowel in het Amsterdamse Bos als elders in het land. Op VRA is het zowel zaterdag als zondag volle bak met de verschillende jeugd- en seniorenwedstrijden, zoals u in het programma hieronder terug kan lezen. Op zaterdag vindt er ook een evenement plaats van de faculteit Bewegingswetenschappen van de VU.
Graag maak ik van de gelegenheid gebruik om te benadrukken dat VRA uw hulp en steun nodig heeft. Wij zijn een familieclub met een ongelofelijke verscheidenheid aan afkomst, cultuur en religie, maar met een gemeenschappelijke deler: passie voor cricket! Het was dan ook zeer interessant om als bestuur afgelopen dinsdagavond om de tafel te zitten met verschillende ouders die zich inzetten voor de jeugd, bijvoorbeeld als begeleider of coach. Communicatie is de sleutel tot succes en het was bijzonder om de betrokkenheid van deze vrijwilligers te ervaren. Mocht u zich ook willen inzetten voor VRA, neem dan contact op met mij of een van de andere bestuursleden. Daarnaast staat onze deur altijd open tijdens de wekelijkse clubavond, tegenwoordig verschoven naar dinsdagavond.
Ik wens u heel veel plezier dit komende weekend, zij het op het veld, achter de score-tafel of aan de boundary!
Tobias Maessen
Secretaris VRA
Vrijwilligers gevraag voor North Sea Pro Series
Binnenkort zullen op VRA nog diverse interlands worden gespeeld. We zoeken nog vrijwilligers die willen helpen op een van ondergenoemde dagen. Het gaat om diverse taken, zoals groundstaff (afdekken pitch met zeilen, bewaken dat niemand voor de screen langsloopt, ballen uit de sloot vissen), bedienen van het scorebord, bewaken van de toegang tot het clubhuis, brengen van drankjes naar de kleedkamer en dat soort zaken.
Wie een of meer dagen komt helpen, ontvangt contant een leuke vergoeding.
Het gaat om de volgende data:
Maandag 30 mei: North Sea Pro Series

Dinsdag 31 mei: North Sea Pro Series

Wie een of meer van deze dagen kan helpen: neem contact op met Ruurt Schreuder (ruurtschreuder@hotmail.com of +31 (0) 6 2239 6366)
Volunteers needed for international matches at VRA next week.
We are looking for people to help us on one or more of the dates mentioned above with various tasks such as groundstaff, guarding the screens, operating the scoreboard or other simple jobs. Those helping on the days and during the periods mentioned above are entitled to a fee. If you are available and willing to join the crew, please contact Ruurt Schreuder (ruurtschreuder@hotmail.com of +31 (0) 6 2239 6366).
Wedstrijden deze week
ZA 28/05 11.00 Young Pro Series – U17 regionale wedstrijd op VRA
ZA 28/05 13.00 VRA Dames - Quick 1888 (T20) (home)
ZA 28/05 13.00 Almere Aligators - VRA ZaEK (away)
ZA 28/05 13.30 VRA ZAMI 1 - GroenGeel (home)

ZO 29/05 9.00 VRA U9 (2) - Qui Vive (op Bloemendaal)
ZO 29/05 9.00 VRA U9 (1) - Bloemendaal (op Bloemendaal)
ZO 29/05 9.00 VRA U10 - MOP (home)
ZO 29/05 9.00 VRA U12 - Excelsior'20 (home)
ZO 29/05 9.00 VOC - VRA U14 (away)
ZO 29/05 9.00 VRA U16 - Hermes (home)
ZO 29/05 11.00 VRA 1 - ACC (home)
ZO 29/05 12.00 Olympia 1 - VRA 2 (away)
ZO 29/05 13.00 VRA 3 - HMS 1 (home)
ZO 29/05 13.00 VRA 4 - Dosti United 3 (home)

MA 30/05 11.00 North Sea Pro Series op VRA
DI 31/05 11.00 North Sea Pro Series op VRA
Wedstrijden volgende week
WO 01/06 18.00 Halfway Trophy VRA - Bloemendaal op VRA
WO 01/06 18.00 Halfway Trophy Rood en Wit - ACC op VRA

DO 02/06 16.00 VRA U12 - Buckswood (home)

VR 03/06 13.30 Zamigo's - UCS Old Boys op VRA

ZA 04/06 10.00 HilKamp (T20) - VRA Dames (away)
ZA 04/06 11.00 VOC - VRA 1 (away)
ZA 04/06 13.00 Qui Vive - VRA ZaEK (away)
ZA 04/06 13.30 VRA Zami 1 - VRA Zami 2 (home)

ZO 05/06 10.00 VRA U9 (2) - VRA U9 (1) (op VRA)
ZO 05/06 10.00 U9 carrousel: Qui Vive - Bloemendaal (op VRA)
ZO 05/06 9.00 VRA U10 - Qui Vive (home)
ZO 05/06 9.00 VRA U12 - VOC (home)
ZO 05/06 9.00 VRA U14 - HCC (home)
ZO 05/06 9.00 HCC - VRA U16 (away)
ZO 05/06 12.00 VRA 2 - Qui Vive 2 (home)
ZO 05/06 13.00 VRA 3 - VCC 2 (home)
ZO 05/06 13.00 VCC 3 - VRA 4 (away)
Match report VRA 1 vs Dosti, 15/5 (away)
Match Report - Round 3: Dosti vs VRA
After two straight losses to start the season, the Fluffers made the trip across town to reigning champions Dosti knowing that things weren't about to get any easier in Round 3. Last year's winners have strengthened considerably in the off season, adding South African professionals Stiaan van Zyl and Robbie Frylinck to an already formidable outfit.
Much of the talk in the lead-up had revolved around Adeel "Cricket Europe" Raja's 200th game for VRA, but the discovery of an administrative error revealed that Raja was actually still on 197, meaning this Sunday's home clash with fierce rivals Quick Haag will be the site of this impressive milestone for the former international. Make sure to get down and show your gratitude for the old man!
Back to Dosti, where Fluffers leadership had identified their best chance as a well-orchestrated "smash and grab", beginning with a quick removal of the Dosti top order and ending with a delicious early chicken and rice in the clubhouse. Unfortunately nobody told the umps how good the chicken was, and they proceeded to turn down a number of fantastic shouts for LBW off "Under 50" pros van Zyl and Colin Ackermann soon after openers Ahmed and Tewarie had been dismissed.
When Zoolander put down a regulation catch from van Zyl to deny Leon "mobility scooter" Turmaine at his second attempt at a test wicket soon after, the day was extended immeasurably. It wasn't fun in the field from then on, and no Fluffers fan wants to be put through the description of how effortless van Zyl, Ackermann, and then Frylinck made the next 200-odd runs look. Van Zyl ended on 113 not out, Ackermann made 67, and bully boy Frylinck smashed a quick 39 – including a massive six off Quirijn "Ned" Gunning from the last ball of the innings – to take Dosti to 5/285 from their 50 overs. Ned wasn't impressed: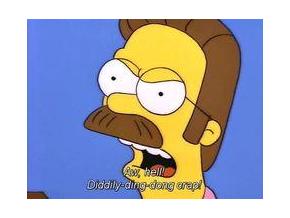 The chase started poorly. "Cricket Europe" was out in the first over, followed closely by Ruben "Shenanigans 2" van der Berg and Emile "Shenanigans" van den Burg to leave the score at 3/21. And when Peter "Supply Run" Borren holed out soon after, it looked as though the Fluffers were done.
Eric "Zoolander" Szwarczynski (pronounced swaar-zin-skee) had other ideas though. The best Polish cricketer in history combined first with Ned to double the score, and then with Mitch "PCL" Lees for a partnership that started to make it look like things might begin to look like getting a teeny bit interesting. All of a sudden the 100 partnership was up and runs were flowing at almost exactly the asking rate of eight per over. But as quickly as the fightback had begun it was over. Lees misjudged a shorter delivery and chopped on for an uncharacteristic 37 that was highlighted by bombs off Vinoo, Malik, and Boom Boom Bukhari, and the remaining four wickets fell for just 15 runs, with Zoolander the last man out for a majestic 106.
So more disappointment for the Fluffers, who are now winless in three. On a positive note, Zoolander is BACK, and the chicken rice was amazing after a long, tough day. Next up on the double header weekend, the Very Reasonable Athletes take on Excelsior at home for another crack at their first two points.
Go the Fluffers!
Mitch Lees
Match report VRA 4 - VVV, 15/5
2016 – Second Match against VVV
Rahul and Ashwin (alias Shady) anchor for 8 wickets victory.
It was a cloudy day (a typical) for cricket in Amstelveen. Sud won the toss and put the opposition to bat. Ram was given the new ball as per the custom. The fiery and discipline showed the kind of commitment this guy possess. This set the tone for the rest of the bowlers. The first wicket fell in the second over and Ashish was successful with the LBW appeal . When it comes to LBW , I must confess there is a bit of Justin Langer with everybody . Walking, with kind of disapproval for what so ever reason. With all due respects to Langer. With 1/1 in the score card. We were convinced that with in the first spell we should scalp more (atleast 3 ). There was lot of energy and those were infused with Ram's bowling. Maiden for the next couple of overs. We were clearly over the top . first spell from Ram was really too good to believe probably the best of Ram 6 overs 3 maidens runs still in units. Pity that he didn't get wickets. The opposition played sensible, holding the wickets and started to score only on loose deliveries. There was a very good wicket partnership building. The second change brought in Ashwin to bowling. He took the wicket of the batsman who was looking very dangerous. He just started to open up and started pelting fours and Vijay our stand by keeper took a very good catch to stop the avalanche .
JD was introduced to the attack. His first over opened two chances of consecutive balls. The batsman should have considered very lucky. The one was grassed by KD of the most dependable fielders. Probably it was a bit tricky as spotting the ball in the deep is always a problem and the he probably started a second late . Next was offered directly in to the hands to yours truly and it was grassed. There was a comment from the ground why did you even move when it was landing in to your hands. I did see the sun and thought of saying the sun was directly in to my eyes, but the crowd was looking dangerous (ready of assault ). I offered sincere apologies which was not even acknowledged, by none. Next opportunity was offered by the same batsman by to Sud. He dived the farthest possible distance and received a customary, consolidation from everyone "Well Tried".
VVV, for some weird reason didn't look to score singles. Looking only for big hits. With the score of 80 / 2 in 17 overs we had our drinks break. We have a new slogan "Together" to bring in the energy. I must say it worked, with the hindsight of victory.
Now, Rahul, Avinsh and KD were brought in to attack. It was brilliant bowling from both KD and Avinsh. There was one batsman trying to hit hard and another only giving catch practice to VRA. In that setting VVV recalled their batsman who was giving catches for almost all players. They believed they had a batting power behind to push the score. Now time for a " Juggler " . Nikhil managed to hold on to a catch which was similar to the one which was offered to me. Nikhil managed it dextrously with 7 to 8 juggles. More than anybody the umpire had his heart in the mouth ".. Come on finish up the act .. " Nikhil convinced everybody in the team that this is the defining moment. After that everybody started taking catches. The effort of Shady in the mid wicket region was astounding , which was only to be superseded by Thappa's effort (Diving) .. No no .. Proper dive and genuine attempt not like .. (Sud, unspoken words). Rahul steam rolled the opposition with 4 wickets. The batsman who was forced to retire came back with vengeance at 38th over. JD again this time hoping somebody will take the catch, bowled heart out, Thapa finished with the great attempt. With 186 to win we went in for lunch.
Viju and Giri opened the innings. That is the least we could say . First three runs came only in extras and Giri went for an ambitious VVS laxman like pull short .. Out side off ball to cow corner. The ball took the top edge and didn't cross the inside circle. Viju after couple of overs was "Justin Langered". Shaking his head and convinced that he was outside the leg stump .. hmmm! Ashwin (Shady) and Rahul were on the creased. Slowly steading the ship after quick wickets. They were stay put till 17th over .. no acceleration just playing the lose balls and stealing few singles. 17 overs 45 runs on the board. Rahul started the onslaught, 17 runs in over. What kind of shot was that .. reaching the orbits. Shady played sensible by rotating the strike. When Rahul is playing that is the best thing to do . Let him take the wrath out, you just enjoy watching . We have an impressive line up on the batting front. JD, Thapa, Ram, Sud, Nikhil, Avinsh. But they all have to wait for another match to get to play. Batman and Robin didn't leave any stone unturned. Impressive 92* from Rahul and a fantastic 65* from Ashwin (Shady) ensured our first win for 2016 season.
"Together" – We shall make great progress and enjoy the great sport !
Kudos to Sohail for doing umpiring from our side.
"If I missed to mention something it is my memory which has deceived – Not their great efforts "
Venkatagiri Pattabi
Match report VRA 1 vs Excelsior, 16/5
Match Report - Round 4: VRA vs Excelsior
Another frigid Amsterdam day and the early arrival of new foe Sohail "I tell you man" Bhatti greeted the Fluffers as they arrived for the second match of their double-header weekend. This time it was Excelsior who stood in the way of a maiden two points for the 2016 season. The Very Reasonable Athletes were back to full strength with the return of overseas pro Ashwin "slow Dhoni" Oppu, but it remained to be seen what physical shape a few of the oldies would be in after a hard slog at Dosti the day before.
After a spirited warm up skipper Borren lost his second toss in a row and was asked to bowl first on a spicy looking deck. A pleasant surprise. A good start was required and Quirijn "Ned" Gunning duly obliged, inducing an edge from the third ball of the morning to remove opener Etman. The first six overs from Ned and Sadiq "Punter" Mahmood were exceptional as the jongens sought to press the advantage, but the Excelsior batsmen were equal to the task and eventually the initial bowling discipline began to fade.
What had started so promisingly soon became an exercise in damage limitation, as two solid partnerships saw Excelsior to 2/150 by around the 30 over mark. Quality spells of bowling from Borren and Leon "Bionic Man" Turmaine (at the second attempt) pegged back the scoring, and Adeel "Cricket Europe" Raja lived up to his name for the first time this season with three tail-end wickets, but it couldn't stop the visitors scrambling to 229 all out, a very competitive score on a pitch with variable pace, bounce, colour, and seemingly temperament.
A challenging challenge soon became a mountain to climb as three Fluffers wickets fell early, and the salvage job again fell to Zoolander and "Slow Dhoni". The pair recovered well to take the score from 3/38 through to 96 when Oppu fell LBW, but the run rate wasn't flash and when skipper Borren fell for a duck in search of quick runs the Fluffers were under the pump again at 5/97.
Ned joined Zoolander for the uphill battle and the pair fought valiantly to up the scoring rate and get closer to the target, but the balls remaining continued to evaporate more quickly than the runs required, meaning the vital victory looked less and less likely.
When Ned was dismissed for a solid 32, 40 runs were now required from 11 balls. Despite the tailor made situation, Mitch "PCL" Lees and "Punter" were unable to deliver the requisite number of boundaries, and both perished in the attempt leaving "Bionic Man" to negotiate the final two Bhatti deliveries to prevent his appearance on Cricket Europe.
Another close loss leaves the Fluffers with a four from four record and some work to do in the bowling department, the Excelsior attack having clearly put in a better effort with a disciplined display of line and length consistency.
Next up Quick Haag, who are also carrying a perfect four from four record and will be brimming with confidence when they arrive on Sunday. The complete performance will be required if the Fluffers are to break their duck.
Go the Fluffers!
Mitch Lees
Match report VRA Dames vs Rood en Wit, 21/5 (away)
VRA dames tegen Rood & Wit
Early mornings gingen we richting Haarlem, vol goede moed en een grote kop koffie!

Tossen is een 50/50 kans, doch verlies ik 'm elke zaterdag bijna traditiegetrouw haha... we mochten het veld in om te batten. 

Aan Icara en Git de eer om de wedstrijd te openen, een enthousiaste appeal op een hoge docht rechte bal en helaas viel het eerste wicket there and then. Ik kwam in, maar al snel wisselde Icara zich in voor Anne. De bal kwam heerlijk van het bat, helaas net als Ica recht in de handen van Heather Siegers. 
Er moet gezegd worden Rood en Wit was netjes aan het bowlen en goed aan het fielden, ik stond lekker in met Lot. Lot ging supergoed, losse ballen wegslaan en goede ballen blokken en snelle singles rennen. Go us :) toen kwam er een supermooie lange bal recht op me af en ook ik mocht het veld verlaten met 23 runs. Lot speelde nog even verder met Lotte ( Lotte is nieuw, overgekomen van VOC, superleuke aanwinst voor het team). 
Katie heeft prachtig batwerk laten zien. Mooie drives, ondrives en bang naar square, heerlijk om te zien! 
Sas heeft zich ook even op het midden laten zien met een snelle aantal runs, ze bewees dat yoga op ibiza ook goed werkt als warming up. Titia gaf alles op de laatste bal van de 20ste over en helaas resulteerde dat ook in een wicket.
Na de eerste innings stonden we op een banging 72 voor 8. 

Een challenge om te verdedigen, maar cricket is en blijft cricket en je weet nooit hoe een wedstrijd loopt. Dus we gingen enthousiast het veld in, een man minder maakte niet uit want we Ica is er en die is ZO leuk die telt voor 2 haha. Er was een goede sfeer in het veld, ok er waren wat gemiste kansjes, maar eigenlijk hebben we best ok gespeeld, we hadden gewoon meer runs moeten hebben en een mannetje meer op de boundary was ook prettig geweest met Heather Siegers aan slag. Man man man, wat een batter! Ze had 58 runs van de 73. Haas en Ica hebben heel netjes gebowled en Anne had een goed wicket en ik had ook een wicket jeeh! 
In de 13e over haalden ze ons totaal in. Ik wil nog even bewondering uitspreken voor Titia en Katie in het bijzonder die ik echt zeer actief heb laten fielden, ook de anderen natuurlijk, die goed opletten met de veldaanpassingen ed. Mooie relais en andere mooie acties in het veld.
Katie won met haar batting en fielding en overall great performance de woman of the match! 

Afgelopen woensdag weer supergoede training gehad van Peter Borren, gericht op vangertjes. Catches win matches, dus we gaan volle kracht de volgende wedstrijd in. 
 We hebben zelfs 'overseas' Sjoukje Minnema erbij, die speciaal voor de wedstrijd komt invliegen vanuit het tropische UK. Dat beloofd wat!

Wil nog even zeggen dat onze favoriete maar gepensioneerde umpire Bob van Keulen even kwam buurten en we denken aan je Bob! Sterkte en liefs aan je vrouw.

Dank voor de aandacht en tot snel op VRA, we spelen thuis dit weekend!


Liefs,

Nathalie

My apologies for the Dutch match report, but I had to write it in a crazy tempo cause I need to dive into bed. Annnd for our English teammembers, it's good for your Dutch skills, but also next week we'll do an English one ok? :) and Katie, you were AWESOME overall, it got mentioned in the above once or twice haha.
Match report VRA Zami 2 vs Kampong, 21/5 (away)
Hecht Zami collectief levert team effort om kampong te verslaan
Note to Dave and Gareth: great team effort, Dave gave us impetus in the batting just when we needed it. See you again soon!
Het was een hele fijne cricketdag voor iedereen bij VRA Zami 2 uit bij Kampong. Alle zorgen van die week kon iedereen even achter zich laten. Het hoofdveld lag er keurig omgeploegd bij, geen graswicket dus, maar voor de rest liet Kampong zien wat gastvrijheid is. Zoals de toss winnen en ons eerst laten batten.
Joost Dekkers spaarde zijn runs voor later dit seizoen, maar Tommy Spits en Mike George bouwden een mooi partnership van 68. De coverdrives van Mike waren een genot om naar te kijken, zowel over de grond als door de lucht. Een mooie score voor hem. Tommy ging helaas voor 45 uit, net op moment dat de versnelling eraan zat te komen, maar snelle runs en wat boundaries van Dave Kenwery, Sebastiaan Capel en Alexander van Hirtum leverden een keurige 176 voor 7 op.
De lunch was prachtig, verse broden, salades, soep en twee soorten quiche, hier komen we graag terug! En het was munitie voor onze aanval om korte metten met de batsmen van Kampong te maken.
Onze youngster Oliver Bloemen liet zien dat left arm over the wicket yorkers lastig zijn: maar liefst drie clean bowled en daarmee de top order uitgeschakeld. captain Robert Prenen was zeer zuinig aan de andere kant, maar zonder wickets. Die combi legde meteen een druk op Kampong die ze niet meer te boven kwamen.
Helemaal toen Berend "Bernhard" Steenhof ook nog twee keer de palen raakte met bowlen en Tommy een vang nam om hem drie wickets te bezorgen. Bleef over JP Sigmund, aardige vent, goed bat ook, maar niet opgewassen tegen de bowlerij van de one and only Toon Hintzen! Keurig vangetje van Alexander in de covers en einde oefening voor Kampong. Er werd sowieso erg lekker gevangen door ons deze zaterdag. Niet meer de grabbel- en circusvangen van vorige week (Joost Dekkers, je weet wie ik bedoel), maar gewoon soeverein in de twee handen klemvast. Berend Steenhof pakte er twee in de gully op Sebastiaans bowlen. En Joost een hele snelle op eerste slip, ook zinder problemen op het bowlen van de caPtain.
En daarmee was de koek op voor Kampong, ze kwamen niet voorbij de 130 en daarmee waren de punten in de pocket. Ook de nazit met bier, bbq en speeches was prima verzorgd door onze gastheren, met speciale dank aan Floris Jansen voor de uitstekende catering de hele dag, de bbq in het bijzonder.
In het supporter van het jaar klassement zagen we nieuwe binnenkomers langs de lijn verschijnen. Dubbele punten voor papa en mams Spits, die helemaal in Utrecht hun zoonlief kwamen ophalen voor zijn verjaardagsfeestje. En driedubbel voor Noor Corpeleijn-Maessen, voor het bijwonen van een uitwedstrijd en mee-bbqen.
Veel dank aan iedereen, ik heb genoten! Een hele prima dag
Sebastiaan
Match report VRA u16 vs Rood en Wit, 22/5 (away)
VRA U16s arrived at the Rood en Wit grounds on Sunday morning under cloudy skies and looking for a first win of the season. Luckily the rain stopped by 10am and we were able to turn the match into a 20/20 contest in which Rood en Wit won the toss and elected to bat first. After losing an early wicket R&W steadily built their innings with two strong partnerships of 36 and 41. Four VRA bowlers picked up single wickets – Alec Pulver, Jagjot Singh, Captain Salman Mirza and Vikram Singh. Aided by a couple of run outs the R&W innings closed at a respectable 6/126. VRA remained confident of their ability to chase down such a total, but lost early wickets and were unable to build any decent partnerships. VRA were eventually bowled out in the 20th over for just 81 – top score being Alec Pulver with 15. The VRA team were disappointed with the final result but do believe that better performances are around the corner – hopefully this coming week at home against Hermes.
Andrew Pulver
Match report VRA 2 vs ACC 2, 22/5 (by Jan Balk, ACC)
Bron: www.acc-cricket.nl/blog/pakistaanse-asielzoeker-van-16-met-ongelooflijk-lange-aanloop-do
ACC 2 heeft kansloos verloren van VRA 2. Dit was vooral te danken aan een Pakistaanse fastbowler van 16 met een ongelooflijk lange aanloop. Zo werd het uiteindelijk alles bij elkaar een nederlaag om in te lijsten.
Nietsvermoedend begon ACC 2 nog uitstekend op het oude vertrouwde eerste veld in het Amsterdamse Bos dat tegenwoordig als veld 2 van VRA door het leven gaat. De bowlers bowlden de sterren van de hemel en de batsmen van VRA leken op clowns uit het circus. De een na de ander gaf zijn wicket weg en voor slechts 139 runs zaten de reserves van onze tegenstander aan de kant.
Bijzonder
Dit totaaltje zou ACC 2 natuurlijk wel even gaan maken. Maar VRA 2 beschikte over een wel zeer bijzondere bowler. Dit was de pas zestienjarige Haseeb Gul. Over het supertalent uit Pakistan ging meteen al een bijzonder verhaal rond.
Haseeb Gul is namelijk een asielzoeker, die op dit moment in Nijmegen woont. Hij is van Pakistan naar Nederland komen lopen en heeft er drie maanden over gedaan.
Hemel
Haseeb Gul nam een ongelooflijk lange aanloop vanaf de screen. Maar goed, wat is een ongelooflijk lange aanloop als je van Pakistan naar Nederland bent komen lopen?
Hoe dan ook, Haseeb Gul bowlde de sterren van de hemel en nam in zijn allereerste over al drie fantastische wickets, twee clean bowleds en een LBW. ACC 2 liep daarom meteen achter de feiten aan en leed uiteindelijk één van de grootste nederlagen ooit. De Amsterdamse reserves strandden op het totaal van 50 all out.
Verschrikkelijk
Een grote nederlaag is voor een sportman natuurlijk verschrikkelijk. Maar aan de andere kant, wat is er nou mooier dan verliezen van een zestienjarige asielzoeker, die van Pakistan naar Nederland is komen lopen? Ik zeg: helemaal niks.
Ik zou dan ook bij deze willen pleiten voor meer, meer en vooral meer asielzoekers in Nederland. Vooral als zo goed kunnen bowlen als the one and only Haseeb Gul. Misschien wordt het dan ooit echt nog eens echt wat met dat cricket in Nederland.
VRA 2-ACC 2: 2-0 VRA 139. H. Alvi 21, D. Samuel 21, H. Gul 22. H. Rix 3/25/8, J. Balk 4/49/8, S. Walsh 2/29/5.1.
ACC 50. H. Gul 5/12/5, D. Samuel 3/8/5, H. Ali 2/13/3.
Match report VRA 3 vs Ghausia Feyenoord, 22/5
VRA 3 208/6 (39 overs) beats Ghausia Feyenoord 207 all out (38.3 overs) by 4 wickets
VRA 3 played the third league match of the season under heavy skies with persistent drizzle and at times heavier rain. Sam Freeman got called up last-minute to play as wicketkeeper for the seconds, meaning we had to fight this battle a man short. As the first team's match got washed out on the main pitch and the seconds rolled over ACC2 very cheaply, the thirds had to put in hard work and a combined team effort to deliver the points on the ABN AMRO Ground.
Having lost the toss VRA fielded first in a wet outfield. Ghausia started off with a left/right-hand combination which opening bowler Thijs van Nierop had some trouble adjusting to, but Olivier Bloemen found some nice movement from the other end. First-change bowler Mohammed Imran relieved us of the left/right-hand combination, clean bowling the left-hander with the score at 24. Nevertheless the batsmen continued to find the runs, despite the rain and wet outfield. Skipper Thomas Spits rang the changes, good old Teun Jansen Schoonhoven (1 for 23 of 8 overs) proving particularly difficult to score of with his off-cutters of the wet pitch. The Ghausia batsmen stuck to their task though, as intervals of cheap overs and solid fielding were answered by doughty partnerships throughout. Spinner Waleed Ahmed (4 for 31 of 8 overs) was the pick of the bowlers but it was Ernst van Raaphorst (1 for 33 of 7 overs) who got the prized wicked of their captain and opening batsman, splendidly caught running in by Olivier Bloemen at fine leg off a top-edge. Eventually Imran (3 for 44 of 7.3 overs) came back to finish off the tail, and Ghausia closed their innings at 207 all out after 38.3 overs.
Chasing 208 in 40 overs in overcast conditions was never going to be easy, and we figured partnerships were going to be the key having a relatively deep batting line-up with keeper Leon Janssen coming in at 8. Openers Thomas Spits and Mike Rier set out to try and lay a platform, negotiating the early swing to put up an opening stand of 43 before Mike fell caught behind for 10. Thomas and Teun continued to build putting up another 40+ partnership, and frustration started to creep into the Ghausia side as they steadily worked towards the halfway stage, and things looked good for a launch at the target at 92/1 after 20 overs and the frustration amongst Ghausia clearly showing in their comments. Then however, Ghausia brought their fifth bowler on, who clean bowled Thomas for 37 with his first ball with one that skidded through on the wet surface, before getting Teun to play on for 15 later the same over. Now we were 93/3 and two fresh batsmen were at the crease with the required run rate going towards 7 an over. But today the whole batting order was hellbent on reaching the target and beating the hostile Feyenoorders. With an over-my-dead-body attitude, Waleed Ahmed and Rohit Duhra combined quick singles with awesome hitting, Waleed stepping down the track to loft their leg-spinner for a straight six, and Rohit smacking their pace bowlers inside out over extra cover. They put up the most important partnership of the innings, putting up 57 at the required rate before Rohit miscued a full toss high into the air and was caught for 22. Olivier Bloemen came in but quickly found himself short of his ground, slipping as he turned on the wet pitch, and things were still tense with 50 runs required at 7 an over. But now Imran came in to join Waleed, and just as Waleed had done with Rohit they combined good running with big hitting, as Imran cleared the fence at long on and bringing the target down to single figures. 6 were required of 9 balls when Waleed tried to hit big one more time but this time found long-on, well caught for an excellent 45. Leon Janssen then came in to finish things off with Imran, and when the scores were level with one over to go, Ghausia duly surrendered by bowling a wide.
An excellent team performance by VRA 3, with the catches being held (unlike last week!) and the bowling recovering well from a difficult start, before a well-timed chase built on partnerships was played out almost to perfection. Good job guys!