Clubblad Amsterdamse Sportvereniging VRA
---
How's That verschijnt tijdens het cricketseizoen wekelijks
---
Programma deze week
Hieronder het complete programma van deze week. Raadpleeg voor de meest actuele agenda altijd de VRA-website. Aanvangstijden zijn onder voorbehoud. Op de speeldag zelf staat de veldindeling aangegeven op het bord bij de kleedkamers. Paul Polak is als groundsman te allen tijde verantwoordelijk voor definitieve toewijzing van de velden.
DO 18/06 3e dag ICup: Nederland - Papua Nieuw Guinea, 11.00 (VRA)
VR 19/06 4e dag ICup: Nederland - Papua Nieuw Guinea, 11.00 (VRA)
ZA 20/06 Indiadag 2015, 9.00 (VRA)
ZA 20/06 VRA U9 - Bloemendaal1 U9 (at ACC), 9.00 (away)
ZA 20/06 VRA U12 - Bloemendaal U12 (at ACC), 9.00 (away)
ZA 20/06 Rood & Wit Zami 1 - VRA ZAMI 1, 13.00
ZA 20/06 HCC - VRA ZAMI 2, 13.00 (away @Kampong)
ZO 21/06 VRA 1 - Hermes D.V.S. 1, 11.00 (VRA)
ZO 21/06 Salland CC 1 - VRA 2, 12.00 (away)
ZO 21/06 Rood & Wit 2 - VRA 3, 13.00 (away)
ZO 21/06 VRA 4 - Kikkers 2, 13.00 (VRA)
WO 24/06 WCLC: Nederland - Papua Nieuw Guinea, 11.00 (VRA)
WO 24/06 Rood & Wit - VRA, 18.00 (away)
Programma volgende week
Hieronder het complete programma van de volgende week. Raadpleeg voor de meest actuele agenda altijd de VRA-website. Aanvangstijden onder voorbehoud.
DO 25/06 VRA U12 - Leicester Grammar School (UK) U13, 16.30 (VRA)
DO 25/06 VRA U15 - Leicester Grammar School (UK) U14, 16.30 (VRA)
DO 25/06 Philips - TCS, 18.00 (VRA)
ZA 27/06 Rood & Wit U16 - VRA, U16 9.00 (away)
ZA 27/06 ACC U9 - VRA U9, 9.00 (away)
ZA 27/06 Kampong 2 U12 - VRA, U12 9.00 (away)
ZA 27/06 Rood & Wit T20 - VRA Dames T20, 12.00 (away)
ZA 27/06 VRA ZAMI 1 - Ajax, 1 13.00 (VRA)
ZA 27/06 VRA ZAMI 2 - HCC, 13.00 (VRA)
ZO 28/06 Dosti CC - VRA 1, 11.00 (away)
ZO 28/06 Qui Vive 2 - VRA 2, 12.00 (away)
ZO 28/06 Den Helder 1 - VRA 4, 13.00 (away)
ZO 28/06 VRA 3 - Kikkers CC 13.00 (VRA)
DI 30/06 T20: Nederland - Nepal, 17.00 (VRA)
WO 01/07 T20: Nederland - Nepal, 17.00 (VRA)
VRA Dames Tour Update
Tour update!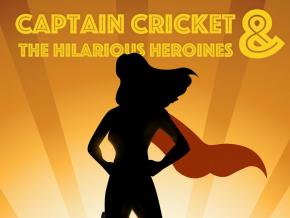 The Cricket world is in peril. The spirit of Amsterdam cricket can no longer stand the terrible destruction plaguing our sport. Besides a naked calendar she gives five magic rings to five special cricket heroines. From midwicket, a cricketer with the power of the leg guards. From Gully, a cricketer with the power of HELMET. From mid-off, a cricketer with the power of glove. From behind the wicket a keeper withthe power of bails. And from the pitch, a cricketer with the power of THE bat.
With the five powers combined they summon world's greatest champion: CAPTAIN Cricket!
Legguards! Helmet! Glove! Bails! Bat! let the powers combine, for I am captain CRICKET - GOoooooo CRICKET!
Upcoming Friday the 19th we leave the Netherlands around 7.30 ( aaah ) for a thrilling, exciting and superfun tour to the UK. London awaits us with three fixtures:
Friday at 18.00 we play Strollers CC at Holland Park, T20.
Saturday at 10.00 we play Streathamm & Marlborough CC, that's where Isa currently plays.
Sunday at 14.00 we play North London CC for a 35 over game.
The theme this tour is all about superpowers, inspired on our Super Sal aka Captain Cricket. So we'll turn into superheroes for the weekend and will from friday morning on be "Captain Cricket & the Hilarious Heroines"
Nathalie Hennis
India Cricketdag 2015 op VRA, 20/06
Op zaterdag 20 juni a.s. organiseert Amsterdam InBusiness in nauwe samenwerking met de KNCB en VRA Cricket alweer de 6e editie van de zeer succesvolle India Cricketdag op onze prachtige velden in het Amsterdamse Bos.
Amsterdam InBusiness is een samenwerkingsverband van de gemeenten Amsterdam, Amstelveen, Almere en Haarlemmermeer dat zich ten doel stelt economische groei in de regio te bevorderen door investeringen van buitenlandse bedrijven te stimuleren en te faciliteren.
Dit heeft er mede toe geleid dat in de laatste 10 jaar opvallend veel Indiase bedrijven zich hebben gevestigd en met hen is een grote groep hoogopgeleide Indiase expats, veelal met hun familie, naar Nederland gekomen. In de regio Groot Amsterdam vormen zij met bijna 10.000 inmiddels de grootste populatie expats en leveren zij een belangrijke bijdrage aan de ontwikkeling van de regio.
Om iets terug te doen voor deze Indiase gemeenschap en ze een sportieve en gezellige dag te bezorgen is door de India Desk van Amsterdam InBusiness destijds het initiatief genomen om jaarlijks een India Cricketdag te organiseren. Op deze dag worden in toernooivorm korte, vaak spectaculaire cricketwedstrijden tegen elkaar gespeeld door het Indiase bedrijfsleven.
Dit jaar hebben zich 16 bedrijven ingeschreven die zich op kortgemaaide graswickets, zonder beschermende kleding, maar met een zachte bal met elkaar meten. Een Hollandse variant van het in Zuid-Azië populaire 'tape ball'. De toernooileiding is in goede handen van Gerard Inden met zijn welwillende KNCB Umpire corps.
Belangrijk onderdeel van deze dag is uiteraard de sociale component. Een van de hoogtepunten vormt traditioneel een uitgebreide Indiase lunch, waaraan ruim 400 man zich jaarlijks tegoed doen, verspreid over diverse tafels of gezellig met de families, zittend in het gras.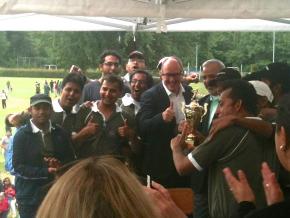 In de loop van de middag is er ruimte voor een VIP-Netwerkborrel op het terras, waarbij genodigden uit het Indiase en regionale bedrijfsleven van gedachten kunnen wisselen met mensen van de India Desk en lokale politici, waaronder dit jaar o.a. de Amstelveense burgemeester Mirjam van 't Veld. Tijdens deze borrel vindt ook de prijsuitreiking plaats aan de winnaars van de 6e editie van de India Cricketdag.
NB: Bent u in de buurt, kom dan beslist even cultuursnuiven bij dit exotische cricketevenement. Weet wel dat het clubhuis de gehele dag is afgehuurd door Amsterdam InBusiness en dat daar, anders dan normaal, geen gebruik kan worden gemaakt van bar of toilet.
Evenement: India Cricketdag 2015
Locatie: VRA Cricket
Aanvang: 09.00 uur
Slot: ca. 18.00
Match report VRA 1 vs Quick Haag, 06/06
Round 8:
Having suffered a minor blip against Excelsior the week before, VRA welcomed Quick Haag looking to hastily return to the form that had seen them knock ACC off the top of the table in round 7. Confidence was high after a convincing away win over the defending champions earlier in the season, but Quick were on the back of a three match winning run thanks to 300 brisk runs in three games from the mercurial Wesley Barresi. "Get Barresi, get the game", thought the Fluffers.
Quick promptly won the toss and asked the Fluffers to bat on what looked a fast deck. Things started brightly, with BJ "Run Machine" Barnett taking a liking to Quick's express Kiwi pro Steven Smidt. BJ was racing along at a run-a-ball, but at the other end Sachin "Usher" Peiris was having a tougher time. After 14 balls without getting off the mark, Usher looked to expedite the process and edged one back onto his stumps.
Soon after, BJ's impetuous innings was brought to an abrupt end when Edgar Schiferli - one of Quick's contingent of Dutch international stars - got a nippy delivery to hit the top of off stump. Things went rapidly downhill thereafter, with the score going from 2/38 to 6/39 in what could best be described as an instantaneous combustion of the middle order. Suddenly there was fluff everywhere, and despite a brief fightback from Eric Zoolander and Mitch "www.altascricket.com" Lees, VRA swiftly folded for just 90 in less than 20 overs.
Defending less than 100, the Fluffers knew they would need to hurry though the Quick line up at breakneck speed. Determined to do just that, Quirijn "Ned" Gunning made an immediate impact, hurtling in to force a top edge from danger man Barresi and then bowling James Gruijters neck and crop with an unplayably quick delivery. After Sohail "I tell you man" Bhatti and Peter "Party Pooper" Borren had chipped out three more, Quick were 5/44 and for a fleeting moment it looked like VRA were favourites.
It wasn't to be though, as two of Quick's other Dutch stars put on an energetic partnership - including a massive six off Bhatti to finish the match that saw him question his desire to continue playing and coaching professionally - to take them to a comfortable win. The Fluffers were disheartened, knowing that they had squandered a good opportunity on a blameless pitch that they might not see again this season.
Next up, VOC away, which is set up very nicely after a tie in the return fixture. Can the Fluffers turn around their most recent form dip? Which Eric Zoolander will the boys see tomorrow? And what magic has Adeel "Golden Arm" Raja in store? Stay tuned...
Mitch Lees
PS: Unused synonyms for quick: active, agile, nimble, hurried, lively.
Match report VRA 1 vs VOC, 14/06
Round 10
Having had a better night's sleep than much of the opposition, VRA arrived in Rotterdam ready to bounce back from the humbling by Quick Haag the day before. A warm up game of "flinch" and some quality slips catching practice had left BJ "Kasparov" Barnett and Eric Zoolander in bubbly, confident moods as the day's play approached.
Peter "I'm the Captain" Borren got the Fluffers back in winning form at the toss, and elected to bowl on a pitch that everybody hoped would play better than it looked. Unfortunately the skipper wasn't immediately vindicated, as a 110kph powderpuff from Amil "Boxer" Prasad went a great deal further than "the distance". It turned out to be a clever tactic from Prasad, and the subsequent change in ball brought a couple of quick wickets that drastically lowered the scoring rate.
Enter Amol Muzumdar, VOC's proper cricket batsman. With god-like batting ability and the experience and concentration of Mr Miyagi, Muzumdar effortlessly glided to 50 and all signs pointed to a VOC win. But then, not a moment too soon, an inspired piece of captaincy brought Barnett into the attack.
Having recently relieved Sohail Bhatti of the VRA 1 coaching duties, Barnett was keen to show the boys how to play cricket. With his second ball he chipped out the rock Muzumdar with a delightful "toppie", and then set about providing a ball-by-ball masterclass in field-setting of which chess master Gary Kasparov would have been proud. Fielders were moved like pawns, rooks, and bishops. A little here, a little there, diagonally, sideways, all in an attempt to slow the game down and bring it back under the Fluffers' control.
Only problem was, the King was getting a little restless in his castle at first slip. After a brief exchanging of pleasantries in which it was explained to BJ that the junges wanted to get home that night in order to avoid sleeping in the VOC nets, normal service resumed, and BJ finished with 3/47 off his 10 overs.
Things weren't going so well at the other end though. Despite taking regular wickets the Fluffers continued to leak runs and, thanks to some handy lower order contributions, VOC scrambled to 9/227 from their 50 overs.
The chase started well for VRA with Coach Barnett - having hogged the limelight in the bowling innings - unselfishly making way first ball to give the in form Emile "Shenanigans" van den Burg maximum time at the wicket. Shenanigans and Sachin "Usher" Peiris put on a quick 61 run partnership before Shenanigans top edged a ball that was otherwise destined for Rotterdam airport. The catch in the deep was at best dubious, but without the benefit of the television replays available in the VRA clubhouse and surrounds Van den Burg had to go.
Another 50-odd run partnership followed between Usher and the classy Eric Zoolander before both fell in quick succession, Usher to an inspired piece of bowling by world cup winner Xavier Doherty, and Zoolander to a debatable piece of umpiring. With Captain Borren and Mitch "@atlascricket" Lees in at 4/123 it was anyone's game. Lees decided to go for it, hacking 17 off a Bobby Hanif over to make the required rate more manageable.
The Peter Borren WASP system still had VOC in front, but only marginally. Then disaster for the Fluffers. Lees clipped one round the corner. Borren called "YES". Lees "NO". Chaos ensued. Both batsman had a chat in front of the wicket keeper about the exceptional quality of the VOC changing rooms, clubhouse, and wine cellar, the Black Caps' progress in their one-dayer against England, and who would be driving the van home, before Borren politely expressed the desire to continue batting and Lees grudgingly departed with a wry smile and a wink at the skipper.
It was all downhill now and the Fluffers provided their now customary train wreck, surrendering their last six wickets for just 21 runs to be all out for 174. Highlights from the wreck included uncharacteristic shots from Adeel "Golden Arm" Raja and Leon "Picture Perfect" Turmaine, a characteristic first baller for Ned, and a reverse sweep of the highest order from Mathias "way too good for this 'cricket' game" Luten. Zero victories from two attempts over the double header weekend now leaves the Fluffers in a depressing 7th position, however with a game against the beatable Hermes coming up this weekend, the boys are confident of returning to winning ways soon.
Mitch Lees
Match report T20 VRA Dames vs HilKamp, 06/06
Zaterdagochtend, lekker vroeg verzamelden de VRA dames zich op VRA headquarters. Eindelijk een thuiswedstrijd, huray! We spelen tegen oud VRA dame Hannah en we hadden zin in een T20. Captain Sal won de tos en stuurde Git en mij het veld in om de wedstrijd te openen.

We maakten een snelle start met het eerste wicket dat viel na 43 runs, Git vertrok met 14 runs. Ik stond even samen in met Fernande die ging echt superlekker. Met het totaal op 73 runs verliet ik haar met 25 runs. Sjoukje sloeg even snel 10 runs bij elkaar en rende toen het veld weer uit. Fernande batte samen met Maartje de wedstrijd uit. Maartje met een snelle 33, Fernande met haar highscore verliet het veld als topscoorder met 34 runs not out. Whoo, zo goed Fernieee!!! We hadden 147 runs voor 3 na 20.
We gingen snel door naar de 2e innings. Sjoukje en ik opende de bowling. Goede combinatie en met een totaal van 3 runs viel wicket nummer 1, Hannah, dankzij het prachtig magische bowlen van Sjoukje. Snel volgde de eerste runout of the day, vicious fielding VRA dames! Icara, zo blij dat ze er weer is jeeh, pakte wicket nummer twee met haar geniale bowlwerk. De bal werd gevangen door Sally. Daarna volgde maar liefst nog drie run outs. Go team - go team! Ja, ik gooide op 1 cm afstand enigzins spastisch de bal in het wicket. iedereen hield hun hart vast, maar hij zat erin hoor ;). We eindigden de innings met 91 voor 6.
De wedstrijd ging eigenlijk vrij snel voorbij, het was ontzettend gezellig en leuk in het veld. En we hebben gewonnen natuurlijk, yay!
Fernande was woman of the match met haar amazing skills overall met nadruk op haar batprestaties die dag. Great team effort, we stonden lekker te fielden, nice & tight!
Nog een speciale dank naar mijn lieve moeder (mevr. Hennis dus, Red.), ze had weer heerlijks gebakken voor tea time. 10.000en cakeballen!!!! Yumm en later werd bekend dat ze ook de wedstrijdbal heeft gesponsord!
Ook waren we uitgenodigd voor het Wicket Cricket Fest georganiseerd door HCC zami's op VRA. Het was echt een ge-wel-dige avond, zoveel gezelligheid :) We hebben na onze competitiewedstrijd ook nog een friendly T20 8 a-side gespeeld met VRA Zami mannen. Hier heb ik WEL een wicket gepakt hehe - Paddy- en het was een beetje hectisch, ja ik was vergeten m'n legguards aan te trekken woops. Sjoukje, Titia, Katie (newbie), Haas en ik speelden mee. Katie haar eerste wedstrijd op Nederlandse bodem. Natuurlijk gevoel voor batten, superleuk dat ze erbij is.
( Katie, I just said we are very happy to have you as an addition to the team!)
Nathalie Hennis
Match report T20 VRA Dames vs Ajax, 13/06
In alle vroegte op weg naar Leiden, whyyy so early?! Gelukkig was er een bakkertje die croissants en cafeïne had voor de VRA dames. Aangekomen in Oegstgeest werden we verwelkomt met glimlach en helaas regen. Gelukkig konden we toch om 11.00 ongeveer van start met een E18 ;) haha. We begonnen in het veld, een klein, hobbelig veld, tricky fielding.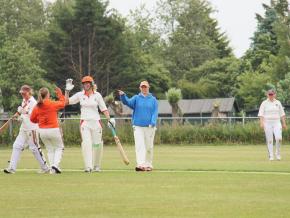 Sjoukje en ik mochten wederom de wedstrijd openen met het bowlen, geen wickets maar wel tricky bowling. Wederom een run out met een spastische 2 cm afstand van mij, maar het was wel uit yay! Icara bowlde de sterren van de hemel en Fernande ging ook goed, Maartje pakte wel een wicket! Een mooie catch door onze dynamische wicketkeeper Sas. Het was tricky fielden maar de bowlers gingen goed en het team heeft hard gewerkt. Na 18 overs stond Ajax op 119 voor 2. Geweldig batwerk van Pietje met 50no. Defendable.
Snelle inningswissel en Git en ik mochten het veld in met het bat. Het totaal was haalbaar, we zouden focussen op goed runnen en als de bal langs de fielder is gaat het snel. Git sloeg op de eerste bal een mooie single, ik kwam aan en sloeg een 4 BAMMMM - yeaaah. De tweede bal sloeg ik ook heeeerlijk... helaas echt recht in de handen van point. Merde.
Niet snel erna volgde Git en stonden Sally en Maartje samen in. Altijd prachtig om te zien, zo mooi batten, goed runnen, heel inspirationeel! Maartje verliet het veld toen ze werd gevangen, Sjoukje ging samen met Sal verder. Sjouk werd na 11 runs afgelost door Fernande. Die ging run out, Fleurtje volgde haar daarin, Icara kwam in en moest gewoon rennen. Het werd veeeeeeel te spannend, een paar van ons sloegen ons voor het hoofd, we hebben het zoo laten liggen. Alle positieve energie naar Sal en Haas die nu instonden. Het was 115 runs en nog 4 ballen te gaan.

Haas had een tactische single, we hielden ons hart vast. Sal was aan bat... en YAAAAAAH ze sloeg een 4!!!!! Winst!!!!
Her name is Supersal, she ain't gonna run a two, cause she can hit it hit it, like she's supposed to do!!! - Muzikale onderbreking, na de tour is dit misschien duidelijker
Alles dankzij het geweldige captain- en batwerk van Sal die met 59 no het veld verliet. That's why we call her Supersal, even eigenhandig het team van de winst verzekeren!! Dankzij Sal zijn we tot het heden nog ongeslagen dit seizoen!
PS: de lunch was awesome. AWESOME van pindakaas tot pastasalade. Yumm.
Nathalie Hennis
Verslag VRA U12 vs Rood & Wit, 07/06
Op het programma afgelopen zondag: de uitwedstrijd tegen Rood & Wit-U12. Het was een belangrijke wedstrijd want als U12 zou winnen staan we samen met Rood & Wit op de eerste plek in de competitie. Is er gewonnen? Hier volgt het verslag.
We speelden op een bijzondere pitch. Een gravelstrook waar voor de wedstrijd een mat over werd uitgerold en deze werd vastgezet met kunststof spijkers. De toss werd gewonnen door Rood & Wit. Rood & Wit koos ervoor om eerst te gaan fielden. VRA startte met batten. Onze openings batsmen waren Aryan en Julius. Julius werd er uit gehaald om later weer terug te komen. Voor hem kwam Rishabh het veld in, maar ging op zijn tweede bal uit. Hij werd uitgebowled door Jack, de 4de bowler van Rood & Wit. Voor Rishabh kwam Udit in.
Een tijdje nadat Udit in was gekomen ging Aryan retired met 31 runs. Voor hem mocht Jebbe gaan slaan. Hij maakte 1 run en ging toen retired. In de plaats van Jebbe ging Trinabh het veld in. Udit retired met 30 runs. Voor hem kwam Gwen het veld in. Daarna kwam Prem het veld in, want Trinabh werd uitgebowled door Ties. Prem ging op zijn 2de bal uit, maar sloeg wel een vier. Hij werd uitgebowled door: Teun. Voor Prem kwam Sebastiaan en ging op zijn tweede bal uit. Voor hem ging Julius weer in, die eerder retired was gegaan. Gwen ging op de laatste bal run out door Teun. In totaal 146 runs voor VRA.
De tweede innings gingen wij fielden. Udit was de eerst bowler. Hij bowlde 2 overs en nam 1 wicket. De 2de bowler was Aryan. Hij bowlde twee overs en nam ook 1 wicket. De 3de bowler was Gwen zij bowlde 3 overs en nam 2 wickets. De 4de bowler was Rishabh hij bowlde 1 over en nam geen wicket, maar had maar 4 runs tegen. De 5de bowler was Maarten hij bowlde 2 overs nam geen wicket, maar bowlde maar 1 wide. De 6de bowler was Trinabh hij bowlde 2 overs en ook maar 1 wide.
De 7de bowler was Philip, hij bowlde 3 overs en kreeg de 1ste over maar 2 runs tegen. De 8ste bowler was Julius, hij bowlde 2 overs en 1 wicket. De 9de bowler was Sebastiaan hij bowlde 2 overs en kreeg een beperkt aantal runs tegen. De 10de bowler was Jebbe hij bowlde 1 over en ving op de eerste bal bijna de batsman uit en had als gevolg daarvan later behoorlijk last van zijn hand. Uiteindelijk 98 runs voor Rood & Wit. Al met al bleek het minder moeilijk om de wedstrijd te winnen dan eerder gedacht.
Conclusie: VRA heeft gewonnen en staat nu samen met Rood & Wit aan kop in de competitie!
Maarten Holsbrink
Match report VRA U9 vs Rood & Wit, 13/06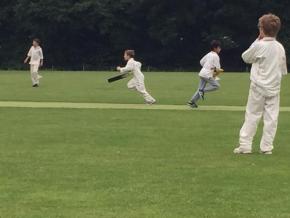 The U9's were at home this week to Rood and Wit, and were excited by the chance to play on a 'real' pitch (Pitch 2). Isabelle, the VRA captain for the week, won the toss and elected to field, to general approval. The team have decided that bowling first is best in general, as everyone gets the chance to warm up straight away!
The first innings was very close, with R+W's net total of 35 runs just bettered by VRA's 38. During the second innings though, VRA pulled away with solid contributions across the board, to run out winners 96 to 68. Doeschka was the player of the match, with 20 runs and bowling figures of 1 for 7.
It's been great to see the standard of play improve, many thanks to Ewoud for his efforts.
Mick Verden
Munaf's Tips for Youngsters
Keeping fit Bowling is strenuous, so one of the essential things for a bowler to do is to keep fit. Believe me; it is necessary to be fit to carry out long spells at the bowling crease. I am a firm believer in having a really good night's sleep to fit you for the task the following day. Regular hours and habits to my mind are the best ways of keeping fit.
In addition, all cricketers and especially bowler should carry out some form of exercise and training during the off-season period. I myself used to train also, and this kept my legs and body fit. To have strong legs is a great asset for all bowlers.
One last word on this point
Carry out exercise regularly which will help to strengthen the back and stomach muscles.
During the season, always make sure that your boots are properly spiked. I always made a habit of changing my shirt after each session, so as to ensure that I start with dry clothes I am sure there is no quicker to get backache or stiffness. Always keep as warm as possible and put the sweater on between each over. The feet also need careful attention. A change of sock at each interval helps to freshen the feet.
Wides and no-balls It ought not to be necessary to say much about wides and no-balls and in any case there is not much to say. Obviously they should both be avoided. It is necessary to be fit to carry out long spell at the bowling crease. The two essential of bowling length and direction must come first.
Mohammad Munaf
Specialist trainer VRA Youth.