Clubblad Amsterdamse Sportvereniging VRA
---
How's That verschijnt tijdens het cricketseizoen wekelijks
---
Redactioneel - VRA wint de derby
Een weekend met zon op zaterdag, regen op zondag en veel wind op beide dagen. Dat resulteerde in belangrijke winst voor het Eerste in de derby tegen ACC op zaterdag, maar een afgelasting voor het Tweede dat op de zondag speelt. Ook andere teams hadden er natuurlijk mee te maken en de meeste resultaten daarvan leest u later in dit nummer.
De winst van VRA 1 betekende een belangrijk sprongetje in de stand, waardoor VRA zich weer in de top 4 bevindt waar het thuishoort. Deze competitie is helaas zo klein geworden dat van een linker rijtje nauwelijks sprake kan zijn.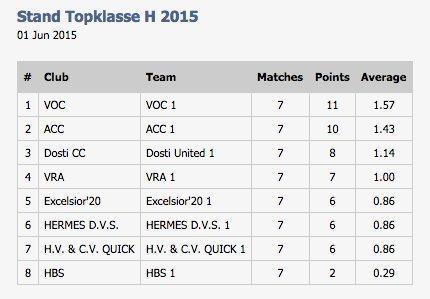 Ondertussen is er op het internationale cricketfront veel moois te zien. De testseries tussen Engeland en Nieuw Zeeland zijn nu al gedenkwaardig, waarbij Engeland in de 1e Test op Lord's geweldig cricket liet zien en een voorsprong nam die door de sterk terugkomende Kiwi's in de 2e test op Headingley vervolgens weer werd rechtgetrokken. Inmiddels is 1e Test tussen de West Indies en Australië in het Caraïbische Dominca ook van start gegaan. Smullen voor de echte liefhebbers.
Komend weekend wachten ons eindelijk zomers weer en veel gezellige drukte op de velden. Het Eerste speelt in Schiedam, alwaar de eerdere nederlaag tegen Excelsior weggepoetst dient te worden. Op zaterdag bevolken de Dames en vele Zami's VRA tijdens hun reguliere competitiewedstrijden, maar vooral daarna op de BBQ in het kader van het zg. Wicket Cricket Fest. Ga eens kijken en geniet van terras en goede sfeer. Op zondag zelfs 3 thuiswedstrijden van VRA 2, 3 en 4. Clubcricket over de volle breedte in het Amsterdamse Bos.
Tenslotte willen we u wijzen op een spoedcursus Club Umpire op donderdagavond 11/06 in ons clubhuis en de oproep voor vrijwilligers bij Internationale wedstrijden op ons complex. Over beide belangrijke zaken waarbij uw deelname gewenst wordt kunt u verderop in dit nummer lezen.
Red. Benno van Nierop
Vrijwilligers gezocht voor hulp bij interlands
Binnenkort zullen op VRA nog diverse interlands worden gespeeld. We zoeken nog vrijwilligers die willen helpen op een van ondergenoemde dagen. Het gaat om diverse taken, zoals groundstaff (afdekken pitch met zeilen, bewaken dat niemand voor de screen langsloopt, ballen uit de sloot vissen), bedienen van het scorebord, bewaken van de toegang tot het clubhuis, brengen van drankjes naar de kleedkamer en dat soort zaken.
Wie een of meer dagen komt helpen, ontvangt contant een leuke vergoeding.
Het gaat om de volgende data:
30 juni: Nederland – Nepal (Twenty20), van 15.00 tot 21.00 uur.
1 juli: Nederland – Nepal (Twenty20), van 15.00 tot 21.00 uur.
14 september: Nederland - Schotland van 09.30 tot 19.00 uur.
16 september: Nederland - Schotland van 09.30 tot 19.00 uur.

Wie een of meer van deze dagen kan helpen: bel met Sieb Mulder, tel.06-30164322.
Volunteers needed for international matches at VRA in June.
We are looking for people to help us on one or more of the dates mentioned above with various tasks such as groundstaff, guarding the screens, operating the scoreboard or other simple jobs. Those helping on the days and during the periods mentioned above are entitled to a fee. If you are available and willing to join the crew, please call Sieb Mulder, tel. 06-30164322.
Sweepercursus Club Umpire op VRA, 11/06
Al eerder aandacht aan besteed, maar steeds noodzakelijker want binnenkort verplicht:
Umpire examen voor de actieve cricketer!
Komende week speciale avondcursus op VRA voor alle teams.
Spreek af met je team mates en ga!

Waar:
VRA
Datum:
Donderdag 11 juni 2015
Tijd:
19.30 - 22.30 uur
Wat:
Basisopleiding tot Club Umpire.
Op termijn verplicht voor iedere speler om eens gevolgd te hebben en een leuke eerste stap om de bevoegdheid tot Bonds Umpire te gaan behalen.
Programma deze week
Hieronder het complete programma van deze week. Raadpleeg voor de meest actuele agenda altijd de VRA-website. Aanvangstijden zijn onder voorbehoud. Op de speeldag zelf staat de veldindeling aangegeven op het bord bij de kleedkamers. Paul Polak is als groundsman te allen tijde verantwoordelijk voor definitieve toewijzing van de velden.
DO 04/06 Cap Gemini - Philips, 18.00 (VRA)
VR 05/06 T20: Mini Hurricanes - Mini Seafarers, 17.00 (VRA)
ZA 06/06 Excelsior '20 1 - VRA 1, 11.00 (away)
ZA 06/06 VRA Dames T20 - HilKamp T20, 11.00 (VRA)
ZA 06/06 VRA ZAMI 1 - HCC 3, 13.00 (VRA)
ZO 07/06 VRA U9 - ACC U9, 9.00 (VRA)
ZO 07/06 MOP U12 - VRA U12, 9.00 (VRA)
ZO 07/06 ACC U16 - VRA U16, 9.00 (away)
ZO 07/06 VRA 2 - Groen & Wit 2, 12.00 (VRA)
ZO 07/06 VRA 3 - VVV 2, 13.00 (VRA)
ZO 07/06 VRA 4 - Baarn 1, 13.00 (VRA)
WO 10/06 VRA - Bloemendaal (Halfway Cup), 18.00 (VRA)
Programma volgende week
Hieronder het complete programma van de volgende week. Raadpleeg voor de meest actuele agenda altijd de VRA-website. Aanvangstijden onder voorbehoud.
DO 11/06 Philips - Estec, 18.00 (VRA)
ZA 13/06 Ajax T20 - VRA Dames T20, 10.00 (away)
ZA 13/06 VRA 1 - Quick Hg 1, 11.00 (VRA)
ZA 13/06 Ajax 1 - VRA ZAMI 1, 13.00 (away)
ZA 13/06 Groen Geel - VRA ZAMI 2, 13.00 (away)
ZO 14/06 Bloemendaal U9 - VRA U9, 9.00 (away)
ZO 14/06 Rood & Wit U12 - VRA U12, 9.00 (away)
ZO 14/06 VRA U16 - Salland U16, 9.00 (VRA)
ZO 14/06 VOC 1 - VRA 1, 11.00 (away)
ZO 14/06 VRA 2 - Quick 1888, 12.00 (VRA)
ZO 14/06 VRA 3 - Groen & Wit 3, 13.00 (VRA)
ZO 14/06 VRA U16 - Salland U16, 13.00 (VRA)
DI 16/06 ICup: Nederland XI - Papua Nieuw Guinea, 11.00 (VRA)
WO 17/06 ICup: Nederland XI - Papua Nieuw Guinea, 11.00 (VRA)
WO 17/06 NCIA - Philips, 18.00 (away)
WO 17/06 ACC - VRA (Halfway Cup), 18.00 (away)
Match reports VRA 1
VRA 1 vs Dosti, 23/05
After some morning rain the toss was completed and it was time for the VRA1 to throw the boards on and prepare to bat 1st. With the ball moving around a little and bowlers putting the ball in good areas it was very hard to score runs. However in a position 78/2 with batters Eazy E Szwarczynski and Sachin Peiris at the crease the platform was there for the team to put s big score on the board and apply some pressure.
But soon after that we lost our next 8 wickets at the score of 125. Although the bowlers tried their best to take wickets 125 was always not going to be enough to compete. Dosti finally passed the total 3 down in the 26th over.
VRA1 vs HBS, 25/05
A much better performance from the VRA1, showing great signs of learning from previous mistake with the bat.
After losing the toss and being sent into the field, our pre game talk was about apply pressure up top and taking wickets. Both opening bowlers did this fantastically removing both openers with the score at 48/2.
Enter Leon Turmaine to the bowling crease, from his first delivery to his last he bowled with great control and skill. Between him and the work horse skipper Peter Borren didn't fluff around to much and reduced the HBS side to 68/8. Both again showed a great level of skill and displayed the potential of this bowling line up. With some tail end hitting from the HBS side they managed to hit their was to 174 a target never out of reach for this VRA side. Leon taking match figures of 4/35.
The batting again started well with opener Sachin (26) and number 3 talent Emile vd Burg (81 not out) getting the scoreboard ticking and getting us closer to the target. A quick fire 46 from the tight and bright player Mitch Lees at 4 took us within 10 runs, an innings that showed off his striking ability. A mature innings from again Emile allowed us to pass the target was a great way to finish off the double header and taking the much needed 2 points. VRA1 won by 6 wickets.
BJ Barnett
Match report VRA 1 vs ACC, 30/05
Blue skies and a refreshingly frigid arctic wind welcomed VRA and ACC for Dutch cricket's answer to El Classico on the morning of May 30th. Led by stalwart Zulfi, top-of-the-table ACC arrived at the ground at just after 6 AM to begin their pre-match mental and physical preparations, while VRA commenced the day's proceedings with a near disastrous cover removal exercise and a 9 AM team breakfast.
The pitch looked good, however after the previous week's humbling by Dosti (124 all out) there was indecision about whether to bat or bowl first. It turned out to be a great toss to lose, and VRA were asked to bat first. Looking for an early breakthrough, ACC were successful when Sachin "Usher" Peiris edged to slip for eight, bringing the in form Emile "it's Facebook official" van den Burg to the crease to join the uncharacteristically quiet BJ "Battle Stance" Barnett, who had as yet managed just one run. Van den Burg quickly raced to 12 before a fateful call of "yes" from Barnett saw him run out. Having heard that groundsman Paul Polak would not be delivering a BBQ that afternoon, BJ clearly took it upon himself to provide one, in the process further enhancing his reputation as Holland's new run out king.
At 2/34, with consolidation required, in walked the perfect man for the occasion. With the ever increasing demands of his male modelling moonlighting taking their toll, Eric "Zoolander" Szwarczynski hasn't been his usual vibrant and bubbly self in recent weeks. But as the old saying goes, you can't keep a really really ridiculously good looking man down, and Zoolander set about rebuilding the innings with his trademark focus and chiselled good looks. When BJ fell LBW for 17, Zoolander was joined at the crease by Peter "proper cricket fielding" Borren, who was suffering from a potentially fatal bout of man flu. A minor imposition for a man with the mental strength of the skipper, Borren put on a solid partnership with Zoolander to take the score along to 113, before falling for 43.
Borren's dismissal signalled an opportunity for the ACC bowling attack and they didn't hesitate to capitalise, taking steady wickets to eventually dismiss VRA for 183. The only other notable contributions beside Zoolander's fine 48 were from Pepijn "Professor" Somer, whose dedication to consistency continues to delight, and Adeel "proper cricket bowling" Raja, who was not out on 24.
Despite having made a sub-par total the Fluffers came out confident after lunch, knowing that with assistance from the drying pitch, their bowling and fielding would make chasing 183 a very difficult task. Exceptionally tight opening spells from Quirijn "Ned" Gunning and Amil "Boxer" Prasad resulted in Prasad making the first breakthrough. Peter Borren then struggled through the pain barrier to make a double strike and have ACC reeling at 3/32.
The match continued to see-saw, with ACC's Roelof van der Merwe setting about rebuilding the innings, attacking loose deliveries and forming a partnership that threatened to take the game away from VRA. Enter Borren again with a moment of brilliance. Standing at midwicket, the ball was hit firmly to his left. An easy single to anyone else, Borren flung himself to his left, gathered, and aimed a pinpoint throw to the bowler to have the batsman hopelessly short of his ground. The celebrations that followed were magnificent, and the cry of "that's proper cricket fielding boys!" completed a remarkable piece of game changing cricket.
ACC weren't done yet though, and with the score at 5/125 with 14 overs remaining and their two South African pros at the crease it was anyone's game. The intensity was intense, but the Fluffers had a secret weapon. Lurking in the deep for much of the innings despite an outstanding fielding effort last week, Adeel Raja was finally called to the bowling crease. He calmly handed his floppy hat to the umpire, warmed up his golden arm, and then, using every ounce of his considerable experience, turned one back from the rough to clip the top of off stump with his very first ball. Wild celebrations and cries of "that's proper cricket bowling" ensued, and then, once the dust had settled, Adeel delivered one of the most inspirational one liners in recent memory: "boys, I have to close the shop by 6 o'clock, we need to hurry up and finish this."
And finish it the Fluffers did, mopping up the last 5 wickets - including that of Zulfi, who set a good example for the kids with a display of petulance to an umpiring decision before setting off back to the Chocolate Factory - for just 21 runs, and completing a famous win over the much fancied table toppers.
Next up, VRA travels to Excelsior for a hugely important mid-table clash that could go a long way to deciding the composition of this year's top four. See you there!
Mitch Lees
PS: Beautiful photo's were taken by Peter Schalk (© 2015). His complete shoot of this match can be admired here. (Red.)
Match report VRA 4 vs Den Helder 1, 10/05
First match 2015 Cricket season: VRA 4 vs Den Helder CC 1 at VRA.
Wow! what a great day. First time the sun was out bright and shining at the start of the season in Netherlands. In my experience, it is generally with rains and thunderstorms. Perfect weather but the opponents took lot of time to come to the field. I believe 1 PM itself is slow start but first ball was bowled at 2:02 PM. People after the rigorous training sessions were raring to go!
Awais and Ram spear headed the attack. It was a great start. We got a keeper name "Shady". He was an erstwhile under sixteen player. As a matter of fact we have a healthy team this time... JD, KD, Shady. Never seen JD and Shady before though. Awais was just brilliant and the first wicket was for Ram. A great catch taken in long on by Viju. You heard it right we have started taking catches this season. Not that Viju is considered "Butter Fingers", but generally we used to drop handful of them. Save hands in our team would be Lakki, Viju, Sud, Shady, KD, Niksy, Ram and not to miss Awais. A trivia: Awais got married in Jan and still has lot of focus in cricket :-) Well after the first wicket another one fell that was a well deserved wicket for Awais.
Lakki took a blinder for the third wicket, worth mentioning was the field placement by Sud. He just made the change and it was a full blown cracker and Lakki grabbed it. At 44 for 3 the opponents were looking for some anchor role to be played and then came in "Dilagha". I would not consider him to be very technically good. But it is about temperament and he had that temperament and he up there in crease at 12th or 13th over and played in till 38th over. He slowly started playing himself in and there was their captain Rajeev who also supported him well. Now KD was asked spin the ball. I think KD was bit full in the initial over and we were bleeding. I think everybody in the team supported (unsolicited advice started pouring in). That is quintessential element of our team. We will not let the captain to say. Everybody chips in and confuses everybody else. Sometimes we should let others think (Outsource it to some cheap resource :-) ).
KD bamboozled their skipper. He was absolutely clueless on the spin. It was turning and it was a flipper which got him the wicket. It was good and we were in control till the second drinks break 38 overs at 128/4. The game plan was to restrict them 160 for the next 12 overs. It just went against the game plan. The opponents ended with 219 at the end of 40th over with a high note of a six of the last ball.
Batting line up in VRA 4 is one of the hallmarks. We think we don't have tail order. Everybody can easily fit in top 5. Brisk start was needed and Viju opened the innings with a first ball single. Lakki was playing in. Made sense of the situation and played quite silently. It was Viju who smacked the first boundary. Slowly the gravity shifted towards Lakki. Lakki started striking it well. The openers gave a brisk start... Viju was first one to go! He scored some 11 but more importantly he was rotating it well. Giving Lakki to get the strike. Then "yours truly" arrived. There was this spinner coming in. I was really tempting to go over. I saw the field was spread out. I did defend the first ball well. Middle of the bat. The wicket was slow. I was very eager to go to smash all the bowlers all around the park. What an arrogance! I paid the price not before I was let off two times... One thick edge and the keeper had a touch and go moment but it ran away for a boundary. But I did throw the bat as I saw no slip in place and it was a calculated risk. The skipper from opponents was bowling. A ball went so wide and I wanted to make a smothering of it... missed it completely... it was an wide. In the next ball it was a slow short pitch delivery which I would have hit bit square. I tried to hit a pull for a six. As arrogance would pay a price it went directly in to the hands of the fielder. The fielder was 10 to 15 yards from the boundary. The boundaries were not huge at the max 60 meters. Having pulled huge six in the practice match my arrogance blossomed and after the catch my confidence withered.
Cometh the moment, cometh the man. JD arrived the crease. I have never seen and I have not believed that this guy is Mr. Dependable. In the meanwhile Lakki made some 38 runs and got out. That brought two tender legs to the crease. Sonal and JD. Sure Sonal running between the wickets for a quick single needs improvement. JD couple of times was half way mark... but what an innings and what a partnership these guys built. JD and Sonal played excellently well. JD played to the field. Clear in his mind what the field was and playing according to it. Some of the shot making was exquisite. Sonal is not known for his hard hitting but known for his stealing singles and doubles which were essential to keep the strike going. They both were talking each other very well. They had some small milestones for them, like lets us get 125 runs... after check in the box, let us focus of 150 runs.
I think they were playing with a plan. They were not thinking about 220. They were thinking only smaller goals. Small steps to reach the target. When I took over the umpiring (which I deem as a self imposed exile... if one gets out early he never gets to sit in the boundary line... come back and do umpiring… learn from others how they are playing :-) ). I was chirping to KD that I consider him as no.3 batsman and I was so worried that we might loose this match. JD played an excellent innings. Sonal was bowled by Gopi. But it was a well deserved 22. Then Niksy came in. The square drive shot is the shot of the day. He made getting the runs so easy.
My bat maker (Pieter van Vliet) is in tender age of 84 and said to me that he will come and watch my game today. As when ever I meet him I talk more about the bat he sold and he has a great opinion about me :-) On the hindsight thank god it was a mothers day and his wife didn't let him go to the field :-).
JD took us across the lines. It was Niksy who scored the winning run. Well deserved "Man of Match" for JD. By the way, the keeper, Shady, made sure the score was only 220. Generally if our erstwhile keepers had used the gloves we could have expected 260+ against the same team.
If I had missed somebody in the narration, it was only my memory which has let me down and not their contribution for the win.
Giri
Verslag VRA Zami 2 vs Ajax Zami 2, 30/05
Je kan op een zaterdag naar de IKEA gaan, je kan op de kinderen passen, je kan naar een huwelijk van een verre neef. Sommigen gaan fietsen op zaterdag, anderen kiezen voor een bijeenkomst van Magic The Gathering. Misschien ga je op zaterdag op vakantie, soms heb je die dag gewoon spierpijn. Soms kies je voor een potje cricket in de zon.
Hoe fijn was het dat we wat lui bereid vonden met ons naar de bouwkeet in Oegstgeest af te reizen. Karan Deepak debuteerde, niet onverdienstelijk zoals u zult lezen. Daarnaast hadden we een neef uit Haarlem die inviel en verder de regulars. Met een roze bal werden we het veld in gestuurd, Ajax wilde batten en dan doe je dat als je de toss wint. Omdat we slechts met 9 man waren, kregen we een fielder van Ajax om de gaten op te vullen. En het moet gezegd worden, alle fielders die invielen deden dit met ziel en zaligheid. Dat hebben we wel eens anders gezien: Hulde Ajax Zami 2!
We deden goed ons best en al gauw mocht de Guvernator juichen voor een wicket. Bami Roti Marni Speciaal (vegetarisch) pakte ook zijn eerste scalp van het seizoen. Al snel zaten we op rozen. KD, KC & the Sunshine Band liet zien waarom we hem graag vaak in ons midden hebben: fantastisch bowlen op een goede lengte met spin en snelheid: 2 wickets waren zijn deel. Wat een debuut!
Voldy Dekkers mocht ook bowlen en deed dat erg verraderlijk: ook twee wickets. Icing on the cake was de run out van de Train Bobbery vanaf de boundary. Al met al een hele goede sessie met mooie momenten, vangen die vastgehouden werden. Dank Toby Toby voor het keepen! 138 op het bord op een redelijk klein veld, moet te maken zijn. De pitch was hard, kwam goed op, niet bepaald een batting pitch. We merkten dat door snelle wickets van Two Times Tony en Boy George. Neef M. had het ook moeilijk en alras vielen de wickets. De enige die stand hield was de Guvernator, de rots in de branding die hij in het dagelijks leven ook zo graag is.
We werden heen en weer geslingerd tussen emoties: eerst waren we on track, toen vielen veel wickets en waren we kansloos. Door goed door batten van de tailenders (Marnix, Bob, Toby Toby) begonnen we er toch nog in te geloven. Toby Toby en Guv' hadden een paar goede overs waardoor het target haalbaar werd. In de voorlaatste over sloeg Toby Toby nog een hele hoge 6 naar cow corner: 12 van de laatste over. Met wat eentjes, 2-tjes strandden we met nog 6 runs te gaan.
Een nare streak hebben we te pakken die we op 13 juni snel moeten doorbreken. Groen Geel moet dan gepakt worden en omdat Toby Toby zijn Magic the Gathering feestje in de jaarbeurs al heeft gehad (als u nog kaarten heeft die liggen te verstoffen), is hij zeker weer van de partij.
Ajax zami 2 - VRA Zami 2: 138 v 7 - 131 v 8
De Bi Ba Bobberij
Wicket Cricket Fest - Saturday, June 6th
Summer is upon us and that can only mean one thing: Wicket Cricket Fest is here again! This event was organized last year by the men of HCC Zami 3 in collaboration with the VRA Studs. This Saturday, the 6th of June, we'll have the opportunity to once again enjoy a fun match at VRA between VRA Zami 1 and HCC Zami 3.
Beside the "main match" there will also be the opportunity to play along in a good mutual match. Teams will be made from players of the VRA Sat Comedians, Ladies and other interested parties who show up. So take your gear and whites with you and take part in this fixture!
On Saturday, like last year, the prerequisites will be arranged to perfection. Think of beautiful ladies at the boundary, delicious rosés in the sun and steaks from the grill that are softer than butter. Thus, anyone who wants to join in on the fun this carefree day has to offer is more than welcome.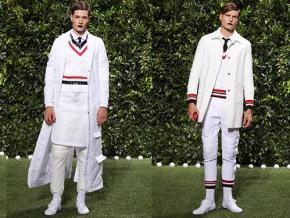 To prepare yourself and bear in mind the following details:
Saturday, June 6th, 2015 @ VRA
Kickoff Zami match: 14:00h
After the game: BBQ (EUR 10,- for the famous Paul Polak Special: rib eye with salad and fries)
From 19:00h tunes will be provided by DJ OSAKA
For football lovers we'll also broadcast the Champions League final on a big screen (10x4m)
Throughout the day there are Gin & Tonics for only EUR 3,-
Dress Code: dandy
More info? See Wicket Cricket Fest.
Game on!
Match report VRA U12 vs Ajax, 31/05
Again last Sunday was a good match with a nice 16 fours and a successful win for VRA against AJAX. Game started at field 3 with some rain but luckily the weather changed for the better and sky cleared. Final score was 145 - 89.
In fact VRA had 16 points more after excellent batting of Aryan but both teams decided not to count the latter points as it was the second round for Aryan and there was some dispute whether you can count these points or not. Trinabh had 31 runs and a great catch. Julius and Rishabh were unlucky with batting with a catch and bowled in a fairly early stage. Gwen had 2 bowled! Maarten was excellent in bowling and during the first innings he did the scoring in the score book.
Given the fact that only 8 can bat but for this Sunday 9 as AJAX was also with 9 players 3 players needed to volunteer not to bat. Luckily all players still have a chance to field and/or bowl. Maarten, Kay and Prem were prepared not to bat but were able to do excellent bowling and fielding! Prem was back in the game as wicketkeeper and did a great job. Mother and grandfather of Jebbe were at the cricket field for the first time after some years and were really excited about performance as we all were. Philip and Sebas were performing great in batting and fielding.
In the 15th over the VRA team took the 7th wicket and we could stop the game with a victory! All kids enjoyed the game. We were lucky with Sital as coach of the team. Following the good example of Annemarie fruit and drinks was organized by Reshmi for the break between innings! This seems to have contributed to the excellent performance of Udit in batting and bowling.
Foto: Trouwe supporters bij de U12 op veld 3, waar een maaibeurt niet zou misstaan. (Red.)
NN
Match report VRA U9 vs Bloemendaal, 30/05

Last Sunday, on a bracing spring morning(!) the VRA U9's were away to Bloemendaal. Captain of the day Ollie won the toss and elected to field first on a very green strip. Player availability allowed us to play 8-a-side, with Bloemendaal restricted to a total of 63 across 2x8 over innings thanks to some tight bowling by VRA.

In response VRA scored 141 from their 16 overs - a very convincing win for the U9's. They are now 3 from 3 (all away) and about to host for the next few weeks full of confidence.
Special mention for Joshua (photo left) for his power-hitting and our Bloemendaal hosts for a great lunch and generous hospitality.
Mick Verden