Clubblad Amsterdamse Sportvereniging VRA
---
How's That verschijnt tijdens het cricketseizoen wekelijks
---
Redactioneel
De redactie komt deze week woorden tekort, bovendien 'less is more'. Een fantastische overwinning van het Eerste op landskampioen Quick, geweldige start van het seizoen! Ook het Tweede wint, lees vooral verder. Helaas weinig berichten van andere seniorenfronten, maar dat gaat vast goed komen in de komende weken. We hebben e.e.a. provisorisch opgelost. De jeugd is afgelopen weekend enthousiast van start gegaan, lees het mooie verslag van de U16 in deze uitgave en die van de andere jeugdteams ongetwijfeld in volgende edities.
Zoals al opgemerkt, we houden het kort. Enjoy your reading!
De Redactie
Deze week op VRA
Hieronder de agenda voor wedstrijden op VRA van deze week. Raadpleeg voor de meest actuele agenda altijd de VRA-website. Aanvangstijden en veldtoewijzing blijven onder voorbehoud. Op de speeldag zelf is Paul Polak als groundsman verantwoordelijk voor definitieve toewijzing.
DO 14/05 VRA 1 - VOC 1, 11.00 (veld 1)
ZA 16/05 VRA ZAMI 1 - Bloemendaal, 13.00 (veld 1)
ZA 16/05 VRA ZAMI 2 - Hercules, 13.00 (veld 2)
ZO 17/05 VRA U16 - ACC, 9.00 (veld 2)
ZO 17/05 VRA 1 - Excelsior '20, 11.00 (veld 1)
ZO 17/05 VRA 3 - Kikkers 1, 13.00 (tbd)
Programma volgende week
Hieronder het complete programma van de volgende week. Raadpleeg voor de meest actuele agenda altijd de VRA-website. Aanvangstijden onder voorbehoud.
DO 21/05 CTS NL (QV) - Philips 18.00
VR 22/05 VRA - Oxford Hospitals CC, 13.00
VR 22/05 Zamigo's - UCS Old Boys, 13.30
ZA 23/05 VRA 1 - Dosti CC, 11.00
ZA 23/05 Hermes DVS 1 - VRA Dames, 12.00
ZA 23/05 VRA ZAMI 1 - Beating Bats, 13.00
ZA 23/05 VRA ZAMI 2 - Ajax, 13.00
ZO 24/05 VRA U9 - ACC 1 U9, 9.00
ZO 24/05 VRA U12 - Kampong 2 U12, 9.00
ZO 24/05 VRA U12 - Kampong2 U12, 9.00
ZO 24/05 VRA 2 - Kampong 2, 12.00
ZO 24/05 CC Nieuwegein 1 - VRA 3, 13.00
MA 25/05 VRA U12 - MOP U12, 9.00
MA 25/05 HBS 1 - VRA 1, 11.00
WO 27/05 VRA U12 - Buckswood School, 16.00
WO 27/05 EPO (VCC) - Philips, 18.00
Verzoek van de penningmeester
Als het goed is hebben alle leden in de afgelopen weken via ClubCollect het verzoek gekregen om hun contributie te voldoen. Per e-mail, SMS of brief is iedereen geïnformeerd en kan het in theorie niemand ontgaan zijn. Mocht u niet onmiddellijk gereageerd hebben met een spontane overboeking, dan herinneren wij u hiermee welwillend aan uw contributieverplichting. Weinig spelen, niet trainen of andere redenen zijn geen argument; je bent lid of je bent het niet.
Uiterlijk voor eind mei dienen alle contributies te zijn overgemaakt. Mocht u geen bericht hebben ontvangen of om wat voor reden dan ook niet in staat zijn tijdig te betalen, dan is het verzoek om zo snel mogelijk zélf contact op te nemen met de penningmeester. Dat voorkomt veel onnodige problemen. De contactgegevens vindt je op de website onder > contact.
Verslag VRA 1 vs QuickH, 09/05
After a lot of hard work in pre-season, VRA 1 finally got the season underway on Saturday away against Quick Haag. I lost the toss and we were asked to bat first in cold and windy conditions. Mitch Lees was dismissed after hitting an awesome straight six. His wicket bought Emile van der Burg to the crease. Emile and Sachin Peiris then combined beautifully in a second wicket stand worth 98. Sachin showed patience and sound defensive technique, whilst latching onto any loose balls he received. Emile scored all around the wicket, he is a class act. Unfortunately, they would both throw their wickets away unnecessarily. And they weren't to be the only ones. A combination of poor decision making and average executing saw us lose our final 9 wickets for 103 runs. Given that Sachin and Emile had done so well to gives us a platform, our final total of 208 was a bit disappointing.
Fortunately, we have a very well balanced attack this year. We possess quality seam and spin bowling options. This attack, combined with an energetic and committed fielding outfit, gives us a chance to defend any score in my opinion.
Quirijn got the ball rolling with a fantastic new ball spell, claiming three wickets, including the big scalp of Wesley Barresi. Matthijs Luten bowled first change. He bowled his ten overs straight through. Initially a bit rusty, he settled into a good line and length and claimed the wicket of Tim Gruijters.
Another awesome spell from Leon Turmaine tightened the screws on Quick Haag. He went wicketless on the day, but will bowl worse and take plenty of wickets. Amil and myself bowled reasonably well. BJ came on and burgled a couple of tail end wickets to make his figures look good.
In the end, Quick Haag fell 34 runs short of their target. A good start.
VRA is very lucky to have a guy like BJ Barnett around this year. His energy and enthusiasm is infectious. VRA 1 2015 will be a committed, professional outfit. We will not win every match, but opponents will have to play well to beat us.
Peter Borren
Verslag VRA 2 vs Qui Vive, 09/05
VRA 2 starts the season with a convincing victory!
Qui Vive: 171 AO, VRA: 171-2
On a beautiful Sunday morning VRA 2 lost the toss and fielded first. Our opponents, of the day, Qui Vive 2, got promoted last season so this was their first match in the Overgangsklasse. With a strong team full of bowlers, Khan and Matthew started the inning with some beautiful swing bowling. First breakthrough came with the bowling of Khan who struck their opening batsman in front of the stumps. The combination of Khan and Matthew worked great as Qui Vive lost both their openers inside the Powerplay.
After bowling a beautiful spell (6-13-1) Matthew took the gloves and first change bowler Ashish striked to leave Qui Vive at 44 for 3. Adeel came into the attack and striked immediately. After getting them 4 down, VRA lost a bit of momentum and Qui Vive built a partnership. Some dropped catches, missed run-outs and bad fielding got them in a position to get a reasonable score on board. Jeroen, Adeel and Ewoud bowled quite well in the middle overs but were let down by their fielders.
At 114 for 4 in 28 overs we needed breakthroughs to keep the total low. Ewoud struck with three good wickets and Hassan bowled very economically at the death to get them all out at the last ball with 171 on board.
Khan: 6-29-1, Matt: 6-13-1, Ashish: 3-10-1, Jeroen: 6-26-0, Adeel: 8-41-2, Ewoud: 8-36-3, Hassan: 3-15-0.
Chasing 172 seemed a decent target but we needed a consistent performance from our batsman. Adeel opened the inning with Thomas and showed positive and solid batting immediately The innings started brilliantly after getting 40 runs on the board without losing a wicket. Adeel showed his class while Thomas batted sensibly but after calling for a quick single, Adeel got run out with 86 on the board. In came Babar Lassi, who batted carefully with Thomas who got his eye in. After smacking a couple of fours, Thomas got caught at long off with the score at 103. In came Matthew, who steadily worked his way to 172. Babar and Matthew finished the chase in the 26th over to give VRA a confidence-boosting win.
Adeel: 47, Thomas: 31, Babar: 36 no, Matthew: 32 no.
Our bowling and batting were strong but we need to work on our fielding which is what we will be doing during training. Next week we'll be taking on ACC at their homeground and we will be hunting for a second victory!
Team: Adeel Raja, Thomas Pasierowski, Babar Lassi, Matthew Klasarovski, Bilal Ahmad, Ewoud de man(c), Ashish Thapa, Jeroen Mulder, Hassan Alvi, Dilip Samuel, Khanzadah Waziri.
Bilal Ahmad
VRA Ballenactie / Match ball sponsorship
Na de succesvolle introductie van de VRA Ballenactie eind vorig seizoen, nodigen wij iedereen uit om ook dit seizoen weer een of meer wedstrijdballen te sponsoren. Van VRA1, je eigen team, dat van je kind, kleinkind of van de Dames. Het sponsoren van een wedstrijdbal is de meest toegankelijke en sympathieke manier om je club een extra handje te helpen.
Hoe kun je een wedstrijdbal sponsoren?
Heel simpel. Voorlopig door een email te sturen aan Benno van Nierop of hem te bellen (06 54 39 82 45) en aan te geven van welke team en welke wedstrijd je de bal wil sponsoren. Kijk voor meer informatie onder het kopje Sponsors.
Become a Match ball Sponsor
After last years successful introduction of Match Ball Sponsorship, we like to invite you once again to be sponsor of a match ball of one of our teams and display your commitment to VRA and its players. Or ask friends and family to support you. It's a sympathetic gesture and the easiest way by far to give a little extra support to our club.
How to donate a match ball?
If you'd like to donate a ball please send an email to Benno van Nierop or call him (+31 6 54 39 82 45) and tell what team and match you like to donate a ball for. For more information please see under Sponsors.
A cricket poem
Jan, Feb, March, April, Cricket...
Dreams of summer cricket fill my winter pillow
Yet it's time to dust off my leather and willow
I've been practicing my pull shot with my umbrella
Thank you Rain God for the appalling weather
But now it's the beginning of May
And I'm heading off to VRA...
By John "Richo" Richardson.
Copywriter, Poet and Zami Cricketer
Verslag VRA U16 vs R&W, 10/05
Around midday on the 10th of May 2015, VRA U16 arrived at the home of Rood and Wit (R&W) to play the opening game of the season. It was a big game for the VRA team, as they had not won a game the previous season and were now looking for blood in the colour of red and white.
VRA's captain – Samuel Freeman – lost the toss on a call of heads, and the team took to the field. Opening the bowling was Salman Mirza, who had a strong first over with no wides. Although the bowling of VRA was strong, the opening batsman of R&W were not letting up, leading one batsman to a 50 and a strong partnership. This was of course until Lancelot Bloemen took to the wicket. With the pace bowlers not being able to take a wicket, it was time for a change – spin. Lancelot's first over was strong, but his second was stronger, leading him to take the first wicket of the season. After 15 overs, R&W were on 105 runs, VRA decided to take action, their fielding and bowling strengthened. After a few dropped catches, and several more wickets, R&W's innings came to a close at 197. Leading the wicket tally was Salman, whose bowling was on top form.
It was time for VRA to rack up their run tally, and hopefully topple the reigning champions - R&W.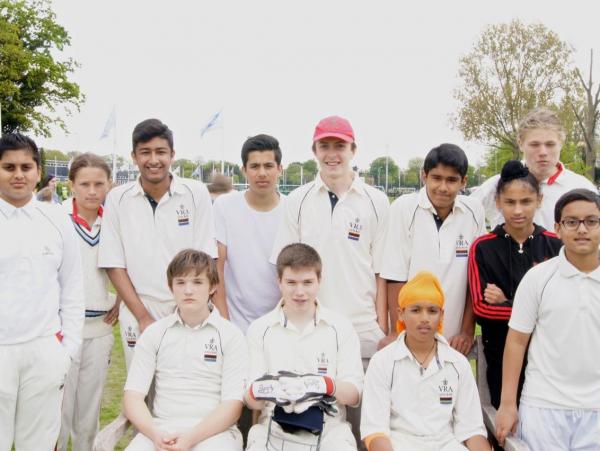 On the photo left to right: Naweed Khan. Lancelot Bloemen, Salman Mirza, Milo Fordham (Vice Captain), Jagjot Singh, Sam Freeman (Captain), Alec Pulver, Vikramjit Singh, Omer Hasan, Baljot Singh (12th man), Oliver Bloemen & Debrup Dasgupta.
Opening the batting for VRA were the Bloemen Brothers – Oliver and Lancelot. After a few overs it was clear to see that R&W's bowling and fielding was excellent, and they were preventing any quick singles. In a communication mix-up, the first brother fell and a new batsman were to take his place. VRA were unable to break the fielding of R&W, they needed someone who would be able to find the cracks. After the third wicket, Salman took his stance at the wicket. He was able to hit a four or two, but was then unfortunately, like those before him, gone. After 15 overs, VRA had only just broken the 50 barrier, and they desperately needed someone to rack up runs. Jagjot Singh was able to boost up the run rate by hitting four consecutive fours, but he too, toppled. The game appeared to be almost over, but the VRA players on the side still had hope – perhaps a late run.
After the bowling of Jagjot, Samuel took to the crease. Having discussed it with other players and Mitch – the coach – there was nothing to lose, Samuel was going all out with his batting – it was all or nothing. Off of the first ball, Samuel hit a four and a couple of balls later, he had hit the first six of the season. The crowd were stirring, perhaps it was the run that they had been looking for, Samuel faced the new bowler and hit another six. Looking at the scoreboard, VRA could see that there were only a couple of overs left and they were far off of the target – it was too late. VRA had managed to climb their runs over a respectable 130, but they were unable to topple the champions.
VRA were not disheartened by their defeat, as they had played well and there were still many more games left in the season. VRA would see R&W again, and next time it would not end in their defeat.
Samuel Freeman
captain
Meet VRA U12
Jammer genoeg hebben we nog geen verslag ontvangen van de eerste wedstrijd van de VRA U12 tegen R&W. Wij weten inmiddels dat er helaas net verloren is (VRA 121 - R&W 129). Maar een fraaie eerste teamfoto is er in elk geval en dat is toch ook leuk om te tonen. Volgende week ook een verslag jongens?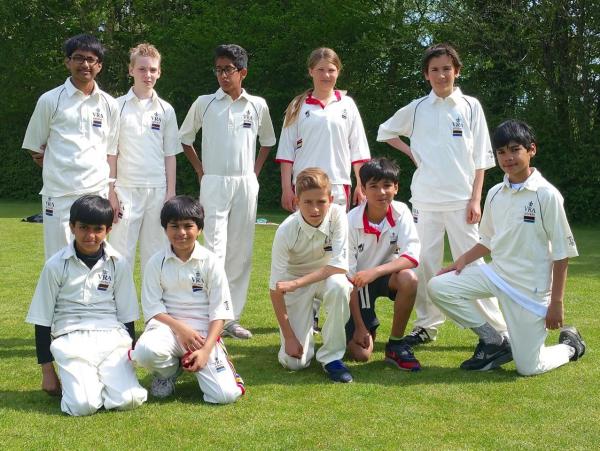 Munaf's Tips for Youngsters
LONG BARRIER POSITION
In this article I would like to inform you more about the long barrier position.
See picture!
Right foot with left knee overlapping at right angles to the line of the ball, head directly overhands.
STOPPING AND RETURNING As the bowler reaches the crease, all except the close fieldsmen will be moving towards the batsman. Their first job is to stop the ball, as only then can they attempt to return it quickly and accurately. To stop a ball a fielder must first get to it and this means being able to start directly he has sighted the line of the stroke. To start quickly he must: 1. Watch the batsman so as to anticipate the likely line of the stroke. 2. Balanced with the body slightly stooped and with hands hanging loosely. 3. Concentrate.
TO STOP THE BALL HE MUST: 1. Get on the line of the ball quickly as possible. 2. Keep the head still, watching the ball until it is safely in hands? The best position for receiving the ball, especially one that has been firmly struck, is called the LONG BARRIER POSITION. See the picture above.
This is basic knowledge for Youngsters.
Mohammad Munaf
Special trainer VRA
Trainingsschema jeugd
De VRA jeugd traint in 2015 tijdens het seizoen wekelijks volgens onderstaand schema:
dinsdag van 17.00 tot 18.30 uur: U16
woensdag van 15.00 tot 17.00 uur: open jeugdtraining
donderdag van 17.00 tot 18.30 uur: U16
vrijdag van 16.30 tot 17.30 uur: U7 Mini Circus
vrijdag van 16.30 tot 17.30 uur: U9
vrijdag van 16.30 tot 18.00 uur: U12
vrijdag van 16.30 tot 18.00 uur: VRA Academy (specialist training)
Volgende week begint de jeugdcompetitie. Meer informatie daarover in de volgende How's That!