Clubblad Amsterdamse Sportvereniging VRA
---
How's That verschijnt tijdens het cricketseizoen wekelijks
---
Redactioneel
Excuses, beste lezers. De nieuwe How's That liet enkele weken op zich wachten. Mensen druk, druk, druk, uitgeput, op vacantie of gewoon lekker op tour naar Engeland zoals de ZAMI's. Het weer zat gelukkig mee op het altijd gezellige Isle of Wight. Helaas gingen alle wedstrijden verloren, waarvan 2 op het nippertje in de laatste over. Maar ook verder enerverend zal het vast wel zijn geweest. Ongetwijfeld meer hierover in de volgende HT.
Inmiddels heeft het Nederlands Elftal zich gekwalificeerd voor het WK T20 in India. In de halve finale werd knap en overtuigend gewonnen van Ierland, mede door goede prestaties van de ons welbekende Ben Cooper en Peter Borren. Dus toen ons ochtendblad van Wakker Nederland kopte" Opmerkelijke overwinning cricketers" lazen we met interesse verder, echter helaas geen wedstrijdverslag. De opmerkelijke overwinning betrof het gelijk eindigen met Schotland omdat de finale wegens slecht weer niet gespeeld kon worden. Inderdaad een opmerkelijke "overwinning", waarmee de cricketsport in de grootste krant van Nederland voor dit jaar wel weer genoeg publiciteit gescoord heeft.
Wel hebben we deze week wedstrijdverslagen van diverse VRA teams. VRA T20, dat met meer dan 10 runs per over Kampong verwoestend met 9 wickets versloeg dankzij een ontketende Mitch Lees (5 vieren in de eerste over) en BJ met een spijkerharde 50 not out. Op het veld er naast ging het er al net zo heftig aan toe. Thomas Pasierowski scoorde met grote schoten zijn eerste century voor VRA2: 106 not out (11x 4 and 6x 6). Proficiat! Jaap, je had het moeten zien.
Een week later speelde een door de ZAMI tour wat gewijzigd VRA2 tegen Dosti 3, dat eveneens met 9 wickets verslagen werd. Dit keer was het Mark Gray die met 84 not out als man of the match het veld verliet.
Binnenkort komt ook VRA1 weer aan spelen toe. Voor de liefhebbers van de Amsterdamse derby: komende week maar liefst 3 keer tegen ACC (op 2,4 en 6 augustus). Zie het wedstrijdprogramma hieronder. Over hoe dat wedstrijdprogramma er in het algemeen uitziet, kunnen de meningen verdeeld zijn. Terwijl het aan het begin van het seizoen op ons complex een drukte van belang is, lijken de VRA teams halverwege het seizoen voornamelijk uitwedstrijden te spelen. Het wordt tijd dat de KNCB verplicht gaat stellen dat clubs gedurende de 4 zomermaanden over tenminste 1 veld beschikken. Als dat moeilijkheden oplevert: neem aktie richting de betreffende gemeenten met het volle gewicht van de Bond erachter! KNCB, kom in aktie! Op het hoofdveld werd volgens mij de laatste 5 zondagen slecht 1 keer gespeeld, maar dat zal ik wellicht verkeerd hebben gezien. Ook dat is geen gezonde situatie en voor verbetering vatbaar. In elk geval: tot binnenkort op het veld!
Sieb Mulder
Programma t/m volgende week
Za 01/08 VCC - VRA ZAMI 2, 13.00 (away)
Zo 02/08 ACC 1 - VRA 1, 11.00 (away)
Zo 02/08 Dosti 3 - VRA 2, 12.00 (away)
Zo 02/08 VRA 3 - Qui Vive 4, 13.00 (VRA)
Zo 02/08 Zeemacht 1 - VRA 4, 13.00 (away)
Di 04/08 VRA Twenty20 - ACC Twenty20, 18.30 (VRA)
Wo 05/08 TCS - Philips, 18.00 (VRA)
Do 06/08 ACC Twenty20 - VRA Twenty20, 18.30 (away)
Za 08/08 VRA Dames - Quick Hg 1, 12.00 (VRA)
Za 08/08 VRA ZAMI 2 - HCC, 13.00 (VRA)
Za 08/08 VRA ZAMI 1 - Kampong ZAMI 1, 13.00 (VRA)
Zo 09/08 VRA 1 - ntb (2e fase), 11.00 (VRA)
Zo 09/08 Groen & Wit 2 - VRA 2, 12.00 (away)
Zo 09/08 VVV 2 - VRA 3, 13.00 (away)
Zo 09/08 Baarn 1 - VRA 4, 13.00 (away)
Match report VRA T20 vs Kampong, 12/07
VRA 1 comprehensively crushed Kampong in our first game of this seasons T20 Cup. Arriving at the ground early to see the 2nds on their way to an equally big victory, the news was given that we would be playing on the Astroturf rather than the grass wicket.
When the game actually began however, it quickly became pretty clear that a switch in pitch was not going to aid Kampong as much as they may have imagined. Despite the tiny boundaries, first Quirijn and Sohail then Matt and Matthijs absolutely strangled the openers, with the run rate around four an over through 10 as the boundary was only found a couple of times.
Leon then came on to get a fairly big wicket, the stronger opener hitting a full toss to square leg to leave us in a dominant position. Wickets fell fairly regularly afterwards, with Kampong struggling to 102 off their allocation of 20 overs.
The chase looked easy on paper, and this was quickly confirmed as opener Mitch Lees destroyed the opening bowler with five fours off the first over, fresh from having smashed my bowling all over the place in the nets beforehand and possibly motivated from having been hit where it hurts most while wicketkeeping.
As the innings continued, Mitch continued scoring quickly while BJ made a mockery of the size of the boundaries, clearing a building behind the sightscreen with a six and flicking a six onto the pitch where the seconds were chasing down Kampong's total similarly successfully.
Finally, when Mitch finally did sky one with only 10 odd runs to get and the run rate above 10 an over, BJ did an outstanding job of preventing number three and captain Eric Szwarczynski from even getting a bat, with the final result being a nine wicket win with a huge amount of time to spare, BJ ending with an unbeaten 50 and Mitch with 40 odd.
Next week we have a home game against Kampong, where we hope to put in a similarly commanding performance and continue a good start to the T20 season.
Hugo Debaig
Match report VRA 2 vs Kampong 2, 12/07
VRA 2 wins with 9 wickets chasing 144 in 26 overs
On a cloudy Sunday morning VRA 2 travelled to Utrecht to play Kampong 2. The opposition has been in third place (right after VRA and Salland CC) consistently this season, so another win for VRA would increase the distance even more.
A green grass pitch with an incredibly short boundary on one side made skipper Ewoud de Man wonder how this game was going to turn out. He couldn't believe his luck when Kampong won the toss, but send us in to bowl first.
Kampong 144 ao
Opening bowlers Dilip Samuel (2/24/5) and Piotr Pasierowski (2/38/8) and showed the green pitch meant a slow pitch and required tight, straight bowling to constrain scoring opportunities. The increased pressure forced a quick single by the batsman, but Bilal 'The Tiger' Ahmad got hold of the first wicket with a direct hit run out.
First change bowlers Hassan Alvi (2/32/7) and Jeroen 'SOS' Mulder (2/21/8) kept the pressure on and continued taking wickets – also with thanks to catches from Babar Lasi, Thomas Pasierowski and Piotr himself – while conceding little runs. A short partnership by Kampong's middle order batsman was quickly broken and they were bowled all out for 144 runs in 33 overs.
However, while our bowling was good, this game was not about that. This game was going to be about our batting, specifically from one man.
VRA 2 wins with 9 wickets
The Pasierowski brothers, Piotr and Thomas, were given the opportunity to open the batting. For Thomas a normal and comfortable thing to do, for Piotr not so much. Piotr tried to attack, swung a couple of times at a swinging ball, after which he decided to leave one and watch it fly straight into his stumps at the end of the first over.
Thomas, joined by David Pugh (26*), were a bit more patient. Carefully looking to punish the bad balls, runs seemed to come easier and easier with every over of the game. Especially Thomas, who was looking to take revenge on some former team mates from his Leeuwarden days, thoroughly enjoyed hitting Kampong's attack to every corner of the ground. Perhaps the most beautiful one being when he picked up the slower half-volley ball and slapped it for 6 over mid wicket in traditional Dutch hockey fashion.
Thomas reached his 50 in 42 balls and was looking for more. David steadily supported Thomas by taking the occasional single and helped Thomas to reach his first century for VRA 2 in 85 balls. Finishing the game on 106 not out (11x 4 and 6x 6).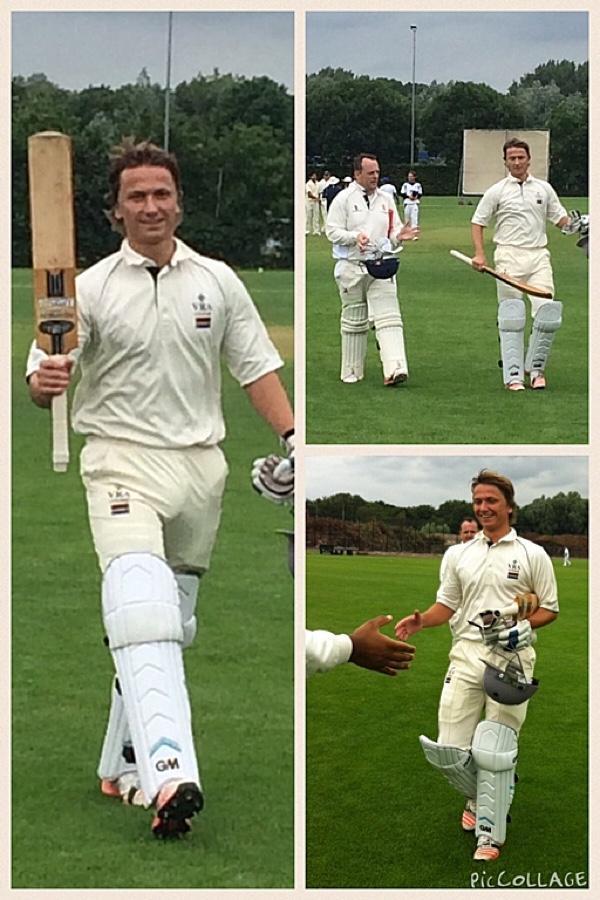 Congratulations to Thomas for a well deserved 100! It was a long time coming and we can honestly say we are looking forward to more fireworks from him!
Jeroen 'SOS' Mulder
Match report VRA 2 vs Dosti 3, 19/07
On yet another rainy Sunday morning, VRA 2 set out to maintain their top spot in the league. After some confusion as to whether the match was home or away in the morning (fortunately Dosti is just on the other side of town), it turned out to be a home game for the 2nds. Thanks to the rain that caused a late start as it allowed extra time for some of our boys who ended up in Dosti to find their way to VRA.
We were quite content with the generous decision by the Dosti captain to bat first despite winning the toss on a wet pitch. Dilip and Oliver opened the bowling for us. Dilip picked up an opener off his 4th delivery caught at mid-off by Hassan. Oliver was quickly replaced after his mediocre first over by Hassan, who bowled beautifully to trap Dosti's no. 3 leg before, whereas Dilip kept things tight at the other end.
Then they started to build partnerships that consisted streaky running between the wickets and pretty ordinary fielding from us. There were a couple of missed run out opportunities. Dosti boys were slowly building a solid base that seemed to set up a good stage to go big in the final overs with 150/3 after 30 overs. Rens was tidy in the middle overs as he picked up a wicket.
Then came George's crucial double breakthrough over, both caught behind by our M. Besier. This shifted the momentum towards us as they were bowled out for 198 on the 39th over. Skipper de Man bit through the tail, bagging 4 wickets from his clinical 3 overs. Our opener Dilip also finished the innings with a direct hit run out from square leg.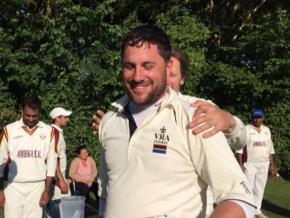 The sun was out by lunch as it was genuinely warm and the wicket looked decent for batting. However, we managed a horrible start with 7/2 on the third over. This was the beginning of a solid 97 run partnership between Babar and Mark, which consisted smart batting, good running between the wickets, big hitting that took the life out of the opposition. After Babar was caught at square leg for a well-complied 54, Mark was joined by George. The batting display continued as the pair took us home on the 35th over with George's quick fire 37* and man of the match performance from Mark with his unbeaten 84. After a shaky start, the boys batted beautifully to finish the job. Except a couple of drop catches, this was almost a batting clinic type stuff. A fantastic win for VRA 2 despite some regular players being away on the Zami tour to the UK.
After a couple weeks of break, we'll be looking to win back to back against Dosti and finish the rest of the season strongly.
Ashish Thapa
Tussentijds Isle of Wight Tournieuws VRA Zami
Thomas Pasierowski 92 incl. een gebroken raam op 1 hoog over square leg was het hoogtepunt tot nu toe. Jeroen Mulder vandaag 4 wickets. En de combi c) Pasierowksi / b) Pasierowski heeft al zeven wickets opgeleverd in de twee verschillende combinaties.
Sebastiaan Capel