Clubblad Amsterdamse Sportvereniging VRA
---
How's That verschijnt tijdens het cricketseizoen wekelijks
---
Redactioneel
Afgelopen week verscheen er tegen alle gewoonten is geen How's That! Schande, toegegeven. Laten we het erop houden dat er sprake was van een storing op de redactie, waardoor besloten werd het toch al geringe aanbod van artikelen te verplaatsen naar de volgende week. Nu dus. En inderdaad leidt dat tot weer een goed gevulde HT. Niettemin zit de huidige redactie te springen om versterking, zoals enige tijd geleden al eens aangegeven. Er is voldoende schrijftalent aanwezig onder onze leden en het is vooral een kwestie van enthousiasmeren, collecteren, redigeren, corrigeren en online opmaak in ons onovertroffen CMS. Je hoeft er je huis niet eens meer voor uit! Wie gaat mij assisteren, dames, heren?
Terwijl de Topklasse midden in het seizoen wordt stilgelegd vanwege T20-wedstrijden van het Nederlands XI een uurtje eerder begon zodat ze het vliegtuig konden halen, heeft ons Eerste zich inmiddels veilig gespeeld. Dat klinkt aardig, maar is toch enigszins teleurstellend. Liever hadden we natuurlijk gezien dat ze in augustus gestreden zouden hebben in de playoffs van de bovenste vier. Maar het valt tegenwoordig niet mee, met oppositie die er nog steeds in slaagt sterke buitenlandse spelers aan te trekken die vervolgens worden ingewisseld voor andere toppers, zodra ze na 3 maanden geblesseerd raken. Enfin, we klagen niet.
We gaan met onze resterende spelers gewoon een paar potjes Twenty20 spelen, ook leuk. Dubbele weekenden bovendien en op steeds wisselende tijden, zodat het wel weer een drukte van belang zal worden langs de lijn. Zelfs de trouwste supporters geven de moed zo langzamerhand op en hun portie aan Fikkie.
De Dames spelen komende zaterdag ook Twenty20, maar dan om het Landskampioenschap in dit format. En dat na een trainingsstage in England, waarover elders in dit nummer wordt geschreven. Da's geheel andere koek. U kunt hen aanmoedigen vanaf 11.00 uur op VCC.
En dan wordt het de komende weken wat rustiger op de velden, nadat we een hele drukke tijd achter de rug hebben. Hopelijk kan Paul een beetje op adem kan komen, terwijl vele anderen op vakantie gaan. Voor diegenen: fijne vakantie!
Benno van Nierop
Personalia
Het VRA bestuur feliciteert Willem van Mierlo en zijn vrouw Ellen Houtman met de geboorte jl. 30 juni van hun kersverse zoon (broertje van Nies
Vik Bart Maria
En alvast welkom bij VRA Vik!
Programma deze week
DO 09/07 Philips - Team ACN, 18.00 (VRA)
ZA 11/07 VVV 3 - VRA 4, 13.00 (away)
ZA 11/07 VRA ZAMI 1 - VVV, 13.00 (VRA)
ZA 11/07 VRA ZAMI 2 - Groen Geel, 13.00 (VRA)
ZA 11/07 ACC Twenty20 - VRA Twenty20, 15.00
ZO 12/07 Kampong 2 - VRA 2, 12.00 (away)
ZO 12/07 Kampong Twenty20 - VRA Twenty20, 15.00
WO 15/07 Philips - TechM , 18.00 (VRA)
VRA Dames: Twenty20 finaledag, 11/7
Twenty20 finaledag dames op VCC
In de groep Amsterdam/Utrecht/Nijmegen (A) zijn alle wedstrijden gespeeld. De eindstand:
1. VRA 4-8
2. Ajax 4-6
3. Quick 1888 4-4
4. R&W 4-2
5. HilKamp 4-0
In Groep B was de eindstand nog niet duidelijk, maar VRA start in elk geval tegen de nummer 2 van die groep.
VRA Dames speelt a.s. zaterdag om het landskampioenschap T20, vanaf 11.00 uur op VCC. Gaat dat zien!
Programma rest van de maand
VR 17/07 Zamigo's - Galah CC, 13.30 (VRA)
ZA 18/07 Groen & Wit Twenty20 - VRA Twenty20, 15.00 (away)
ZO 19/07 VRA Twenty20 - Kampong Twenty20, 11.00 (VRA)
ZO 19/07 Groen & Wit 3 - VRA 3, 13.00 (away)
ZO 19/07 VRA Twenty20 - ACC Twenty20, 15.00 (VRA)
MA 20/07 VRA U16 - Corby Business Academy CC U15, 12.00 (VRA)
DO 23/07 KLM/TCS - Philips, 18.00 (away)
ZA 25/07 HCC 3 - VRA ZAMI 1, 13.00 (away)
Match report VRA 1 vs Dosti, 28/6
Round 12
Fresh from last week's outstanding win over Hermes, the Fluffers made the trip across town to high-flying Dosti in a confident mood. A win would keep the Very Reasonable Athletes' mathematically slim hopes of a top four spot alive, and having been picked for the upset by Cricket Europe, the boys were pumped up to deliver the result.
Fan favourite Peter "Catches Win Matches" Borren won the toss and asked Dosti to bat on what looked like a mat. Buzzing from the full bodied clubhouse coffee, the boys took to the field with the intent to run through the highly paid Dosti line-up.
Quirijn "Ned" Gunning started brightly to limit the scoring rate, and after being introduced early BJ "Mumsiebaby" Barnett stole the show. He immediately picked up the first Dosti wicket and soon after clung onto a sharp return catch to make it two, solidifying his place as the team's premier bowling all-rounder. The screws were tightening, and when Michael "Arjuna" Swart was unluckily run out by a combination of Ned, Mitch "Skins under Skins" Lees, and the sandy outfield, it looked like the floodgates might open.
Not quite. Despite an excellent bowling and fielding effort from the Fluffers, including a disciplined spell from debutant Matt "Dr Dolittle" Klashovski and another Cricket Europe worthy effort from Adeel "Golden Arm" Raja, Dosti's seemingly endless line up of quality batsmen saw them manage an imposing 241.
The half-time team talk was simple: "bat our 50 overs and score more runs than the opposition and we'll probably win".
With a number of Dosti scouts watching on, many of the Fluffers' batsmen were desperate to make runs in order to enhance their chances of securing a big money transfer to a "top-four club" over the winter. Unfortunately it wasn't to be. "Skins Under Skins" invented a new mode of dismissal, Emile "Shenanigans" van den Burg middled one to cover, and Eric Zoolander fell LBW for a free range golden duck, leaving VRA reeling at 3/27.
Then... Was it a bird? Was it a plane? No, it was Peter "I'm just going to bat like this every week" Borren. Needing a cape and possibly a utility belt to properly demonstrate how well he is batting right now, Borren set about knocking the runs off like he had somewhere else to be. When Barnett entered at 4/54, it appeared as though he was also due at the same engagement, such was the prolific run scoring tempo.
With just 140 runs left to get WASP had the Fluffers winning in a canter. But WASP doesn't know the Fluffers, and as is quickly becoming the norm, disaster struck in the form of a running mix up...
YES! ... NO! ... YES YES YES! ....... BJ GET UP! ..................... MEDIC!
In the space of no more than five seconds, the Fluffers chances in the match had evaporated, their season was now all but over, and Coach Barnett had dislocated his right shoulder (the good one) in a futile attempt to avoid being run out.
VRA's last recognised batsman left for hospital with Mumsie, and the rest of the batting card read 0,6,0,20,0, with only Ned providing the support that skipper Borren desperately needed at the other end. When Sohail "Fielding Coach" Bhatti was last out Borren was stranded at the other end with an unbeaten 81, leaving the Fluffers 185 all out and ruing a season that had promised so much yet so far has delivered so little.
The bottom four relegation scrap now looms, beginning with HBS at home this Saturday. A 37 degree scorcher is forecast, which will ensure a large crowd to cheer the Fluffers on their run home. See you there!
Mitch Lees
Match report VRA 1 vs HBS, 4/7
Round 13
The mercury was approaching 40 degrees in Amstelveen for the heavyweight clash between 6th place VRA and dead motherless last HBS. "Proper cricket weather," exclaimed Jeroen "New Oldie" Mulder, before expressing doubt about whether his body would stand up to Zoolander's warm up stretches. The Fluffers knew that a win today would ensure safety from relegation and set them up nicely for the upcoming T20 rounds. The fans knew too, and a healthy crowd began filtering through the turnstiles early.
HBS called correctly and decided to bat, giving the VRA "quicks" first use of a juicy deck. The bowlers started brightly, but the less said about the fielding display, the better. Aside from a ground fielding masterclass from Sachin "Usher" Peiris, the only other noteworthy effort was from BJ "mobility scooter" Barnett. Defying the pain and limited range of movement in his dodgy shoulders, he made a valiant effort to get on the end of a sharp chance from a Sohail Bhatti lifter. Standing at first slip, Barnett made great ground to get across to about third and a half, but just when it looked like he would hold onto a screamer his hand-eye coordination deserted him and the half-chance was grassed.
Things only got worse after that early drop, with the Fluffers' generous fielding and a highly watchable ton from visiting pro Engelbrecht helping HBS to 267, by far their highest total of the season. Leon "Chopsticks" Turmaine was the highlight with the ball, claiming four wickets before being thumped later in the day.
The shade at lunch was a welcome respite from the conditions, but the jongens knew they had a massive task ahead of them in the heat. The job got tougher after Ned, Usher, and Shenanigans all fell early despite making promising starts. At 3/65 the old firm Eric Zoolander and Peter "every pro who comes to VRA makes a ton" Borren got together. They put on a crucial 85 run partnership, laying the platform for a middle order assault on the target.
When Borren was out with the score on 150, BJ "the exception" Barnett came to the wicket. With Mumsie watching on proudly, Barnett hoisted the Fluffers onto his crippled shoulders and roared back into form, spanking a maiden VRA half-century to pull the Fluffers within sight of the finishing line. The crowd were delirious right up until Barnett was controversially stumped, and when Skins under Skins skied one into the deep with 15 required, the pressure returned.
15 off 24 needed quickly turned into 12 off 12, with Ewoud "Dwight" de Man taking a few balls to get his 48 year old eye in. 6 runs from the penultimate over left 6 off 6 required, far too close for comfort. The tension on the sidelines was unbearable, and the crowd had gone eerily quiet aside from a lively debate upstairs about whether it was actually even possible to bat 50 overs and not win.
The Fluffers needed a boundary, and Dwight delivered. From the first ball of the over, he swung his Atlas and bashed the ball to the jubilant crowd at the mid-wicket fence. An edge from the next ball sealed the win and survival in the Topklasse for another season.
The schedule now switches to T20s for a few weeks, with away games against ACC and Kampong this weekend. Those coming to watch can expect plenty of excitement and some innovative captaincy from the stand-in. Go the Fluffers!
Mitch Lees
Match report VRA 2 vs Qui Vive 2, 28/6
On a humid Sunday the 2nd's went to Qui Vive to play their sixth match of the competition. The Qui Vive isn't the best looking field with holes, stones and high grass. Skip Ewoud won the toss and decided to field first and let Qui Vive set a score.
Ashish and Piotr openend the bowling and soon the VRA team found out the Qui Vive bastman were looking for quick singles, a decision that would be costly in the fourth over. When Thomas were went for a direct hit and hit, the bastman was safely in it's grease. The deflection of the stumps mend that the Qui Vive batsman would look for a quick second but they didn't see Hassan was already sprinting to the ball. A mix-up, a good throw to the keeper made sure the first wicket was a fact. Piotr struck first ball after the run-out, trapping the batsman leg before.
After the first two wickets Qui Vive quickly accelerated the runs per over, also because of sloppy fielding, not being helped by the horrible bouncy field. However George kept the pressure on the batsman with some aggressive bowling. Second change was Hassan who struck first bowl getting the batsman lef before as well. And Hassan kept on taking wickets through-out his spell. After the drinks break VRA was well on top taking wickets constantly, also because the bowlers bowled short spells and every bowling change almost was a guarantee for a wicket in the first over.
Good decisions by Ewoud, seeing that the batsmen were struggling with the change of pace every couple of overs. Salman bowled well after finding his rhythm and got rewarded with a wicket in his third over. Ewoud himself took two wickets and Thomas finished the innings bowling the last batsman. Hassan definitely was pick of the bowlers taking four wickets.
A.Thappa 6-0-22-0, P.Pasierowowski 5-0-21-1, G.Dunlop 7-0-24-0, H.Alvi 7-0-30-4, S.Merza 4-0-30-1, E. de Man 3-0-8-2, T.Pasierowski 0.2-0-2-1
Qui Vive had set a score of 146, meaning a run-rate of 3.65 an over. Very do-able for our team seeing we have a long and strong batting line-up. Pepijn opened with Thomas and did that together in strong fashion. Thomas would punish the bad balls with good stroke playing and big sixes as always, Pepijn would play a supporting role. Being none for 60 at the drink break we were well above the required run-rate. Unfortunately Thomas got bowled for 33 soon after.
When Mark came in Pepijn took over the role of Thomas and kept the scoreboard ticking. Mark played the supporting role and did that in a solid way. They took the score to 121 after 28 over and were looking to finish the innings. Mean wile Pepijn brought up his fifty. He played solid, leaving and blocking the good balls and striking the bad ones with sixes on the off-side over the covers.
When we needed only 26 of the last 12 overs we lost some quick wickets. Mark got caught, Pepijn got caught behind after scoring 60. Baber went leg before and Bilal and Hassan tried to finish the match with some big power hitting unfortunately getting bowled. It looked even so bad, that when we kept the score updated on the group-app, Jeroen called us Muppets and that we needed to finish off the game in regular fashion. In the end George had hit the final runs being applauded by his misses and two month old son. Pepijn definitely anchored the innings with his sixty, going from supporting role to the run maker.
P.Somer – 60, T.Pasierowski – 33, M.Gray – 15, B.Lasi – 1, B.Ahmed – 7, H.Alvi – 8, G.Dunlop – 4 NO, E. de Man – 0 NO, S.Mirza, P.Pasierowski & A.Thappa DNB
In the end a good win that keeps us at the top of the table together with Salland with 10 points after six matches. Next week were playing ACC II at home. Again a must win game to keep the pressure on Salland for the top position.
Piotr Pasierowski
Impressie VRA Zami 2 vs HCC op Kampong, 27/6
VRA Zami 2 vs Punjab, 4/7
Punjab CC 139-8 (20 overs) - VRA Zami 2 127-8 (20 overs)
VRA verliest met 12 runs.
VRA Ladies meet The Strollers and Beckham, Holland Park 19th of June
First match of the Captain Cricket & the Hilarious Heroines Tour 2015 

Faith decided we had to play against Strollers CC when our Annefleure met Nick in the Mooserwirt, St Anton. We didn't know who we'd run into that afternoon at Holland Park, but whilst sipping on a glass of Pimms we got welcomed by 11 very charming men and David Beckham and his children.
!Time to toss, we decided to field first, get a feel for the ground and see what the men could do with a bat. Because we wanted everyone to play we had a 25 retired agreement... Which came in very handy. I opened the bowling with the pink ball, apparently these men like a bit of pace or it turned out just really like to hit pink balls. So we quickly changed our bowling tactics. Sjoukje was bowling very well 1-32 on these wild men and challenging cricketground. 
 Let me tell you a little bit about the ground, we played at Holland Park which is located in the London district of Chelsea and Kensington. Lovely area, very well maintained gardens in front of impressive mansions. Along the boundary you can admire Holland House, a lot of history there, unfortunately in World War II it got severely damaged. The relics are now turned into an open air theatre called Holland Park Theatre, where on the afternoon of the 19th of June the whole park could enjoy Jonathan Dove's opera Flight.


Back to the game. Icara bowled, Tammy our wicket slayer, Maartje also showed us some of her bowling. Haas got an LBW and then Fleurtje did the same, huray. We thought it was the last ball so we walked off the field when it turned out there was still a ball to bowl. So we came back and then Fleurtje, who was craving a beer I think, immediately bowled a wicket haha. 
Which meant Ben, Bill, Nick and Tim got out to a Hilarious Heroine - yes!
 Important to mention, the last wicket that fell was Annefleure taking Nick's wicket, very appropriate for they are the people who organized this game.
What an innings, running around, chasing the ball, seeing it fly over, lots of fun. 
Although many gave us, ok maybe me, plenty of opportunities by hitting it through the air, even aiming at us... it was just too much haha. Then they tried to aim at soccer-players next to the ground and a knoodling couple, also they placed the ball carefully behind a tricky fence which is dangerous to climb over, oh yes very dangerous these Strollers. They just really want to get caught ;)

Our charming Zoe was scoring on the sidelines, trying not to get distracted by the men, we also have an amazing Ipad app for scoring. That will hopefully provide us with cartwheels of our batting innings. Time for a drink, or two... then onto the batting. So the men got to an impressive 194 - 4 -18 with a staggering amount of 11 sixes. Bring it!
Git(18) and me got to open the batting, which we started of with a lot of boundaries and then we left the field to let Maartje play the ball around a bit, she was so impressive that even policemen stopped their routine and watched the game for a bit. She got to an impressive 61 runs and then lost her wicket to Shane - boo! Sjoukje, Anne, Fleur, Tammy, Icara and Haas passed the revue to leave Saskia (21) and Sally(8) to bat it out. These two were not allowed to run due to injuries, so they just hit boundaries. Why not, it looked great ladies :) 

After being caught I grabbed a beer and turned into an umpire.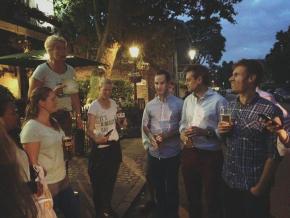 It was such a good atmosphere in the field, so many laughs. It was also lovely to see how at some point when Maartje was really feeling it, they got a bit anxious haha... of course we had the 25 retired agreement with them, but we all did our best to stay under that amount to keep it fair. 
Apart from our talented running machine Ballbusting Maartje ofcourse, whoo! 

Man of the match turned out to be Rob, who was very impressive bowling wise apart from that hattrickball that became a wide, after which he got another wicket and tried to convince everyone he was still allowed to call it a hattrick. Rrrright ;)
We got to 162 - 9 - 20, after the game we went to a nice pub around the corner where we gifted the men with stroopwafels, Delftsblauw things and of course the Amsterdam Ladies Cricket Calendar which we all signed. 
 Great company, great game, so much fun, amazing surroundings, opera singing, bails and balls flying through the air, a few pints, all in all a great start of the tour!


A big thanks to the Strollers and their guest players for the amazing afternoon. As they would say 'Stroll on!'
Nathalie Hennis
Match report VRA Dames vs QuickN, 4/7
People said it would be 41 degrees -my oh my- so next to the usual cricketgear we packed hats, sunglasses, suncream and bikini's. Heading towards VRA we of course met our friend Headwind and we cursed him, later that day we decided to love her/him/it. It turned out to be 30 something degrees and with the wind there it turned out to be quite manageable in the field.


The 1st team already started playing an exciting game against HBS and the charming Zami's were playing a very early game, very unlike them to be up so bright and early haha... so we played around the pool and kept cool before we could start our game.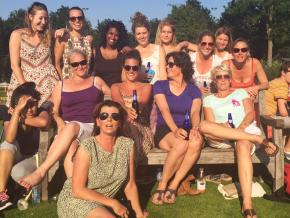 Captain Nicole won the toss and decided to bat first, we were ok with that. Time to field! Even though it was hot, we were planning on putting all our energy into the game, so we could afterwards deservingly jump into the pool - thank you Paul! 

Sooo I opened the game with a wide, eh, but then regrouped and bowled 2-3-2. Tammy caught the first wicket, yeah. Then I was supposed to catch one back on her bowling, but it clumsily turned into a run out. Icara bowled perfectly, Haas bowled perfectly, Anne bowled really really well, Maartje bowled really well, Annefleure bowled really really well and Fernande bowled really well with 1-4-2 and Lot bowled amazingly 1-3-2. All was REALLY good! 
We had one more run out, team effort. Everyone fielded sharply, Katie was on fire, Titia was like a unpassable wall and Sal was guarding the wickets and keeping the team in place and on focus.

 After the 1st innings
Quick1888 made 53 runs for 6. Go team!

Important to mention our beloved Gitje, who wasn't able to play due to an injury, was umpiring, scoring, keeping everyone hydrated, talking to two new ladies who came to the game to check cricket and the team out. Cheering us on and just overall greatness, awesomness Gitje :)
Our turn to bat, captain Sal send Icara and me out to bat. Very exciting!
 After 21 runs I got caught behind, damned, and left the field with a quick 10 runs. Icara (7) and Anne continued, then Katie came in, then Annefleure(10) came in to bat it out. Which she did with Maartje after Tammy and Lot(7) showed their face for a bit. Maartje made an amazing score of 1 haha that's a first I'm sure :).
WE WON yeah, unbeaten thus far. Which means upcoming Saturday we travel to VCC for the T20 finale.
We rushed of to the clubhouse for watermelon, lemonade, bread, carrotcakeballs ( thank you mama Hennis) and something ricey that was set on fire by Jane haha.. Thank God your arm didn't get burned, it looked so scary! Thanks Jane and Paul and other Paul for looking after all te players on the hot Saturday. 

A wise 20 minutes after eating ( no, not really) we jumped into the pool and watch the men's game with a celebratory drink. Also Quick1888 couldn't leave sunny VRA just yet with a tight game on.
Congrats to the men for winning that game, what a great day at VRA. Warm, gezellig, fun and victorious haha... a few of the ladies went to the infamous "the Hut" for spareribs while JP told us all about the old days when he used to work there and then showed us some dance moves! 


Great great Saturday, so much fun. Looking forward to the finale day. 

Enjoy your week!


Liefs,
Nathalie Hennis
VRA U9 vs ACC, 27/06
A farewell to the Doyle family
On Saturday 27th U9 played against ACC... The team lost... It was like we all had summer holiday or other matters on our minds.
It was also the last match for Zoë and Ollie since the family is leaving for London. As David said a period with bitter sweet feelings, thoughts.
Sweet because with David and kids around everything felt right. U9 learned to revalue basic formal etiquettes of the cricket sport. To be sportive as a team. During the game and outside the field. Together with the families Verden and Toulantas the team grew so much in any way and gave me even more joy to be a small part of it.
Bitter, because the family Doyle moves on, move to London. We, the team are obligated to both families to continue next season in the same spirit as we've learned from them.
I would like to thank David, Zoë and Ollie and wish, the team wishes the family all best and happiness in there new home.
Karl Kessler
Photo: Gentleman David and his team... 'Line up guys!'
Munaf's Tips for Youngsters
Bowling - The Run-Up
The run-up to the wicket is of vital importance. It is most difficult to lay down hard-and fast rule regarding the length of run-up. A fast bowler, as a general rule, must obviously run-up a good deal farther than a slow bowler. There have, however, been cases of bowler bowling quite fast and only using a short run-up, so it is not always necessary to do things in the orthodox or accepted way if a better result can be obtained by other means.
Still for the normal player, it can safely be said that the fast bowler need a longer run-up than the slower bowler.
The main thing with the run-up is to try and achieve the maximum result with a minimum of effort. Once you have the run-up settled-and remember, when you have, always run the same distance both at practice and in matches, it is easier to cultivate a good action.
A Good Length
The only really true definition of a good-length ball is to which the batsman is not sure whether to play forward or back.
Keeping fit
Bowling is strenuous, so one of the essential things for a bowler to do is to keep fit. It is necessary to be fit to carry out long spells at the bowling crease.
Use of swing
The bowler must normally aim to hit the wicket and to make batsman play forward. Further, since he is forced to play forward he will have less time to adjust his stroke and may well edge a catch to one of the close fieldsmen. Control of direction is of most importance. A fast bowler should warm-up before attempting to bowl at maximum pace.
Mohammad Munaf
Specialist Trainer VRA Youth