Clubblad Amsterdamse Sportvereniging VRA
---
How's That verschijnt tijdens het cricketseizoen wekelijks
---
Voorwoord
Cricket is een spel van hoop en vreze, zeker als je je team met hart en ziel bent toegedaan. Hoop was er afgelopen zaterdag op Het VOC-veld aanvankelijk zeker, want enkele van de VRA-batsmen lieten zich van hun beste kant zien. Primus inter pares was dit keer Vikram met een kalm gecomponeerde 68, een hoeksteen waarop de rest kon bouwen. Zo toonde onze Zuid-Afrikaanse nieuwkomer Eddy Visser dat hij niet alleen snel kan bowlen, maar ook als batsman niet uit te vlakken is, getuige zijn 35 in 20 ballen. Het uiteindelijke totaal van 262 deed even vergeten dat we iets meer dan een week geleden tegen Excelsior met zijn allen de zestig runs niet hadden gehaald en sloot aan bij de prestaties tegen Salland en Dosti, wedstrijden waarin ook rond de 250 runs waren gescoord. In de lunchpauze werd volop gespeculeerd. Zou dit toch niet geringe VRA-totaal voldoende zijn tegen geduchte krachten als O'Dowd, Edwards en Seelaar. Zou onze aanval dood en verderf kunnen zaaien?

VOC deed het in het begin rustig aan. Weliswaar gaven openers O'Dowd en Edwards blijk van hun kwaliteiten, maar snel scoren deden ze niet, zodat de vrees dat ze de ene zes aan de andere zouden rijgen niet bewaarheid werd. Tot grote vreugde van de VRA-aanhang bleek algauw dat VOC wel heel erg steunde op een man, en dat was zaterdag Edwards. Nadat O'Dowd was vertrokken nam hij het heft in handen. Zijn optreden deed de vrees in de VRA-harten toenemen. Zou die dekselse Edwards nog wat kruit droog gehouden hebben en in de laatste overs met de overwinning aan de haal gaan. Die vrees was ongegrond, want we hebben altijd nog de beschikking over Peter Borren, een man waarop de tijd geen vat lijkt te hebben. Een van zijn deliveries bleek Edwards te machtig. De boog naar long on die hij produceerde werd gemakkelijk gevangen door Vikram. Daarmee was de strijd beslist. VOC kwam tenslotte precies 60 runs tekort. En Edwards? Voor hem moeten de druiven zuur zijn geweest. Zijn 120 uit 129 ballen was van grote klasse. Maar ja, een man als Peter sla je niet ongestraft de tent uit.

Volgende week VCC, een zware dobber, maar dat het jonge VRA-team tot veel in staat is, is inmiddels wel gebleken. Er is dus hoop!.

H.O.
Even voorstellen
Eddy Visser is met zijn prille 18 (bijna 19) jaar al een allrounder om rekening mee te houden. Hij komt uit Kaapstad en speelde daar, naar eigen zeggen, vooral op 'school level'. Hij zal zich de komende maanden, waarin hij in Amsterdam-Osdorp gehuisvest wordt, uitsluitend met cricket bezighouden, dus dat is goed nieuws voor VRA. Eddy heeft het in de korte tijd dat hij in Nederland is al erg naar zijn zin. En spreekt van 'a very good experience'.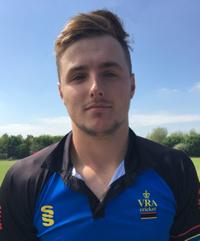 Johan Smal, ook uit Zuid-Afrika, is 21 en heeft al een klein cricketleven achter de rug. Ook hij speelde op 'school level', maar ook op SWD (South Western Districts) niveau. Hij vindt Nederland 'beautiful' en wil zich in de komende maanden waarmaken. Zijn start tegen VOC was nog wat aarzelend, maar wie weet wat er voor hem nog in het vat zit.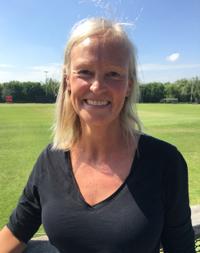 Voor sommigen is scoren een last die ze liever niet dragen, maar voor Kate Holdsworth is het een roeping. Al op de zeer jeugdige leeftijd van zeven jaar leerde ze de fijne kneepjes van haar moeder, een opleiding die haar nu nog van pas komt. Ze woont sinds 2003 in Nederland en bezocht daar internationale cricketwedstrijden, ook in het Amsterdamse Bos, vandaar de connectie met VRA, waarvoor ze al enkele seizoenen nauwgezet scoort. Ze vindt het geen moeilijke job, maar wel een die de nodige concentratie vereist. 'Ik ben een echte VRA-fan,' zegt ze, 'en ik heb plezier in mijn werk.' Dat plezier straalt van haar af. Hopelijk kunnen we nog vele jaren van haar arbeid genieten.
H.O.
OPINIE
Nu de topklassecompetitie zo is ingedeeld dat niet-ingewijden het niet meer kunnen volgen, helpen wij u graag een beetje. Je wordt ook gek van die Bond met zijn wijzigingen. Wij hebben nu 12 clubs in de Topklasse gehad, de bondscoach wilde er het liefst 8 en toen werd afgesproken 10 clubs. Eerst speelden wij een eeuw op de zondag, toen werd het de zaterdag en daarna weer op zondag omdat Dosti geen veld heeft op de zaterdag. Nu de nieuwe chaos. VRA is ingedeeld in Poule B met VCC, Excelsior, VOC, Salland en Dosti. De eerste 3 van deze poule spelen tegen de eerste 3 van Poule A bestaande uit Punjab, HBS, HCC, Sparta, ACC en Kampong. Bent u er nog? De eerste 3 van de 2 poules spelen om het kampioenschap van Nederland. Alles lager dan de bovenste 6 spelen om de degradatie. 2 clubs degraderen rechtstreeks en de club een plaats daarboven speelt om de degradatie tegen de kampioen van de Hoofdklasse.
Bent u er nog? Dat is niet eerlijk tegenover de kampioen van die Hoofdklasse. Je wordt kampioen en dan moet je nog een wedstrijd spelen, let wel één wedstrijd om te promoveren. Die wedstrijd wordt dan weer op zondag gespeeld. U mag met mij best twijfelen aan de verstandelijke vermogens van de opstellers van dit schema. Als de KNVB in de eredivisie of de KNHB de clubs door de helft zouden verknippen zouden de besturen met pek en veren worden afgevoerd. Het blijft onbegrijpelijk dat dit warrig en klungelig voorstel de algemene ledenvergadering van de cricketbond heeft kunnen passeren.
Dit jaar dus geen leuke uit-en-thuis-wedstrijden voor ons tegen HBS, HCC en ook geen derby tegen ACC. Tradities worden overboord gegooid alsof ze nooit bestaan hebben. Het rammelt bij onze Bond. Onderlinge ruzies, bestuurswisselingen, veel plannen op duur bedrukt glanspapier zonder dat daar targets aan worden opgehangen. Een bezetting van het bondsbureau ter grote van een waterhoofd. En nog steeds afhankelijk van de ICC wat betreft de financiën en nog steeds geen eigen inkomstenbron.

Dan maar tevreden kijkend naar mijn eigen clubje. Het complex nadert langzamerhand zijn voltooiing.

Afgelopen zaterdag was ik op een ander juweel, het veld van VOC, wat is dat een prachtig complex geworden. Pitches, veld, dat mooie clubhuis vol bekers, historie en de wijnen van Van Weelde. Oud-voorzitter René van Ierschot was zo vriendelijk ons belangrijke adviezen voor het gras te verstrekken.

Terug naar ons complex. De sfeer en de inzet van leden, die aan de toekomst van onze club werken, maken de club. Zorg dat je deel uitmaakt van die groep mensen.

John H. Wories

VRA Zami 1 vs VOC; VRA win by nine wickets
The weather was set, cobwebs blown off the bats, and whites donned by the men of VRA Zami 1. To Rotterdam for the opening of the Saturday fixtures and what a gloriously cricketing day that laid ahead. The breeze, which your writer has been informed never stops in Rotterdam, was hearty across the ground keeping sunning bodies cool, and batsmen from early season cramping. There aren't many better scenarios, in this writer's humble opinion, than the combination of sun, the sound of leather on willow, or the grunts of stiffness from those still warming up to the season.

So, it was VOC won the toss and elected to don the pads – begin the incriminations from the stiff early season bodies to our modest leader Jelger. Out into the field with an air of enthusiasm from the VRA Zami 1s. Unfortunately, from the 80 metres from changing room to pitch we seemed to have lost our opening bowler S. Liyanage … so to returning M. Bryant and youthful A. Pulver Jnr the orange ball was given. On his return M. Bryant bowled like he had never left, returning with a Shaun Pollock like 5 overs 0-9 – tying down VOC early in the innings. We had been informed that the VOC opening batsman had recently had his hips replaced, and so we were sharp to those quick singles early on…unfortunately calamity for VOC struck when a two was called and a run out was inevitable.

With the consistent bowling of A. Pulver Snr (4 overs 2-16) and S. Liyanage (4 overs 1-18) at one end, it was the marvelous spin bowling of Amaan Raja, 7 overs 2 wickets for only 12 runs, as well as a fine late in the innings run out, that stole the bowling show.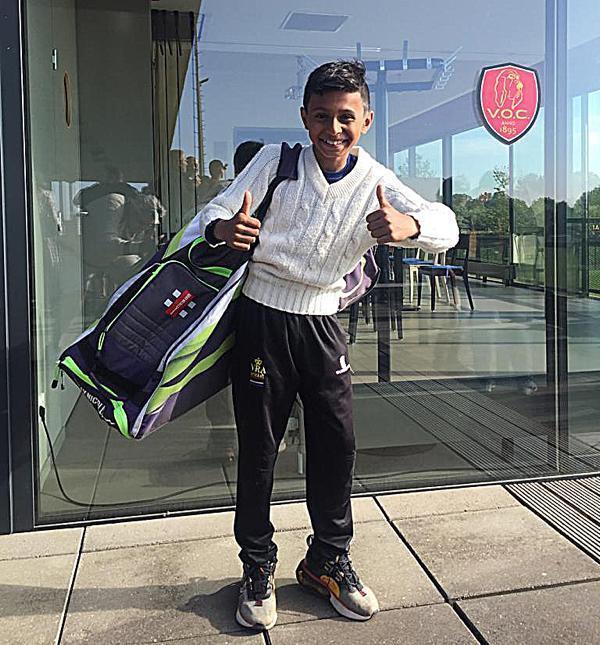 VOC batted well and grew into their innings with honorable mentions for T. Anema (30 runs), H. Hennink (33 runs) and J. Kampes who ended on 39 not out, taking our hosts to 160-8. A modest total, kept so by the fine death bowling of one S. Capel, who returned figures of 0-14, recovering from a rusty first over to restrict VOC to just four runs from the final over.

It was for VRA Zami 1s to chase 161 from 35 overs. With the VRA 1s just across the way battling hard against the VOC 1s, the air of a double VRA victory in Rotterdam was on the cards. Out to the middle strode A. Bolan (70 n.o.) and M. Smethurst (16) – starting well with 27 runs off the first 3 overs. However, a mistimed swing saw M. Smethurst back in the shed, a nervy early wicket to fall for the VRA Zami 1s. Joining Bolan was the left-handed S. Liyanage (58*), for whom a glint was held in his eye for an early season score. Those nerves were misplaced due to the stoic metronomic A. Bolan, accumulating singles, and twos around the VOC ground…to the great disgruntlement of his batting partner. "Just hit the ball harder to the boundary" came the longing lament from Saranga. Time at the crease was the only thing on the mind of the opener.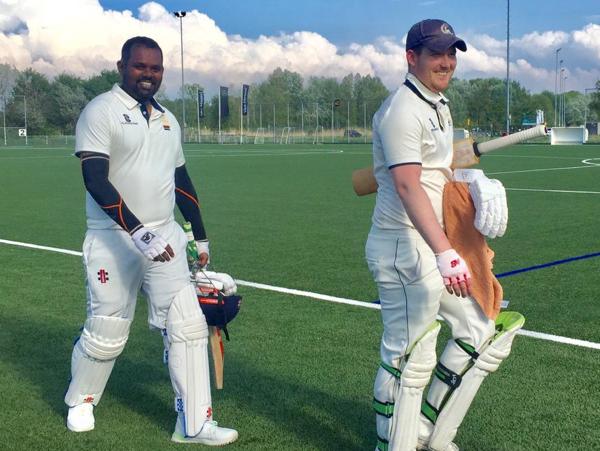 The two batted on, a partnership of 133 unbroken saw the VRA Zami 1s home, chasing the total down in just over 20 overs. Red inkers for A. Bolan and S. Liyanage will help with the end of season averages no doubt, a good platform for the season.
Off the field, showers, and to the bar to congratulate the VRA 1s on doing the double on VOC. A great start to the season.
A. Bolan
VRA Zami 2 – Rood & Wit
Just like that, after a full season of indoor nets, powered by devotion and dedication to the game, our first match was upon us, the only barrier? We are pitchless. An hour and a half later after the enlisting of some 16 year old muscle power to roll out the matting and we were good to go. VRA won the toss after Rood en Wit called incorrectly, with skipper Maxwell Charlesworth opting to bat. U-17 Ibaad and U-70 Maarten Slagter came out at the top of the order and soon the boys in blue (well not blue, we play in whites, except for Max he plays in Khakis) found themselves 48/0 after 10.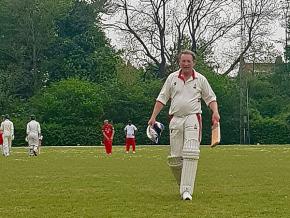 A brisk start, made even more so by one of the most glorius shots one could hope to see on a cricket field. Maarten "Slaughterhouse" Slagter gently plants his front foot at the pitch of the ball and deposits former Hoofdklasse bowler T. Weber over the sight screen and into the canal. We have since lodged a petition for our homegames to no longer be played on the 3rd field due to the persistent loss of balls.

40 runs and 9 overs later however, VRA found themselves 88/5 with the top order of Maarten, Ibaad, Dan, Aubid and Thomas, all back in the sheds, leaving our U17 debutant Vedant and Joost "The Beast" Dekkers at the crease. What formed was a budding partnership that steered us out of trouble, with Vedant striking 2 boundaries in his 22 ball 13 whilst Joost rotated the strike consistently. Vedant fell caught behind resulting in Frederik "Super Freek" Ten Kate coming out for a brisk 13 before he and next man in Keshav fell in consecutive balls. Cameron "Cameo" McKelvie succeeded him and fit his name to a tee, putting on a vital 43 run partnership with Joost who topscored with 34. The last man to go was Cameron, bowled in the last over, bringing us to a total of 167, and more importantly, keeping Ruurt "The Shredder" Schroeder's average intact.

The 2nd innings saw Keshav and Cameron open the bowling, with VRA recieving their first breakthrough in the 3rd over, via a run out completed by 2nd time keeper Ibaad who seemed a natural behind the sticks. Very much a team wicket brough about by tight fielding and consistent lines by Keshav. Yet, at the 10 over mark, the match was evenly poised with Rood en Wit sitting on 52/2. What followed was a see-sawing affair, with even odds at drinks 17 overs in following wickets to Freddie, Maxwell and Vedant.

Post drinks was a different story however. All bowlers called upon stepped up, bowled to their plans and we reaped the rewards with Aubid picking up 3 important wickets for a measly 10 runs off 3 overs. Opening bowler Keshav Narula returned in tandem to help clean up the tail, with his bowling partner Aubid taking a stellar over-the-head-back-tracking catch to close the innings. VRA Zami II's emerge victorious in their opening match by 51 runs. A thoroughly enjoyable game that felt as if it could go either way down to the last wicket. Much appreciation to Rood en Wit for playing in great spirits and hanging around for a respectable 3rd innings.

Maxwell Charlesworth
VRA Dames T20 - NL U19
 - The 6th of May, on a sunny Friday afternoon
First game of the season
What a sunny day, some of us preparing for the game, some others were stuck in traffic and some sadly were stuck at work and couldn't come out to play yet. But either way we're all excited that the season has started and we can play some cricket again!



The VRA ladies started with fielding. With Fleurtje stuck in traffic we had Mahdiya as a substitute for the first overs, she is actually VRA too but was playing with the opposition cause she's an amazing young cricketer! With us today was a familiair face, our Lotte, who moved to ACC but was happy to come to the rescue to get a full squad out. New to the team is Coco who wasn't here the first game but did lots of prep work of getting everything up and running for the start of the season and it's great to have her on the team!



Gwen and me opening the bowling, putting on some pressure. I got a wicket the 2nd over, boom midstump flying out hehe. Was lovely being on the middle again. Eventhough we were putting on some pressure, keeping a tight line and everyone fielding well and backing up, working together well, the Dutch girls were off the mark soon and started adding up runs… lovely shots through covers and over the top. Lotte and Anu took over the bowling, Lotte quickly bowled out the other opening bat in the 5th over. Then Anu and Manisha did a lovely combination of great bowling and beautiful keeping. A lovely caught behind and away was the 3rd wicket in the 6th over.
Annefleure bowled some magical balls to mesmerise the opponent and I came back on to get another wicket and I would like to say I was bowling well… BUT the true magic of this wicket was with Git. As in slowmotion she leaped up and grasped the ball one handed out of the air. It was absolutely beautiful, impressive and what an amazing cricketer Git is. I could actually write the whole report about this catch, cause this was the moment of the game haha. Also this is why she was named Woman of the Match. We cleaned up the 4th wicket in the 12th over, she has 43 runs, so it was good she was out of there. Meike and Gwen came on, both bowling really well! Gwen took the other high scorer out with the bails and stumps flying around.



End of the innings the Dutch u19 got 141-5-20. 
Gwen 1-25-5 , Nathi 2-28-5 , Lotte 1-35-5, Anu 1-22-2

A CB by Manisha, and a catch one-handed by Git.

Time for the second innings. Which were less exciting than our fielding one, so lets focus on the wickets and the fielding and the energy on the field, which was really awesome for the first game of the season. Working together, cheering each other on, running in, backing up, great stuff ladies! Katie sliding around, Nutan attacking the ball, Isa covering the on side behind the wicket.


We didn't go all out, we didn't make enough runs. Great effort of staying in and great bowling and fielding on the Dutch u19 side!!! Mahdiya taking 3-9-4, yes we'll take some pride with that cause she's VRA ;) Smits taking 2-5-4 and many others did amazing. They took 4 catches, they took me LBW and took 3 clean bowled. Meike Lubbers was our top scorer this game and she was amazing!



A huge thank you to the scorers, umpires, visitors and of course Layla for preparing a lovely post match meal for us!



Looking forward to our next T20 against Excelsior in Schiedam upcoming Saturday the 14th of May. Here we're gonna do some damage with the bat… I mean like, making runs… not damaging property…. KAPOT MAKEN, as Meike would say, in the batting way. Looking forward to seeing the Excelsior girls. 



Have a great week and see you all soon!



Liefs, 
Nathalie & the VRA ladies
Cricket (?) Club, Altoona, Pennsylvania
Op VRA wordt een juweel van een clubhuis gerealiseerd. Met faciliteiten om letterlijk en figuurlijk van te smullen. Met een crickethal erachter en een terras aan de voorzijde, waar de zon zelden onder gaat. En met vóór dat terras en onder die zon een keur aan interessante cricketwedstrijden. Het clubhuis zal in de nabije toekomst, met de Windies en Engeland in aantocht, dikwijls in beeld zijn. Of er ook een ansichtkaart van op de markt komt valt te betwijfelen. Het zou wel mooi zijn als het VRA-pavillion in de voetsporen trad van het in vervlogen tijden meest afgebeelde clubhuis op aarde, dat van de Singapore Cricket Club. ( Zie How's That van 15 mei 2020: 'The pitch at night') Maar ook het onderkomen van de Cricket Club in Altoona, Pennsylvania, oogt als een meer dan charmante voorganger.
Er zal beslist ooit cricket gespeeld zijn op deze fraaie locatie in koloniale stijl. Maar over dat mogelijke cricketverleden zwijgen de geraadpleegde bronnen als het graf. Wel valt in de archieven te lezen, dat in 1897 door de Pennsylvania Railroad Company de Altoona Cricket Club golf course aangelegd werd, waar tussen 1899 en 1931 prestigieuze toernooien plaatsvonden. Het paviljoen van de Cricket Club was in die dagen 'the place to be'. Wellicht alleen al vanwege het grandioze terras. Tevens werd er getennist en vanzelfsprekend gehonkbald, door de Altoona Curves, tot op de dag van vandaag. Van The King of Sports valt echter geen spoor te ontdekken, terwijl er in Pennsylvania al vanaf 1842 met cricketactiviteiten, onder auspiciën van de universiteit, werd begonnen. Zo'n mooi clubhuis. Je hoeft de trap slechts af te dalen en de loper naar de pitch ligt al voor je uitgerold. Maar helaas, niemand te bekennen, niets te zien, niets te doen. Hoewel, als we op de tekst van de in september 1910 verzonden ansicht- kaart afgaan, was er in dat jaar wellicht toch iets gebeurd.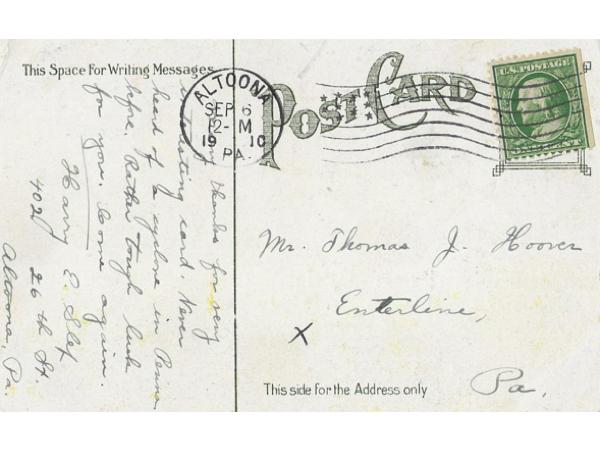 Harry E. Slet had er met betrekking tot Pennsylvania nog nooit van gehoord, maar hierover laten eerdergenoemde bronnen geen enkele twijfel bestaan. Vanaf 1876 zijn de cyclonen en orkanen van de staat Penna geregistreerd en die cijfers liegen er niet om. Als Harry E. iets beter naar de lucht boven het clubhuis op de ansicht had gekeken, dan had hij de bui al zien hangen. Misschien was het daarom zo stil op de Altoona Cricket Club.
Tom Matena
Vrijwilligers voor 6 ODI's gezocht
Vrijwilligers gezocht voor de 2 interlandseries op VRA
Volunteers needed for the 2 international series at VRA
Zoals je weet, worden er in mei en juni 2 belangrijke interlandseries gespeeld op VRA.
31 mei, 2 en 4 juni speelt het Nederlands elftal tegen de West-Indies
17, 19 en 22 juni speelt het Nederlands elftal tegen Engeland
Samen met de KNCB zijn wij op zoek naar vrijwilligers voor allerlei taken op en rond het veld.
Dit geldt voor de dagen waarop wordt gespeeld, maar zeker ook de periode voorafgaand aan en na afloop van de series en de "vrije" dagen tussen de wedstrijden.
Kortom, van 27 mei t/m 7 juni en van 14 t/m 25 juni hebben wij jouw hulp nodig!
Dit is ook een supermooie gelegenheid om van dichtbij naar de wedstrijden en trainingen te kijken, terwijl je daarnaast de club helpt!
Nadere info volgt, maar als je jezelf al wilt aanmelden, dan kan dat nu al door je aan te melden via de link
---
Volunteers needed for the 2 international series at VRA
As you all know, there will be 2 important series at VRA in May and June 2022.
On May 31, June 2 and 4 the Dutch XI will play against the West-Indies
On June 17, 19 and 22 the Dutch team will play against England
Together with the KNCB we are looking for volunteers for all kinds of jobs on and off the field. This applies to the match days, but also for the days before and after the series and the days in between the matches.
So, from May 27 – June 7 and from June 14 – June 25 we need your help!
This also offers an excellent opportunity to watch the matches and practices from a close range while helping your club!
Further information will follow, but if you already want to sign up as a volunteer, you are invited to apply through the link
Dank je!
Thank you!
Vriendenloterij - doe mee en steun VRA!
VRA staat ingeschreven als te steunen vereniging bij de Vriendenloterij. Dit betekent dat u in plaats van door de Vriendenloterij gekozen goede doelen, VRA kunt steunen met uw gekochte loten.
Hoe werkt dat?
De Vriendenloterij kent 40% van de aankoopprijs van elk lot toe aan VRA. Dit is 85 euro per jaar per lot. De aankoopprijs per lot verandert niet door VRA te steunen. Dit is dezelfde prijs als bij het steunen van de eerder genoemde goede doelen. Maak ik dan nog wel evenveel kans om te winnen? Ja zeker! Winst gaat via de Vriendenloterij per postcode en lotnummer niet per doel/vereniging dat gesteund wordt.
Hoe kan ik VRA steunen?
Ik heb al loten
1. Bel 0880201020
2. Kies uit het keuzemenu 'overige vragen' via toets 5 om met een telefonist in contact te komen.
3. Geef uw gegevens door en meldt dat u uw loten graag wilt omzetten naar de vereniging 'SV VRA'. Dit proces duurt ongeveer 3 minuten en brengt geen extra kosten met zich mee.

Ik heb nog geen loten
1. Ga naar de Vriendenloterij website en kies "Meespelen"
2. Kies de optie 'een club, vereniging of stichting naar keuze'
3. Zoek op 'SV VRA Amstelveen'
4. Vul de gevraagde gegevens in
5. Geef toestemming. Dit proces duurt ongeveer 5 minuten en hiermee koop je 1 lot.