Clubblad Amsterdamse Sportvereniging VRA
---
How's That verschijnt tijdens het cricketseizoen wekelijks
---
Voorwoord
'Match abandoned without a ball being bowled.' Het stond er nuchter, maar deze woorden betekenden voor veel cricketliefhebbers een dag vol frustratie. Het was de afgelopen week bar en boos in Engeland. De regen kwam met bakken uit de hemel en de tv-shots toonden onveranderlijk druilerige velden en lege tribunes, taferelen die mij terug deden denken aan een natte zomer begin jaren negentig toen ik met mijn twee jongste kinderen afreisde naar Somerset om daar van twee weken vakantie te genieten. Ik waande me altijd een hele pikbroek, maar de overtocht van Hoek van Holland naar Harwich verliep zo stormachtig dat ik op de rand van zeeziekte balanceerde. 'Als we maar eenmaal aan de overkant zijn,' schoot het steeds door me heen. 'Dan wordt alles beter.'
In Harwich scheen inderdaad een waterig zonnetje, maar dat verdween al snel. In plaats daarvan verzeilden was in een regengebied, dat ons een kilometer of tweehonderd in een wurggreep hield. De ruitenwissers konden het nauwelijks bolwerken en aquaplaning lag voortdurend op de loer. Mijn stemming werd allengs somberder, want was regen niet de grote vijand van cricket, de sport die ik tot op dit moment slechts uit boeken en via de tv tot me had genomen en die ik nu in het echt wilde gaan aanschouwen. We zouden niet ver van Taunton ons bivak opslaan en dat zou me de gelegenheid geven om een de rest van de familie achter te laten en me zelf in een stil hoekje van de county ground terug te trekken voor een paar dagen Somerset vs Essex.
Maar het lot beschikte anders. Elke morgen als ik met mijn dochters in mijn kielzog door diepe plassen naar de plaatselijke supermarkt liep, was de regen dichter, de lucht grijzer. Om kort te gaan, het plensde veertien dagen lang onophoudelijk. Om mijn crickethart toch een beetje te laven, reed ik na een dag of tien naar Taunton om het veld te bekijken. Voor mijn geestesoog zie ik me nog staan in mijn regenjack dat de nattigheid nauwelijks buiten de deur hield. Ik keek naar de twee kerktorens in de verte en concludeerde dat ik voorlopig van live-cricket verstoken zou blijven. Die conclusie bleek gewettigd, want het zou nog drie jaar duren voor ik mijn eerste live-match zou zien. Maar daarna was er ook geen houden meer aan. Inhalen kon ik mijn achterstand niet meer, maar ik kon in ieder geval een poging doen om voortaan elke week minstens een wedstrijd te zien. The rest is history.
Harry Oltheten
Zami 1 vs Groen Geel
Most awaited day of the week, zami's are raring to go! The morning rain couldn't dampen the zami spirit a bit, but it muddled the tight schedules by leaving puddles on field 1, unusable for the day. Unavailability of a field on a day VRA scheduled to host 4 matches was not the best situation. Zamis agreed to play 2 T20's to accommodate all matches.
Zami 1 vs Groen Geel, Jelger was all set to make his debut as Zami captain in the absence of Louis. Few of our key players were also absent, replaced by equally talented young stars from under 13&15's,Udit and Zaman. Jelger kicked off in style by winning the toss, a rarity for Zami 1. Mike and Richard started off steadily with consecutive maiden overs.The wetness in the pitch offered unpredictable bounce, a difficult wicket to bat on. Mike broke the shackles by a couple of boundaries in the next over, Richard flat batted his first six of the match soon after. Both openers continued to accumulate 1's and 2's with occasional boundaries to build a solid 90 runs partnership before Richard was out lbw to Duncan in the 13th over of innings. A small blip, 3 wickets fell quickly in an attempt to accelerate the run rate. Prasuk took over and played a useful cameo, well supported by Udit and Chris, together their aggregated strike rate of 178.00 in the last few overs pushed the score to 133 in 20 overs.
The post lunch session started as usual, Prasuk's banana swing accompanied Joost's leg stump for a stroll in the first over.Next in Viradj, the southpaw began shelling heavily around mid-wicket and square leg regions.Bas gave him good company, tapped quick singles to keep him on strike. Groen Geel on a roll, 34/1 in 4 overs, game on. Ernst broke the ominous looking 32 runs partnership with his first ball, had Bas play straight to the safe hands of Mike. Skipper decided to introduce spin from the other end, Prasun ceased Viradj's blitzkrieg, bowled him for 33 in his first over. Ashutosh nicely pouched Niek at midwicket in Prasun's next over. Zaman rearranged Martijn's stumps from the other end with his off break, Groen Geel middle order went back a bit early for the drink. Next change Udit maintained immaculate line and length, kept the batsmen tied down with his leftism spin, eventually had Bouwe bowled while trying to accelerate. Martijn tried to fetch some boundaries, but Chris darted around the square leg region like a gazelle to stop each of them, pushed the required rate above 10 an over. Richard got Han stumped of Udit to register a comfortable 29 runs victory for zami 1 in the final over. Udit and Zamans's joint spell of 7.4-0-30-3 in the middle overs sealed the match in favour of us.
We continued to enjoy the rest of the evening at the BBQ event in the club joined by members and teams. Big thanks & cheers to Layla for preparing the delectable bbq for us. Can't wait to play HCC next week!
Cheers!
Prasun

KLIK OP AFBEELDING OM TE VERGROTEN
Maiden speech van captain Jelger van Zami 1 met Kappelli points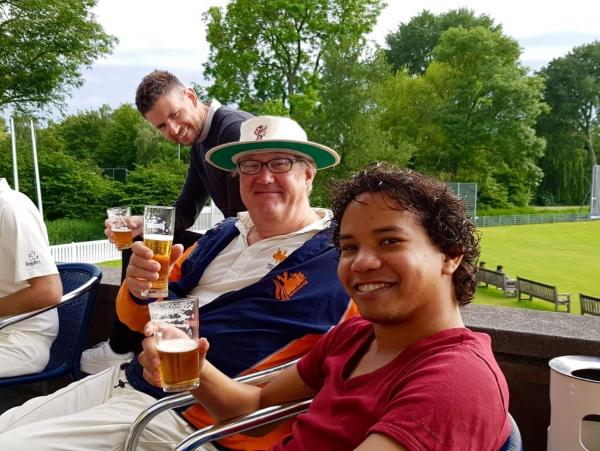 Vra Zami 2 - Hercules Zami 1
Het vergde door de regen wat logistiek gepuzzel met teams, velden en format en de welwillendheid van captains Jelger, Bob, Niek en Sander, maar uiteindelijk speelden we een T20 op veld 2 tegen de tot nu toe onbekende mannen van Hercules.
Na het verlies tegen Kampong vorige week waren we gebrand op een overwinning. En die overwinning die kregen we! Dankzij prima en zuinig bowlen en het vasthouden van de vangen kwam Hercules tot 99 runs. Cruciaal was het spell van Marnix: 3 voor 5 in 3, inclusief de hard hitting captain. Maar iedere bowler nam zijn verantwoordelijkheid. Een prachtige running vang op de square leg boundary van Freddie hielp ook zeker, net als twee catches van wicketkeeper Menno.
Honderd om te winnen in twintig overs, lijkt makkelijk, maar kan net zo goed de nodige problemen opleveren. Maar in de inmiddels verschenen zonneschijn maakten Harold en vooral onze nieuwe Britse aankoop Andy er korte metten mee. Andy debuteerde vorige week met vijf wickets, deze week scoorde hij een vijftig, handig erbij te hebben. Prettige vent ook nog eens, trakteerde op jugs voor beide mijlpalen, we kijken uit naar de rest van het seizoen!
Harold speelde waarschijnlijk voor het eerst ooit in ons team de ondersteunende rol in de opening partnership en bleef met 26 runs not out. Het was aan Wouter om met twee karakteristieke harde boundaries linksaf de pot uit te tikken in de 16e over, daarmee enkele Damesharten sneller doen kloppen, afgaande op hun enthousiasme langs de lijn.
Keurige winst dus voor Zami 2 aan het eind van de dag. Captain Bob vierde het met een stukje overgebleven homemade Victoria Sponge cake.
En toen moesten de borrel en BBQ in het zonnetje op het balkon nog beginnen...
VRA Zami 2 vs VRA Zami 1
It was a chilly but fine spring day in Amstelveen and the KNCB fixture gods had thrown up an early season 'Clash of the Woods'.
The players descended upon the VRA clubhouse in plenty of time for the 14.20 start (delayed from 13.30 not due weather, but general coffee and chat on the balcony).
Our two esteemed captains Louis Collingnon (1's) and Bob Prenen (2's) decided on this particular occasion not to toss off together but instead mutually agree that the 2's would bat first with the 1's taking the field. Field 3 was looking the best I have ever seen it and anticipation was in the air as the 2's reliable and often quick scoring opening pair of Harold Horsman and Thomas Spits walked to crease to take their marks. They were to be facing the Curtley and Courtney, the Wasim and Waqar, the Broad and Anderson of Zami cricket which is of course Waheed and Jain AKA Danesh and Prasuk.
And so we begin. The 2's on the boundary had not even taken their seats as their talismanic batsman Horsman was clean bowled by Jain in the very first ball of the innings. Met with an audible gasp from his team mates and contrasting wild celebrations from the 1's as they knew this was a crucial early wicket. Waheed and Jain continued their trademark tight and sharp early bowling and Spits was removed in the 3rd over being given out caught behind from bat nicking ball... or was it bat hitting pad??? Or was it pad hitting ball??? Anyway the 2's were in dire straights at 7-2 with their two openers removed.
Joost Dekkers (8) and debutant Dan Enslin brought some stability to the innings. Enslin eventually top scoring with 47 for the 2's with some fine driving shots mixed in with some adventurous yet effective hoiks. Not to mention some friendly fielding from the 1's who were clearly trying their best to help out the new guy and welcome him to the club by dropping him twice. He was well supported by Sebastian Capel (22) and eventually bowled by 1's skipper Collingnon who ended with superb figures of 3-21 from 5 overs.
Maarten Slagter could only add 1 run before he looped a full pitched ball from Prasun Bannerjee who was all of sudden possessed by the spirit of Usain Bolt to sprint and cover the ground and make a superb diving catch. You always hold on to them off your own bowling. Frederik ten Kate added 21 before Collingnon called on his new but experienced signing of Jelger Gustafsson to bowl. He temporarily forgot that the ball is supposed to be bowled onto the strip. However, he was reminded of this and went on to take the wickets of Ten Kate (bowled) and Menno Spits (12) with an impressive and surprisingly athletic catch from Waheed.
Nigel Drenthe (14), Hendrik Kruger (3), and Tobias Maessen (11 n.o.) scored quickly to end the 2's innings with an unusual but competitive score of 195-11 from their 40 overs. The 1's were happy with their collective bowling performance. Jain the pick of the bowlers with 2-23 from 6. Chris Harvey, Willem van Mierlo and Usain Bolt all picked up 1 wicket each to add to the 5 between Gustafsson and Collignon. Waheed also finished with economical figures of 0-17 from 6 overs. Despite all this they new they would have to bat well to win the game.
Richard Finley opened aggressively scoring a fine 34 from just 30 balls well supported by Julian Molenaar (21) to record a superb opening partnership of 72 with barely 10 overs having been bowled. Wickets then started to fall. Dan Enslin continued his superb debut by removing the above mentioned openers and Eric Fabery de Jonge (8) to finish with 3-33 from 6 overs. Maxwell Charlesworth (1-25 from 6 overs) snagged the wicket of Thomas Pasierowski and all of a sudden the 1's found themselves 101-4 and in a precarious position. Luckily the experienced head of Willem van Mierlo was at the crease. Supported by the even more experienced head of Floris Kappelle and between them nudged a patient 50 partnership. The Legendary figure of Kapelle adding a classy 19 including a 3, which prompted a cry of "someone phone an ambulance" from the sidelines. The author, Chris Harvey (9) joined Van Mierlo to add a useful 27 partnership before he was given out lbw (where is Nick Goodchild when you need him?) his wicket taker Capel (1-25 from 2.5 overs) in bullish delight started shouting "Ja! wegwezen! wegwezen!" which, if my Dutch is correct means "well played batsman!" Thank you for those kinds words sir.
By this point the 1's were well on their way to victory. Bob Prenen picked up the wicket of Ernst van Rapphorst (1) to finish with excellent figures of 1-19 from 6 overs. Jelger Gustafsson (3 n.o.) came in to support man of the match van Mierlo who was now in full flow and it was he that finished the game in style with a superb 6 over square leg from a loopy Capel full toss to end 47 not out and secure the victory for the 1's with 4 overs to spare.
Well done to both captains for making 14 a side work so well. We all look forward to the next clash. August 2019. Go well. Cheers.
Chris Harvey
Match 5 à VRA vs HCC U13 (Home)
Another won in their kitty and looking at scorecard (125 (VRA) - 89(HCC)), its look like it was yet again an easy match for VRA boys but no, there is a twist.
Let's start from the beginning, in the morning (as we were playing on ground 1) Sander (team manager) decided to play on the main pitch instead of artificial pitch (better utilization while playing on ground 1) to give an opportunity to play on international pitch.
Madia (Captain) won the toss and decided to bat first. looking at the batting line up, it seemed good decision but she had decided to reverse the batting order to give equal opportunity to all players. Bas started the inning with a beautiful hook for four but VRA didn't continue with this start and our top order collapsed (Bas, Lars and Jan were out cheaply). Madia and Shaheer gave some support to accelerate run rate but suddenly VRA was 59 for 5 in 12 overs. Then our consistent batsman Ibi came into pitch along with Amaan and both started playing sensibly and punishing bad balls on regular basis. Ibi and Amaan scored 28* and 10* runs respectively. For last 2 overs Harsh and Vinz got opportunity to show their batting skills.
Finally VRA scored 125 runs for 5 in 25 overs but looking at opponent bowling skills, it was very low score and as we knew absence of our pace attack (Mats and Aadit), it would be difficult for VRA to defend the score.
Second inning: Vinz and Morris started their opening spell and on very first over Morris rewarded with wicket. Afterward both Amaan and Harsh got wickets on their first over. Lars picked up yet again beautiful catch on Amaan's bowling, at that time it was look like VRA will bundle out HCC very soon but then HCC batsmen stood up and start playing quality shots along with attractive running between the wickets which created pressure on VRA fielders as they have dropped couple of catches , missed couple of run outs and bowlers lost control on their bowling. Suddenly it seemed HCC managed to win the match comfortably within 14-15 overs. On other hand parents/supporters were hoping for miracle and it happen…….ed.
Coach asked Harsh to bowl and put every fielder on boundary except extra cover position. On very first ball, HCC set batsman tried to hit over the cover position but totally missed out. Amaan failed to reach under the ball but he picked up ball quickly and hit the wicket directly (Amazing run out) and from there VRA didn't looked back. Very quickly on same over Harsh took another 3 wickets (2 bowled and 1 superb diving return catch) and that's turn the match 360 degree.
Madia and Bas tried to get the last wickets but somehow batsmen survived against beautiful line and length. Finally Jan hit the stump and at the end VRA won the match convincingly.
Harsh took 4 wickets followed by Jan, Amaan, Morris (1 wicket each) and very well supported by Vinz, Bas , Madia and Shaheer.
Well done team, but need to improve a lot in all three area (Batting, Bowling and Fielding).
Match 6 : VOC vs VRA U13 (Away)
VOC stop the winning streak of VRA. After winning 5 matches continuously, VOC able to stop the winning train of VRA in very tight match( VRA lost by 1 wicket).
VRA batted first after losing the toss and scored 118 in total for 5 wickets. Harsh once again top scorer of the inning (made 34 Not out), good supported from Mats (14) and Ibi (8). Team struggle to score run due to uneven bounce ( lesson learnt for team management and coach that double verify the pitch measurement and quality of pitch well in advance).
Second inning: To defend this low total, VRA bowlers did well but didn't able to restrict extras (may reason to loss this match- 58+). Harsh was pick of the day by getting 2 wickets in his 4 overs (4 – 9 -2) followed by Aadit, Vinz, Amaan , Mats and shaheer.

VOC chased down target in last over (25th) after losing 8 wickets. Overall, it was very nice and tight match. But unfortunate VRA was on losing side at end of the game.
From VCC side, Mikkle scored beautiful 40 runs and key batsman to win the match for his team. Kudos to VOC
Lesson learnt : Need to improve bowling line and length Need to rotate strike while batting instead of blocking wickets
Seminarie Cricket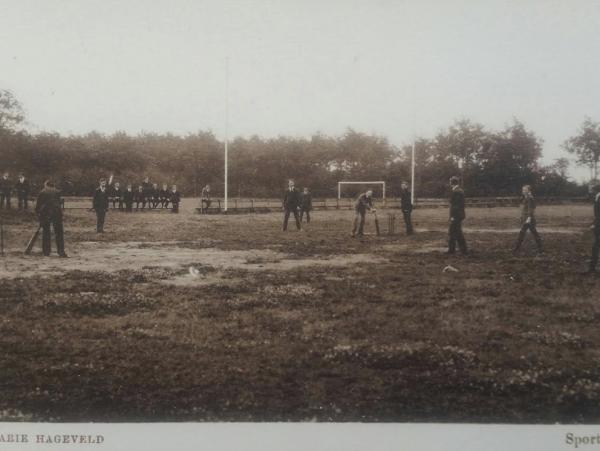 Waarom werkt deze ansichtkaart uit de late jaren 30 van de vorige eeuw - beslist onbedoeld - op onze lachspieren? Allereerst zijn daar natuurlijk de overwegend donkere pakken van de betrokkenen, die daarmee talloze associaties bij de kijker opwekken behalve die met cricket.
Minstens zo vervreemdend en kolderiek komt dat deel van de gekostumeerde fielders over, dat als versteend op volstrekt onduidelijk posities staat, terwijl van rechts een drietal cover points dan wel mid wickets aarzelend en houten klazig in komt lopen. Van welke kant wordt er eigenlijk gebowled ? Vraagt de batsman ter linker zijde blok of doet zijn kompaan rechts, die niet al te fit oogt, dat? Staat achter hem de wicketkeeper of is dat een umpire, die met kennersblik het gevraagde blok beoordeelt? Of is hij nou juist de bowler, die weldra een verraderlijke chinaman los gaat laten? Maar tot de licht apocalyptische cricketsfeer draagt vanzelfsprekend ook de conditie van de pitch bij, die mijns inziens in het voordeel van de fieldende partij lijkt te zijn... Tenslotte gaat wellicht de ware vermakelijke aantrekkingskracht van dit plaatje uit van het pikante feit, dat we getuige zijn van een momentopname van een partijtje cricket ( tijdens de gymnastieklessen?) tussen aankomende priesters op het seminarie Hageveld in Heemstede.
Het Klein Seminarie Hageveld werd in 1817 opgericht met het doel 'om aan de jongelingen, die zich den geestelijken stand willen toewijden, eene opvoeding en een onderwijs te verschaffen, geheel als voorbereiding, in verband staande met het hoger onderwijs en de vorming welke zij in een groot seminarie te wachten hebben'.
Aanvankelijk gebeurde dat in Velzen, vervolgens in Voorhout en vanaf 1923 volgden 12 tot 18 jarige jongens, die later priester wilden cq. moesten worden, de interne opleiding in Heemstede. In de jaren 50 krijgt de school van het seminarie de status van gymnasium, in de jaren 60 worden ook externen toegelaten, die geen priester willen worden, en na de invoering van de Mammoetwet (1968) maakt het gymnasium plaats voor een atheneum, ook voor meisjes. Het seminarie heette inmiddels Bisschoppelijk College. In 1981 verlaat de laatste interne leerling Hageveld en houdt het internaat op te bestaan.
Of cricket tot de reguliere gymnastieklessen van het seminarie heeft behoord is mij niet bekend, ook zou ik niet weten of er ooit competitief cricket door de jongens van Hageveld is gespeeld. Maar er zijn beslist nog bronnen of getuigen, die daar uitsluitsel over zouden kunnen geven. Als we de lijst van bekende Hagevelders raadplegen komen we daar o.a. Youp van 't Hek(!), Kees Prins (Jiskefet), Rick de Leeuw en kardinaal Adrianus Simonis tegen. Die laatste kunnen we het maar beter niet vragen. Hij praat liever niet over het verleden...
Tom Matena
Grote en kleine totalen
Afgelopen zaterdag was het weer raak. De Australiërs benaderden de Sri Lankaanse bowlers met onverholen dédain en leken op weg naar de vierhonderd runs. Niets leek ze te kunnen stoppen en ze zouden zeker in de buurt van dat giga-totaal zijn gekomen, als hun tegenstanders hen niet hadden getrakteerd op een paar fraaie direct hits. Maar goed, 334 is ook nog een mooie score, al zijn we tegenwoordig vaak beter gewend.
Anderhalve eeuw geleden, toen het internationale cricket nog in de kinderschoenen stond, was het wel anders. Dat las ik in een artikel over de toen zeer gevreesde express-bowler Frederick 'the Demon' Spofforth. Als 24-jarige landde hij in 1878 met het Australische team van Dave Gregory in Engeland. Hij was lang, mager en hevig besnord en had maar één intentie: de Engelsen laten zien dat die 'ex-convicts' echt wel konden cricketen. Zijn finest hour brak aan op 27 mei toen hij voor een match tegen de MCC op Lord's arrviveerde, een veld dat na overvloedige regens was veranderd in een zompige vlakte. W.G. Grace en Hornby openden voor de Engelsen, maar konden al snel weer vertrekken. Om korte metten te maken met de tegenstanders deed Gregory nu een beroep op zijn snelste bowler, Spofforth, en die stelde hem niet teleur. In 23 ballen nam hij 6 wickets voor 4 runs, met daarin een hat-trick. De MCC eindigde zo op 33 hele runs. Daarna deden de Australiërs het niet veel beter (41) en zo was de Engelse hoop gevestigd op de grote W.G. Grace. Daar zouden de Aussies deze keer toch wel respect voor hebben. Dat pakte evenwel anders uit. Spofforth bowlde 'de dokter' met zijn tweede bal en Webbe met zijn eerste. Om een lang verhaal kort te maken, er waren al vijf Engelsen terug in het clubhuis toen er nog maar een run op het bord stond. Om vijf uur was het voor de Engelsen klaar. All out voor 19 (Boyle 6 voor 3 en Spofforth vier voor 16).
In het jaar 1878 zou Spofforth in totaal 764 wickets nemen. Zijn naam was gemaakt. Hij was venijnig, slim en uiterst rap. Zijn tijdgenoten hadden geen antwoord op hem. Ik ben benieuwd hoe de huidige batslieden zich tegen hem te weer zouden stellen
Twee records
Dat Afghanistan op 18 juni in Manchester weinig kans zou maken tegen Engeland stond eigenlijk al bij voorbaat vast, maar dat het er zo van langs zou krijgen was toch een verrassing. Engelands top order deed het nog betrekkelijk kalm aan. Vince's 26 vergde 31 ballen en Bairstow's 90 bijna honderd. Nee, dan captain Eoin Morgan. Die vestigde een nieuw record voor eendaagse wedstrijden door in zijn innings van 148 (in 71 ballen), maar liefst 17 zessen te produceren. De Engelsen sloegen in totaal 25 zessen, opnieuw een record. Opmerkelijk bij dit alles was ook Moeen Ali's aandeel als nummer 7. Hij ontving 9 ballen. scoorde 31 runs en sloeg 4 zessen.
Afghanistan deed daarna zijn best, maar kwam veel te kort (247 voor 8) en ging dus naar huis met een nederlaag met precies 150 runs. Engeland is een grote favoriet voor de titel, dat bleek deze dag eens te meer.