Clubblad Amsterdamse Sportvereniging VRA
---
How's That verschijnt tijdens het cricketseizoen wekelijks
---
Voorwoord
Aankomende vrijdag start de Topklasse Twenty20 competitie voor de mannen van VRA 1 met een uitwedstrijd om 18:30 uur bij ACC. Het team van Peter Borren heeft iets goed te maken na het verlies van afgelopen zaterdag en zijn gebrand op een overwinning in de derby. Een dag later staat voor het eerste de uitwedstrijd bij Dosti United op het programma. Zowel vrijdag als zaterdag speelt het eerste een uitwedstrijd, maar beiden wel in Amsterdam. Reden genoeg om het eerste aan te moedigen.
De VRA dames spelen op zaterdag 3 juni om 10:00 uur de finaledag van de T20-competitie. Op zondag spelen het tweede en het derde een thuiswedstrijd. VRA 2 speelt de belangrijke wedstrijd tegen Ajax Leiden, de ongeslagen koploper van Overgangsklasse B. Het derde is gebrand op een overwinning na het verlies vorige week tegen Eindhoven. VRA 4 reist zondag af naar Almere voor de uitwedstrijd tegen de Almere Alligators. Het nog ongeslagen vierde kan zijn koppositie verstevigen met een overwinning en een enorme stap richting promotie zetten.
Ik wens alle teams veel succes aankomend weekend en zie de wedstrijdverslagen met veel plezier tegemoet. Vanaf volgende week zal de How's That elke donderdag om 20:00 uur online verschijnen. Bij deze dan ook mijn verzoek om de wedstrijdverslagen en bijbehorende foto's voor woensdag aan te leveren. Veel cricket plezier dit weekend!
Thomas Pasierowski
Matches this week
VR 02/06, 13.00: Friendly fixture vs Hackney CC
VR 02/06, 18.30: ACC - VRA Twenty20 (away)

ZA 03/06, 10.00: VRA Dames T20 - Finaledag op VRA
ZA 03/06, 11.00: Dosti United - VRA 1 (away)
ZA 03/06, 13.30: Kampong - VRA ZAMI 2 (away)

ZO 04/06, 9.00: ACC 2 - VRA U11-1 (away)
ZO 04/06, 9.00: VCC - VRA U13 (away)
ZO 04/06, 9.00: Hermes DVS - VRA U15 (away)
ZO 04/06, 10.00: VOC - VRA U11-2 (away)
ZO 04/06, 12.00: VRA 2 - Ajax (home)
ZO 04/06, 12.00: VRA 3 - VOC 2 (home)
ZO 04/06, 13.00: Almere Alligators - VRA 4 (away)

MA 05/06, 11.00: VRA 1 - HBS (home)
Vrijwilligers gezocht! Volunteers needed!

Als door de ICC erkende A-locatie in Nederland krijgt VRA uiteraard weer een aantal (internationale) wedstrijden van de Nederlandse selectie te organiseren. Voor iedere wedstrijd zijn er minimaal 12 vrijwilligers nodig om de ground crew te bemannen. Alle hulp is welkom om deze wedstrijden in goede banen te leiden. Het is telkens de hele dag vanaf 8:00 uur tot 1 uur na het einde van de wedstrijd en vrijwilligers ontvangen per dag een onkostenvergoeding. Vrijwilligers kunnen zich aanmelden bij Peter van Gulik via penningmeester@vra.nl. Het betreft de volgende dagen:

As the ICC approved A-location in Netherlands VRA will of course host several (international) matches of the Dutch selection. For each match a minimum of 12 volunteers are needed as ground crew. All help is more than welcome to assure that these games run smoothly. Every day will be from 8am until an hour after the match has finished and volunteers will receive a compensation for expenses. Volunteers can sign up with Peter van Gulik via penningmeester@vra.nl. The matches are on the following dates:

MON 12-6: ICC Europe, EK divisie 1 round 3
TUE 13-6: ICC Europe, EK divisie 1 round 4
TUE 20-6: Nederland vs Zimbabwe (ODI 1, 50 overs)
THU 22-6: Nederland vs Zimbabwe (ODI 2, 50 overs)
MON 10-7: Nederland vs UAE (ODI, 50 overs)

Met vriendelijke groet / Kind regards,

Peter van Gulik
VRA 3 vs Hermes D.V.S. 2 – 25th May at VRA1
Another bright, hot and sunny day was awaiting for us at our home ground VRA and most of us turned up on time to help Paul prepare the first ground and it was also a turf wicket. The wicket was damp on first look and we knew based on the weather forecast that the wicket will get better as time progresses. A few players went out and had a short stint at the nets and meanwhile we won the toss and asked the opponents to bat first.
There was a bit of hassle as a few unforeseen things happened - Opponents didn't have a new ball, there were no official umpires for that game and we couldn't find our scorebook (Apparently Ram had it J)
First Innings: Tightening the Screws
Hermes openers strolled out to bat and Ram "Major" Prabhu opened the bowling attack as always. Our prediction about the pitch being slow initially was clearly seen on the 3rd ball as the batsman played the shot a bit too early as the ball didn't come on as quick as he had anticipated and Jaydeep "Ever-Reliable" Hiriyalu caught it safely (proving to us that he was wide awake and wasn't sleeping J). That was the kind of start we needed. Ashish "Swinging Sherpa"" Thapa was consistent like always at the other end and kept the lid on the runs flow. Their batsman was at the crease and looked uncomfortable because of the slowness of the wicket and "Swinging Sherpa" took an amazing return catch of his own bowling and the scoreboard read 4-2 in 4 overs.
The two youngest players in the game were in the middle and showed extreme patience during the first power play. These two settled in very nicely adjusting to the pace of the wicket, though we had a couple of tough chances dropped one by Harpreet "Maa ki Aankh" Singh and the other by Ashwin "Sober" Oppu. Slowly the runs started flowing and we could feel the heat both from the opposition and from the scorching Sun. We had our first drinks break at 15 overs when there score was around 68-2. We discussed that we need to break this partnerships and we brought in the spin twins Rahul "Master Blaster" Bhatt and Pragam "Overseas Pro" Rathore. "Master Blaster" had the dangerous looking opener (Elenbaas) caught and bowled taking a good reflex catch. We were back in the hunt and started to apply pressure from both ends as plenty of dot balls followed. "Ever Reliable" was unlucky as he had bowled the new man in with a Yorker but had overstepped the line. It didn't prove costly though as the "Overseas Pro" did a masterful runout and they were 4 down for 106 in around 26 overs.
We had our second drinks break and had a plan that our target for the rest of the 14-15 overs is to give a maximum of 50 runs. We looked like achieving that target during the first 6-7 overs when "Overseas pro" and "Swinging Sherpa" produced plenty of dot balls and both of them finished their quota of 8 overs giving 18 and 15 runs respectively. It was up to "Major" and "Sober" to continue the momentum though they didn't perform like their previous two peers they still did a decent job in the end as we ended up giving 75 runs in the final 15 overs. Credit goes to their captain who hit a quick fire 43 (courtesy of two dropped catches by "Major" and Keshava "Thug Life" Lal). He was caught brilliantly by Vijay "SRH" Krishna in deep midwicket of "Master Blaster's" bowling in the penultimate over.
There innings ended on 175-5 in 40 overs and their youth player Kunst was unbeaten on 61 , a gritty knock indeed by the young fellow.
Second Innings – "Thug Life" Chase
"Master Blaster" and "Thug Life" started our chase and it was evident as to their plan to use the power play. The only time these two ran was when their shots wouldn't go to the boundary else the flurry of boundaries these two hit was spectacular to watch from the sideline. Around the 5th over "Master Blaster" wanted a change of bats and decided not to change in the end a good decision as the next ball was dispatched for a six over extra covers. The ease with which he hit that boundary shows how good a batsman he is. The next couple of balls ended up being boundaries as well and the 4th ball was one that "Master Blaster" would have hit directly into the club house but instead it went straight to the fielder at square leg who pouched it safely. Solid quick-fire 55 run opening stand between the two and a perfect start to our chase as the platform was set.
"SRH" came to the middle but his innings was short lived as he got out stumped. Sudhakar "One Knee" Sharma joined "Thug Life" in the middle and these two slowly built on a stable partnership and by the time the first drinks were taken the dugout felt a bit more relaxed as runs were starting to flow now. The following two shots suggests the ease with which these two got settled in; "Thug Life" hit an awesome cover drive of a leg spinner and it had VVS written all over it and "One Knee" swept a huge six over deep midwicket (a shot he rarely tries to play :P). "Thug Life" reached his 50 soon and it would have been great had these two finished the game off but it wasn't to be as "One Knee" probably tried one shot too many and was out caught for a well-deserved 31 and the partnership fell 16 short of a century stand.
"Ever Reliable" came to the crease and continuously rotated the strike and the target was almost within touching distance when we witnessed the THUG LIFE SHOT OF THE DAY a six over mid-wicket of a flick. That showed the kind of confidence he was in and deservedly he finished the game with a crisp cover drive for 4.
3 in 3 for the "TEAM THAT DRINKS TOGETHER WINS TOHETHER"
Match report: Clash of the Woods, part 1 (27/5)
Wat een topdag voor cricket was het afgelopen zaterdag! Hoewel het af en toe zo warm werd dat kijken naar cricket vanuit de schaduw met een koud drankje onder handbereik nog aanlokkelijker werd dan zelf spelen. De zamis van VRA keken eerst op het hoofdveld hoe het moest bij Ons Eerste tegen acc en traden daarna zelf aan, tegen elkaar maar liefst, voor de eerste editie in 2017 van de Clash of the Woods.
Captain Prenen van ZaMi 2 koos voor na het winnen van de toss voor de dappere optie: eerst fielden in de hitte, maar daarna wel weten hoeveel we er moesten maken. De opstellingen die dr. Rier had rondgestuurd leek van tevoren aan te sturen op een battle of the bowlers. En zo bleek het ook, het werd een low scoring wedstrijd.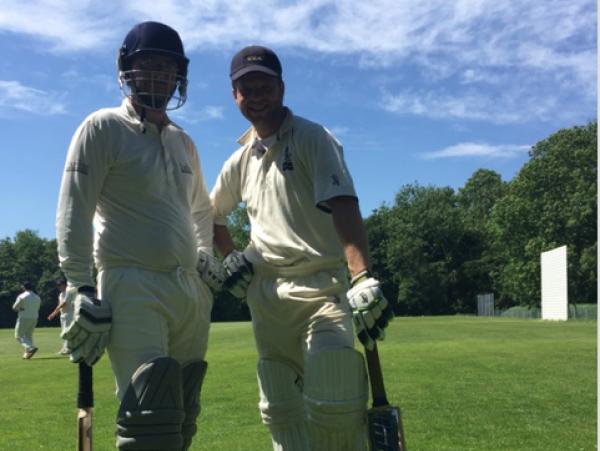 De eindscore van 106 all out voor ZaMi 1 kwam door de combi van langzaam scoren van ZaMi 1 op de uitstekende en gevarieerde aanval van ZaMi 2. Zelfs Berend Steenhof werd aangestoken door het prima werk van zijn collega's als de captain himself, Capel, Dekkers en "Huggy Bear" Varvaruc. Berend bowlde prima en nam de twee belangrijkste wickets van de dag met opeenvolgende ballen. Eerst Phil Yisrael, gevangen in de covers door Mike George en vervolgens Mike Bryant, lbw op zijn eerste bal. Phil zag er trouwens wel weer verdraaid soepel uit met een bat in zijn handen, ook al had twee jaar niet gespeeld.
Julian topscoorde met 21 runs en Alec Pulver liet zien dat de toekomst van VRA in goede handen is met 18 runs (hopefully the shin is allright, Alec!). We waren zo goed aan het bowlen, dat we Mijndert een offdagje konden gunnen. Die komt volgende week keihard terug, wat een fijn idee is voor ons, minder voor Kampong.
De chase werd uitstekend gestart door natuurlijk Harold Horsman en deze keer Joost Dekkers (17) die een opening van 44 in 10 overs neerlegden op de mat. Ter vergelijking, ZaMi 1 stond 23 voor 1 na dezelfde 10 overs. Wat overigens een flinke spurt was na 15 voor 1 na 8.... Harold had er 38, maar de revelatie van de dag aan bat was Eric Fabery de Jonge die met mooie en keiharde rechte schoten 31 runs maakte en not out bleef. De mooiste was de zes rechtdoor op het bowlen van Louis Collignon.
Verdere kudos voor Toon Hintzen die achter de palen stond te shinen met saves down de legside en een keurig vangetje. En voor David Wortmann die een skyer vanuit de zon heel soeverein ving.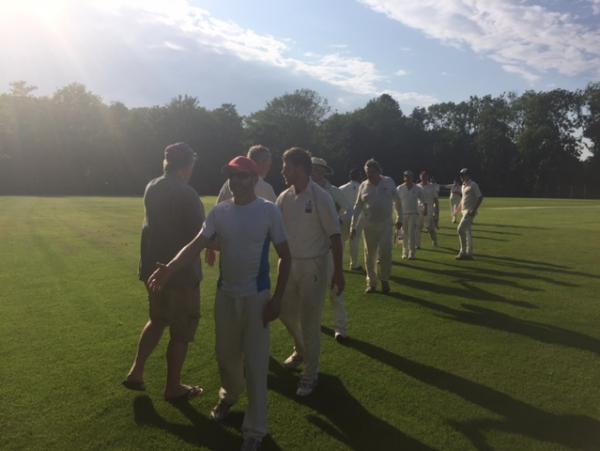 En zo bleven de titelverdedigers ongeslagen op een zeer warme dag. De aanmoedigingen van de ZaMi Army waren voor ons Eerste helaas niet genoeg, maar we hebben weer genoten. Ook genoten we met zn allen van de pasta's op het terras; biertje erbij, goed gezelschap, niks meer aan doen.
Volgend weekend weer zulk weer graag.
Sebas Capel
Column door Harry Oltheten, deel 5: And it stuck
Een van de aangenaamste fenomenen in de cricketwereld is de overkill aan anekdotes die de sport omkleedt. Je hebt ze in alle maten en soorten. Sommige zijn door het vele gebruik een beetje sleets geworden, andere verrassen je met de fruitigheid van een lentebries. Je hoort en leest ze overal, hoeft op een zonnige zomermiddag maar een uurtje aan de boundary te zitten of je hebt er al een paar te pakken. De stijlfiguur die er het meest in voorkomt is de hyperbool, zeker als het gaat om de wapenfeiten van de modale clubcricketer. Voor mij is het extra genieten als je het voorval van twee kanten hoort, waarbij het 'debunking' troef is. Zo hoorde ik iemand na de consumptie van een paar glazen rosé eens gewagen van een door hem op het bowlen van een moordenaar (= een zeer snelle bowler) met één hand geslagen zes die ruim over het dak van een clubhuis was gezeild waarna de bal nooit meer was teruggevonden. Ik vertelde dit verhaal later aan iemand anders die de man in kwestie kende en vernam dat die er geen pepernoot van kon en al heel blij mocht zijn met af en toe een drentelend eentje.
Maar soms hebben de spelers er zelf weinig mee van doen en is het aan de elementen om de hoofdrol op te eisen. Bijvoorbeeld bij de volgende gebeurtenis waarvoor ik terugga naar het jaar 1932. De bron is de volgens velen grootste cricketer alle tijden, de Australische runmachine Don Bradman, die op een testgemiddelde van honderd of meer zou zijn uitgekomen als hij niet in zijn laatste Test (1948) voor een duck was gebowld door leg spinner Eric Hollies. Slechts een viertje had hij nodig gehad om precies om op honderd uit komen, maar dat kwam er dus niet. Het publiek op The Oval was er even stil van.
Terug naar 1932. Bradman stond weliswaar aan het begin van zijn carrière, maar was toch al heel beroemd. Vroeg in het genoemde jaar kreeg hij een telefoontje van zijn goede vriend Arthur Mailey die hem voorstelde even bij elkaar te komen om een cricketzaak te bespreken. Het bleek te gaan om een tour van een Australisch team door Canada en de Verenigde Staten. Mailey had een vriend in Amerika, ene 'Foxy' Dean, die had een aanboden zo'n tour te sponsoren. Er was slechts één voorwaarde: Bradman zou mee moeten gaan. Dit bracht 'The Don' in een netelige positie. Hij was wat verplichtingen aangegaan voor de periode waarin gespeeld zou worden en had bovendien zijn 'childhood sweetheart' Jessie Menzies beloofd op dertig april met haar te trouwen. Dat huwelijk vond inderdaad op die datum plaats waarna Jessie met het team meereisde naar de States.
Het werd al met al een genoeglijke affaire met veel 'ongelijke' matches, want in Canada en de Verenigde Staten stond het cricket op een bijzonder laag pitje, behalve misschien in Hollywood waar de Hollywood CC , gegangmaakt door de 'English eccentric' Sir Aubrey 'round the corner' Smith, o.a. een roemrijk acteur als Boris Karloff (bekend als het monster in de film Frankenstein) in haar gelederen had. Bradman en zijn geliefde hadden de tijd van hun leven en dat ging niet helemaal aan de Amerikaanse pers voorbij. Vooral de ontmoeting tussen Bradman en de Amerikaanse baseball grootheid George Herman 'Babe' Ruth trok de aandacht. Deze ster van de New York Yankees was net geblesseerd toen Bradman het stadion bezocht voor de match tussen de Chicago White Sox en de Yankees. Het sprak bijna vanzelf dat hij Don en Jessie in zijn privé-box entertainde. De 'Babe', zelf op zijn zachts gezegd 'bulky' was verbaasd over Dons geringe lengte en dito gewicht. Hoe kon zo'n minkukeltje nou zo hard slaan?
Misschien wel het meest opmerkelijke wedstrijdfeit van de tour deed zich voor tijdens een match in Moose Jaw. Hoewel ik altijd denk dat mijn topografische kennis heel behoorlijk is moest ik, toen ik dit las, even passen. Gelukkig bracht Wikipedia snel uitkomst. Moose Jaw is een stadje in de Canadese provincie Saskatchewan. Het telt heden ten dage ruim 30.000 inwoners en heeft of had als bewoners zulke verschillende figuren als de 'gay porn actor' Brent Everett en de schrijver J.G. Ballard (Empire of the sun).
De dag van de wedstrijd begon uiterst winderig, wat de stabiliteit van de bails niet ten goede kwam. Toen de wind stormkracht had bereikt was ingrijpen noodzakelijk. Een speler van het plaatselijke team bracht uitkomst. Hij zette het fanatieke malen van zijn kaken abrupt stop en produceerde een klont kauwgom waarmee de bails werden gelijmd. Dit leek een bevredigende oplossing tot het moment dat een batsman uitrukte en werd gestumpt. De wicket-keeper liet er daarbij geen gras over groeien zodat het kauwgum het aan een kant begaf. Iedereen ging ervan uit dat der batsman uit was, maar daar dacht de umpire anders over. Die had gezien dat de betreffende bail op millimeters boven de grond aan een kauwgumdraad was blijven hangen. 'Not out' dus.
Don Bradman figureert ook in mijn cricketcollectie, niet alleen met zijn boeken, maar zelfs met een briefje, of meer een kattebelletje. Hij schreef het op 26 augustus 1953 op papier van de Daily Mail aan R.G. Ingelse en het luidt:
Dear Mr.Ingelse

I am afraid the rumour which you have heard about my coming across to Holland is quite untrue because I am leaving for Australia next week and there is no chance of visiting you.

Nevertheless I appreciate your kind invitation and only regret that circumstances do not enable me to make the journey.

I am told that the Australians thoroughly enjoyed their trip to Holland and trust it did a lot of good for cricket in your country.

Yours sincerely,

Don Bradman
De Australiërs hadden het inderdaad erg naar hun zin gehad. Op 16 juli 1953 hadden ze voor de ogen van 3500 toeschouwers op het HCC-veld dik gewonnen van Nederland, geen wonder als je bedenkt dat ze aantraden met sterren als Lindsey Hassett, Richie Benaud en Keith Miller, 'the swashbuckling flight lieutenant'. Over de laatste doen zoveel sterke verhalen de rond dat het moeilijk kiezen is. Keith Ross Miller was een allround cricketer wiens start lag voor de Tweede Wereldoorlog. Dat hij zijn cricketcarrière daarna kon voortzetten had te maken met geluk en flair. Begin 1945 vatte de stuurboordmotor van zijn Mosquito vlam boven Het Kanaal. Terwijl een veranderlijke wind hem het leven zuur maakte, slaagde hij er toch in het vliegveld van Alford te bereiken, waar hij een buiklanding maakte. Hij schoot ver door, zag de staart van zijn toestel afbreken, maar stapte even later toch levend uit zijn
machine waarbij hij nuchter opmerkte: 'Nearly stumps drawn that time, Gents.' Ik ken mensen die emotioneler gereageerd zouden hebben.
Harry Oltheten
KNCB Announce Squads Ahead of Big Month of Cricket
KNCB Chairman of Selectors Jeroen Smits and Head Coach Ryan Campbell today announced the National Squad to take on Zimbabwe in the home series on June 20 22 & 24. These matches are to be played at VRA and VCC. A squad that will travel to Essex to play matches against Essex and Denmark in preparation for this series was also announced.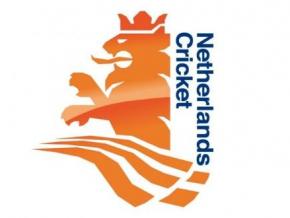 Head Coach Ryan Campbell had this to say about his Squad…… "With Zimbabwe ranked 11th in the world in One Day Cricket, this series is vital for us in preparation for our key final World League matches against Kenya & Namibia."
"I promised my players that they would be rewarded for outstanding performances and Shane Snater and Sikander Zulfiqar gave us no option but to pick them after standout performances for Netherlands A and in the Pro Series."
The selection panel's eagerness to unveil new talent also presented tall VRA left arm speedster Fred Klaassen with his first Nation Squad selection.
"Fred has worked extremely hard to overcome a serious hand injury last year and a knee problem in preseason. His left arm medium pace gives us a different option and he's a legitimate wicket taker with the new ball" said Campbell. "Unfortunately we have had a setback with Pieter Seelaar badly breaking his finger but this will give us an opportunity to expose some new blood against tough opposition. I am also extremely pleased to have Roelof vd Merwe, Paul Van Meekeren & Timm vd Gugten released from their Counties to play for us to add to our experience."
National Squad v Zimbabwe 20th, 22nd and 24th June
Peter Borren (Capt), Wesley Barresi, Ben Cooper, Frederick Klaassen, Stephan Myburgh, Max O`Dowd (only 24 June), Michael Rippon, Shane Snater, Logan van Beek, Paul van Meekeren, Tobias Visee, Timm van der Gugten (only 20 and 22 June), Roelof van der Merwe (only 20 and 22 June), Saqib Zulfiqar (only 24 June), Sikander Zulfiqar,
KNCB Squad to Tour Essex 13th-16th June
Peter Borren (Capt), Wesley Barresi, Ben Cooper, Quirijn Gunning, Frederick Klaassen, Stephan Myburgh, Max O`Dowd, Michael Rippon, Shane Snater, Logan van Beek, Tobias Visee, Saqib Zulfiqar, Sikander Zulfiqar,
NETHERLANDS A Squad to Tour Kent 19-22 June
Saqib Zulfiqar (Capt) Rahil Ahmed, Umar Baker, Philippe Boissevain, Bas de Leede, Tim Etman, Quirijn Gunning, Mahesh Hans, Max O`Dowd, Dan ter Braak, Dirk van Baren, Rens van Troost.
For any further comments please contact Ryan Campbell +31 628212788 or ryan.campbell@kncb.nl