In memoriam Mike George (1950 - 2023)
Op 26 oktober j.l. overleed Mike George. Adrian 'Mugsy' Malloy schreef in zijn kenmerkende stijl een in memoriam voor een ras-Zamispeler in al zijn facetten.
Last week I (and countless others - especially in the tight knit Dutch cricketing community) lost a wonderful man in Mike George - our rocknroll loving, beer drinking, chain smoking Welshman with a permanent smile. He was diagnosed with aggressive cancer but didn't for one second let it own him, he kept living his life as he always did and surpassed even the most optimistic timelines.
In July 2022 I got to spend what turned out to be my final couple of hours with him at our spiritual home: VRA home ground, Amstelveen - a ground where I waltzed out gleefully many times opening the batting with Mike for the aptly named Comedians in the Zami competition. This time it was the Dutch national side playing host to the world champions England in the 3rd ODI. I was so chuffed to see him looking well and buoyant as ever. I introduced him to Tommy and we just chewed the fat and drank beer - as we had done countless times before. Countless times.
He was like an older brother to so many of us in the late 90's and early 2000's, a mainstay of the 4am bike rides home from the cricket club or the cold wintery off-season nights in the small backstreet Amsterdam bars of yesteryear, with another great pal who he will be with right now, in Richo.
As so many know (coz I have told them!) I absolutely LOVED my time in Holland, playing cricket definitely came first and the work lark was a distant second.....it was people like Mike that made it what it was. Both on and off the field. I opened the batting with Mike maybe 30+ times.....so I spent a hell of a lot of time listening to his pearls of wisdom out in the middle. It was a proper education into the intricacies of cricket. He could play the game damn well, but tactically, he was genius. He didn't like to run quick singles and my favourite story of Mike was when we were playing HCC in the first match of season 2003 on the same ground I last spent my last time with Mike, watching an international.
The year before HCC were undefeated champions. Our VRA side limped into the last match against them in 2002 and at the half time break, I happened to see a shirt they had made up - it said undefeated champions. The mugs was blowing up deluxe. I was furious. We nearly beat them that day (Mike did really well with the ball) and I reckon I was grumpy the whole off-season because of that. Mike had a saying ' revenge is a dish best served cold'.
As it transpired, we played them Round-1 2003. Mike and I opened the batting and we were cruising....maybe 0-75 or so. Then I absolutely BBQ'ed the Welshman looking for a quick single. I properly roasted Mike. Everyone that knew him, knew that such actions were not too smart and I was actually too terrified to get out to face his wrath....which was never malicious, it just made you feel soooooo guilty. We ended up near 200 (Rockstar Ed van Nierop tormented HCC that day!) and I gave Mike the widest berth at the change of innings.
Roll forward to the final over. HCC need 18 to win, I am bowling it. I was still steaming about their antics the season before and they were chirping me hard from the balcony.....got it down to 10 off the last ball.....and I took at least 90 seconds to bowl it, giving it back with interest to the peanut gallery and the rest....this was going to be a win for the ages (barring a full-toss no ball). I dribbled a slow half-tracker to ensure the result, game over. Momentous win for our VRA side.
Mike came up to me straight after and said 'Mugsy, you are an absolute ct for running me out, but we beat and even bigger pack of cts today, so I will forget about it - lets drink beer'. And that was that!
I have missed Mike since the moment I left Holland, 20 years ago next week. I saw him many, many times in the interim, including when he spent nearly three months down under in 2005. We watched all five days of the Adelaide test in Percy's opposite Bear Park. I spent three weeks staying with him in 2007. He was a mad sleepwalker, I really don't know how he didn't topple down those stairs in his apartment in Amsterdam. Every time, he was the same old wonderful Mike. Just like he was last year when we got to enjoy that one last beer together. The same bloke whom smiles in the team photo that has been on my desk for the last decade. That two down now, from that motley crew.
That Welsh accent....I can still hear it now.
'drinks brings wickets, you dot every f**king ball this over Mugsy'.
RIP Mikey George.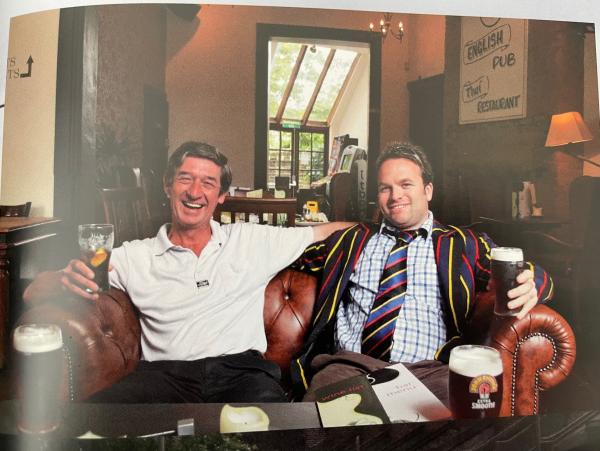 A much loved, much, much loved, friend to us all.