In Memoriam: John Richardson (1949 – 2018)
One of the wittiest Cricketers whose company we have been enjoying at VRA Cricket Club the last twenty years… is without doubt John Richardson. Also known as: Richo. El Rico. Johnny the Bowler. Sir Richo. The Man Himself. A fearless Yorkshireman drenched in wit and splendour who came to our club one sunny day… to start his cricket-crazy comedians career and enlighten the Amsterdamse Bos with his great assets: his sense of good old English humour, his love for the game, his treatment of the ball and his Powers with the Pen. Soon it turned out Richo was exactly the man we needed. Not so much as some hard hitting batsman … or demon paceman… none whatsoever… but as Chroniqueur Extraordinaire… and as well-respected bowler of some sort and above all… as a great new friend. When put on by his captain… as what appeared to be a relief bowler… he produced projectiles in the middle that scared the hell out of large flocks of batsmen who had no chance at all… trying desperately to avoid facing our much feared spearhead attack led by Richo himself. Most people know… a batsman wants a bowler to bowl straight. Up and down. Wicket to wicket… that sort of thing. But that was not the case with Richo. Launching his lethal moon balls with rather disruptive height, many batsmen missed the balls Richo served up by miles. Timing was of the essence for the batsmen who had to face him. However, Richo's timing and variation of pace were his perilous weapons in a holistic masterplan that bamboozled many audacious opponents.
Cool as a cucumber, fit as a fiddle and keen as mustard, Richo slowly revealed his confusing run-up. To lure his antagonist into his traps… Richo often started with serving up some menacing missiles from outer space… cunningly disguised as delicious dishes. As a matter of fact, it even looked like buffet bowling sometimes. Help yourself, crossed many a batter's mind. And the beauty of his bowling? His more than gentle pace and tender spin that spun both ways.
As said, well disguised… his balls were like the lamp-rod of gruesome fish that lurk in the deepest vaults of the darkest oceans. When the bait was taken there was no way back. Helped by the fielders in the outfield… Richo took wicket
after wicket after watching batsmen dispatching balls they should have left. Even worse, many batsmen could not wait long enough for the ball to arrive at the crease and finalised their shot long before the ball had reached the wicket… disorganising the stumps and leaving the batsmen completely bluffed with their minds in disarray and tatters. Now THERE is a bowler for you! Richo the Wicket-taker.
What an asset. What a character. What a glittering gem of a Comedian Cricketer. How often and effortless did he put guileless batsmen on the wrong foot. Literally… and literally it was. Whilst apart from his puzzling performance and tricky wicket taking on the sacred turf… his WRITINGS have been cast in gold. Not only in the brochures he wrote to promote our beloved Cricket Club… as well as in hilarious match reports.
And even more so in the legendary post-season magazine called Cow Corner which he produced for several years. Bursting with witticisms and a plethora of cricket jokes and spot-on descriptions of his fellow team mates… this annual publication found its way to the famous VRA Cricket Library and… rumour has it… even to the MCC Library at Lord's Cricket Ground in London. His endeavours were too funny to keep them for ourselves. So sharing was the message and spreading the Word our mission.
The Word of Richo. Never in the history of written mankind have so many laughs been laughed by so many… to improvise on one of his favourite themes: the Churchill Speeches. As a Man of Letters… Richo is still well read and well-liked by capacity crowds around the globe. Richo the Legend. A man that made his way into our club and will never leave our hearts. As the epitome of proper Comedians Cricket forever.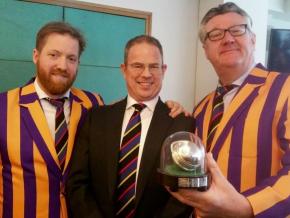 So now it is Time for an Award: The Richo. A brand new Bowling Award. And there it is. A silver cricket ball with Richo's name on it. The Richo! More than well deserved. And from this year on annually presented to the season's best bowler… to commemorate a very dear cricket friend we will never forget. Sir Richo, we cricketers salute you now… and hope to see you again… launching your baffling balls on some grassy green pastures in another world. Farwell dear friend… and wonderful team mate. Thank you for everything. Thank you for your friendship.
Floris Kappelle